Being curious about your boyfriend's Facebook chats with other people is natural.
The prevalence of social media has made it easier for people to hide incriminating messages from their partners, making building trust and loyalty in relationships more challenging.
According to the research, 35% of people have admitted to having an affair after meeting someone on Facebook.
Luckily, there are tried and true ways to spy on your boyfriend's Facebook messages without accessing his phone.
Remotely installed spy apps and tools are among these alternatives.
The success rate of these methods has been estimated to be around 95%, so there's no need to worry if you have doubts about them.
Thus, you can covertly use these techniques in this article to learn how to see who your boyfriend is messaging on Facebook without worry.
How to See Who Your Boyfriend is Messaging on Facebook
Here are a few methods to see your boyfriend's messages on Facebook.
Use a Trusted Facebook Hacker App
You may be concerned about your boyfriend's Facebook friend list as a partner.
Feeling worried and worried thoughts is normal if you think they're keeping something from you.
Thanks to Spynger, you can easily keep tabs on their social media profiles without them knowing.
Mobile spy app Spynger gives you complete access to your boyfriend's Facebook Messenger chats in the exact format they appear on his phone.
You can view a transcript of his Facebook conversations, read every message he sent or received, and even see what he types into Facebook Messenger.
Also, by checking his phone's calendar, Spynger lets you know exactly when, where, and with whom your boyfriend spends his time.
This way, you can determine if he is meeting with an unapproved party.
To keep tabs on your boyfriend's whereabouts while texting you, download Spynger and gain access to GPS location tracking.
If you're worried he might be going somewhere, he shouldn't; this function can put your mind at ease.
More than that, though, Spynger couldn't be simpler to operate.
As soon as you install the application on your boyfriend's phone, you can keep tabs on his social media use from the comfort of your own device.
You can see exactly when, where, and to whom he speaks. As a result, it's an excellent tool for keeping tabs on your partner's online behavior.
You can try it out without any financial risk thanks to their 14-day money-back guarantee and round-the-clock customer service.
How to See Who Your Boyfriend Is Messaging on Facebook Using Spynger
Using Spynger, you can keep tabs on your boyfriend's Facebook activity by following a few simple steps, which I'll outline below.
Firstly, create an account on Spynger; simply visit their site and select the subscription package that best suits your needs.
After registering an account, the next step is to download the app onto your boyfriend's mobile device. Follow the directions given by Spynger to accomplish this.
Upon installing the app on your boyfriend's phone, you can keep tabs on his Facebook use from your own device. You can see exactly when, where, and to whom he chats.
Additional Features of Spynger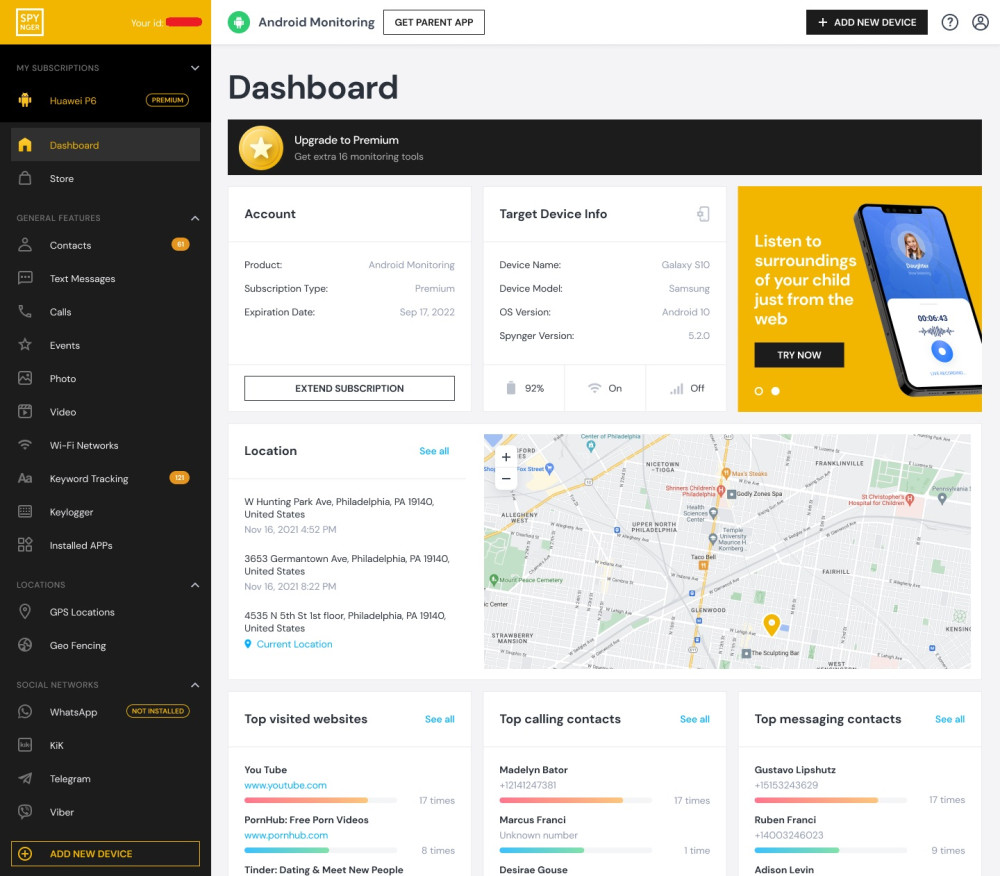 Spynger is not only a powerful Facebook monitoring app, but it also has tools for tracking your activity on other social networks. 
You can use it to monitor your boyfriend's use of social media or maybe even dating apps.
It can display posts, comments, messages, and even location data on a map.
Spynger's all-in-one solution to monitor your partner's online activity can keep you informed and safe from infidelity and other threats to your relationship.
You can also use the app to listen in on phone calls and read text messages.
You can see the time and duration of all incoming and outgoing calls and texts with Spynger.
The remote activation of this feature makes it ideal for partners who want to monitor their partner's phone use to prevent infidelity.
Select xMobi, a Trustworthy Alternative
With the help of xMobi, a mobile spy app that can grant you full access to your boyfriend's profile, you can keep track of his Facebook activity invisibly.
Using this site's tool to break into his account, you can easily access all of his Facebook posts, comments, and messages (including those sent via Facebook Messenger).
The xMobi Facebook hack tool only requires the target's username, and the program does the rest.
The best part about spying on his Facebook Messenger conversations is that you don't need to install an app on his phone.
Your boyfriend will not know you're spying on him when you use xMobi.
The target device will not see any app icons or receive any alerts while the app is running in the background.
In addition, it provides 24/7 support and a money-back guarantee if you're unsatisfied with the service.
How to Use xMobi for Spying
Pick the device you want to use, decide on a subscription plan, and then carefully follow the on-screen instructions to create an account.
Set up xMobi on the target device and make any required configurations.
After logging into your xMobi account, you can access all the features for tracking activities and viewing media on the monitored device. You can keep your family and friends safe while they are online with the help of xMobi.
xMobi's Extra Features
You can use xMobi to keep tabs on more than just your boyfriend's Facebook usage, as it also gives you access to the web and thus lets you monitor other sites he frequently visits.
Count the times a user has visited a specific website and even block them with this handy tool if necessary.
xMobi also lets you view the target device's incoming and outgoing call history, complete with contact names, if the number is saved in the phone's address book.
You can view the duration of the call and retrieve erased calls.
With xMobi's mailbox hacker, you can keep tabs on your boyfriend's inbox and see every message he receives or sends.
The app's dashboard shows information such as the phone number of the text recipient, the total number of texts, and the time they were sent and received.
You can also read the previously deleted messages to round out your understanding of the situation.
The GPS tracking functionality built into xMobi lets you keep tabs on the device's whereabouts.
The GPS location tab displays tracking results, allowing you to rest easily.
See Facebook Messages via Phishing
Creating a phishing webpage that appears identical to the Facebook login page is possible.
An individual, such as your boyfriend, can be duped into providing his Facebook credentials without even realizing it by using this deceptive method.
You will gain access to his Facebook account once he enters his username and password on the phishing page you have set up.
If he doesn't notice the unusual login and changes his password, you can easily log into his account and monitor his Facebook activity, including his messages.
You can do this without him knowing if you have his credentials, and do not change his password.
However, it is essential to remember that the development and operation of a phishing website necessitate specialized technical knowledge.
Furthermore, whenever a user logs into their account for the first time, Facebook sends an email notification to the user's email address.
This email could notify your boyfriend that someone has accessed his account and changed his password.
Resetting Facebook Password to View Boyfriend's Facebook Messages
You can read your boyfriend's messages on Facebook by resetting his password with his email address.
You must temporarily access his email or phone to receive the password reset code.
After gaining access to his contact information (email or phone number), you can reset his password.
Facebook will ask for his email or phone number to verify your identity before letting you reset your password via text message or phone call.
You can get the code immediately if you have access to his phone.
When you log into his profile with the verification code, you can access his Facebook messages.
Keep in mind, however, that he can change his password later after you've reset it, so your access to his account may be limited.
Using His Phone, Gain Access to Your Boyfriend's Facebook Account
To use this strategy, look for a chance to access your boyfriend's mobile device and read their Facebook messages.
You will, however, need to learn their password or unlock pattern if you want to use Facebook Messenger on their phone.
When you obtain their phone, the first app you should launch is Facebook Messenger.
Most people are unlikely to protect their apps with Applock or a password.
If the app is password protected, try accessing your boyfriend's phone lock pattern or password.
Use a Keylogger to View Your Boyfriend's Facebook Messages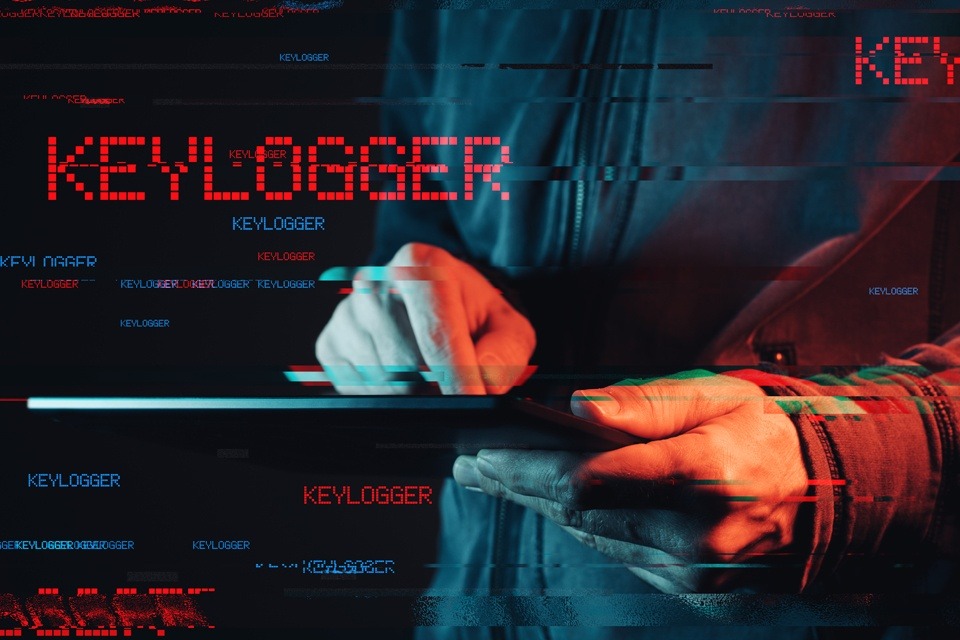 You can monitor your boyfriend's smartphone and online activities in several ways, one of which is by installing a keylogger app.
A keylogger app can capture your boyfriend's Facebook chats and other keystrokes.
This app lets you keep tabs on his Facebook activity and read his private messages.
Your boyfriend's phone may send you a log of his keystrokes, or you may be able to access them directly from your device, depending on the keylogger you use.
You can use the keylogger program to get back any messages your boyfriend accidentally deletes after sending them.
But some restrictions come with using a keylogger app; for example, you won't be able to view your boyfriend's inbox, only the messages he sends.
Signs That your Boyfriend Is Cheating on You
If you suspect your boyfriend is messaging someone else on Facebook, there are a few indications you can look out for to confirm your suspicions.
These signs may indicate that he is being unfaithful and cheating on you.
You should be wary of your boyfriend if he constantly checks his phone and responds to messages.
If your boyfriend frequently uses Facebook to communicate with others when you are not present or asleep.
The fact that your boyfriend doesn't want you to read his Facebook messages may indicate that he has something to hide.
There may be something your boyfriend doesn't want you to know about if he suddenly changes his password and refuses to share it.
If you notice any of these signs, it may be time to look into them further. You can try to talk to your boyfriend about your concerns or use one of the above methods.
Frequently Asked Questions
Is It Legal for Me to Monitor My Boyfriend's Facebook Account in Secret?
No, spying on someone's Facebook account without that person's consent is prohibited. It includes your boyfriend.
If discovered, you risk going to jail and destroying your relationship.
While some might spy on their spouse to catch them cheating, it's crucial to consider the potential repercussions and look for other options.
If you decide to use spy techniques, be careful not to leave any trail of evidence, so you don't get caught.
Will My Boyfriend Be Able to Tell if I've Read His Facebook Messages?
He won't be aware that you've accessed his Facebook account if you monitor it without leaving any evidence. 
He might suspect someone has accessed his account if you read unread messages.
Spy software, keyloggers, and phishing techniques can be undetectable if used correctly.
Conclusion
Although trust is vital in any relationship, cheating has become common. As a result, many people use spyware like Spynger or xMobi to find out what's going on with their partners when they act strangely.
One can use this app to keep tabs on their boyfriend's Facebook and other social media accounts to catch him in the act of cheating.
Despite our presentation of effective alternative methods, the best solution on how to see who your boyfriend is messaging on Facebook is a spy app.
Catching a cheating partner with Spynger or xMobi is the least complicated and most secure option.