If you haven't heard of Nitreo before, then it's about time that you did.
This organic Instagram growth company is great for helping its clients with many different facets of social media marketing, and in our opinion, their rates are pretty good, too.
However, while Nitreo is great, it always pays to keep open-minded about your Instagram growth and go elsewhere when needed.
We rarely advise that you have all of your eggs in one basket, so it's worth knowing a couple of other companies that can help you stand out from the crowd and get ahead on the gram.
We thought that we would do a bit of the heavy-lifting, and find you some great Nitreo alternatives so that you don't have to. Let's take a look.
Nitreo Review 2023
Nitreo is a company that has many different organic growth solutions for its clients to grow their Instagram successfully.
They promise that all of their engagement is organic, and judging by what we can see, we're inclined to believe this. Their setup process is easy, too.
What is Nitreo?
As we mentioned above, Nitreo is an Instagram growth company that makes it super easy for you to get the job done, so you don't have to spend too much time worrying about the engagement side of things.
They're one of those companies that spends more time on their website talking about the things they don't do – like spam their clients – than the things they do, which a lot of the time speaks volumes.
Nitreo, very simply, wants to help its clients grow their account and expand their reach so that they can build their brand on Instagram when all is said and done.
Nitreo Features
Nitreo promises that you won't be spending a lot of time in the beginning getting sorted with them.
In fact, it's going to be super easy to get set up with them, and you can do so by telling them all about your Instagram niche and industry. This helps them get to know you a lot better so that they can target the right people for you. There's no point in them just targeting anyone, right?
You need people that will want to interact with your content. They say that you will pick up more followers when you use Nitreo, and they are always working on their audience targeting methods, so that you don't have to worry about how effective they are.
They don't buy Instagram followers, and they don't work with fake accounts – everything is real, from beginning to end.
Nitreo Pricing
Nitreo comes in two different price points, which is nice and simple, yet still adds a bit of diversity so that you can accommodate based on your budget.
Their essential service will cost you $49 a month, and with this one you get a two-week growth guarantee, which means that they will give you your money back if you don't see the results you want. You'll also get quick, organic growth.
Their Speed package comes with the same two features, as well as the rest of their targeting features, quick customer support, and maximum speed, so this is a good option if you're trying to take your Instagram growth really seriously.
Nitreo Coupon Code
Want to get a discount and save some money? Check out our working discount coupon to get a whopping 20% off! Just enter the coupon code at checkout.
Nitreo User Reviews
Here are some Nitreo reviews we found for Nitreo.com on Trustpilot's database.
Nitreo Review Conclusion: Is Nitreo Safe to Use?
So, what do we ultimately think about Nitreo, then? Well, to be honest, we think that they're one of the best Instagram engagement growth companies out there for your profile.
We love that they are committed to providing their clients with the best features, which include real followers that aren't going to make your account look bad. This is really what you need if you want to take care of your account, and make sure that it's around for a long time to come.
Nitreo is honestly one of our favorite companies, but we know there are others out there that are just as good.
Nitreo Alternatives: First Look
"Growthsilo, for me at least, knocks it out of the park when it comes to their social media marketing. Not only can they help me with Instagram growth, but they cover everything else, from emails to my website. There's nothing I can't do with these guys."
"I think I like Growthoid because of the sheer number of features that come with their package. I also love them because they are twice as effective as other companies in this industry, which is harder to come across than you think."
"I spent a long time looking for a company that could not only help me authentically but had the right prices to match. This is why I stopped at Upleap.
While they may not look that great from the outside, they are one of the most underrated companies in the industry."
Best for Originality: Task Ant
"When it comes to growing my hashtag strategy, nobody beats a company like Task Ant. They have the best reputation that I've found, and I really appreciate how far they go for each one of their clients. They make me feel valued, which, for me, is important."
"One thing that I've been looking for in this industry is a company that can help me with every platform, not just Instagram. I stopped looking when I found Media Mister. These guys have made it so that I can grow everything at once, with ease."
Best for Safety: ektor.io
"I think that if you were to ask me what was most important when it came to my online branding, I would have to say that it's safety. ektor.io is the only Instagram growth company that cares more about my safety as a client than they do making money."
Best for Price: Jarvee
"I've found it pretty hard to find companies in this industry that can accommodate my limited budget. I never seem to be able to afford anything that I come across. That all changed when I found Jarvee. These guys are not only effective, but they are affordable."
Top Nitreo Alternatives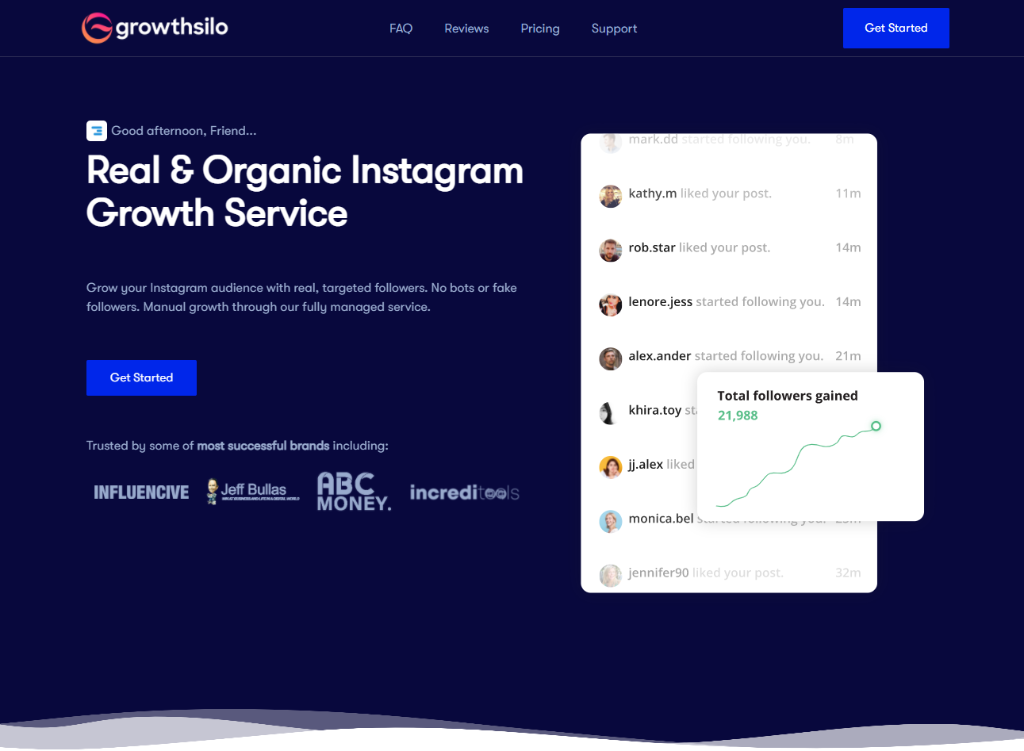 One of the things that Growthsilo is pushing right now is their Mass Story Viewer, which we think is right in with the times on Instagram.
We love that they are committed to staying updated with everything so that you can always guarantee that your growth with them will be ahead of everyone else's.
Just like our reviewer said above, Growthsilo is one of those jack of all trades brands, so there's not really anything that they can't help you with.
They are completely automated, they offer targeted exposure and followers, and they have tutorials and support that you can access around the clock.
We think this is the best Nitreo alternative you can get right now.
When we reviewed Growthoid, we found that their ethos lined up with what their client said above. They truly are twice as effective as other Instagram growth companies out there, and they can help you with virtually everything to do with your Instagram engagement.
One of their latest features is their story feature, but they can also help you with direct messaging, scheduled posting, and generating the right hashtags as well.
Needless to say, Growthoid is the kind of company that can produce a well rounded Instagram strategy for your page – and they have great customer service as well.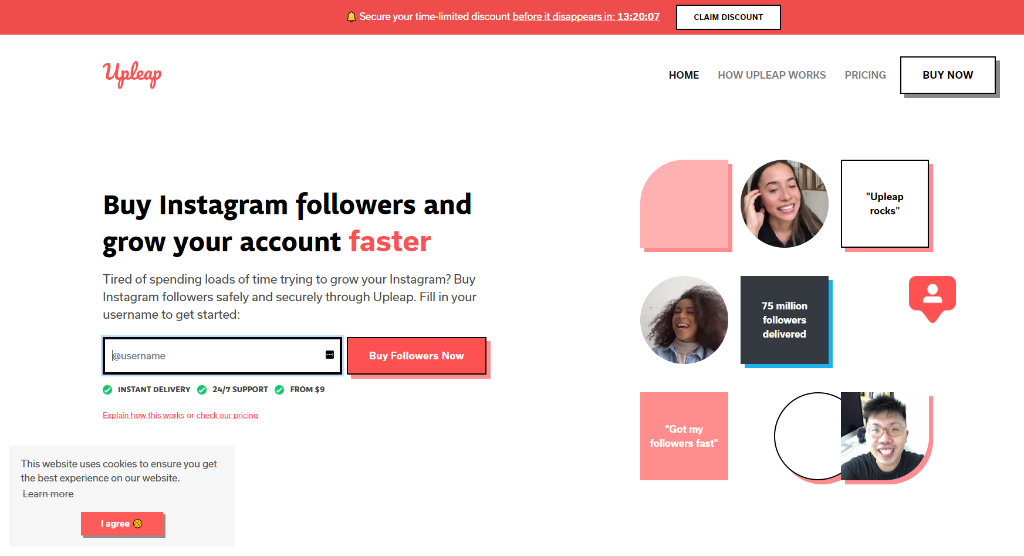 When reviewing Upleap, we did find that they are pretty simple – but this doesn't mean that they're not effective. In fact, we think that it's better to look like Upleap and leave out the frills, especially if your features are high quality.
They offer a free three-day trial so that you can get to know their services before you commit to anything, and they make the setup process completely easy, too. They promise social influencer from using them, as well as real results so that you're guaranteed real growth with them.
Best for Originality: Task Ant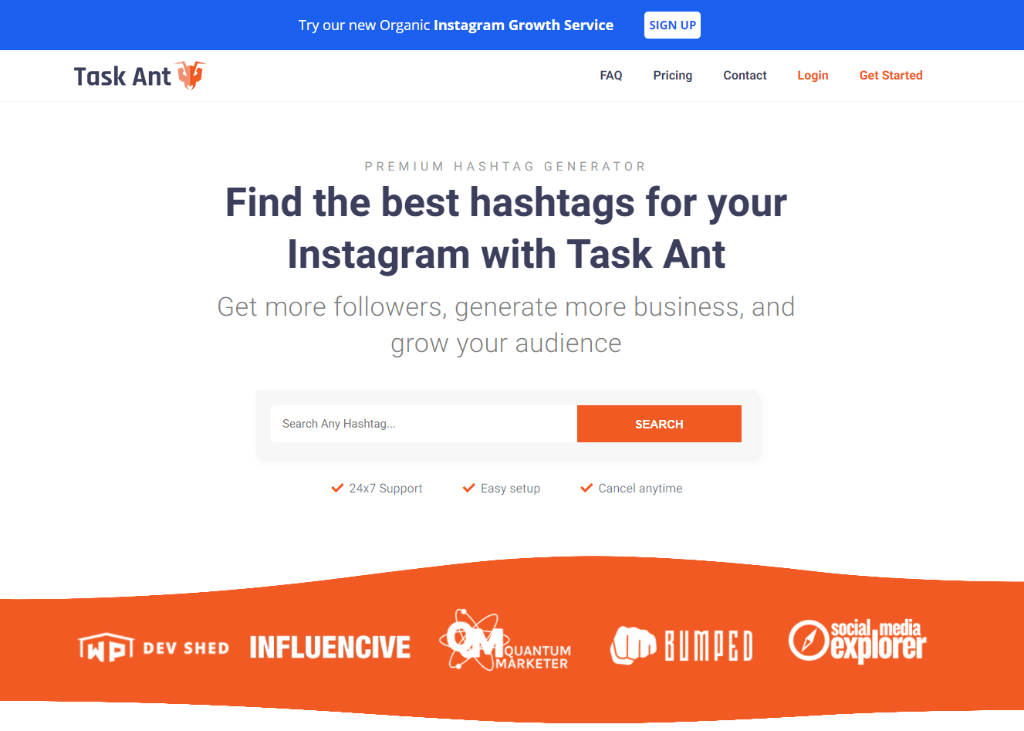 Want a company that's going to be as original as possible? When we reviewed Task Ant, we were pleasantly surprised at how much work they've put into seemingly simple features.
Their main feature, of course, is their hashtag generator, which comes with extensive data and analytics around anything that you look up. They also have a growth service for Instagram, where they can take the reigns for you so that you can focus on making more of that awesome content.
They're an excellent all-rounder, and we love that they were one of the first in the industry to come up with a hashtag generator.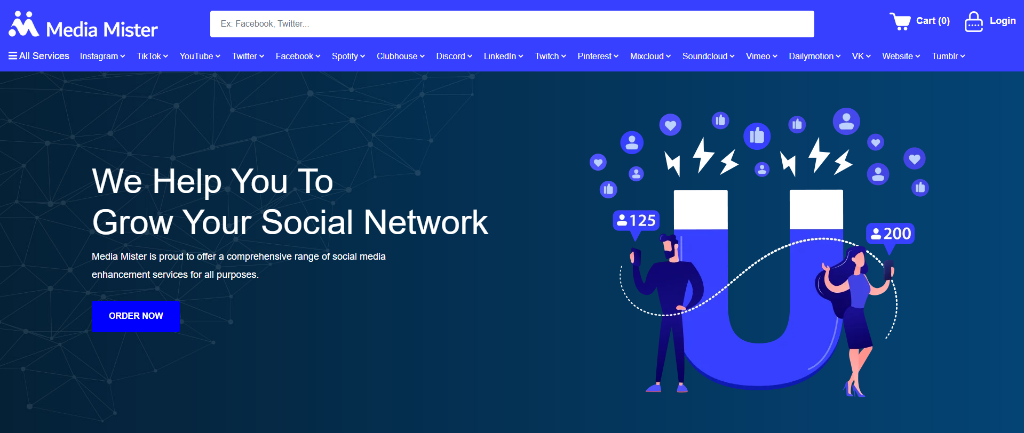 When we reviewed Media Mister, we found that they have a pretty badly kept secret – they can help their clients with so much more than just Instagram. There are not too many companies like this on the market, which is why they're so appealing.
We love that they can help you with Twitter, Instagram, and Facebook, as well as other channels. This means that you can consolidate all of your engagement across the board in one place, making it super easy to grow everything at the same time.
There's honestly not a lot that Media Mister can't do.
Best for Safety: ektor.io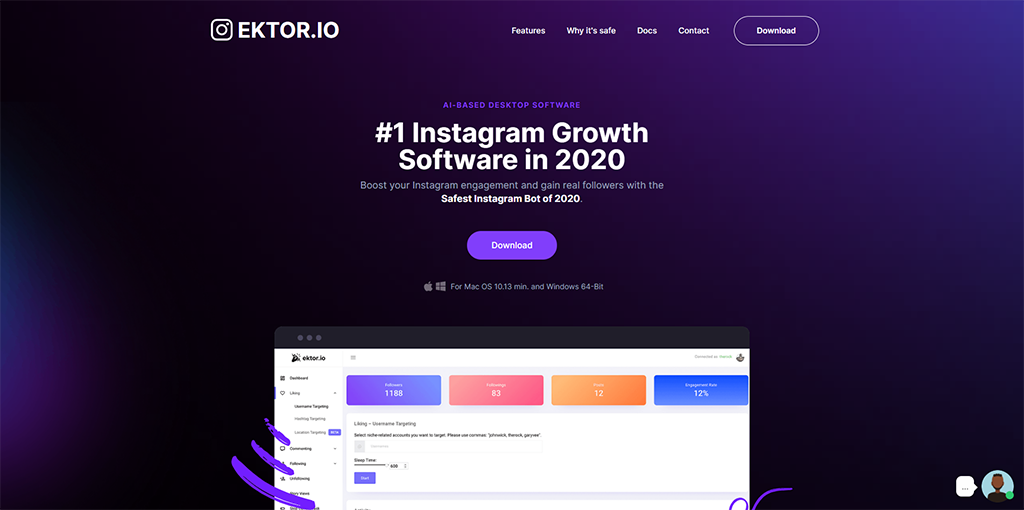 A massive issue that has been dealt with pretty badly by the industry as a whole is Instagram growth service safety. There are too many companies out there these days that have all these exciting features, but they don't offer any safety measures to keep their clients protected while using them.
Thank goodness for companies like ektor.io. They claim to be one of the safest growth companies out there, and we agree with them. In fact, they are completely undetectable, which means that you can use them with complete peace of mind.
They can also help you with other aspects of your engagement, like hashtag and username targeting.
Best for Price: Jarvee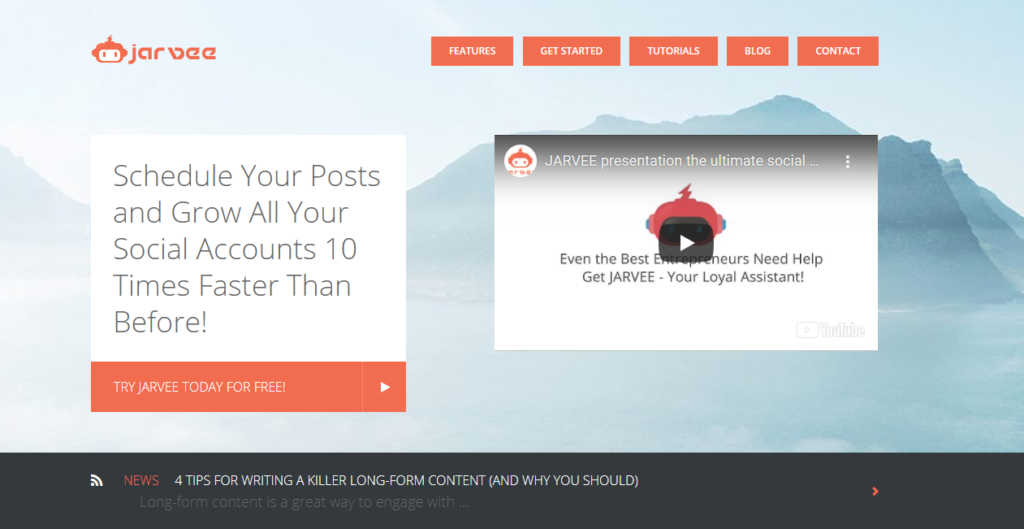 Along with safety, another issue that is hard to solve in this industry is affordability. While everyone could do with some help from growth services for their Instagram, there aren't too many that can set aside a lot of money for it on a regular basis.
Welcome Jarvee, one of the industry's oldest growth companies. Jarvee offers a dashboard that you can download onto your desktop, and they also have some of the best prices that remain unchanged.
Even when other companies out there increase their rates, Jarvee stays the same, offering a lot for their clients that they might not be able to get elsewhere.
Did You Know?
Did you know that there are now officially as many as one billion people using Instagram every month? Yes, that's every month – not every year. That's a crazy number of people on one app, doing similar things to you to get their brand in front of the right people.
It also means that you have a chance to get a great community together – but you've got to put the work in to get anything out of it.
Our Review Process
When we created this Nitreo review and lists of alternatives like you see above, we make sure to do our homework beforehand. This includes looking at 185 growth companies for Instagram, as well as 6700 customer reviews and ratings that discuss their advantages and disadvantages.
This is how we get a well-balanced, informed idea of what companies out there are worth recommending, and what isn't. It definitely makes it easier to recommend companies when we know for sure that they are worth it.
Check out their free trials today.