When looking for the best text message spy app, you want the best quality service that you can rely on at any hour of the day.
Unfortunately, many similar applications are available online, and it can be hard to find which ones work best.
From essential features to reliability and cost-efficiency, there are quite a few spy apps that have something unique to offer.
For this article, we're going to cover the best SMS spy apps that you can take advantage of to keep your family and children safe.
Best Text Message Spy Apps in 2023
Features & Specifications
Stellar UI experience
Block text messages
Track texts and review deleted messages
Highly affordable
Keyword alerts available
Known for their multi-faceted monitoring solutions, EyeZy is a very reliable monitoring solution.
From text messages, deleted media, contacts, and social media applications, you can keep an eye on them all.
It even comes with a connection blocker that allows you to nix an internet connection to the targeted device.
You can set up custom notifications to be alerted of certain actions, and their services will run in the background any time the target device is in use.
It only takes three steps to get started and don't forget to take advantage of their phone analyzer. This gives you a clear look at what's happening on a specific device.
One of the coolest features from EyeZy is its multiple sync solutions.
From Wi-Fi sync to iCloud sync, you can receive active and up-to-date information on specific data.
This app is a great option if you want to stay on top of the target device at all times.
You won't deal with any delays from updates, and everything you need is just a few taps away.
The SMS spy app is only $119.88 per year, which is more than worth it when you consider all of the monitoring features you'll have access to.
Moreover, users can give it a test run for free with the help of their 14-day money-back guarantee.
Features & Specifications
Catered to text message monitoring
Incognito at all times
Keystroke logging
Screen recording
Available for Android and iOS mobile/tablet devices
Many people feel this application is a great option if your goal is to spy on text messages.
Not only can you read incoming and outgoing text messages, but you can also see any messages across numerous social media applications.
Monitoring social activities on applications such as Skype, Instagram, Tinder, Telegram, and many more.
There isn't much about a mobile device that mSpy can't track, which is partly why they have so many loyal customers.
Other notable features include management tools to control online activity, review stored media and documents, and review private online interactions.
mSpy also offers a 14-day money-back guarantee, and you can review the demo on their website to get an idea of how the application work.
When you're ready to sign up, a subscription costs $199.92 per year, or you can choose to pay $69.99 per month.
No matter which angle you consider, mSpy is a competitive force when it comes to the best text message spy apps.
However, it's understandable if you find them to be a little expensive.
Then again, if you're looking for features that cover every aspect of the targeted device, it doesn't get much better than mSpy.
Features & Specifications
Great for SMS and social media monitoring
Reliable location tracking
Restrict accessibility remotely
14-day money-back guarantee
Available for Android and iOS
Hailed as one of the best spy apps out there, you can't go wrong with giving uMobix a shot.
It's an application that comes with comprehensive features that allow you to spy on all sorts of mobile activities.
If you're looking to keep your kids safe, there isn't a better solution than uMobix.
Some of its features include monitoring call logs, contact lists, and of course, text messages.
However, it goes much further than that by allowing you to track keystrokes, the GPS location of a device, and a wide variety of media and applications.
It's important to note that the SMS spy app isn't the cheapest on the market, but you get what you pay for.
Their subscription goes for $49.99 per month, or you can save quite a bit by signing up for their yearly subscription, which is offered at $139.92 per year.
One minor downside is that it doesn't come with any screen recording features.
Outside of that, you get a long list of monitoring features that cover nearly every angle of a mobile device.
The application can be used on Android and iOS devices as well.
There isn't a single action that'll go unnoticed by using uMobix, and many people consider it to be worth the cost.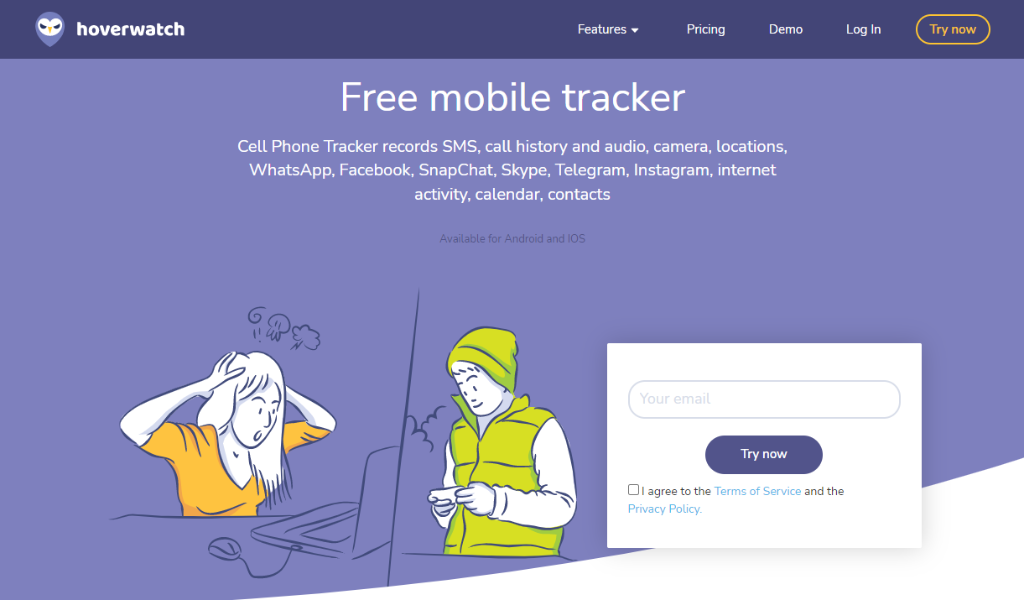 Features & Specifications
Work on mobile and desktop devices
Free version available
Takes screenshots of any running application
GPS tracking
Business plan available for monitoring numerous devices
It's always wise to look at alternatives in case you find something better suited to your needs.
Not only can you track text messages, but you'll also be able to review call history, audio files, locations, and much more.
Applications such as WhatsApp, Snapchat, Facebook, Instagram, and many others won't be able to hide from Hoverwatch.
It's an excellent solution if you're looking to monitor the basics, and you can take screenshots that allow you to monitor specific behaviors.
This text message spy app may not offer as many features as uMobix, but it still stands as a contender.
Their monitoring services are available on Mac, Windows, iOS, and Android. For the cost, you're facing $99.95 per year for a single device.
If you need to spy on multiple devices, the company offers a business plan allowing you to monitor up to 25 devices simultaneously. Their business plan goes for $499.95 per year.
Although this is their primary pricing structure, the company offers a few different options to their users.
Overall, they're pretty affordance depending on the exact services you need access to.
Hoverwatch makes it extremely easy to set up and use their services, and you can remain incognito throughout all of your monitoring activities.
Features & Specifications
Remote installation available
Easy UI
Reliable SMS tracker
Always monitor without being detected
Available for Android and iOS devices
Another spy application that's made a name for itself, Cocospy has everything you need to monitor text messages and more.
One aspect of their SMS tracker services that stick out is the fact that you can install it onto the targeted device remotely.
It's a great option for small and large-scale monitoring solutions. Whether you have a child or managing numerous employees, Cocospy is a great solution.
Users can also create marked zones on a map for geo-fencing, and the app will send you alerts if these boundaries are crossed.
Considering you can't keep your eyes on it 24/7, you can set up certain notifications and review any activity that you may have missed.
Don't worry; the user of the target device will never you know you're watching, as Cocospy works in stealth mode at all times.
Check on their saved contacts, media, and deleted conversations, giving you clear insight into what they're doing online.
This application is an excellent choice if you're looking to keep your loved ones safe.
The internet can be a challenging place to navigate, and it's vital you protect young minds from diving in too deep.
Cocospy has a free demo users can review before starting a subscription.
Their services are $150 per year for a single device, and the company also accepts cryptocurrency as a form of payment.
6. Spyic
Features & Specifications
Offers support for SIM tracking and geofencing
Free demo on their website
Comprehensive monitoring features
60-day moneyback guarantee
Statistics for phone and browser use
There's no argument that Spyic's features aren't as hefty as some others on this list, but they still garner the interest of many users.
Of course, you can track text messages with ease, and you can ever match location and text data.
Unfortunately, their alerts are limited in a few ways, one of which being that you can't set alerts for specific keywords.
Most of their services are centered around WhatsApp, Facebook, text messages, and GPS tracking.
Spyic also allows you to monitor multiple devices. For $199.99 per year, you can spy on three Android devices, and for $399.99 per year, you can keep an eye on five iOS devices.
However, they don't allow you to mix and match devices, so you'll have to choose between Android or iOS for your subscription.
If you're looking to only monitor one device, then it's either $49.99 per month.
Whichever route you take, you're getting a pretty good deal, but the most cost-efficient route is with their yearly plans.
Spyic is an excellent choice for someone who doesn't need a bunch of flashy features but would utilize the essentials.
When it comes to text message spy apps, this company gets straight to the point and makes their product pretty easy to use.
It may not be as thorough as some others apps on this list, but it holds its own and keeps the entire process simple for their users.
7. Spyera
Features & Specifications
Monitor different messaging apps
Automatically remove targeted keywords from messages
Keystroke logging
Block certain apps remotely
Available for Mac, Windows, Android, and iOS
They may be one of the more expensive options on this list, but that doesn't mean you won't appreciate the services they have to offer.
Spyera also provides some of the most extensive features you'll find in a spy app, giving parents maximum control over how their kids use the internet.
It's easily one of the best SMS spy apps available right now, and they cover nearly every aspect of mobile and desktop interactions.
You can listen to phone calls live, record data, and save it for later, as well as record and monitor certain actions across numerous applications.
You'll also get the benefit of certain notifications that'll keep you up to date on what the target device is being used for.
Better yet, your presence will never be compromised, regardless of the monitoring services you use.
If you're looking for a full-fledged solution to monitoring a device, Spyera is a great place to start.
When it comes to their pricing, you can choose either a monthly or yearly subscription.
Pricing ranges from $49 to $479 per month, depending on how many features you need.
8. Mobile Tracker
Features & Specifications
Cost-efficient
Easy-to-use dashboard
Remote control features
Monitors essential apps and activities
Review live and recorded data
For the last text message spy app on this list, we have Mobile Tracker. This is likely to be the most cost-efficient route if you're looking to save a few bucks.
Although it may be cheap, this doesn't mean it skips out on the features you need most.
You can monitor text messages, review saved media and contacts, and even remotely delete data.
The remote features are some of the best services they have to offer. Record audio, take screenshots, enable or disable Wi-Fi, and more.
This gives you the ability to control the target device without compromising your presence at the same time.
If they're messaging, calling, or interacting with anyone online, you'll know about it.
You won't break the bank using their services all year long; even their cheapest subscription comes with most of what you might need.
Mobile Tracker is very easy to install, and they have a detailed installation guide available on their website.
Aside from text messages, you can also monitor instant messages on many other applications in addition to watching current mobile interactions live.
Final Notes
Clearly, there's a long list of spy apps available for you to choose from, but not all of them come with the same features.
It's essential to review what they have to offer so you can monitor what you're looking for.
You're bound to find the best spy app to read text messages for your needs, and this article delivers a variety that should have exactly what you need.