To ensure your child's safety or manage your employees, it can be helpful to use the best keylogger for Android.
It's a simple yet effective way to watch the actions on any given device and never miss a single keystroke.
However, even if it seems like a simple tool, not all keylogging services offer the same quality.
This article will give you everything you need to know about keylogging services you can rely on for the long term.
Best Keylogger for Android in 2023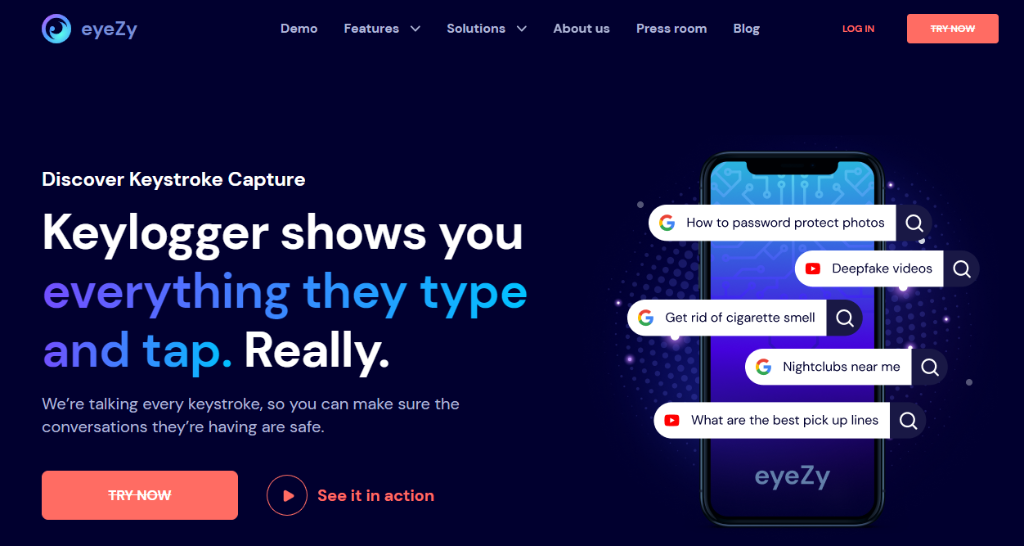 Features & Specifications
Monitor browser interactions
Record every keystroke
Set up custom alerts
Review browser history
Find out where specific keywords are typed
If you're looking for a top choice that's suitable for a broad range of keylogging needs, EyeZy brings plenty to the table.
Aside from the many different monitoring solutions the company offers, keylogging is one that many people are fond of.
This is especially true regarding Android devices, as you can capture every keystroke, see exactly where it happens, and even get the data and time.
You're able to review keystrokes across many different applications and even set up custom alerts for specific keywords.
This is helpful when it comes to monitoring sensitive information and ensuring your children are safe or your employees stay on track.
There's also a free demo available on their website, which will give you a good look at what their services are capable of.
Users also benefit from customer support if they encounter any issues, and multiple pricing tiers are available for different budgets.
They also let you give their services a test run with the help of a 14-day money-back guarantee.
This allows you to try out what they have to offer without making a long-term commitment right from the jump.
You'll also find multiple pricing tiers available that are suitable for different budgets.
An annual subscription is your best bet if you're looking to save some money.
It's only $9.99 per month for an annual subscription, but if you decide to go monthly, it goes up to $47.99 per month.
On top of their keylogger services, you also get the benefit of GPS and Wi-Fi tracking, viewing multimedia files, and even built-in screen recording.
EyeZy is best suited for those looking for parental control services, but it can be used for any of your device monitoring needs.
They're also known for an easy-to-navigate website and UI, making them a top choice for many people who value ease of use.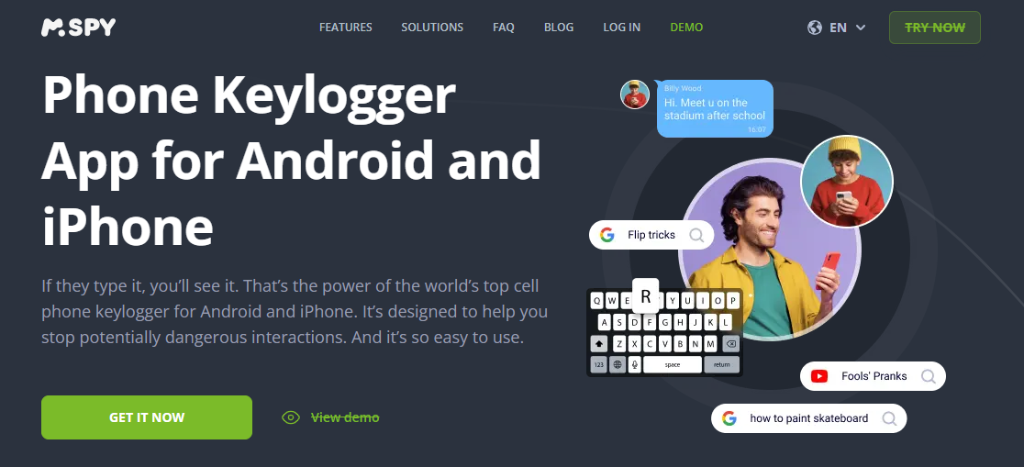 Features & Specifications
Notifications for every keystroke
Monitor activity on major social media apps
Extract keylogged information
Block access to any website or application
Track sharing and viewing of multimedia files
Although EyeZy is a well-known solution for keylogging and device monitoring services, it's always smart to have a backup option on hand.
mSpy offers a unique set of services, making them an equally viable solution.
They also have their own demo available if you're looking to see what they're capable of.
They aren't as cost-friendly as EyeZy, but they still have a decent annual subscription. It only costs you $16.99 per month with an annual subscription.
However, you also have the choice of a $69.99 monthly subscription or $39.99 per month for a three-month subscription if that's what you prefer.
mSpy might be a little pricier, but you can also take advantage of a 10-day refund policy if you aren't a fan of their services.
Their keylogger for Android allows you to monitor activity across a broad range of applications and media from SMS, Facebook, Telegram, Skype, and many more.
They provide a detailed and intuitive dashboard that gives you every bit of information you need in one place.
Of course, you won't have to worry about being discovered either, as their services offer full anonymity.
mSpy has an 87% satisfaction rate with their customers, and you can find many positive reviews about their services on Trustpilot.
On top of their keylogger, you can also utilize features such as tracking multimedia files, viewing all communications, monitoring every call and text message, and more.
The company's services have you covered from many angles, but you'll only be able to monitor one device with a single subscription.
Nevertheless, there's plenty to take advantage of here, and mSpy offers each customer 24/7 support.
Get the help you need in a prompt manner, and guarantee you're getting the most out of what their services have to offer.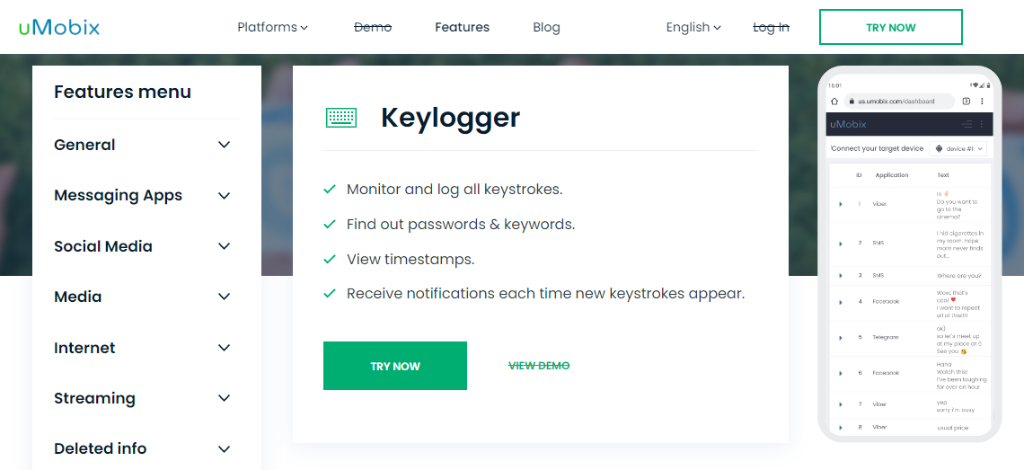 Features & Specifications
Review specific keywords and passwords
Notifications for every single keystroke
Monitor data logs
View timestamps for each key log
Real-time GPS tracking
Another excellent alternative is uMobix, as they've been known as a reliable keylogging service for years.
They offer much more than just that, as you can also track calls, view contact lists, review browser history, and monitor the device's GPS location.
They're known for their quick, 10-minute installation and the ability to review every type of message, regardless of the application.
On top of that, you get real-time updates on logged data every five minutes.
Their services are compatible with Android and iOS devices, and their keylogging features work seamlessly across both.
I'd say they offer a pretty good midway point regarding cost and have multiple pricing options that are great for different budgets.
If you aren't too worried about the cost, you can simply go for the monthly subscription of $49.99.
However, if you're looking to save a few bucks along the way, the annual subscription is your best bet, as it's only $12.49 per month.
In the event that you aren't necessarily a fan of what uMobix has to offer, you can always utilize their 14-day refund policy.
They may not be for everyone, but the company has a stellar rapport with their customers.
uMobix does their best to be a comprehensive yet all-in-one solution for your device monitoring needs.
They're able to do this efficiently while providing a UI that's easy to learn and navigate.
It only requires a simple three-step process to get started, and you can rely on their multi-level security to ensure your data is protected every step of the way.
They're much more than a keylogging tool.
Although that's one of the highlights of their services, you can also monitor photo galleries, set up custom notifications, and even capture screenshots.
You'll also find they're compatible with many Android devices. Some of which include LG, Samsung, Nexus, Motorola, and many more.
4. CocoSpy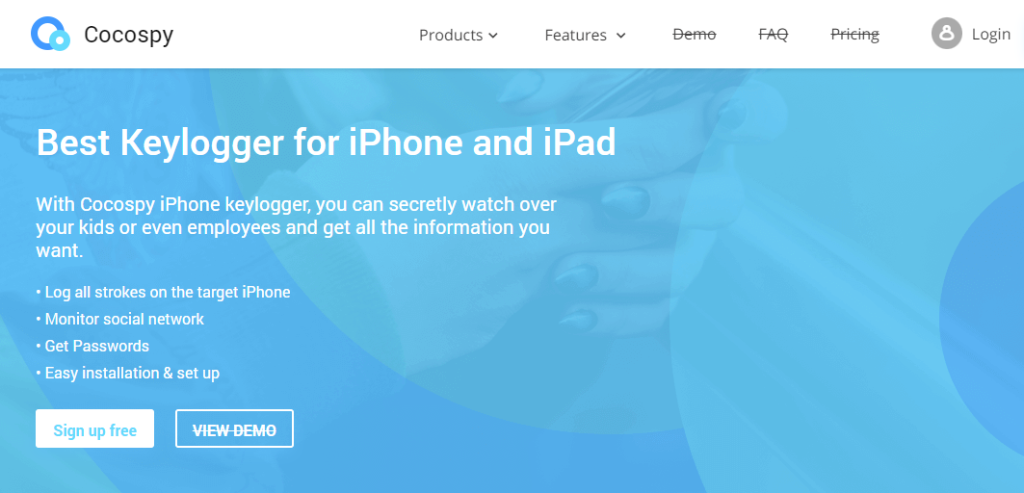 Features & Specifications
Set up alerts for geofencing
Intercept login credentials
Record private passwords
Review calendar events and notes
Monitor text messages and social media applications
You can't talk about keylogging features without mentioning Cocospy.
Not only are they an excellent solution, but they run a notable business that contends some of the best in their niche.
It should be noted that their services are somewhat minimal in comparison to others, but the results they excel in every regard.
They're very transparent about how they operate their business and leave no questions unanswered on their website.
You'll find a demo that covers the basics of their services, but you can also review a specific demo that shows what their keylogging services are capable of.
Monitor keystrokes on any application on an Android device.
Every tap made on the phone can be recorded, which will help you see the various habits of the user that are being tracked.
You'll have eyes on every interaction, from text messages, GPS, call logs, private passwords, and social media monitoring.
Better yet, they offer an effective stealth mode that allows you to monitor actions in real-time without being noticed.
Even if you're actively recording and saving data, the targeted device will never notify the user of your presence.
All that's needed to get started is to create an account, install Cocospy on the targeted device, and instantly start monitoring.
Better yet, they have one of the most cost-efficient options on this list.
You can monitor from one to three devices based on the subscription you choose, which ranges from $8.33 to $16.66 per month.
However, these are their annual billing prices, and month-to-month charges can be a bit more expensive.
A monthly subscription costs $39.99 to $49.99 for just one device, so setting up an annual agreement makes much more sense.
Their keylogging features are multi-faceted, to say the least, but you have many more tools at your disposal.
Don't forget to utilize GPS and SIM location tracking, review downloaded files, and set up alerts for specific geo-locations.
Overall, Cocospy is a great option if you're looking for essential features with a cost-effective approach that includes multiple devices.
5. Hoverwatch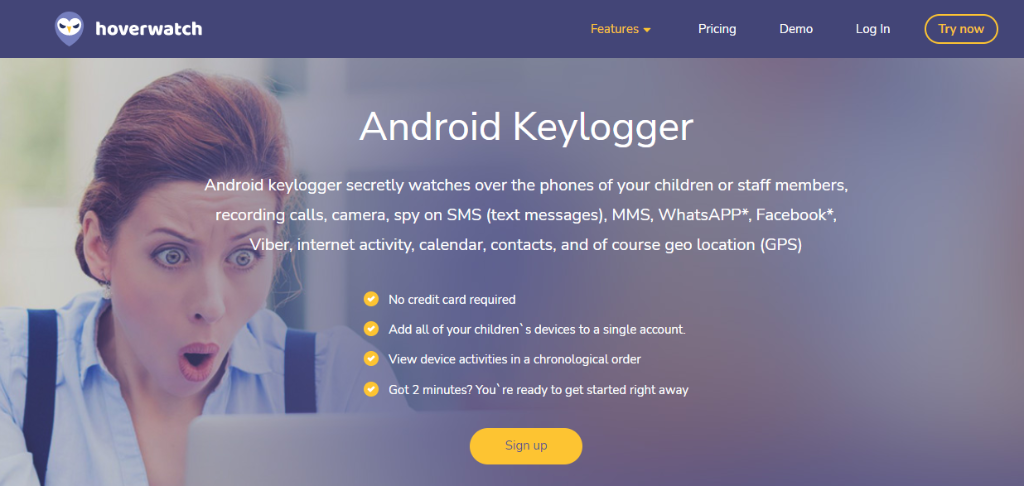 Features & Specifications
View activities in chronological order
Add multiple devices to a single account
Stealth mode available
Save multiple forms of media
Instant notifications for SIM card changes
This list may already be stacked with excellent solutions for device monitoring, but Hoverwatch should definitely be an alternative to your list.
Keylogging features are only one of the highlights of their service, as you can monitor major applications such as Instagram, WhatsApp, and Facebook as well.
Hoverwatch keeps their services relatively simple for the most part, as their features are straightforward and effective.
There's no credit card required to get started; it takes mere minutes to get their services up and running.
You can also set up multiple devices under a single subscription, which is a big selling point for this particular company.
You can easily keep track of when certain actions are taken as you can sort through data in chronological order.
All the recorded data can be found in your online account, and Hoverwatch takes pride in the simplicity of their services.
They're likely to be the easiest option when it comes to new users, as there isn't a single aspect of their website that's confusing.
Although you can use their services for multiple reasons, they're primarily catered toward concerned parents.
Monitoring data in real-time is also quite easy, considering everything is in chronological order.
Take advantage of stealth mode, monitor multiple major social applications, and review and record call data.
The cost is pretty acceptable as well. You have the option of choosing a one, three, or twelve-month subscription.
These cost $12.49, $29.99, and $49.99, respectively.
Hoverwatch's website and services are 100% secure, and they also accept numerous forms of payment.
Their services have been installed on over 12 million devices, and they're known as one of the easiest keylogging services for Android devices.
You get everything you need in one place without having to deal with convoluted services or features you may not require.
Hoverwatch is arguably one of the best options for concerned parents looking for an easy and effective device monitoring solution.
The Bottom Line
There's no question that you have numerous device monitoring services to choose from, but you can rest assured this article contains some of the best.
You don't want to cut corners when it comes to security and reliability.
Each company offers something unique that's suitable for the needs of many different personal needs.
Nevertheless, if you're looking for the best keylogger for Android specifically, this article has everything you'll need to know to get started.