Answer: We tested dozens of services, and we found the best Facebook hack tool: xMobi!
---
Facebook is a renowned global corporation and has become a household name.
Presently, Facebook boasts nearly 3 billion users, making it the largest social media platform worldwide.
It is a valuable tool for reconnecting with old friends and forging new relationships. Nonetheless, there are inherent risks associated with its usage.
One primary concern involves individuals with malicious intentions assuming false identities to groom minors online.
Children may inadvertently stumble upon inappropriate content, while adults may succumb to temptations, even while committed to existing relationships.
Taking action becomes crucial if you suspect a loved one's infidelity or your child is facing troubling experiences.
Opting for the most effective approach involves discreetly utilizing Facebook hack tools to monitor their activities.
Fortunately, we have thoroughly researched and tested various options to compile a list of the contenders for the best Facebook hack tool.
Explore these exceptional tools below to gain insights into your loved one's Facebook interactions.
Best Facebook Hack Tools in 2023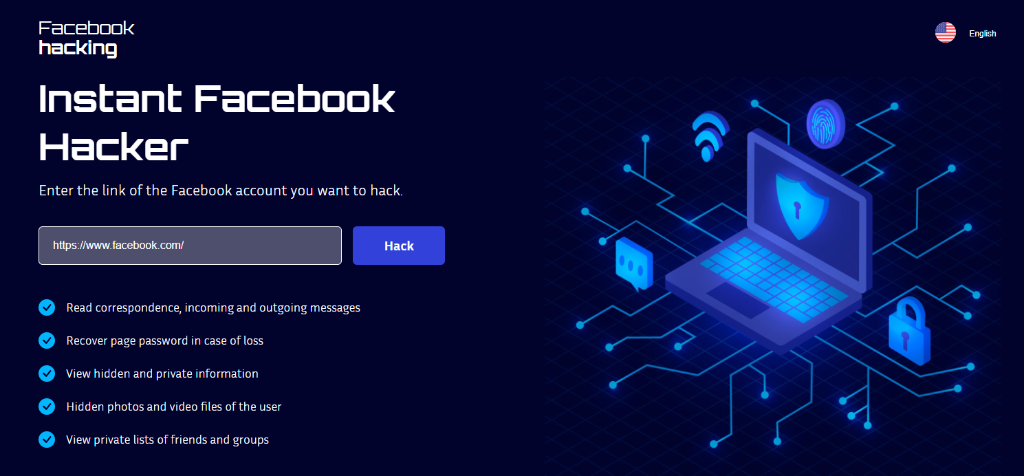 We have a top reliable entry on our list of Facebook hack tools – xMobi. 
This powerful app offers a simple and effective way to hack into any Facebook account using the target's username and password.
Once you have these credentials, you gain full access to the account, allowing you to explore their private information.
xMobi is one of the most sought-after Facebook hacking apps available today. Its popularity stems from its exceptional speed, efficiency, and user-friendly interface.
It ensures a seamless hacking experience for users of all levels of expertise.
The app provides a comprehensive range of features that allow you to personalize your hacking process.
You can effortlessly download photos and videos from the hacked Facebook account, delve into messages, and access the target's contact lists.
Moreover, the tool enables you to view their conversations and posts, making it an invaluable tool for staying informed about your target's activities and swiftly gathering crucial information that can serve various purposes.
With xMobi, you have a powerful ally in accessing Facebook accounts.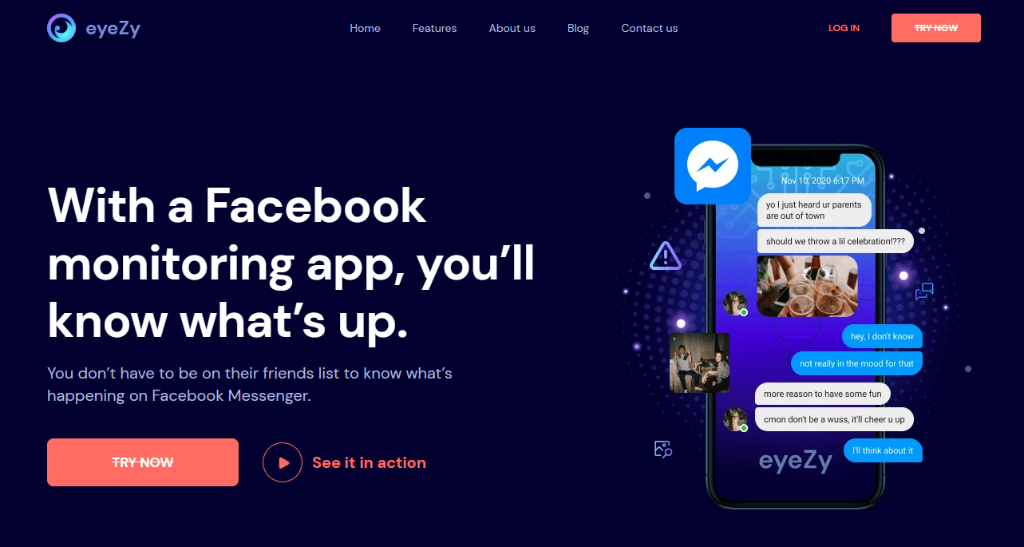 With EyeZy, you can witness every message sent and received.
It empowers you to explore the visual realm by allowing you to view all the pictures shared within conversations.
This remarkable feature becomes especially valuable when it comes to identifying instances of bullying or harassment.
You can swiftly detect and address any concerning behavior by closely monitoring chats.
But EyeZy doesn't stop at messaging apps like Snapchat and Twitter. It goes beyond enabling you to spy on various social media platforms, ensuring comprehensive monitoring of your target's online activities.
Furthermore, this versatile app grants you access to text messages, encompassing content and media files.
You can effortlessly browse through contacts, analyze call logs, and even review call durations.
Equipped with advanced tracking capabilities, EyeZy also provides real-time location monitoring.
Stay informed about the device's whereabouts, ensuring the individual's safety and security.
Rest assured, EyeZy boasts an intuitive and user-friendly interface, making it accessible. Should you require any assistance, their dedicated customer support team is available 24/7.
Reach out via live chat or email, and expect a prompt and professional response.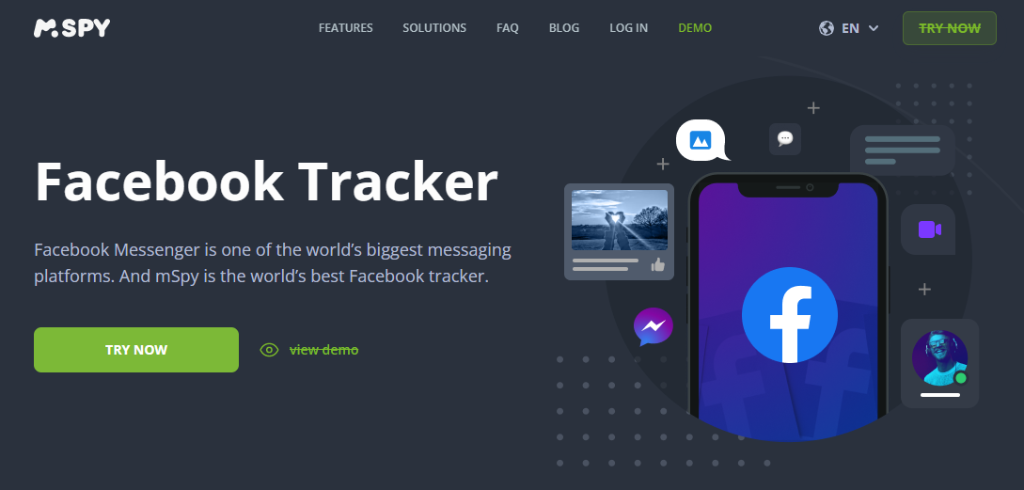 mSpy is a top app for hacking into Facebook accounts and gaining access to a wealth of information.
With mSpy, you can effortlessly view all the videos and messages sent and received on the target's Facebook profile.
But mSpy doesn't stop at Facebook alone; it extends its hacking capabilities to other popular social media platforms like Twitter, Instagram, and Snapchat.
This comprehensive approach makes it an invaluable tool for parents looking to monitor the online activities of their teenage and pre-teen children.
In addition to social media monitoring, mSpy provides insights into the device's call history and web browsing activity, informing you about their communication patterns and internet usage.
mSpy's keylogger feature takes surveillance to the next level by capturing every keystroke on the target device.
It enables you to stay updated on the content that has been typed, providing valuable insights into their digital interactions.
Furthermore, mSpy offers geofencing functionality, allowing you to set up virtual boundaries and receive alerts if the person you're monitoring leaves a specific geographical location.
This feature adds an extra layer of security and helps you ensure their safety.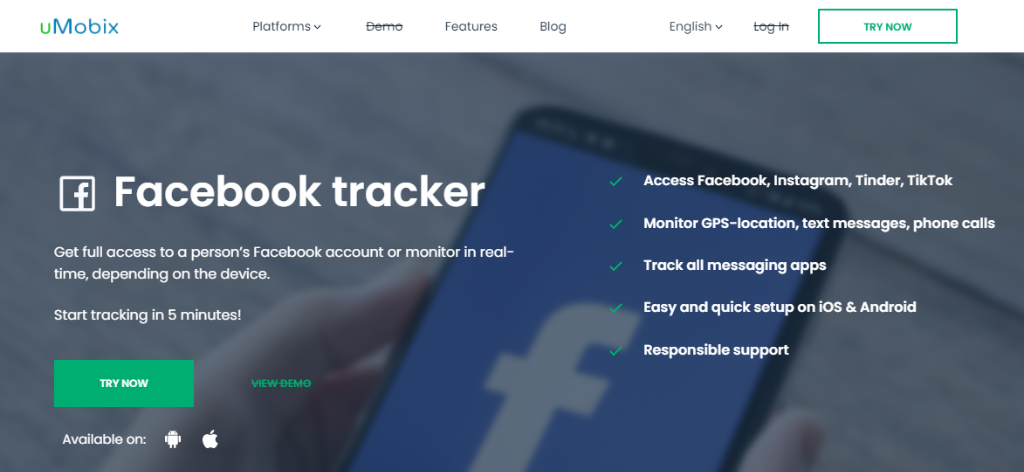 Discover the extraordinary capabilities of uMobix, a cutting-edge Facebook hack tool that allows users access to conversations, data, and valuable information within the Facebook messenger platform.
uMobix is equipped with state-of-the-art security features, ensuring a safe and secure hacking experience while enabling users to set up restrictions and monitor conversations in real-time.
Its robust algorithms and user-friendly interface make it the ultimate choice for individuals seeking to hack into a Facebook account quickly and efficiently.
Whether you're looking to closely watch your partner's activities or safeguard your children from potential online threats, uMobix offers the perfect solution.
Its seamless setup process and powerful features make it the ultimate tool for unlocking the secrets hidden within Facebook.
Rest assured that with uMobix, you'll have the ability to gain deep insights into Facebook conversations, uncover valuable information, and protect your loved ones from potential dangers.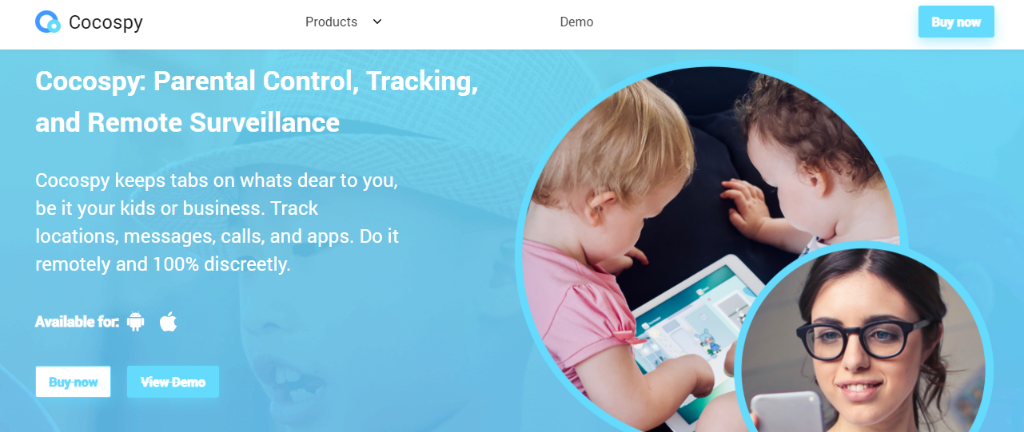 Unlock the power of Cocospy, a cutting-edge Facebook hacking solution that provides unique features to access any Facebook account easily.
With Cocospy, you can safely hack into any account and explore shared pictures, private chats, timeline posts, and more.
The best part? Cocospy eliminates the need for rooting or jailbreaking the target device, making the monitoring process hassle-free.
You can easily monitor your child's activities using any device, ensuring their online safety and well-being.
In addition to its exceptional hacking capabilities, Cocospy also offers top-notch customer support.
Their professional and friendly staff is available round the clock to assist you with any queries or concerns you may have.
Choosing the Best Facebook Hack Tool: Factors to Consider
To make an informed decision, consider the following key factors:
Ease of Use
A top-notch hack tool should offer user-friendly features, catering to individuals with varying technical expertise. 
Opt for an app that boasts simple commands and an intuitive interface, allowing you to navigate the hacking process without any unnecessary complications effortlessly.
Reliability
Ensuring the reliability and security of the chosen app is paramount.
Thoroughly research the app's background and reputation to verify its reliability.
The best apps undergo rigorous testing to prevent unauthorized hacking attempts by others.
Additionally, prioritize apps incorporating robust security measures like two-step authentication and data encryption to safeguard your information effectively.
Cost
Consider the cost of the app as well. While many apps offer free trials, these often come with limited features and capabilities.
It is advisable to compare prices across different options to find a favorable deal that suits your budgetary constraints while still meeting your requirements effectively.
Frequently Asked Questions
What Are the Steps Involved in Installing a Hack Tool for Facebook? 
To install a hack tool for Facebook, you need to follow a series of steps, including choosing a suitable app, obtaining the installation link, and installing it on the target device.
Is It Legal to Use Facebook Hack Tools?
Yes, using Facebook hack tools for ethical hacking is legal. Engaging in any unauthorized hacking activities is illegal and strictly prohibited.
Conclusion
We have discussed reliable platforms to help you choose the best Facebook hack tool.
In today's complex and fast-paced digital era, safeguarding our loved ones and maintaining our peace of mind can sometimes necessitate hacking into their devices.
However, ensuring that such actions are carried out discreetly and that our data remains secure is crucial.
This is where the top-rated FB hack tools mentioned above come into play. 
These apps provide the means to protect our children, establish trust within relationships, and preserve our mental well-being.
If you have not yet explored the potential of these apps, now is the perfect time to do so.
Utilizing these powerful tools allows you to navigate the complexities of the digital world more confidently.