Facebook has nearly 3 billion active users, making it the most social media app in the world. It started trading in 2004 and has steadily grown.
Active users post content every day and it can be frustrating to know someone that's posting regularly but won't let you see what they are posting.
Fortunately, when you learn how to hack Facebook accounts you'll be able to correct this injustice.
Of course, Facebook does have a high level of security, hacking is not always a simple process. In addition, you should consider the legal ramifications of hacking a Facebook account.
Monitoring your children is one thing, hijacking an ex or a celebrity Facebook account is something completely different.
How To Hack Facebook Accounts in 2024 With Third Party Apps
The simplest way to hack a Facebook account of someone you know is by using a third-party app.
Third-party apps are installed on the target's phone and allow you to see everything they are doing. In some cases, they can even give you control over the phone.
But, these apps need to be installed. For Android phones that means physical access to the device, allowing you to install the link.
You can install on an Apple device via the cloud. But, you'll need the user's ID and password.
Once the app is installed it becomes part of the operating system, making it virtually untraceable. You can then log in remotely and check on what your target is doing online, including on social media.
Learning how to hack Facebook accounts can be considered an essential skill if you want to keep your children safe online.
It's also useful to check on a partner or even monitor an ex and what they are saying about you.
Naturally, there are many third-party apps available. The following are effective, easy-to-use, and won't steal your data.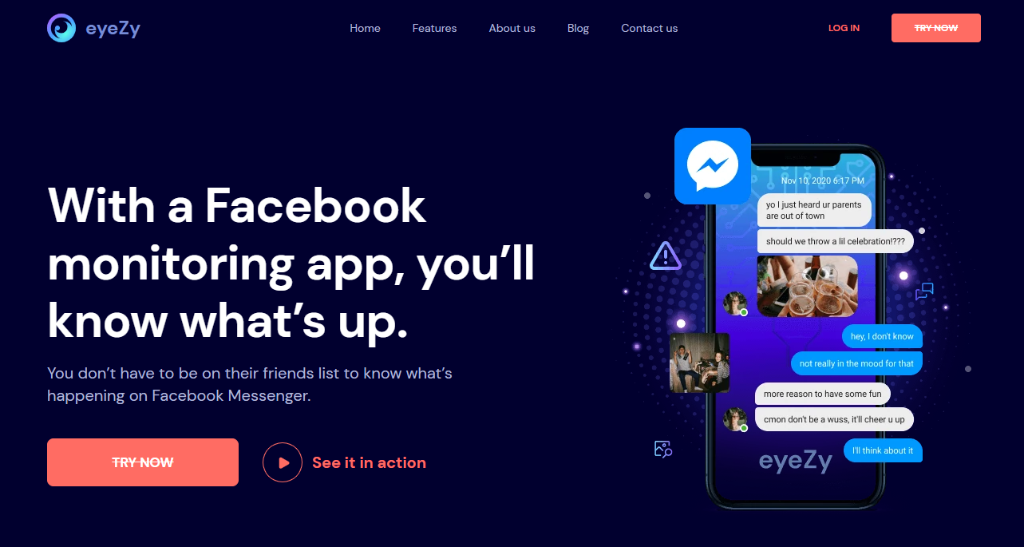 eyeZy is often regarded as the most powerful software hacker available. It is specifically designed to help parents monitor their children online without their children knowing.
This is important to help children stay safe without damaging the trust between a child and parent.
You'll need to install eyeZy on their phone or via the Cloud for Apple devices. You'll then be able to visit the eyeZy website on your own phone or computer and login to your account.
This will give you access to your child's phone, effectively allowing you to see all social media accounts and the posting/comments.
You'll also be able to check SMS messages, what phone calls have been made and received, and where your child is.
There's even an alert system that tells you when your child is somewhere they shouldn't be or when they search on keywords and phrases.
xMobi is a phone spying app with a dedicated Facebook account hacking tool.
They state they are successful at hacking 99% of the time.
The hacker tool is designed so that you enter their username and It produces the associated password.
It should be noted that this hacking app only works if the person is currently online on Facebook.
But, it does give you full access to their Facebook page and all their posts, including comments made on their posts.
If you just want Facebook access and to spy on Facebook Messenger, then xMobi doesn't need to be installed on the target phone, you just need to know the username or the password and the hacking tool will do the rest!
It's undoubtedly one of the best in the business and there is also an xMobi app which allows you to see all social media accounts, phone logs, and SMS messages. But, this does need to be installed on the phone.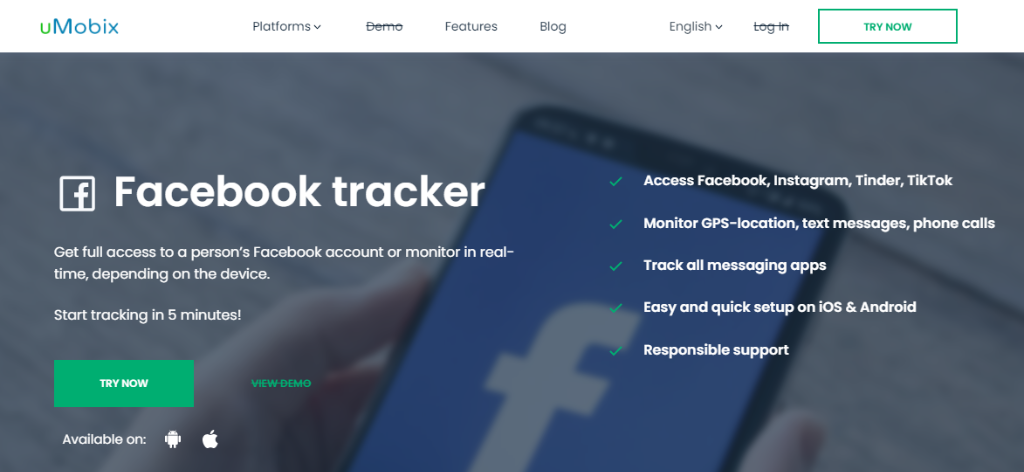 Another good option is uMobix. This app doesn't have a dedicated Facebook hacking app. Instead, it can be installed on the target phone and will allow you to spy on everything they are doing.
Once the app is installed you can remotely access the dashboard and choose the social media option. This will allow you to see their Facebook page or you can check out any other social media accounts they have.
The app allows you to check their location, including where they have been. It gives call log details, including time and duration.
Alongside this you'll be able to look at all SMS messages going in and out of their phone.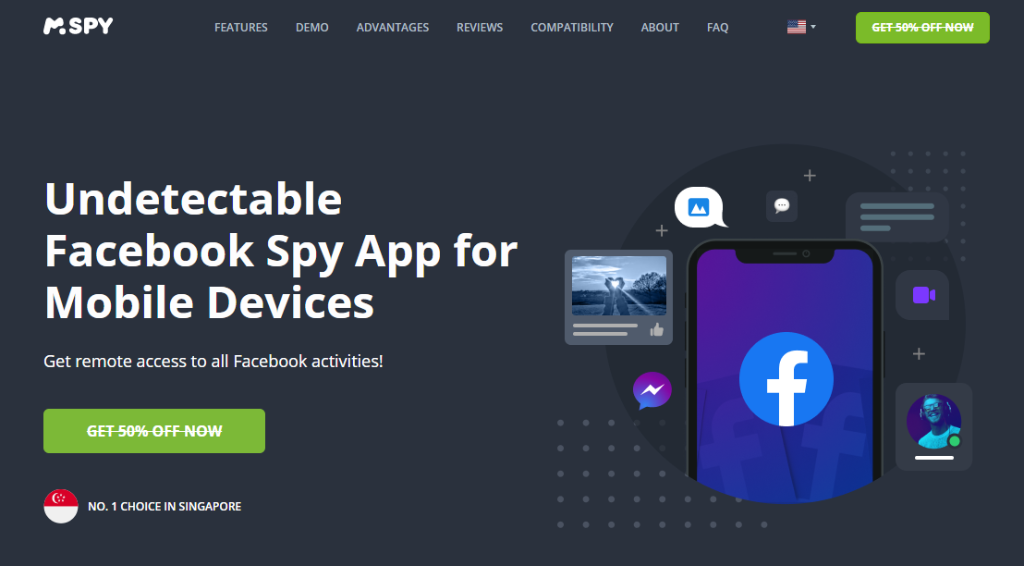 mSpy is also worth looking at when trying to hack Facebook accounts. This app is also designed as a full spy app and needs to be loaded onto their phone or into the iCloud.
Once installed and set up you can log into the account you've created and see all social media postings, including videos and images.
This means on Facebook and various other social media sites, such as WhatsApp or Snapchat.
Of course, you'll also be able to track their location, check what phone calls they have made and received, and even monitor their incoming and outgoing SMS messages.
You'll appreciate the high-level of customer support that comes with this app and the fact it's available in a variety of languages.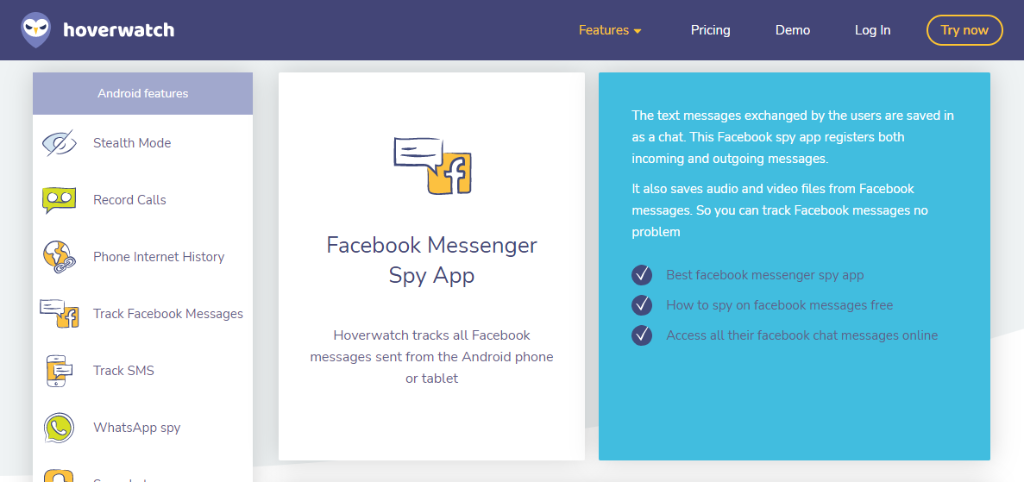 The final contender on this list of third-party Facebook hacking apps is Hoverwatch.
This app is excellent at showing you exactly what your child is doing on Facebook. It still needs to be installed in the same way but it works by recording the screen at set intervals.
This allows you to see exactly what is being looked at; posted, and received.
Hoverwatch has the distinct advantage that it's very easy to set up and allows you to see everything that the target is doing on their phone.
Naturally, Hoverwatch also tracks their location, allowing you to verify what they are doing and where they are doing it.
As with all the spying apps, Hoverwatch is invisible once loaded, making it a practical way to keep your child safe.
Using The Facebook Password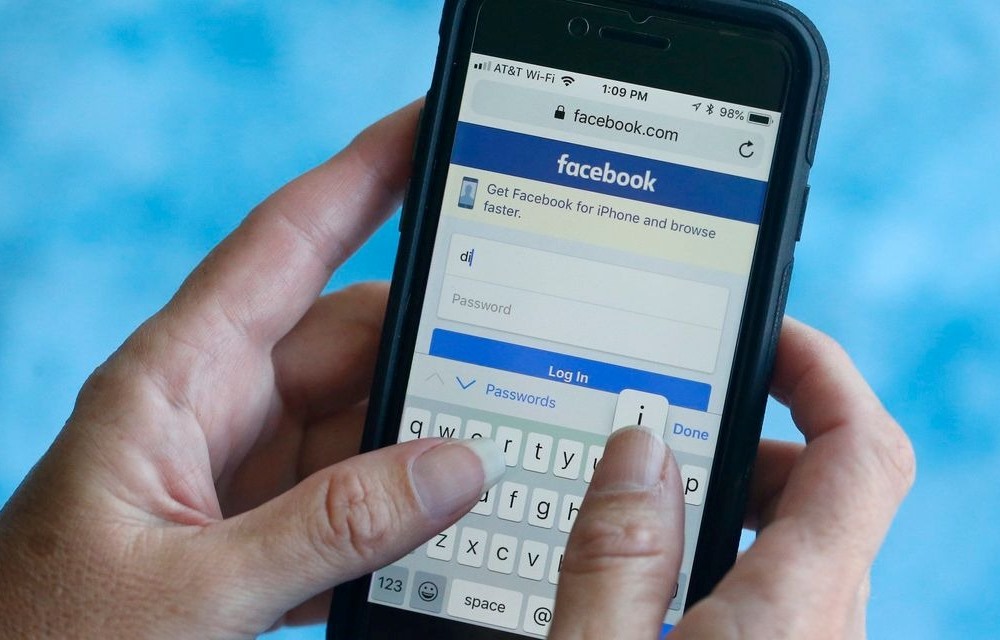 Of course, the easiest way to get into any Facebook account is if you already know the username and password. You can then simply log into the account from your own device.
However, if you do adopt this approach a log will be created, the genuine user may notice that someone has logged into their account.
If you don't know the password there are several ways in which you can get it.
Guessing
Despite most people knowing that passwords should be complicated, the truth is most people still use something personal to them.
It's not just human nature, it's easier when you have multiple passwords.
Therefore, if you know the person you have a good chance of guessing their password. All you have to do is think about birth dates, nicknames, and even their children's or best friend's names.
In many cases you can simply guess the right password because it's weak. But, a record of your login will still appear and may tell the target that they are being monitored.
Password Hackers
Another way to locate the right password for a specific Facebook account is to use a password hacker.
These are apps that are designed to work out the password of anyone's Facebook account, much like xMobix does.
Although xMobi is very good at hacking passwords, not all apps are this efficient. In many cases they will only work out a password if it is an easy one. That's one with a personal connection to the target.
Keystroke Loggers
A better option is to use a keystroke logger. These are apps that log every button that is pressed on the keyboard. You can see what someone is typing and find their username and password through this.
The third-party apps above all have keystroke loggers or you can use an app that just logs keystrokes.
Once you have the username and password you can log into their Facebook account from anywhere and check what they are doing online.
Resetting The Password
If you're struggling to guess or hack the password you can also try resetting it.
When you reset a Facebook password they will send a link to the user's phone, allowing them to confirm the reset and choose another password.
That means you'll need access to their phone and they won't know the password to their own Facebook account.
In short, this will get you into Facebook but only for one session. It won't be long before the password is changed again.
Alternatively, you can reset the password by getting a text sent to your phone. To do this you'll need to call the network that the target uses for their sim card.
When you call the network you'll have to give them personal information about the target, such as the date of birth, address, and other information that only the target should know.
Once you've been approved as genuine, ask the network to reroute calls and messages to a new sim, and give them one that you have got just for this purpose.
Then, when you reset the password on the Facebook account by SMS, it will come to your phone. You can always call the network back and cancel the re-routing to help hide your hack.
Try Phishing
Phishing is when scammers and hackers send emails to people and try to get them to visit a website and give away personal details.
It requires the phisher to create a website that looks as close to identical as possible to the real website.
This can be difficult but you can purchase phishing kits which makes the entire process easier.
The advantage of this approach is that the target gives away their current username and password and creates a new password.
You can log into Facebook with the old password and change it to the new one. They won't know they have been hacked and you'll have complete access to their Facebook account.
Social Engineering
Social engineering is the term used when you create the necessary situation to steal someone's password.
It will require you to find a friend of your target, preferably one in their contact list. You simply need to hack any one of their friend's accounts.
Once you've done this, send a message to the target telling them that you've lost your phone and been locked out of Facebook. To get back in, Facebook needs to send you a code.
Ask your friend, (the target), if it's okay to do this. They will almost certainly say yes.
You then go into Facebook and enter the target's Facebook ID and click the forgotten password link. A code will be generated and sent to the target's phone.
The target gives you the code thinking they are helping you. In reality they have just given you the code that allows you to change their password and hack their Facebook account.
They will realize when they can't get back into their account but you'll have plenty of time to look and verify their activity.
Of course, this approach usually only works once.
Summing Up
Spying on someone you love or learning how to hack Facebook accounts can seem drastic. But, in most cases, the reasoning is sound.
After all, there is often no better way to protect your loved ones and yourself than to ensure everyone knows the truth.
The most common reason to want to hack a Facebook account is to keep children safe. There are plenty of dubious characters online, it can be hard to protect your child.
Using a spy app or hacking tool will help you to ensure they stay safe.
Of course, you may also want to hack Facebook accounts to keep an eye on employees or verify whether a partner is cheating on you or not.
In all cases the above apps can be easily installed and give you discrete knowledge of what they are doing on Facebook and other sites.
Sometimes it can be the only way to make sure your loved ones stay safe.