Have you ever dreamed of working from the comfort of your couch or sofa?
It was a distant dream until a few years ago, but now you can fulfill your dream.
That's where SaaS tools come into the picture.
These tools help save a lot of marketers' time. In the world of automation, a business that saves time is the one that wins the customer's trust and witnesses exponential business growth.
Today, marketers no longer go door-to-door distributing pamphlets or sticking billboards to market themselves to potential customers. They rely on digital marketing to market their brand, making SaaS tools a must-have in your marketing arsenal.
While there are hundreds of tools out there, with each boasting of bringing a revolutionary change, choosing a few tools that can help save time is challenging.
In this article, we discuss various SaaS tools that a business can use in 2022.
Let's dive in!
4 SaaS tools for businesses in 2022
Here are some SaaS tools a business can use to increase their marketing efforts and grow their business.
Pitch – Collaborative Presentation Tool
Today, Pitch is a collaborative presentation tool for modern workplace teams. As the tool focuses mainly on real-time collaboration and offers intuitive design features, this tool can take your business presentations to another level.
From creating pitch decks to business reports, this tool helps create beautiful presentations.
When you use a business template report, it becomes easy to find inspiration from these templates as experts specifically craft them.
You can create visually stunning board decks, presentations, SEO reports, and status updates using these report templates.

Apart from helping you create reports, this intuitive tool provides you with a curated collection of presentations from companies, professionals, and teams worldwide.
In short, Pitch can help a business design beautiful presentations in record time. Templates and styles can help keep your work on-brand without limiting your creativity.
What makes Pitch a one-of-a-kind tool is its ability to help amateur and professional designers. Amateur designers can visually express themselves using Pitch, whereas professional
designers can fully control every element.
Pricing: Offers a free plan, and their paid plan starts at $8 per member per month.
Why use Pitch? 91% of presenters feel more confident when presenting information using a well-defined slide deck.
Bit.ai –Workplace and Document Collaboration Tool
Bit.ai is the 21st-century cloud-based workspace and document collaboration SaaS tool. The tool works like a virtual office, allowing team members to share information and documents while working collaboratively on a project.
What makes Bit a must-have tool in your arsenal is its ability to create interactive live documents, knowledge bases, company wikis, training manuals, and process documents while integrating the work across different applications.

From human resources, marketing, and customer service to IT and sales departments, everyone in your company can reap benefits from this intuitive tool.
Using Bit's powerful editor, you and your team can collaboratively type in real-time and share videos, spreadsheets, documents, and PDFs.
Pricing: Offers a free plan, and their paid plan starts at $8 per user per month.
Why use Bit? According to research, online collaboration tools can increase workplace productivity by 30%.
Asana – Project and Team Management Tools
Productivity enthusiasts have a certain liking for Asana. This project management tool is a collaborative tool that helps a team track their work, workflow, tasks, and projects.
For a company that manages many different clients and projects, ensuring that they're being catered in the right direction is essential for business success and growth.
Keeping collaboration in mind, Asana works as a central point to manage various projects and individuals working on those projects.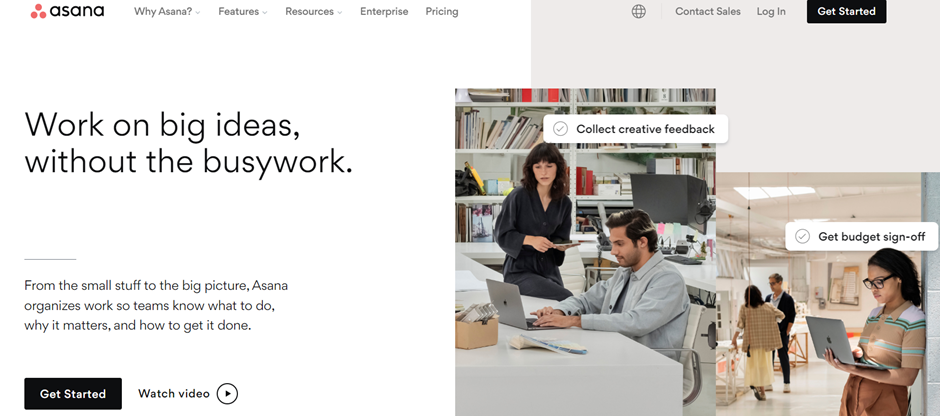 The flexibility of Asana differentiates this tool from other competing project management applications. Interestingly, it can help keep track of ongoing tasks and long-term projects.
Many companies use Asana to coordinate work with their teams and distribute duties across different departments.
Using Asana, teams can work together in one shared space, and leaders can choose a project view that suits their management style.
Teams that use Asana are the ones that can efficiently manage team projects and tasks
because it allows them to stay in sync, meet project deadlines and reach their business goals.
Pricing: Offers a free plan, and their paid plan starts at $10.99 per month per user.
Why use Asana? With 77% of high-performing projects using project management tools, Asana can make your life simpler and easier.
LiveAgent – Help Desk and Live Chat Tool
LiveAgent is an omnichannel help desk solution with a native live chat.
The tool uses a hybrid ticketing system, allowing you to engage with customers on every traditional communication channel. LiveAgent saves every interaction in the form of a ticket.
You can tag each ticket using a different color code and specific phrases for the east organization of chats and tickets. A customer service agent can find the chat conversations within a few seconds upon applying the filters.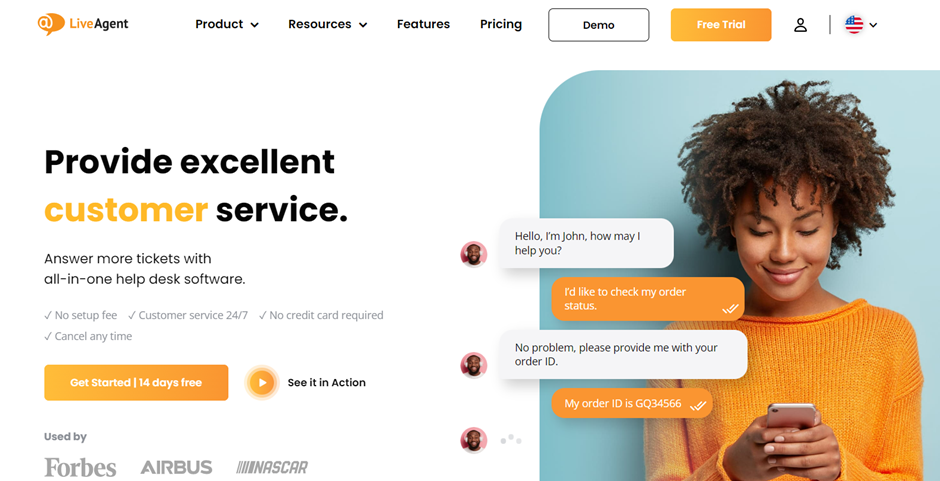 Apart from offering live chat support, this tool offers online self-service portals and ticket management features.
LiveAgent harnesses the power of real-time live chats and a robust customer service portal that businesses cannot afford to overlook.
By using LiveAgent, you can personalize your communication by taking advantage of customer segmentation, automation, a powerful analytics package, and built-in customer relationship management software.
What differentiates LiveAgent from others is that it offers 130 ticketing features and more than 200 integrations with the tools such as Shopify, Magento, Jira, Zapier, and Mailchimp.
Pricing: Offers a free trial, and their paid plan starts at $15 per agent per month.
Why use LiveAgent? According to research, 63% of customers return to a website with a live chat.
Choosing the Right Tool for Your Business
The SaaS tools you mentioned can help in improving your company's agility and productivity.
The most charming part about these tools is reducing the investment cost without compromising on the financial requirements.
While there is no best SaaS tool, the right one depends upon your company's requirements and needs.
So, don't hastily jump on the tool's bandwagon and select one that your competitor is using. Instead, weigh your options and understand your requirements before making a final decision.
While these are just recommendations, you can use various other tools to help your business grow. Some other commonly used SaaS tools might include human resource management, customer relationship management, and productivity software.