According to the Bureau of Labor Statistics, project managers are in the top five most in-demand jobs this year.
That's good news for individuals wanting to become project managers— there are enough job openings for everyone! But before you fill one of them, you have a bit of a journey ahead of you. Here's what it entails.
#1. Learn What Project Management Is All About
Project management is a very sought-after job these days, so many professionals from other fields are considering getting into it.
But there are also quite a few things that need to be clarified about what project management is and what skills a project manager should have to perform well.
Before you decide that you're going to be a project manager and start doing anything to get there, do your research.
Questions like "Can I hire a professional to write my resume for me" are valid and important, but they're not the right place to start. Make sure you have a clear idea of what a project manager does before taking further steps.
#2. Make Sure It's Something You're Interested In
Project management is exciting, challenging (in a good way), and has many possibilities for career growth. But it's also demanding, so it takes a special individual to succeed in this career line.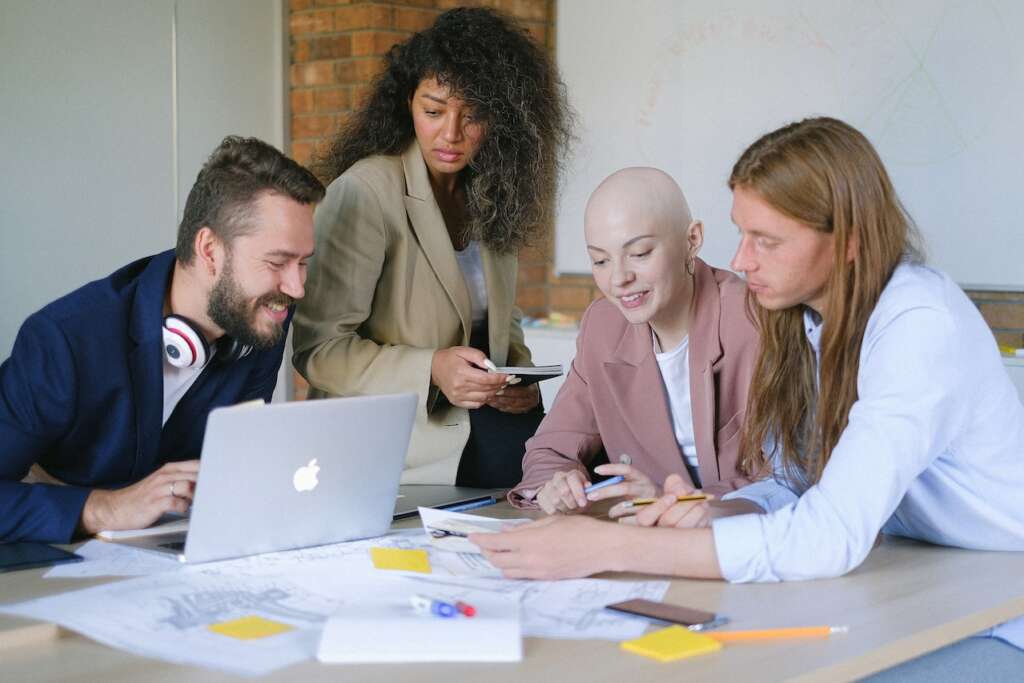 No amount of project management training can replace the personality traits that a project manager must have.
In particular, a high-performing project manager is, first of all, a highly organized person with exceptional people skills.
Scrum is helpful and all, but it can't substitute for the ability to balance the interests of the client and team in such a way that everyone is happy in the end.
As a project manager, you need to know about everyone and everything involved in the project you're in charge of. It can be too much for some to handle.
#3. Assess Your Skills and Identify Your Knowledge Gaps
Once you've studied what project management is all about and decided that you're a perfect fit for it, it's time to start your education.
Contrary to popular belief, the first step toward becoming a project manager isn't formal training. Instead, it's a critical and unbiased assessment of what you know and can do versus what you have yet to master.
Some of the fundamental skills that a project manager needs to have are a deep understanding of risk management, exceptional negotiation skills, and the ability to keep budgets under control (among many, many others).
As you can see, these skills aren't unique to project management. Chances are, you already have them from your previous work experience. If so, good for you!
#4. Try To Look for Project Management-Related Opportunities at Your Current Employment
Suppose you already have quite a few fundamental project management skills.
In that case, you can learn the basics of project management tools (Gantt Charts, Work Breakdown Structure, and others) and find an opportunity to put them into practice. You don't even have to switch employers for this.
Most managerial positions include at least some elements of project management, so you can approach a Human Resource
Development Specialist at your current place of employment and ask them if there are any opportunities for you to do so. Perhaps, they'll be happy to offer you something (even if it's just an extra responsibility in your current role).
#5. Complete Training And Get Certified
After you get a taste of real-life project management, you'll have a clearer understanding of your knowledge gaps. This will help you find the most appropriate project management training for your interests, level, and goals.
Of course, you can get a formal degree if you want to. But luckily, it's not a requirement, so you can learn the fundamentals of project management and get certified much sooner.
Project management certifications vary, and you'll need to research your options to choose the one that matches your ambitions the best. Here are a few to get your search started:
Agile Certified Practitioner (ACP)
The Project Management Professional (PMP)
Certified Associate in Project Management (CAPM)
Certified ScrumMaster (CSM)
There are a lot of overlaps between these certifications, yet they are still very different, so choose wisely. If you have no experience in project management whatsoever and want to learn a bit of everything, CAPM is your best bet.
#6. Update Your LinkedIn Profile And Resume
Once you become a certified project management professional (whatever certification you choose to complete), you'll need to get your LinkedIn profile and resume ready for the new career path.
Job seekers who don't have much experience with this are better off hiring a resume-writing service. Finding a decent entry-level position can be tricky. You'll need all the help you can get.
#7. Find Entry-Level Job Listings and Apply
Finally, it's time to start your job search. If you can afford to earn a little less for learning, prioritize the positions where you'll be given competent mentors and ample opportunities to grow into a top-notch project manager.
Working independently is a massive challenge, even with certification.
A small tip: Use LinkedIn to contact the project managers you'd like to learn from and companies you dream of working at. They'll likely be willing to give you a chance even if there is no official opening.
And if not, you have nothing to lose—so don't be afraid to show initiative. Research shows that most employers and recruiters appreciate it.
An Afterword
Project management is as much about who you are as it is about field-specific knowledge.
Therefore, probably the most crucial thing every employee considering a project management career should decide is whether or not they want to be a project manager (and if they're willing to put in the work for it).
If your answer is a confident yes, formal certification and shadowing are the next steps.