Whether you've got a great idea for a startup or your team is taking the first steps towards a project launch, you must have the best tools to help you take your service or product to the next level.
A startup business needs reliable tools and equipment for business management and communications such as a project management software program and an office phone system.
Furthermore, startups need to be mindful of their budget restrictions, which means that hiring freelancers instead of full-time employees can be a great way to get projects done at an affordable rate.
Since startups are still learning things and gaining experiences and customers, it's crucial to embrace digital innovative technologies like mass text messaging to automate tasks and ensure the accuracy of data and results.
Therefore, we've collected the top ten best tools to help your team with communication, productivity, and efficiency.
Top Tools for Startups
Omnisend
A marketing automation platform, Omnisend allows you to create beautiful, mobile-optimized emails, SMS, and push notifications in a matter of minutes.
Using a drag-and-drop editor and a ton of pre-designed templates, Omnisend is great for helping you build a lasting relationship with your customers.
Features of this platform include:
A drag-and-drop email builder
A customizable form builder for popups, static forms, landing pages, etc
Marketing automation templates
Smart segmentation and automation splits
Sales and campaign reporting
Google and Facebook retargeting ads
Automation for email, SMS, and push notifications
GetYooz
GetYooz is a cloud-based accounts payable solution that can save you a lot of time when processing your invoices.
Usually, when you receive an invoice, you need to process the data, enter it in your database, get approvals, and then process the payment.
With GetYooz there is no risk of human error along the way, and approvals are a snap.

Features of this app include:
Same day invoice approval
Ability to capture available early payment discounts
Same day invoice approval
MindMeister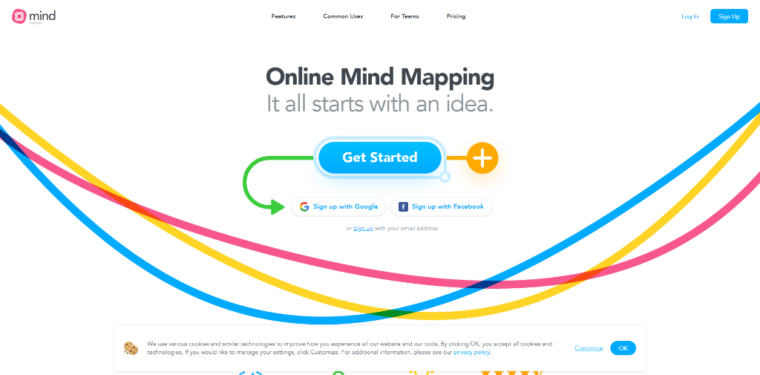 A great collaboration tool for teams, MindMeister lets your staff capture, share, and discuss ideas on the go.
For example, you can share a mind map on any device or operating system, add comments to it, and make changes to it instantly from wherever your team members are.
Features of this app include:
Commenting and voting on ideas
Turning ideas into tasks
Creating presentations
Adding images and videos
Sharing mind maps and working on them collaboratively
Monitoring the mind map history
Maptive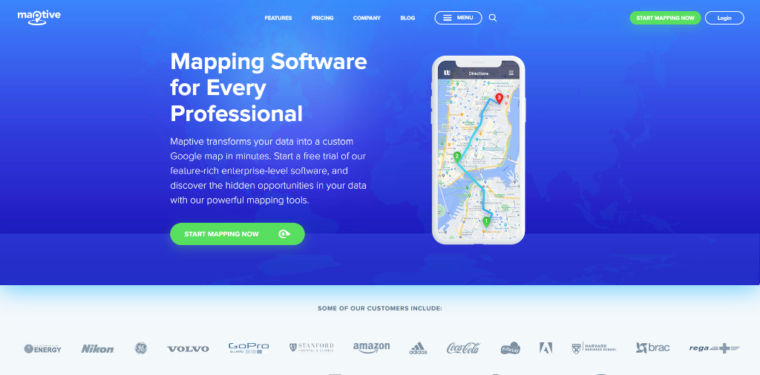 As a business data mapping software program, Maptive transforms your data into a custom Google map so you can visualize and analyze your data.
Maptive is a cloud and web-based solution, so you don't need to download anything, and it can be accessed from any device, including desktop, tablet, and mobile.
Features of this software include:
Heat maps
Route optimization
Plotting of up to 100,000 locations
Map customization options
Pie chart clusters and markers
CRM integrations
Turn by turn navigation
Furthermore, any map you create can be shared with team members and embedded on a website.
Flowdock
Flowdock helps improve communication with your team and facilitates cross-team collaboration.
Features of this tool include:
Real-time notifications
Threaded chat
Commenting and editing abilities
Instant messaging
Multiple chat flows
A drag-and-drop interface
ClickSend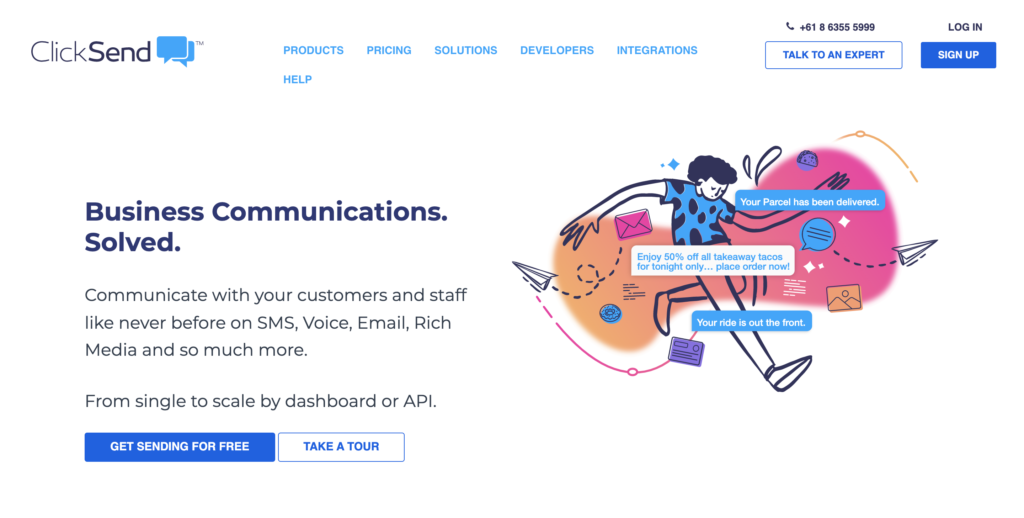 ClickSend offers a powerful and flexible SMS gateway API that facilitates SMS integrations, enabling you to combine your current communication applications with ClickSend's bulk SMS service in order to create more leads.
An SMS API is a defined set of instructions which enable applications to send SMS via an SMS Gateway.
It is used to add native bulk SMS capability to existing software and applications.
In other words, the ClickSend SMS Gateway API allows you to unlock SMS capability in your existing software platforms.
Features of this tool include:
No upfront contracts or fees
Free 24/7 support
High performance: 4800 messages per minute with long 1224 character limit and lightning fast delivery
Global coverage direct routes
100% Uptime SLA Guarantee
Mockplus
With Mockplus, you can quickly and easily create interactive prototypes without having any coding skills or technical expertise.
Mockplus comes with pre-designed components, allowing you to drag and drop elements to build your prototype.
Features of this software include:
Online team collaboration
3000 icons and 200 components
WYSIWYG drag and drop editor
Previewing and sharing
SendPulse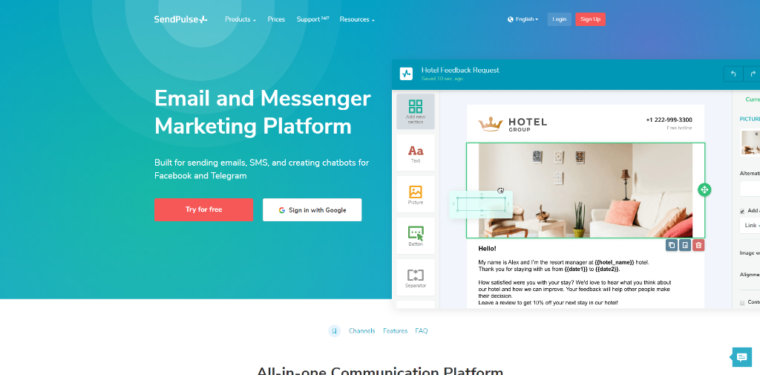 A multi-channel marketing platform, SendPulse allows you to establish effective communication with customers using SMS, email, Facebook chatbots, and web push campaigns.
In this way, you can attract more leads and convert them into customers.
Features of this app include:
A drag and drop email editor
A subscription form builder
The inclusion of pre-designed email templates
Marketing automation
Segmentation options
A scheduler
Reports on campaign performance
SPF and DKIM records
Twine
A marketplace that connects companies with creative and digital freelancers, Twine helps you get the right people for your startup.
Features of this program include:
Access to a global network of over 350,000 creative and digital freelancers
An algorithm that curates the best freelancer for your job by matching over ten criteria, including location, experience, and style
The ability to post a job for free and only pay when you make a hire
Infogram
Infogram allows you to create outstanding content quickly due to its intuitive interface. This program can help you create animated infographic reports, interactive charts, and maps.
Features of this app include:
Reports
Slides
Interactive charts
Maps
Dashboards
Animations
Real-time collaboration
Analytics
Prezi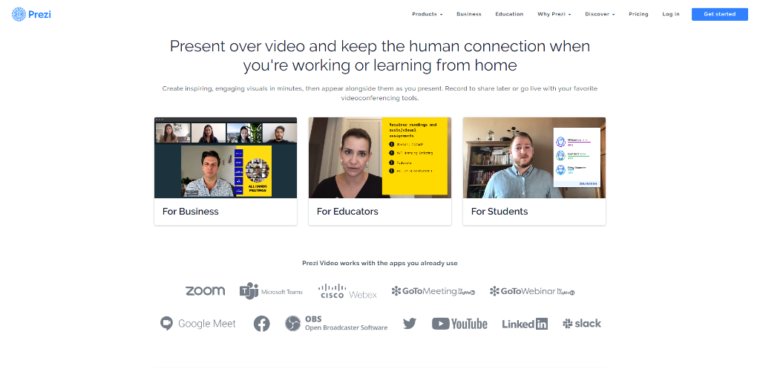 With Prezi, you can easily create stunning presentations thanks to its drag-and-drop editor.
You can also choose from a large selection of pre-designed presentation templates that are suitable for almost any occasion.
Features of Prezi include:
A drag-and-drop builder
Custom charts and graphs
A large selection of pre-made templates
Smart presentation tools such as presenter view and voice-over
Group editing
Real-time performance tracking
Rich media import
Hotjar
Hotjar helps website owners increase conversion rates and optimize their strategy by analyzing how users behave on their site.
Features of Hotjar include:
Heatmaps
Conversion funnels
Visitor recording
Polls
Surveys
Form analytics
NPS
Multiple question types
Testing
Customizable widgets
Breeze
A project management tool, Breeze allows you to create an effective workflow. With this tool, you can plan, organize and monitor tasks.
Features of Breeze include:
Tasks
Task lists
To-dos
To-do lists
Time tracking
Task estimation
Project progress tracking
Time tracking
Project sharing
Fotor
Regardless of your Photoshop skills, you can easily edit images and photos with Fotor. You can also create high-quality ads, banners, and graphics.
Features of this application include:
Over 100 photo effects
10 000 + custom stickers
Over 10 000 design templates
Advanced HDR tech
Advanced beauty features
Important Factors To Consider
When choosing the right tools for your startup business, it's important to consider the following:
Your Business Needs: The needs of your business determine the features you need for a tool. For instance, if you deal with assigning projects to your remote employees in an efficient way, then you need project management software to keep track of ongoing, finished, and submitted projects.
Your Readiness: Are you ready to use these tools? Do you have the necessary knowledge and skills to handle them? It pays off checking free trial for tools you're planning to invest to make sure they're suitable for your business.
Features and Benefits: Never miss assessing and comparing the features and benefits of the tools you need for your startup.
Startup businesses need to accelerate processes to keep up with the competition and rapid changes in the demands of their industries and target customers.
Having the right tools can help makes these goals achievable.