Companies around the world use a number of different tools and pieces of software to manage their sales and client data, as well as other important things such as accounting and marketing.
Different sized companies will use different tools, with some being custom built by internal IT departments, while others are an "off the shelf" solution that are available to everyone.
What does a CRM do?
One very popular piece of software is the CRM, which is the Customer Relationship Management system, which helps businesses to keep track of their existing clients and their previous communication and purchases, as well as finding new clients.
It can keep track of the entire history of each individual client from the moment they became a customer, right up to the present time and the last order that they placed.
In essence, it's a tool to better manage the relationship between the company and its clients, though there are some CRMs that offer a lot of additional features and functionality, which make them an all in one solution for many companies.
The different CRMs available
There are a huge range of CRM systems available, each of which has its own features and functionality. Some are more advanced than others, but each will do the work that a CRM is designed for.
Whether or not you need a simple CRM or a much more complex and powerful one will depend entirely on your own individual requirements. For power users, you might want to consider the Commence cloud CRM for sales tracking, which has a great range of features.
One prerequisite for CRMs is how easy they are to use. This is one of the most important factors, along with cost, for many small companies or those run by a single individual. This is because the company owner will have to learn how to use the system, as they obviously do not have an IT department to manage it.
In this article we will take a look at the three easiest to use CRM that you can sign up with today.
Salesforce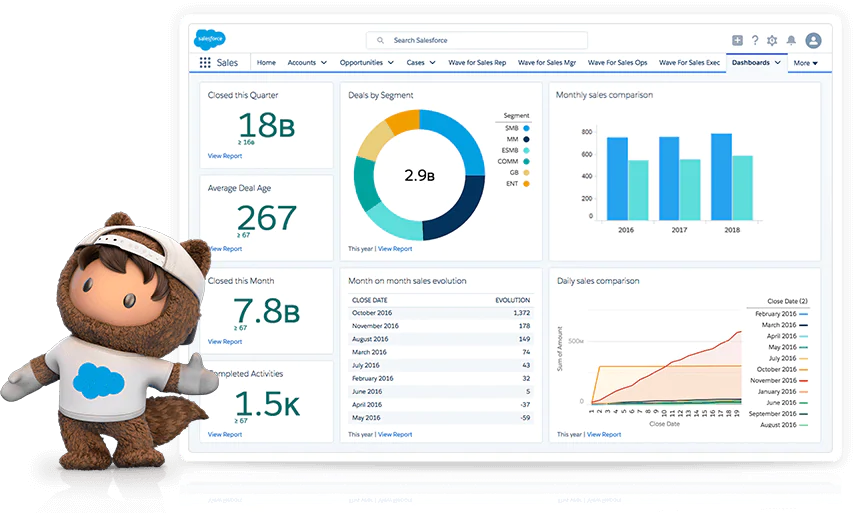 This is one of the leaders of the CRM market, and is popular with companies all over the world. It is a complete solution for your sales, marketing and customer information, and connects company owners and sales teams together with a very easy to use but very powerful set of apps.
It contains apps for each step of your customers journey with your company, from their initial contact as a lead, through to a loyal and long term client. You can decide which apps you want to use and work with, rather than having everything forced onto you and having features that you may never need.
The learning curve for Salesforce is very low, and it's something that people can pick up and start using right away. Don't be fooled by how easy it is to use. It's certainly not a sign that the system is limited and basic. It's very powerful, and is everything you will ever need from your CRM.
HubSpot CRM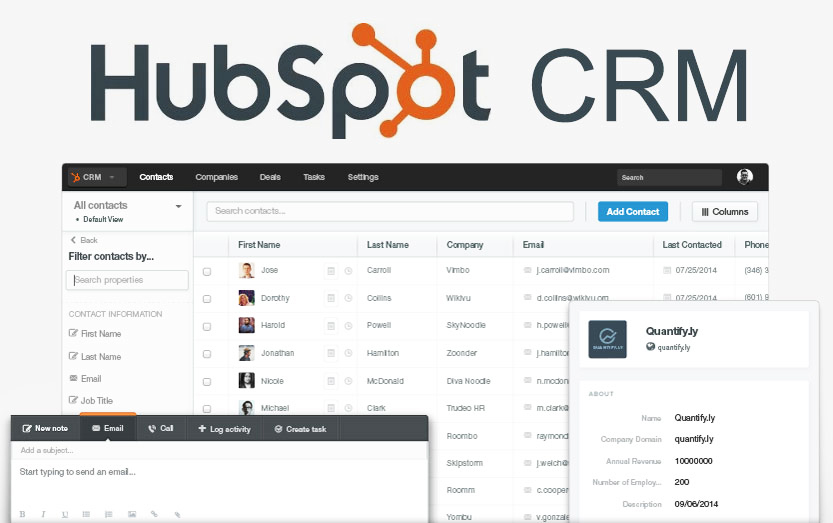 This is a popular alternative to Salesforce, and is another powerful CRM that is also very easy to use. Centralized data is the highlight of HubSpot and all the data about your clients and your interactions with them, whether phone calls, emails or sales, is all brought together in one easy to use dashboard.
There is a certain amount of automation within the CRM, which makes it a very attractive prospect for those who are looking at using a CRM for the first time. HubSpot is perfect for small businesses who need to have better organization of their business and client data.
Pipedrive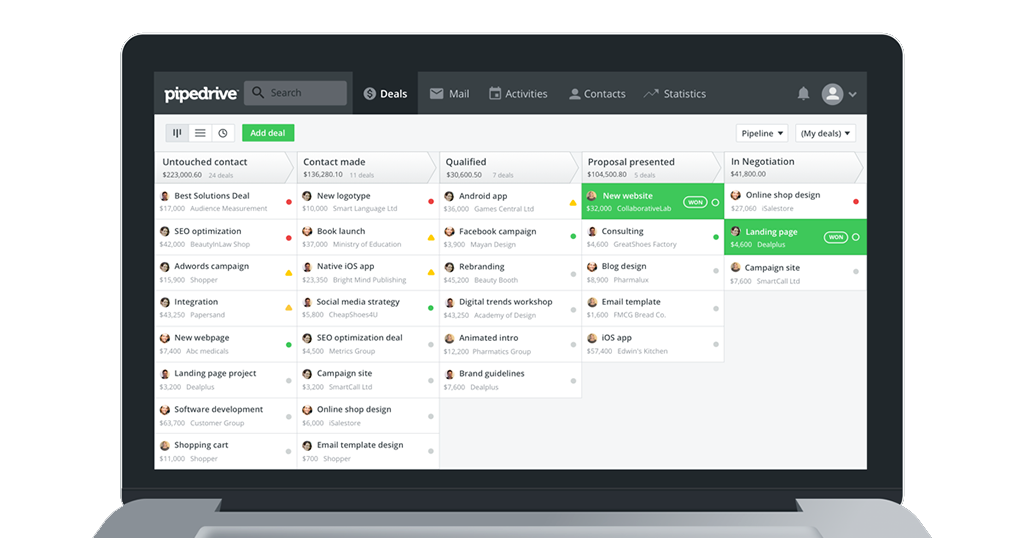 The Pipedrive CRM is another very popular system that is favored by businesses around the world. It is a much cheaper option than Salesforce and is easier to use.
It contains all of the features that you'd expect from a CRM such as the management of leads, scheduling system for client contact, marketing campaigns via email and much more. For a business that has a lot of daily tasks to manage, this is a great choice of CRM.
Pipedrive is very driven towards sales, and the system can be synced with many of your favorite Google apps such as Google Sheets or Documents, as well as the potential to be integrated with lots of other software.
Deskera
Deskera CRM makes it easy for professionals to manage their pipelines. Thanks to its well-organized dashboard, Desktera can offer full visibility into sales performance and revenue opportunities. But if you don't take to Deskera's interface right away, you can create a customized sales pipeline flow that fits your own sales cycle.
Deskera empowers teams to reach out to leads, collaborate with multiple revenue leaders, and close deals faster by making many of these processes automatic. If you're looking for a powerful enterprise software with small business pricing, look no further than Deskera CRM.
Some final thoughts
Software product development is not easy. Each CRM has its own pros and cons, and some have more features than others. The one you decide to go with should be one that has all the features that you will need, as well as have the potential for growth in the future.
If you prefer to be able to create your own custom dashboard, so that you only see the most important information, you'll need to check the specs to make sure this is an option.
The price for each CRM will be different, and in some cases, you'll find that some options may be more than double the cost of others. Again, it all comes down to what you need and how much you are prepared to pay for the solution.