With over a billion monthly active users, TikTok is one of the most popular digital platforms.
Launched in 2016, it bloomed on the social scene due to its short-form videos.
One can find anything and everything on the app, from entertainment to cooking to business.
About 24% of 15-25 years old are creating and consuming content on TikTok. It makes TikTok a platform for a younger audience.
Most teens are spending their time scrolling videos on TikTok.
It raises concern among parents about what type of content their kids are consuming. But, hovering over their heads, trying to watch their activity is quite off-limits.
Here comes the solution: hacking TikTok accounts.
We have compiled a list of ways to hack TikTok accounts regardless of your computer expertise. TikTok is a fairly vulnerable app; one can easily hack it.
So, knowing about these hacks can help you protect your accounts. Let's get started.
How to Hack TikTok Accounts in 2024
Let's talk about some vulnerabilities of TikTok you can exploit to hack into an account.
And, if you are not an IT expert, we will describe some third-party hacking apps you can use.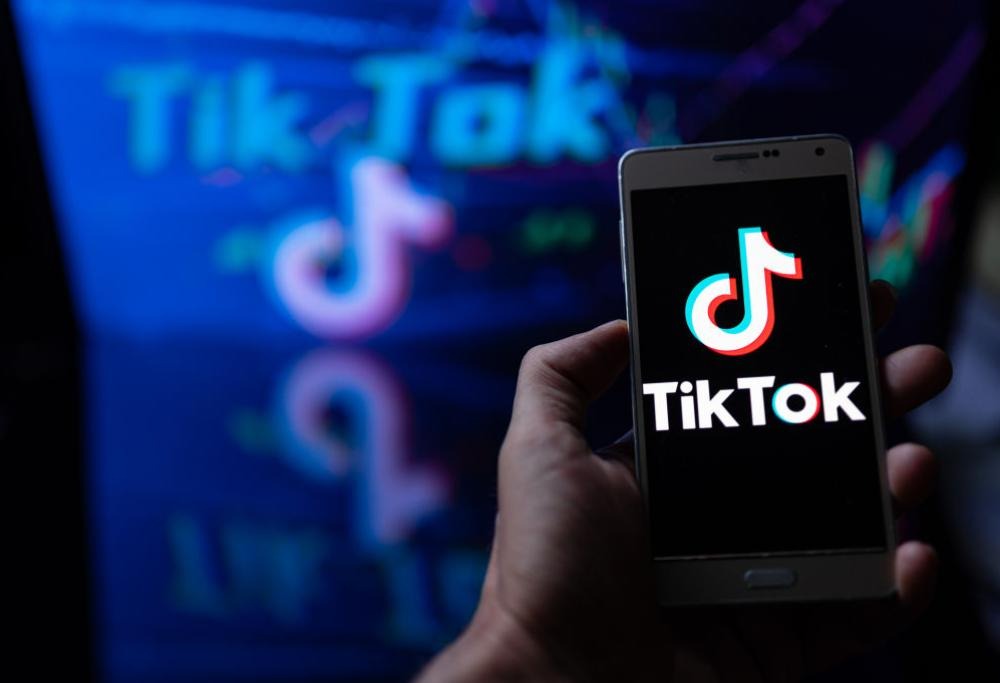 1. Cross-Site Scripting (XSS) Attack
Cross-site Scripting (XSS) is a code injection attack that allows a malicious code to be executed on the target device.
The hacker can send a link containing the malicious code through a message, email, or comments.
Once the user clicks on the link, the code will be activated, and the hacker can access the TikTok account.
If a hacker manages to hijack one's TikTok account, he can do whatever he wants. Everything is possible, from posting from the victim's account to changing its setting.
They can even hack the device, download malicious files, record its activity, or steal the user's personal information.
Note: There are two types of XSS: reflected and stored. Reflected XSS is relatively less harmful and is usually valid for one-time attacks.
If you want to hack or access someone's account repeatedly, you need to create a stored XSS.
2. Phishing Emails
Another method to hack TikTok accounts is through phishing emails. The hacker can send a fake email resembling an email from TikTok to a user.
It may state something along the lines that 'your account has been blocked, enter your details to restore it.'
Once the users enter their username and password, all their credentials will be visible to the hacker.
With this, the hacker can access and control a TikTok account.
If you want to hack into someone's TikTok account, you can use this method, given that you have some knowledge about phishing emails and websites.
3. Remote Keyloggers
Keyloggers are programs that track and record every keystroke of the device they are downloaded or installed.
However, you need to install keyloggers on the target device. Once they are active, they can log everything the user types.
This way, hackers can know the user's password and account details, allowing them to exploit them.
Since remote keyloggers need physical access to the target device, you can use them for hacking only nearby devices.
Dedicated keyloggers are used if you don't have the target device near you. Dedicated keyloggers don't need to be installed on the device.
However, a user must download them on their device. The hacker usually hides them in a link or file.
4. Direct Access To The Device
The simplest way to look into one's TikTok account is by going through their phone.
If you have access to the target device, you can view their account content in their absence.
The downside is that your activity might leave a record on the device, letting them know.
If you are retorting to this method, we suggest deleting the log history while you are at it.
5. Weak Password
Weak passwords are a vulnerability one can exploit to hack a TikTok account. In the simplest of things, you can guess the password.
Simple and common passwords, like date of birth, pet names, and kids' names, are easily guessed.
One can also use brute-force attacks to guess the password.
A brute-force attack is when you try every combination of letters, symbols, and numerals to reach the correct combination.
There are various password-hacking tools in the market, but they are not guaranteed to work.
6. Third-Party Hacking Apps
If you are not someone with a knack for computers and hacking, third-party TikTok hacking apps are the perfect solution.
They let you have access to the account and monitor its activity. These apps are particularly helpful for parents looking out for their kids' online activity.
However, remember that using these apps is not quite legal and should only be done with a solid reason.
The three best TikTok hacking apps are discussed later in the article:
uMobix – 🏆 Winner!
Recommended Third-Party Hacking Apps For TikTok
The following three apps are the best for hacking TikTok accounts.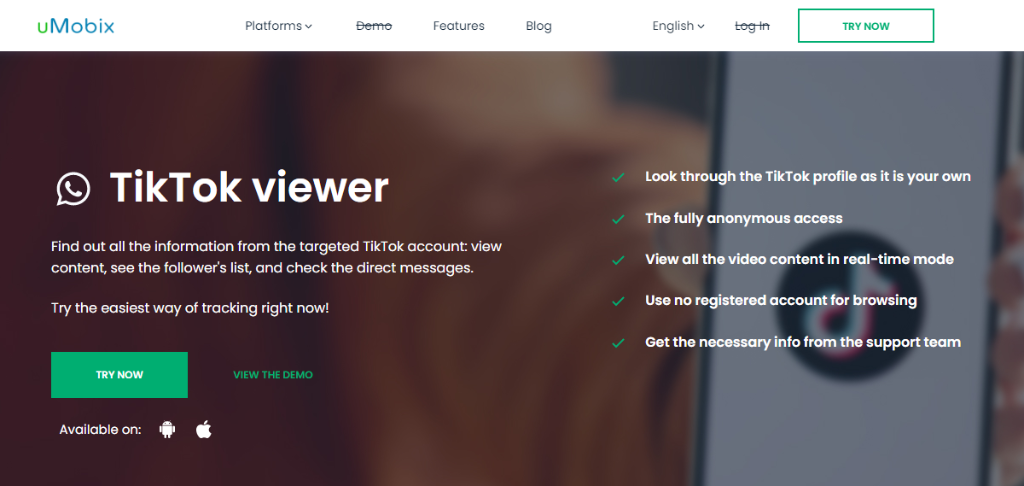 | | |
| --- | --- |
| Supported platforms | Android, iPhone, iPad, Windows, macOS |
| Pricing | Starting from €11.24/ month for 12 months |
| Free trial | Yes |
uMobix is an easy-to-use spying app that you can use to hack into TikTok accounts. It is a great app for parents to track their kids' online activity.
From the dashboard, select TikTok, and you can access the app in no time.
uMobix lets you see videos, images, posts, messages, and comments. It also shows you videos and images saved and deleted from the device.
Besides TikTok, you can also monitor other activities on the target devices.
Text messages, calls, and other social sites, like Whatsapp, Facebook, Messenger, Viber, and Instagram, can all be tracked and monitored by this hacking app.
Moreover, you can see the device's location and web browsing history.
uMobix takes screenshots for every activity and updates them on your dashboard every five minutes.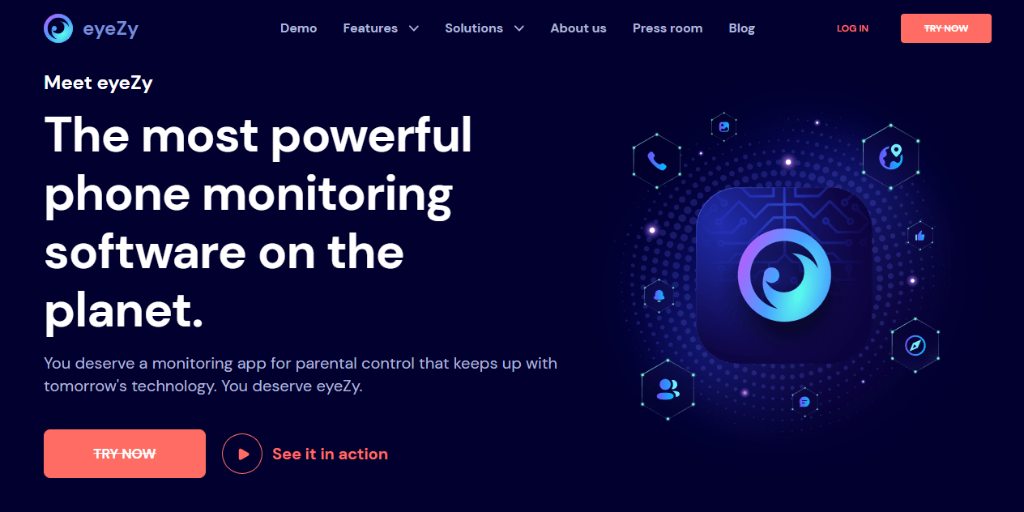 | | |
| --- | --- |
| Supported platforms | Android, iOS, macOS, Windows |
| Pricing | Starting from $14.27/ month for 12 months |
| Free plan | Not available (subscription-based model) |
Another great hacking app to access and monitor TikTok accounts is eyeZy. It gives you a clear view of what's happening inside an account.
The videos and posts browsed, sent, received, and saved can all be monitored via the eyeZy dashboard.
eyeZy is primarily a parental control app that allows surveillance of your kids' online activity.
Download the software on an Android device or iCloud, log in to your eyeZy account, and get all the reports.
The app remains hidden on the target device, so the kids don't know about it.
It also allows you to monitor web history, location, messages, calls, and social media.
You can track their conversation on WhatsApp, Facebook, Instagram, Facebook Messenger, Viber, and Tinder.
Also, the app has a user-friendly interface and features which even non-tech people easily use.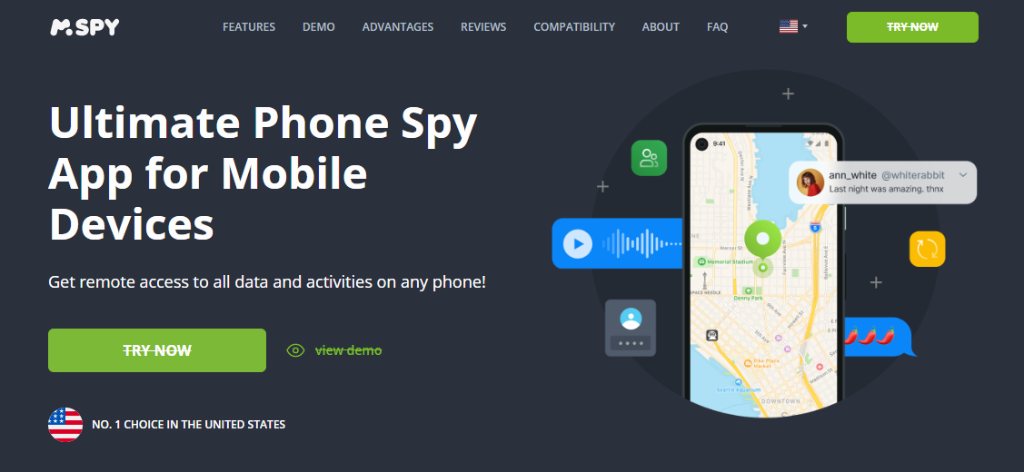 | | |
| --- | --- |
| Supported platforms | Android, iPhone, iPad, Windows, macOS |
| Pricing | Starting from $9.92/ month for 12 months |
| Free plan | Available with limited features |
Similar to eyeZy and uMobix, mSpy is a wonderful TikTok hacking app. It's a parental control app that lets you monitor all activities on the target device.
You can see your kid's or anyone else's activities through this app.
mSpy gives you access to videos, images, posts, comments, and messages on TikTok. It also shows the deleted content and messages.
Outside TikTok, you can track Whatsapp, Snapchat, Facebook, Messenger, Instagram, and Tinder conversation.
You can monitor other phone activities, like messages, calls, browser history, location, and media.
The best part is that your identity remains a secret, so the target doesn't know you are looking into their account.
Moreover, it saves all the information in your dashboard, is protected by encryption, and is only available to you.
Conclusion
We do not condone going through someone's account without their consent. It's wrong on both ethical and legal grounds.
However, there might be situations where you have no option but to do that deed.
In case you are worried about your kids' TikTok browsing, or you need to clear some suspicion without drawing suspicion to yourself.
If any such situation asks, the above guide can help you with how to hack TikTok accounts.