Firing Table Review 2023
We have all been on Instagram for a few years at this point, so we have a good idea of what to expect when we post something. However, this doesn't mean that we don't have moments and even entire days or weeks where we feel jaded on the whole thing, like our brand or influence is never going to grow beyond a few hundred followers.
If this is how you feel, then don't worry – you're definitely not alone. There are lots of people out there that struggle to grow their Instagram profile successfully, but the good news is that there is an entire industry dedicated to helping people do well with their Instagram page.
There are lots of companies within this industry that have a passion for helping you connect with your target audience, so that you can end up doing really well for yourself. The trouble though is finding them. For every great company, there is an average one.
Let's review one, and determine which side of the fence they fall on.
What is Firing Table?
Firing Table is a company that claims that they can help their clients buy their followers for Instagram organically. They say that they don't want you to have to go out there and buy your Instagram followers – you should be attracting them to your profile organically.
They say that they have great Instagram account management for everyone no matter what industry you fall into, and you will see when you visit their website that they have a chatbox so that you can ask them any questions that you might have in the beginning. Firing Table says that it takes just 60 seconds to get set up with them, and they have discounts for their clients regularly.
All of this sounds great, but we think that there is a very likely scenario here where they are selling their clients an Instagram bot, which isn't going to get your page anywhere – in fact, it could end up hindering it. This is because a bot goes against Instagram's terms of use, so if you're caught using one it's not going to be pretty – you could end up getting suspended or banned.
What are Firing Table's Features?
Firing Table say that they can help you by finding the right followers for your page, so that you can focus on the content side of things. They also say that there are no limits to the growth that you can achieve with them, and they work around the clock to help you get ahead.
Again, all of this is well and good, but we think that they are just a bot. They engage their bot with other people out there, and they say that they have multiple account management, depending of course on which package you end up signing up for. They also claim to have good security around their payment processes.
What is Firing Table's Pricing?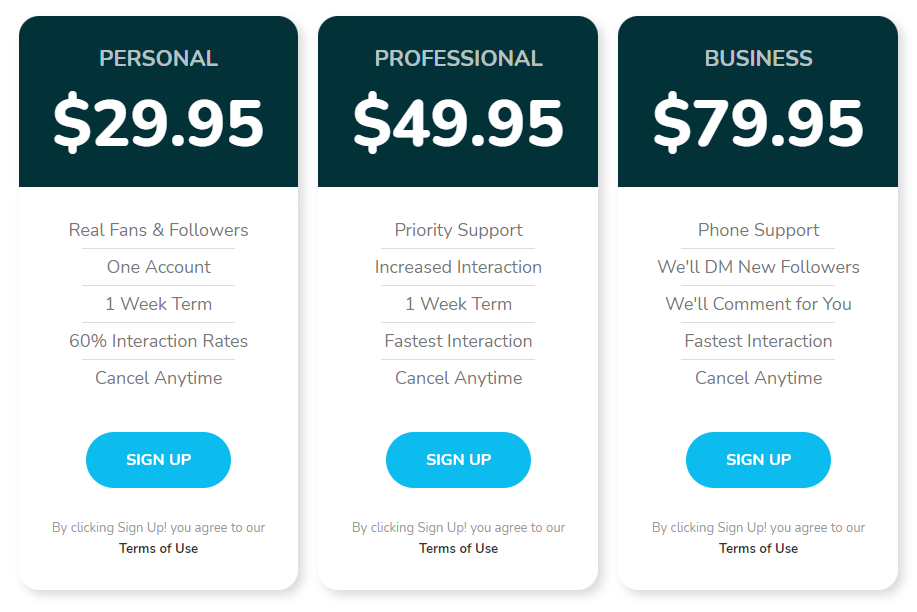 Firing Table has three different price points for you to choose from. Their Personal package is going to cost you $29.95, and it can help you manage one account and it lasts for a one week term, which means that it is pretty expensive, especially for a basic package.
They say that you get 60% interaction rates with this package. Their second package is their Professional package, which is going to cost you $49.95 and offers priority support as well as increased interaction. This is again a one week term which is pretty expensive, and they say that it offers the fastest interaction.
Lastly, they have a Business package which is going to offer you phone support, as well as the fastest interaction and the ability to cancel anytime. It's going to cost you $79.95 and it doesn't say how long this term is for.
How Did Firing Table Do in Tests?
We always make sure to put companies like this to the test to make sure that they are what they claim to be – or not. We signed up for Firing Table's Personal package, which as you know is $29.95, and to be honest we didn't like what we experienced.
It took them a while to connect our Instagram profile with the package and services, and then as soon as they did, we got engagement that didn't have anything to do with our niche. Beyond this, a lot of the engagement fell off again after just two or three days, meaning that their retention rate is low.
What About Their Team?
Another thing to consider when looking at companies like Firing Table is whether they have a good amount of information on their website about their team.
This is indicative of whether they are willing to be open with communication about what's going on behind the scenes, so if they aren't upfront and honest in the beginning, it's going to be tough to know whether you can trust them further down the track. If you have no way of knowing before you sign up for anything, this can definitely cause for concern.
Reviews of Firing Table Alternatives
Firing table is one of those great Instagram growth services that can really help you grow your account.
It comes with some awesome features and great price points too. However, there have been some bad reviews online lately, which is why it's always good to have some options as alternatives. Just in case anything were to happen.
Let's check out our list of the best Firing Table alternatives.
First Look
"When I use Growthsilo for my Instagram growth, It makes me feel like they are really helping. They can also help with other parts of my online branding, which includes things like my website and my next email marketing campaign. With Growthsilo, I feel confident that my brand is taken care of."
2. Best Second-Up: Growthoid
"Growthoid makes me feel like I can accomplish anything with my Instagram growth because they only use real engagement to help their customers get ahead. They are against the idea of fake engagement, which really aligns with my values and makes me feel like my community is real."
3. Best for Your Budget: Task Ant
"Task Ant is one of those rare companies that comes up every once in a while. They're rare because they have something that nobody else in the industry has right now, which we think is really exciting. Their hard work and determining reflects in their services, which is why I love using them."
4. Best Established Company: Jarvee
"Jarvee knows a lot about growing your Instagram engagement, which is why I feel confident that they can help my profile do well. I also love that they give the customer a bit of the control, too, through their dashboard that I use on my desktop."
"Potentially, the most important thing for me when promoting my brand online is making sure that it's being done safely. The last thing I need is to lose my reputation because I was suspended or banned from Instagram. Follow Adder knows this and makes sure to keep their features within Instagram's terms and conditions."
Firing Table Alternatives (Our Reviews)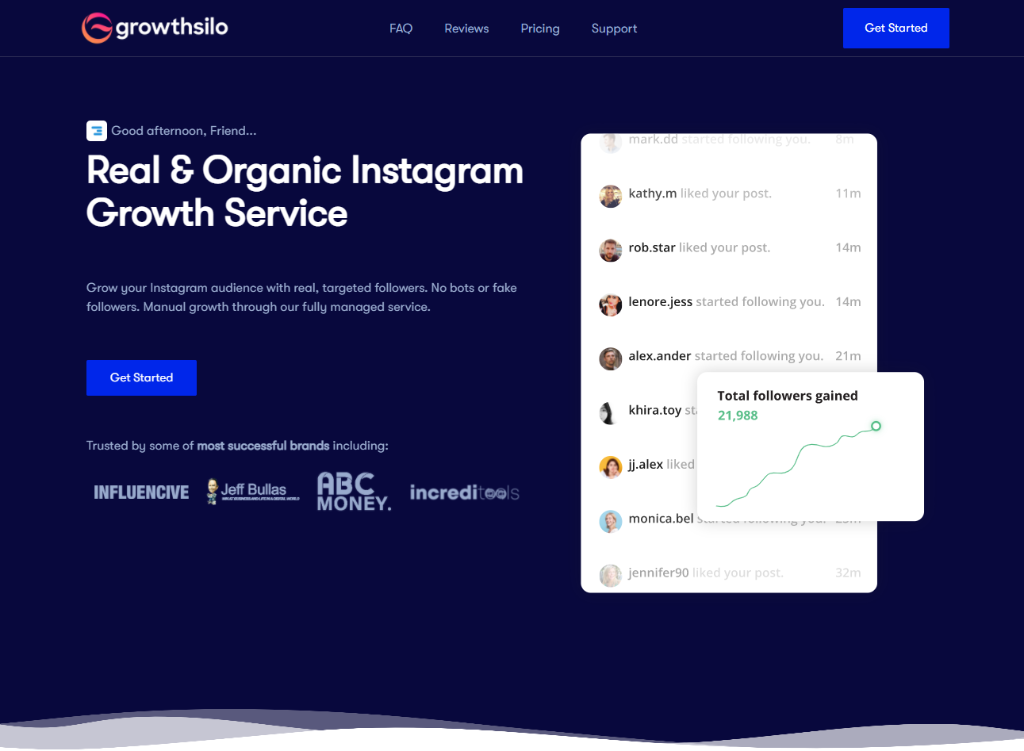 When we reviewed Growthsilo, we were pretty impressed with what we saw. For one, they're one of the only Instagram growth companies out there that actually think outside the box.
Most of them will only help you with your engagement – Growthsilo, on the other hand, can help you with so much more. From social media management to social media advertising and even email campaigning, Growthsilo want to make sure that their customers have options.
2. Best Second-Up: Growthoid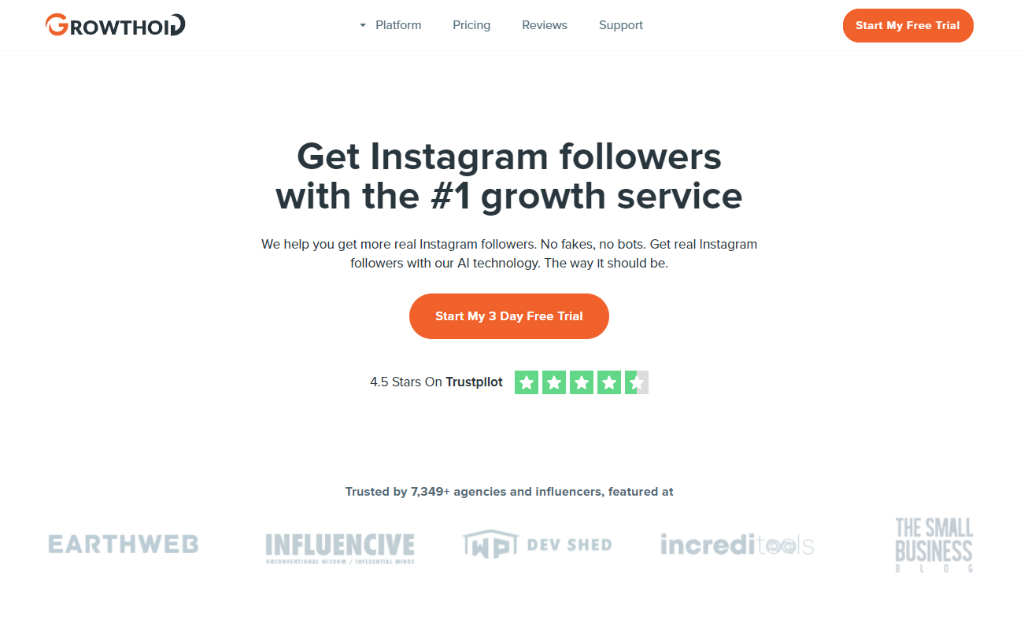 Growthoid and Growthsilo are two companies that are trying to get ahead in this industry – and it appears to be working. Our review of Growthoid showed that along with Growthsilo, they're just about to launch a brand new feature which allows you to target your audience based on their Instagram stories.
Don't worry about that old follow/unfollow feature – it doesn't work anymore anyway. Instead, focus on their story feature, and watch how effective this can be at getting their attention.
3. Best for Your Budget: Task Ant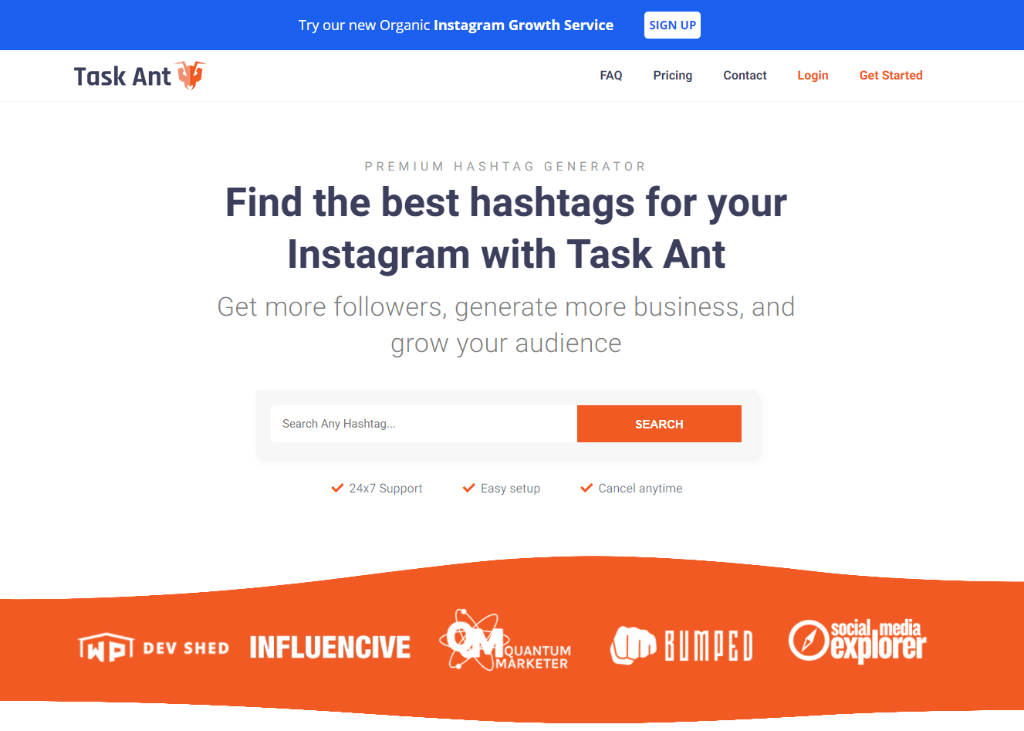 As our reviewer said above, Task Ant is one of those companies that just seems to have it. While it's hard to stick out from the rest, there are some companies out there that are capable of so much more – and Task Ant is one of these.
This is because they have a feature where you can look up all of your favorite hashtags, and find out if they're really helping you grow your account successfully or not. What's more, they're more than affordable, so you'll be able to use them for your growth no matter what.
4. Best Established Company: Jarvee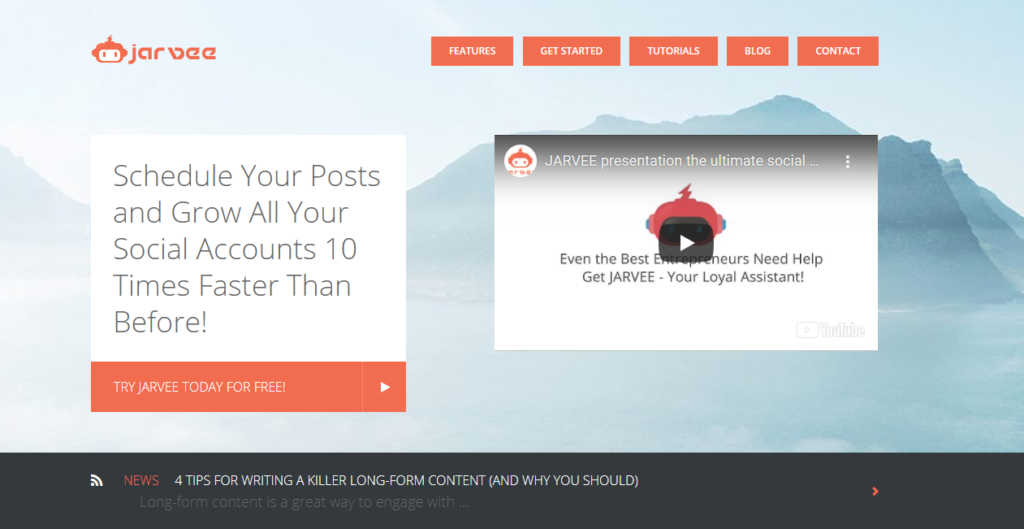 Jarvee hardly needs an introduction, because they are pretty well known in this industry already. It's easy only to want to look out for newer companies that pop up from time to time, but we think it's wise also to make sure you've got some older, more established backups if anything goes wrong.
Jarvee is not only a stable feature, but they've also never been shut down by Instagram, which means a lot in this day and age. If you want effectiveness and reliability for your Instagram profile, we recommend using these guys.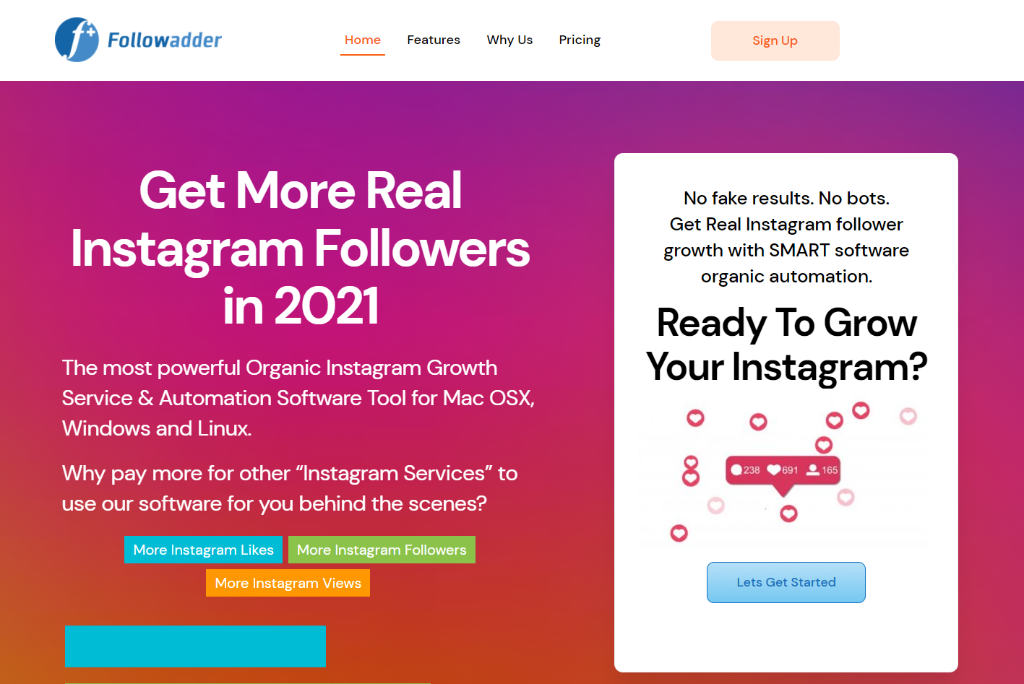 We know how much security means to everyone online these days. No matter what you're doing on there, you want to make sure that your content is safe from hackers. You also want to make sure that Instagram isn't going to suspend you or ban you completely.
Follow Adder is a similar service to Jarvee – they have been around for a long time now and know what it takes to stick to Instagram's terms and conditions. This way, you can happily grow your gram without having to worry about factors like this.
Did You Know?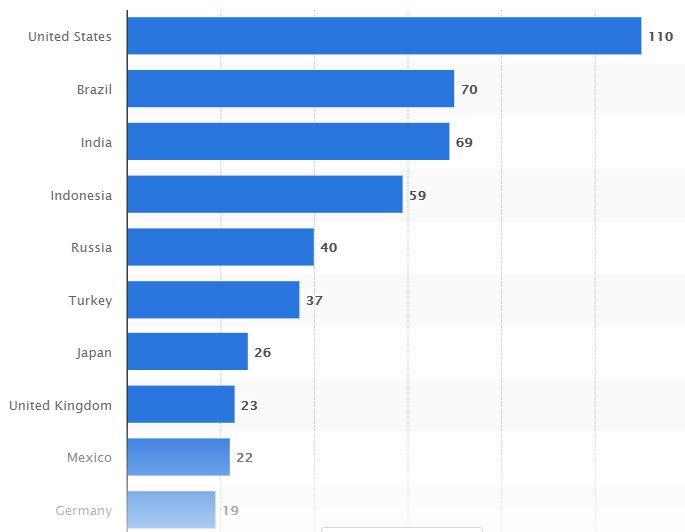 More and more, businesses are making the most of the gram to promote their product or service.
This is why there are as many as 25 million businesses on the social media giant. This is a heck of a lot of sponsorship opportunities, whether you're a brand yourself or an influencer. What's more, out of all the people that get on the gram, 110 million of them are from America.
So if you're wondering about locations when trying to promote your brand, the U.S. could be a great place to start.
Our Review Process
When we review companies like the ones on our list of the best Firing Table alternatives, we make sure that we do a thorough job. We do this by checking out as many as 232 Instagram growth companies and reviewing upwards of 344 customer testimonials that have both good and bad things to say.
This way, we can make an informed, unbiased decision about who we should feature on our list. We only want the best for you and your Instagram, which is why we make sure only to feature companies that we think could really help you.