It's definitely not a secret that Instagram is taking over these days and obviously the more help you get with your Instagram growth, the better off you're going to be.
One of the biggest issues that people come across when trying to grow their Instagram is finding a way to juggle all the balls in the air, without going outside of their own circle to get help.
The good news is that there are plenty of companies out there that can help you do really well with your Instagram, but the bad news is that there are also those that just want to take advantage of you and see you go down in flames.
Simplygram used to be the kind of company that really took care of its clients and made sure that they were doing well on Instagram, but lately, they haven't gotten the most positive reviews.
Let's give them a review, and then go over some alternatives that we think could be well suited to your growth as well.
What is Simplygram?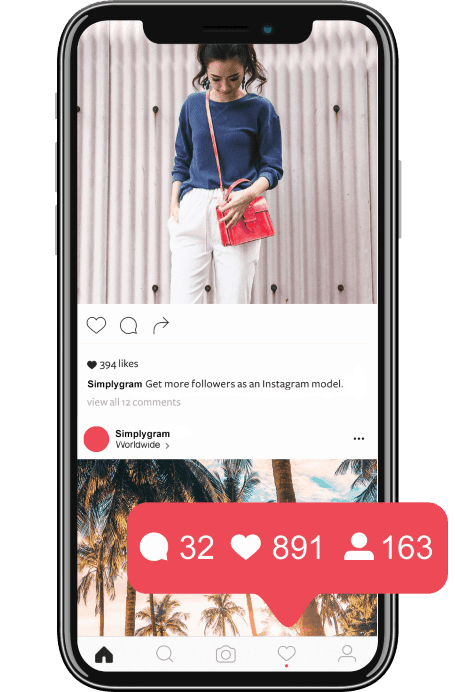 Simplygram is a company that claims to be able to help its clients get more than 5000 Instagram followers every month. They also say that they are the number one organic Instagram growth service, which is of course a tall claim.
Any company in this industry that claims something like this obviously needs to be able to follow through on it, and because there are only a few companies in the industry that can actually deliver this kind of promise, and it is highly unlikely that this is it.
We are also a little bit concerned with the fact that they can promise a certain number of followers every month because legit companies that provide their clients with organic growth can't guarantee the specific number of followers that they receive.
They can't force people to follow and like your content, so the fact that they have specific numbers to provide their clients is deeply concerning.
What are Simplygram's Features?
Simplygram says that they get their clients to tell them all about their audience, which is going to involve you giving them a few Instagram profiles and hashtags that have followers that you would like to attract to your content instead.
Then they say that their dedicated account manager is going to make sure that 100% of your followers are niche specific, highly targeted, and likely to engage with your content.
They say that from here, they can easily get their attention for you, and they say that they use the mother-child method to do this.
This means they are going to set up between 25 and 100 Instagram profiles on your behalf and these Instagram profiles are going to interact with potential followers every day, encouraging them to come and check out your content.
They obviously think that their approach is really good, but we think that it is potentially going to get you in trouble with Instagram's daily limits.
What is Simplygram's Pricing?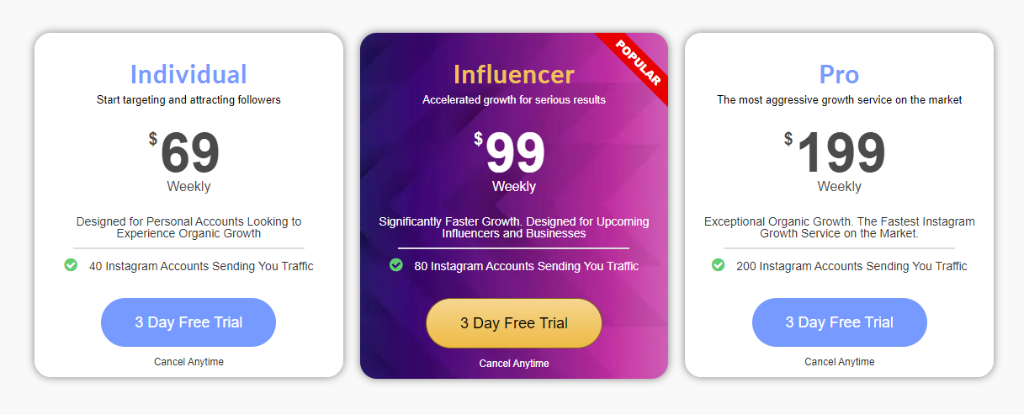 Simplygram has three different price points for you to choose from, starting with their individual package, which is going to cost you $69 a week. They say that with this package, you can start attracting and targeting followers.
They say that it is developed for personal accounts looking for experience when it comes to organic growth, and they also say that this comes with a free trial for three days.
Of course, this is their starter package, so their second package is their influencer package, which they say is accelerated growth for serious results.
It's going to cost you $99 a week, and they say that it offers significantly faster growth, and is developed for upcoming businesses and influencers. Again, it comes with a free trial for three days.
They say that 80 Instagram accounts are going to be sending you traffic with this package.
Lastly, they've got their pro package, which they say is the most aggressive growth service on the market.
This is going to cost you $199 a week, and they claim that it offers exceptional organic growth. They also say that you'll have 200 Instagram followers bringing you traffic.
We really don't like that their pricing is what it is, because we think it is too expensive.
Especially considering the quality of their service has gone downhill lately, we don't think that you should be spending this much on them.
How Did Simplygram Do in Tests?
Simplygram was put to the test by our team, and honestly, while they did OK, there were a few areas of concern.
We thought that they had a really good delivery time, and they also made sure to stay connected with us when it came to our engagement, but we were concerned at how quickly they were able to grow our following on Instagram.
We were most concerned about our safety, and if we continue using their services, at some point Instagram is going to take notice, and suspend or restrict our account.
What About Their Team?
Simplygram has a decent amount of information on their website about their team and how they work, but we think that this could always be more.
In fact, we think that you can never have enough information, so they do have a couple of gaps that they could fill, but for now it's enough.
Final Thoughts
Simplygram is one of those companies that probably had good intentions in the beginning, and probably used to have a robust Instagram growth service that really made its clients' lives easier.
However, these days, they aren't doing so good when it comes to customer reviews, so at the end of the day, we have to suggest that you look for a few other options out there, just in case you want to try to continue to maintain a high standard of quality with your Instagram growth, and just in case these guys end up going under.
First Look
"Growthoid is simple, yet effective and has a great relationship with their customers. They spent time building their relationship with me before anything else, which really made me trust them right from the get-go. They're definitely one of the best Instagram growth companies you can find."
"The reason why Stellation Media is so helpful for my Instagram growth is that they know that it takes more than engagement to grow an online brand. I consolidate all of my online branding tasks with Stellation Media and they take care of everything."
3. Best for Your Budget: Task Ant
"I like being able to grow my Instagram account without having to compromise my budget. It's difficult to find companies in this industry that are prepared to accommodate for different budgets, and I was frustrated until I found Task Ant."
4. Best Old-Timer: Jarvee
"I know it's tempting only to use newer companies because it seems that they have an advantage over older ones, but the truth is that there are some amazing companies that have both expertise and experience. Jarvee has been helping me grow my Instagram account for years without a hitch."
"If you've heard of a company called Jarvee, then there's a good chance that you've heard of Follow Adder, too. These two companies are the hallmarks of the Instagram industry, and together they have a pretty big, loyal customer database, with me included. When it comes to security, Follow Adder is all I need."
Top Simplygram Alternatives
When we reviewed Growthoid, we found that these guys, along with Stellation Media as well have just come out with a brand new feature to help with your Instagram engagement.
This involves seeing other people's stories on a mass scale. Don't worry about following and unfollowing people anymore – this is old news. Instead, interact with them through their stories, and they'll want to check out your page.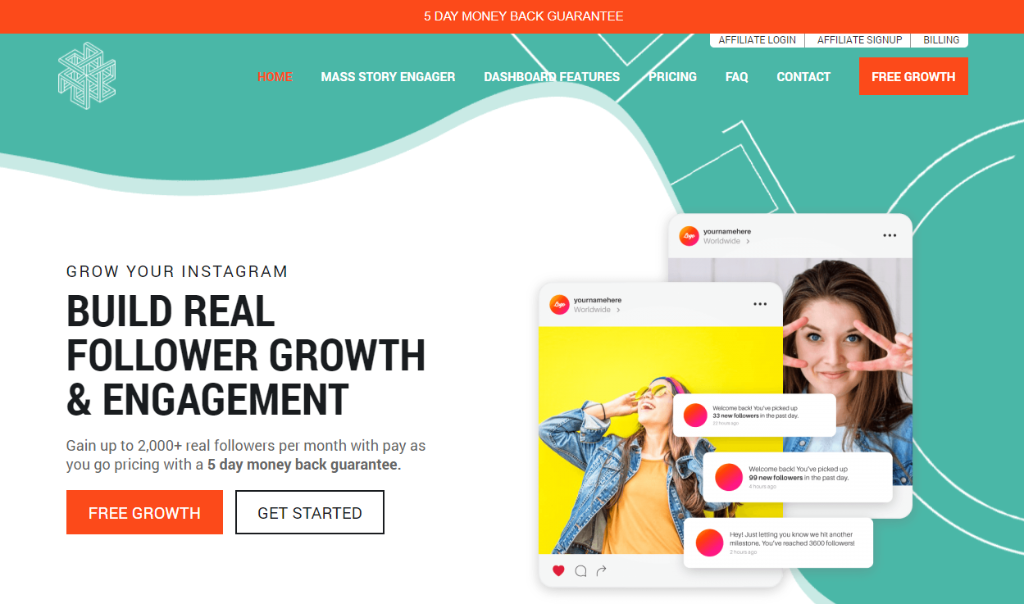 When we reviewed Stellation Media, it was evident straight away that this is the kind of company that's going to be able to help you with everything – not just your Instagram growth.
This is because they offer things like website building and email marketing as well. Stellation Media is the kind of company you want to sign up with if you're serious about your branding and want to make an impact everywhere your brand is online.
3. Best for Your Budget: Task Ant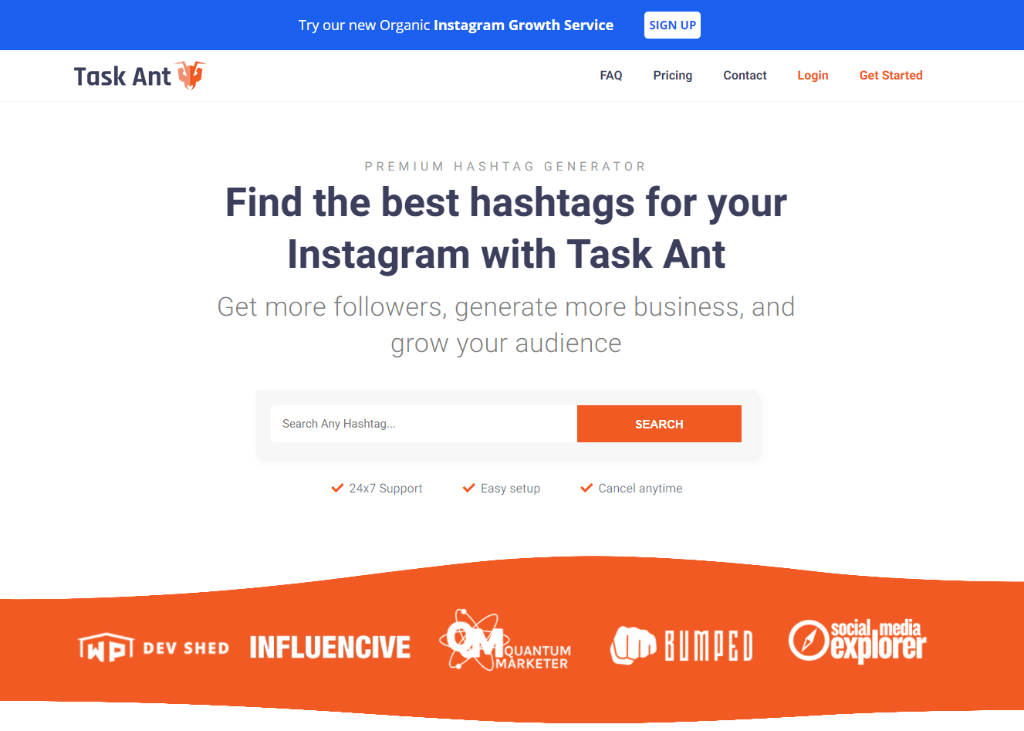 It's hard to get all of your online marketing done on the budget that you have a lot of the time. There aren't too many people out there that have a big budget that can be stretched if needed.
This is one reason to love Task Ant. They are realistic about what their customers can spare when it comes to budget, which is why they keep their prices affordable. What's more, their feature is unique and original – you won't find it with too many other companies.
4. Best Old-Timer: Jarvee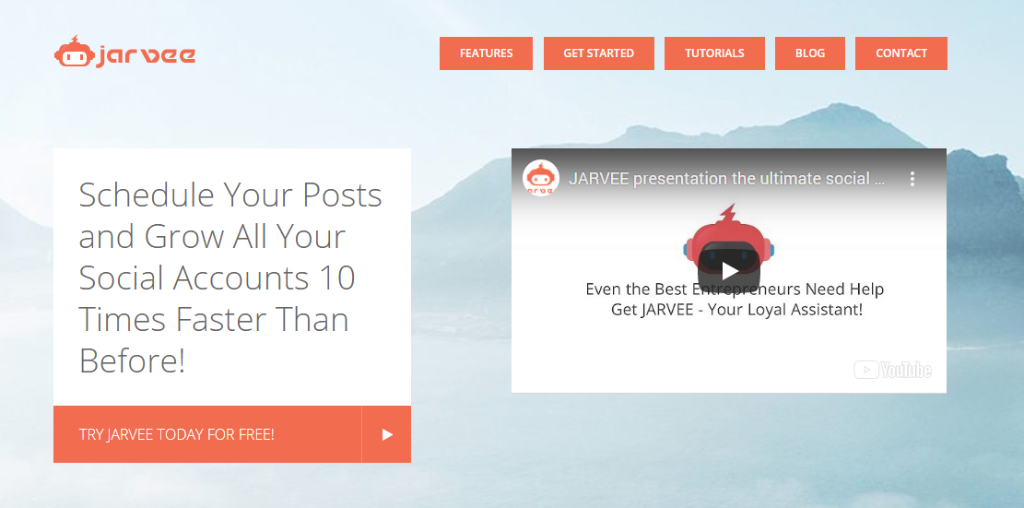 Our review of Jarvee was really easy because we know these guys like the back of our hand.
They have been around in the industry since it first started up, which means they know a thing or two about what it takes to grow your Instagram account successfully.
They come with a dashboard that you download onto your desktop – but you need to have Windows for it to be compatible. What's more, if you're not too sure about their features at first, we recommend checking out their helpful videos online.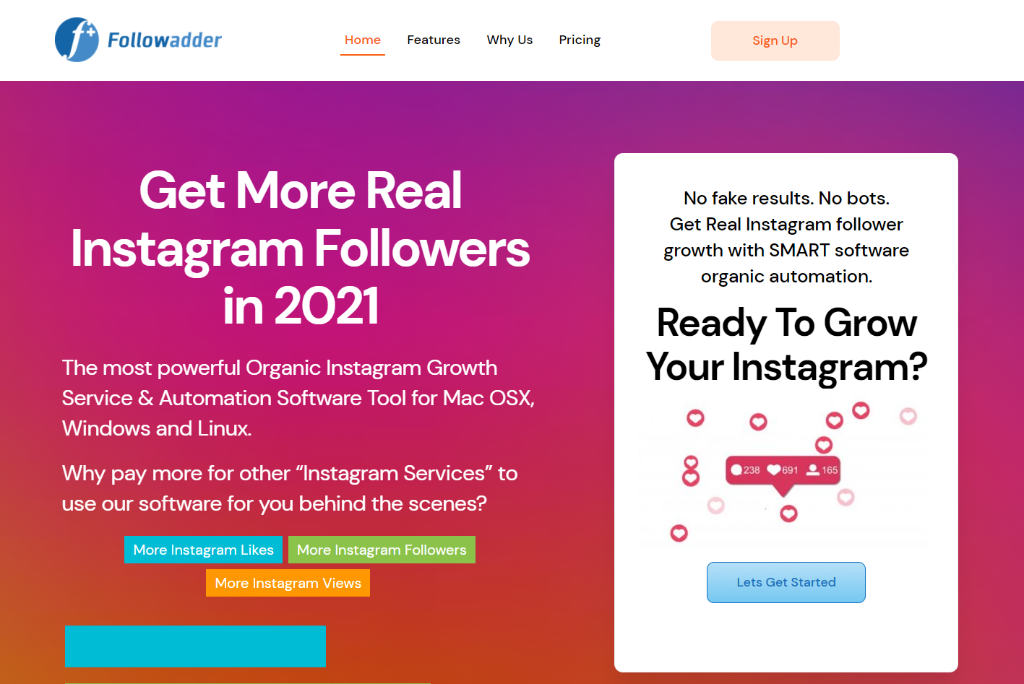 Follow Adder is just like Jarvee – they were one of the first Instagram growth companies to start up when the industry was just warming up.
This means that not only do you have expertise on your side, but you also have experience. They know this industry inside and out, which means that they know exactly what they need to offer you to grow your account successfully.
Their dashboard can be downloaded and is compatible with Linux, Windows, and Mac, which means that they accommodate for all types of different customers.
Did You Know?
You already know that Instagram is a pretty popular place. There are a lot of people that have social media accounts on Instagram these days, but did you know that there are 1.393 billion people that use Instagram every month?
This means that one out of every seven people in the world uses Instagram every month.
That's a lot of people! How many people do you think use Instagram every day? It's not as much as 1 billion, but it's almost there. In fact, it's exactly half a billion, or 500 million.
This is a huge number of people that get on the gram every day and either post or check out other people's content.
Review Process
When we review the companies that you see on our list of the best Simplygram alternatives, we make sure that we're only providing you with the best that is out there, by doing our research.
We do this by taking a look at 212 Instagram growth companies and as many as 122 customer reviews that talk about both positive and negative things.
This way, we can gain some pretty good insight into what we think are the best Instagram growth companies out there right now.
With our list of Simplygram alternatives, we think you've got some great options up your sleeve should anything happen!