Although Google has been leading the search engine market for so many years, many others are competing to get a sizable chunk of the market share.
Similarly, with an opportunity identified for a different search engine that relied more on AI, You.com was introduced at the end of 2020.
To help it stand out in the crowd and show the world an example of how AI can change the web, chat functionality was integrated into You.com.
The market soon caught up with this idea, but now the founders believe there is potential for a novel strategy that not even the most established players can provide.
It was announced recently that You.com would use multimodal search to expand on that head start.
In order to provide a more accurate response to user queries, it will incorporate elements that go beyond the text.
This is a significant advancement for the chat-based search engine and puts it ahead of some of its much bigger rivals.
Key You.com Statistics 2023
In January 2023, You.com's web traffic surged by 153.5% from the previous month.
You.com received 12.66% of its desktop traffic from the United States.
You.com collected $25 million in funding in 2022.
Direct traffic accounted for 75.52% of all desktop visits to the website in January 2023.
The website has a global rank of 4474.
You.com Funding Statistics
1. You.com Collected $25 Million in Funding in 2022.
Closing its 2022 funding round in July, the website was able to raise $25 million.
With this new funding, the firm has now raised a total of $45 million.
According to the founders, this money will be used to create "premium features."
These features will help compile data from many websites and provides built-in applications, such as Twitter search tools, that let users carry out tasks without being required to move away from the results page.
You.com Engagement Statistics
2. In January 2023, You.com's Web Traffic Surged by 153.5% from The Previous Month.
From 6.3M total visits in December 2022, the total desktop traffic to You.com surged up to 15.9M in January this year.
The number of total visits has increased by 153.5%.
These statistics validate the claims made by the founder of You.com that the website experiences double-digit percentage growth almost every month.
In fact, they show that a much larger growth rate was seen recently.
3. Direct Traffic Accounted for 75.52% of All Desktop Visits to The Website in January 2022.
Direct traffic, which accounted for 75.52% of all desktop visits to you.com last month, is the site's main traffic source, followed by Organic Search, which brought in 19.40% of visitors.
Paid Search is the most neglected medium.
4. You.com Received 12.66% of Its Desktop Traffic from The United States.
Are you wondering which countries have recently sent the most visitors to you.com?
Where does their main fan base originate?
While You.com is striving to shine bright globally, it looks like it is getting most of the attention from users in the United States.
Statistics show that the largest chunk of the total desktop traffic received by You.com was 12.66%.
All of this engagement originated from the US and is 111.2% greater than the country's traffic percentage of the previous month.
Brazil showed the second largest traffic percentage at 5.75%, followed by India, Russia, and Germany at 4.88%, 3.32%, and 3.32%, respectively.
You.com Growth Statistics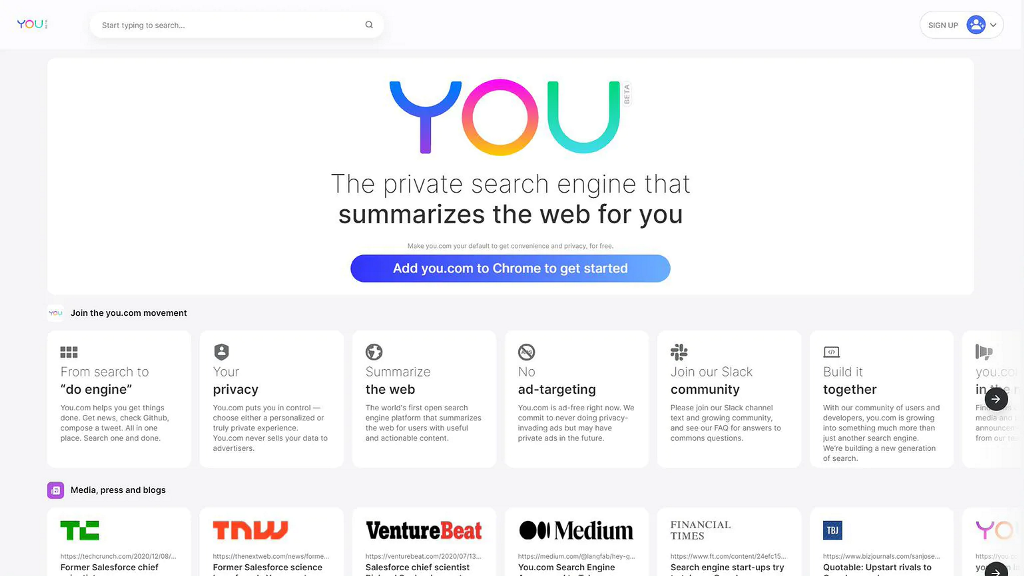 5. The Website Has a Global Rank of 4474.
Ranking websites aid in determining a business's worth. And You.com has moved up three spots in the past three months, from 14,816 to 4,474.
These figures demonstrate how swiftly the website is moving on the road to success.
Even in the specific category of search engines in the United States, the website currently holds the 39th rank, which is quite a jump seen within 2 years.
Other You.com Facts and Stats
You.com is headquartered in the city of Palo Alto (California), United States.
There are nine investors currently funding you.com, including Breyer Capital and Norwest Venture Partners.
You.com has not begun to monetize yet, but it plans to explore that path this year.
Research about the website's retention rate shows that 50% of users who make You.com their default search engine will continue to do so afterward.
It sets a higher standard for privacy by providing a zero-trail incognito mode. Users are never tracked online.
What is You.com?
You.com is an alternative search engine that assists users in finding what they're searching for by giving priority to actual results.
It seeks to compete with Google and other ad-supported search engines by integrating apps that show up on search result pages as static widgets or information panels to significantly improve the search experience.
Who is the Founder of You.com?
Bryan McCann and Richard Socher, two former employees of Salesforce, established the website in 2020.
The parent company of You.com is called SuSea Inc, which is known to provide all kinds of software solutions.
How Does You.com Monetize?
Although the website has not found a way to monetize yet, one thing that has been confirmed is that You.com will make use of apps instead of ads.
Being a private search engine designed to truly summarize the search results for users, You.com's founders feel very strongly against bombarding users with ads.
Conclusion
The search engine is undoubtedly a difficult market to compete in.
And the founders of You.com are well aware of the fierce rivalry that the website faces from the industry giants such as Google and Bing, etc.
Yet, they are confident in the fact that You.com has managed to set itself apart from its rivals.
Offering a multimodal chat search, You.com has been able to offer a novel perspective on things that search engines can or ought to be able to do for you.
That is probably why the search engine has been able to expand so quickly and continues to grow.
Sources