If you use WhatsApp you're not alone. It has an estimated 2 billion users and is considered the most used mobile media app on the planet.
But, while the average user spends 38 minutes on the app each day, many users don't realize the security risks they are exposing themselves to.
The simplest way to stay safe while using WhatsApp is to invest in a reputable proxy.
Unfortunately, there are hundreds to choose from, it can be hard to know which one is the best.
Thankfully, we're here to help, read on to discover the best WhatsApp proxies and why you should be using one.
Proxies Explained
When you connect to the internet, from any device, you're assigned an IP address.
This is unique to your device. It can be the same every time you connect, or change randomly.
The IP address facilitates communication between you and other devices.
However, because you are directly connected it also allows the devices and anyone hacking the system to locate your physical address.
A proxy becomes your gateway to the internet. Instead of your computer giving its IP address to the world wide web, the proxy does.
This protects your location.
In addition, a proxy will encrypt the data, meaning that only you and the intended recipient can read it.
It's an effective way to help you stay safe on the internet.
Reasons To Use A Proxy With WhatsApp
Using a proxy with your WhatsApp account is a good idea.
It will allow you to connect with others and make new friends without giving out too many personal details.
Alongside this, it can:
Allow You to Bypass a Restriction
There are several reasons why you might struggle to access or create a WhatsApp account.
One of the most common is that your access has been limited or blocked by WhatsApp.
A proxy gives you a different IP address, allowing you to continue to connect.
Ensures Conversations Are Private
As mentioned, a proxy encrypts your data, ensuring that your conversations are completely private.
Gives You Multiple Access Options
If you experience difficulty accessing WhatsApp due to server or IP issues you can simply change the proxy IP address. It will help you stay online.
This approach can even allow you to create multiple WhatsApp accounts, each one has its own IP address.
Why They Don't All Work With WhatsApp
A proxy isn't illegal. However, it does provide a way for people to dodge systems and avoid safety and security checks.
In short, it could be used by cybercriminals to help them perform illicit deeds online and avoid detection.
As such, many websites are wary about the use of proxies.
That's why you need to choose the best WhatsApp proxies. These have good reputations and are better tolerated by WhatsApp and other sites.
Best WhatsApp Proxies 2024: Worth Paying For
If you've decided a proxy is the right choice for you then it's worth choosing one of the following.
You'll need to pay for the following proxies but that simply improves the quality of the service.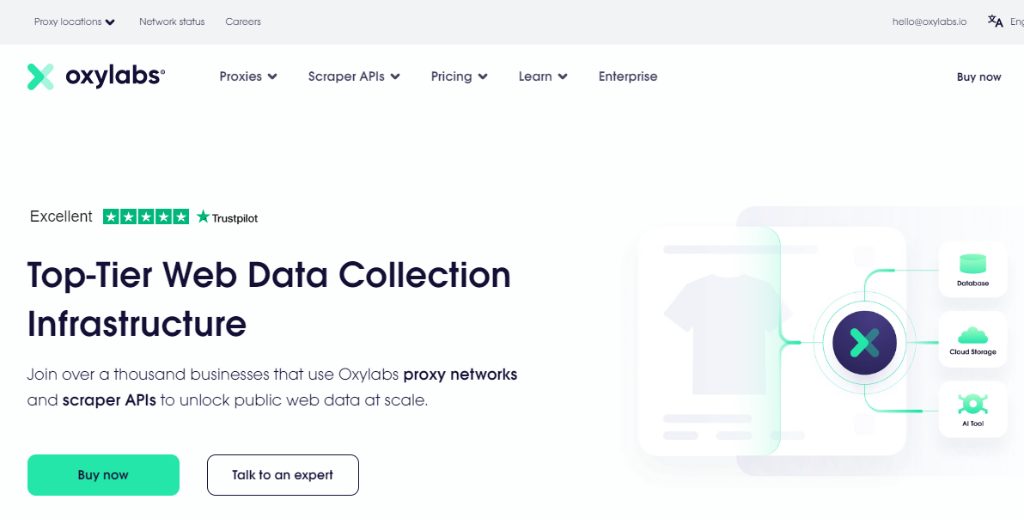 Oxylabs is often considered the best proxy solution on the market, whether you're dealing with WhatsApp or another site.
There is a good reason why it has this reputation, it's well deserved.
Oxylabs has a collection of mobile IP addresses, residential ones, and even datacenter options.
That means you can choose whether security or speed is preferable for you and get the best possible connection.
They have over 100 million IP addresses, ensuring you are always connected.
Best of all, their proxies work. You won't have any issues accessing WhatsApp with an Oxylab proxy.
Oxylab has proxy servers situated across the globe, ensuring you can select where you appear to be based.
They are also one of the fastest proxy servers currently available.
You get a free trial and a 14-day money-back guarantee. If you're interested in data scraping then this is the perfect solution for you.
Although Oxylabs is excellent, their prices are above average, you need to be prepared for this.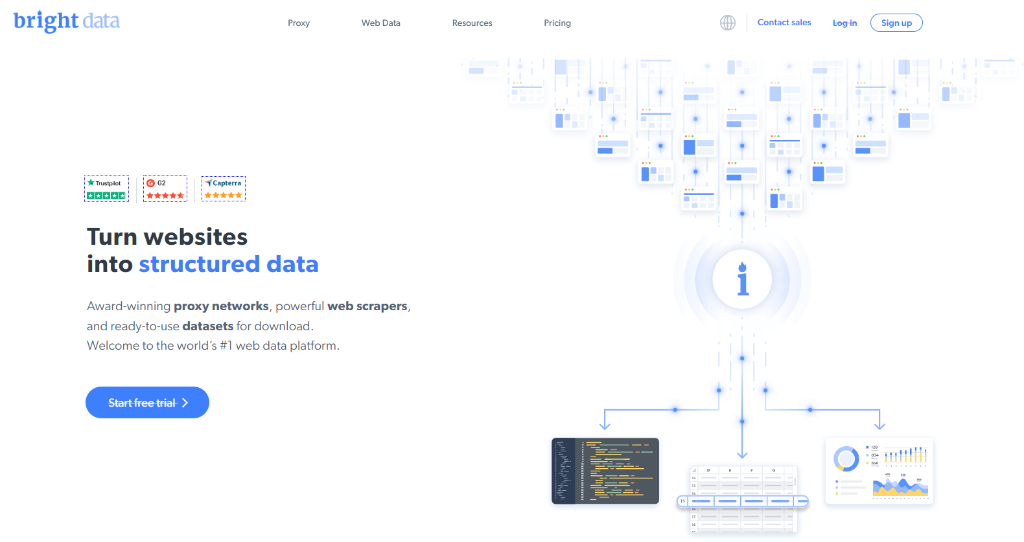 Bright Data is another big name in the industry. This operator offers over 72 million IP addresses.
Again, these are a mixture of residential, mobile, and datacenter IPs. This ensures you have excellent access to the internet via any device.
Alongside an array of useful features, it's important to note that setting up this service can be complicated.
However, the cost of this service is surprisingly low and the performance is high.
Therefore, for many individual users, Bright Data offers an attractive package.
Because it's open source it doesn't need coding but it does offer SSL decryption, custom bandwidth rules, and even intelligent routing.
They also have a great customer support team offering care 24/7.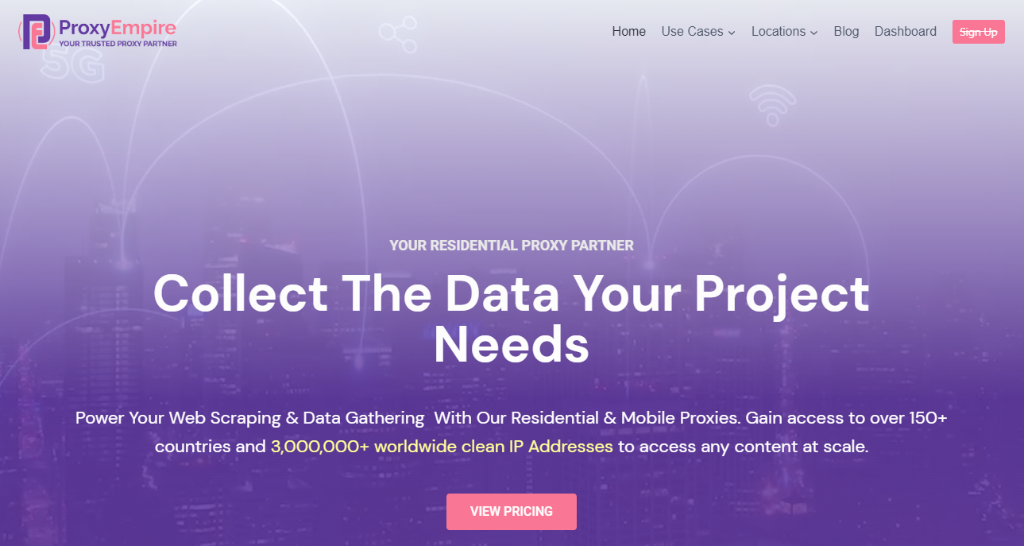 ProxyEmpire has servers in at least 170 countries and gives you access to approximately 10 million clean IP addresses.
These are checked and changed regularly to ensure you can always gain access to WhatsApp or any other site you desire.
At least half of their IP addresses are rotating residential ones, the best for security.
They also offer rotating mobile IP addresses. Of course, you can choose a static proxy if you prefer.
Perhaps more importantly, ProxyEmpire is very easy to install and start using.
ProxyEmpire offers a variety of subscriptions, ensuring you'll find something to suit your budget.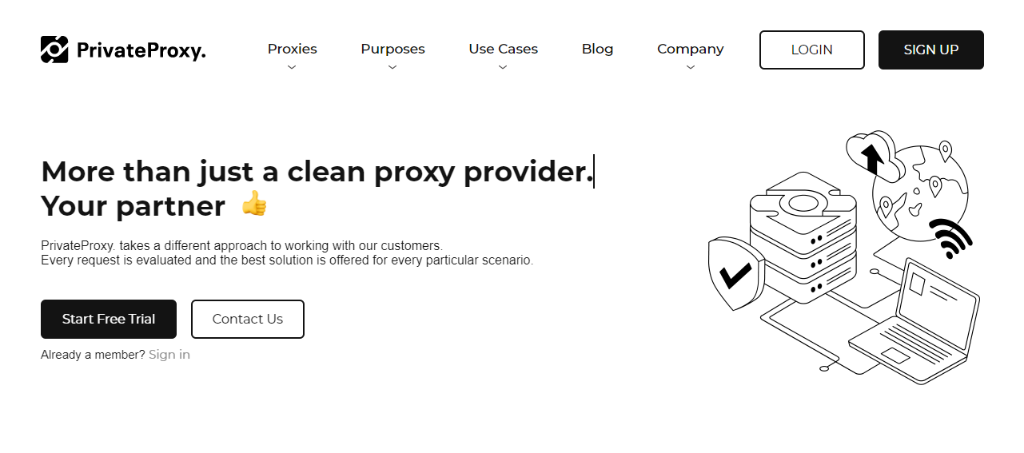 PrivateProxy has an array of solutions, designed to fit everyone. But, they don't offer these as set subscriptions.
Instead, they evaluate your needs and design the best proxy package for you.
This allows them to offer reduced prices, especially if you want a static residential IP for security or datacentre IPs, designed for speed.
PrivateProxy is a relatively young company.
It was founded in 2020 and specializes in private proxies, ensuring you're the only one using the designated IP address.
Although it doesn't have as many servers as Oxylab or Bright data, it does offer excellent customer support and a reliable, secure, connection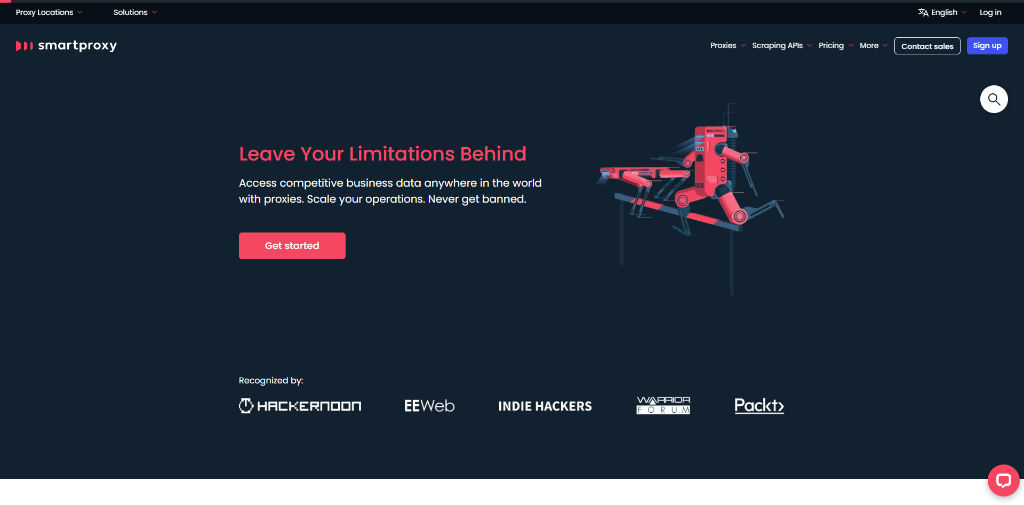 SmartProxy offers everything you could need from a proxy service.
It offers excellent encryption, keeping you safe from hackers (see: WhatsApp hacking apps) and other cyber threats.
But, the best feature of Smartproxy is the price.
Unlike many operators, Smartproxy offers a price based on the bandwidth you would like available to you.
The lower your bandwidth requirement the cheaper your monthly price.
Smartproxy has at least 40 million IP addresses and an impressive proxy pool as there are servers in 195 countries across the globe.
It's gained a good reputation for speed and reliability.
This proxy is an excellent choice for any WhatsApp user but especially if you are interested in scraping WhatsApp conversations.
Free WhatsApp Proxies: Who They Are & Are They Worth Considering
When looking at the various proxies on offer you're likely to come across the above and some of the following free offerings.
In fact, you can simply choose a free proxy from a list and add it to your device, it's easier than you think.
For example:
| | | | | |
| --- | --- | --- | --- | --- |
| IP address | Port | Code | Level of anonymity | Country |
| 167.71.228.106 | 1994 | IN | high | India |
| 51.223.248.189 | 8080 | SA | Very high | Saudi Arabia |
| 206.189.118.100 | 59166 | UK | Average | United Kingdom |
| 51.15.242.202 | 8888 | FR | anonymous | France |
| 45.92.108.112 | 80 | CH | Very high | Switzerland |
The biggest issue with taking a free proxy in this way is that they can be used by anyone.
That means the proxy you use could be blacklisted and block you from WhatsApp and other sites.
It could even be traced back to your computer by law enforcement officers and potentially get you wrongfully accused of something.
The alternative, when looking for a free proxy, is one of the following.
ScraperAPI has 5,000 IP addresses that it can allocate each month.
You'll need to sign up before you can access the list and select which free IP you would like to use.
Once you've signed up you can get multiple IP addresses.
While this approach is designed to reduce the likelihood of cyber criminals accessing the IP addresses, it doesn't completely prevent it.
2. Spys.one
Spys.one has located IP addresses in over 170 countries, including the US, Germany, and even Brazil.
You can search through the available proxies by country, HTTPS, SOCKS, and even using the transparent option.
The site shows the speed and latency of each connection, although not all are checked regularly to ensure the IP addresses are still valid.
3. Free Proxy
Free Proxy has more than 17,000 proxy IP addresses and you can search through them based on your preferred protocol.
It may take a few moments but you'll be able to select a proxy by country, and they have IP addresses across the globe.
However, there are limited ways in which to sort the proxy list, meaning that it could take a while to find the right one for your needs.
A free proxy can sound like a good alternative. But, the lack of cost means a lack of regulation and control over the IP addresses.
In short, they may not work or could lead to complications for you.
Additionally, your information will be sent to the third party offering the IP address, meaning that someone else has access to your personal information.
Equally, free proxies tend to be cluttered with users, ensuring they offer slow and often unreliable connections.
Installing Your Proxy
If you've decided that a free proxy is the right choice for you then you'll need to go into your WhatsApp settings and find the data and storage tab.
Select this and then open the proxy settings tab. It's then easy to choose the set proxy option and type in your chosen IP address.
Save this and you'll see a mark next to it to confirm the change has been made and you're connected to WhatsApp.
Occasionally you'll find the mark doesn't appear.
This tells you that someone else has used the proxy and it has been barred from accessing WhatsApp.
There's nothing you can do about this except try a different IP address.
If you've decided to go with a paid proxy provider you'll need to visit the proxy site.
You'll then be able to create an account with a few simple personal details.
After you've got an account, you can select your desired subscription option.
Once you've paid for the proxy you'll be able to download the app, via the link provided.
It will embed itself in your device or, if you prefer, in your wireless router.
You can then continue accessing WhatsApp as normal, the downloaded software will make sure the correct proxy is used.
If you want to see the currently assigned proxy IP address simply go into your wireless router settings and choose the internet settings, you'll see a proxy option and the IUP address will be displayed.
Summing Up
Using a proxy to access WhatsApp makes sense. It ensures you have privacy and helps to give you a reliable connection. Another option is a VPN for WhatsApp.
If you choose one of the best WhatsApp proxies, as shown on this list, you'll find it is easier to set up.
You can then forget about it and enjoy accessing WhatsApp as well as other sites.
Your personal details will be safe and your connection encrypted, reducing the likelihood of a cybercriminal targeting you.