Valorant, Riot's newest multiplayer shooter, was released not long ago. And the PvP game has successfully caught millions of gamers around the world in its fever.
Although the phrase "millions of players" appears to be amusing, it is not.
Even though you might expect to do so, you won't be up against players from other regions.
Because not being able to access servers in other regions is nothing short of a pain.
But you need not worry; we have VPNs to save the day.
Using the best VPN for Valorant not only unblocks desired regions but also establishes a secure connection that protects you from DDoS attacks.
But which VPN provider is actually reliable enough to be your gaming buddy?
Given that your privacy and gaming experience are at stake, this can be a difficult choice. Therefore, we took it upon ourselves and tested various VPN services.
Our tests revealed that NordVPN's superfast servers, security features, and user-friendly client remained unrivaled.
But that isn't where we conclude it since everyone has different preferences.
We've also listed a few other VPNs that excelled in our tests. So, let's dig right in.
Best VPN for Valorant 2024
Here's the list of the best Valorant VPN services that can secure your data and help you access more regions without any trouble.  
NordVPN – 🏆 Winner!

None other, we repeat, none other VPN can upgrade your gaming experience like NordVPN.
Why? Well, there are plenty of reasons we can list. But everything we'd say about its service would be an understatement.
Let's start with its support, what if we tell you that you can access 5,400+ servers across 59 countries of the world?
And that too is specifically optimized for gaming, so you won't see your ping taking a peek again. Impressive, right?
Wait, there's more. Let's unfold the security features, which is the main reason for it stealing our top-pick position.
NordVPN uses AES-256-bit military-grade encryption, a strong network encryption technique, to encrypt your internet activities.
Also, you can connect to the internet however you want because the multiprotocol approach enables you to choose an internet protocol of your choice.
You can connect to the web using OpenVPN, IKEv2, WireGuard, or NordLynx, available on its clients across all platforms.
Among all these, we'd recommend using NordLynx. This may be new to you, but once you activate it, there's no going back.
Because NordLynx is NordVPN's own protocol that provides five times higher speeds than other VPNs.
Moreover, you can also bypass the VPN bans in case your government has imposed them on your region. NordVPN also has solid security policies.
The company maintains a no-log policy, which means it won't keep logs of your online activity while you surf the web.
The VPN service's advanced security features are also a cherry on top.
With a splash of dollars, you can unlock an extensive set of features for ultimate security and stable browsing.
The top-notch security features include Split-tunneling, so you can use the VPN with specific applications.
Double VPN enables you to continue surfing the web securely through dual-connection servers, even if your connection is compromised.
Also, NordVPN supports a feature called the Tor anonymization network, that's available on a few VPN services and allows you to stay anonymous across the internet.
So, geared up with potent security techniques, NordVPN takes care of your privacy like no other.
The only let-down would be the limited six simultaneous device connections.
However, since they're offering a 30-day money-back guarantee, there's no reason to miss the shot.

Talk about the best-priced VPN, and there's no other VPN best-suited for this title than Surfshark VPN.
Known for its exceptional VPN service, Surfshark also holds the most affordable pricing among its competitors.
The term 'affordable' may have made you think about compromises.
However, that's not the case here because with Surfshark safe and fast browsing is guaranteed.
Globally, Surfshark provides access to a vast 3,200-server network across more than 100 nations.
Not only are the figures impressive, but Surfshark also offers coverage in under-reported regions like South America and Africa.
Your online activity is safeguarded with military-grade AES-256-bit encryption in addition to the servers' security and optimization for maximum performance.
Thus, there is no possibility of your privacy being compromised.
Another thing that supports this fact is Surfshark's no-log policy. The Netherlands-based company has undergone a privacy audit and doesn't trace your online activity.
The VPN service allows you to connect to the internet through different internet protocols. OpenVPN and WireGuard protocol options are available on all platforms.
However, for Android, iOS, and macOS, IKEv2 is also available. In terms of connectivity, Surfshark has a better approach.
Unlike NordVPN, Surfshark doesn't limit you to connecting a certain number of devices.
There is no limit to the number of devices you can connect to at once.
Other than that, there is a lengthy list of reliable security features that have not yet been highlighted.
These amazing features include camouflage mode, which enables you to surf the internet without being detected by your internet service provider.
Multihop connections, through which you can connect to servers in different regions and stay anonymous.
Kill Switch that cuts off your connection if it's compromised to save your data.
DNS leak protection ensures there are no leaks of data, and split tunneling allows you to use only specific apps under VPN protection.
So, with all these security features and superior VPN service available at good pricing, Surfshark VPN is the best choice for low-budget gamers.
And with a 30-day money-back guarantee, it's an even better deal.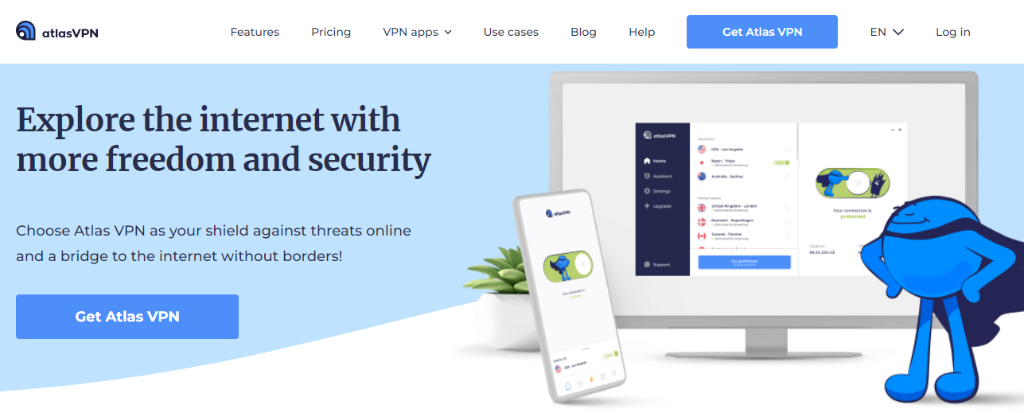 All of those excellent VPN services are available, and we're confident you haven't come across one that is so generous as to offer free service.
However, Atlas VPN is here to help us make a difference.
The VPN service offers an excellent free version of its service and offers three server locations, including Canada, the United States, and the Netherlands.
These locations offer a reliable, fast connection. However, there is a data limit, as would be expected from a free VPN website.
The data cap is not huge and might be sufficient for many people. Users of Android, iOS, and macOS are limited to 2 GB each day.
Windows users, on the other hand, will receive 10 GB each month.
And whether you're using a free plan or have paid for the full show, there's also no simultaneous device connection limit.
Isn't it a lot in a free plan?
Don't worry because there aren't any hidden costs for the complete show. Atlas VPN may have been through security doubts because of its origin in the US.
But soon after its acquirement by Nord Security, the company behind NordVPN, the tables turned.
Atlas VPN has earned the trust of its users with its excellent security policies, which include a no-logs policy and other features.
Because the VPN service retains no logs of your internet activity, you are protected from prying eyes.
With Atlas VPN, your connections stay encrypted with the military-grade AES-256-bit encryption technique.
And there's a choice in connecting to the internet however you like because of multiple protocol options available.
The VPN features WireGuard and IKEv2 protocols on all its clients across all platforms. So, OpenVPN preferrers are an exception here.
However, you can try WireGuard, which is more advanced in terms of speed and security as compared to OpenVPN.
While all this sums up a good take on your privacy, you can be more confident of your online anonymity if you spend some dollars here.
Because Atlas VPN's excellent security features include some that you may not have seen before.
For instance, Safeswap is a feature that's seen nowhere else.
The VPN service calls a subset of its servers as Safeswap servers and, therefore, continuously switches servers to keep you undetected across the web.
Moreover, split tunneling enables you to access VPN on only a few apps you want.
And also, multi-hop connection to stay reliably connected even if your connection is compromised.
How to Pick A VPN for Valorant
You can't access more servers and are vulnerable to security attacks.
You searched for it, and now you have the answer in the form of VPNs. But that isn't where it all ends.
Choosing a suitable VPN to take care of your network while you play is another uphill struggle.
And therefore, you can't just go out there and pick a random VPN to activate and start crushing your opponents.
Here are a few things to keep in mind when choosing a VPN.
Servers & Speed
For multiplayer gamers, servers are the backbone of their gaming experience. A crack in the bone, and there goes the experience ruined.
So, you'll need to look for a VPN that offers a wide range of servers across the globe.
A wide server network is one thing, make sure it's also speedy and secure enough. Because activating a VPN connection may also cause higher ping and latency issues.
Security
Once you activate a VPN, it's in the driving seat of your internet connection.
Therefore, a weak VPN server may make your security vulnerable to malicious attackers out there.
So, make sure the VPN service you choose has strong security features like solid encryption techniques such as AES-256-bit encryption.
And also connect you through reliable protocols like OpenVPN, IKEv2, or WireGuard.
Additionally, your VPN service should also include advanced security features to safeguard your privacy.
Pricing
When it comes to privacy, we're sure nobody wants to compromise. And so, won't you?
Expecting free VPNs to provide a safe and fast networking experience would be a thing we won't recommend.
Instead of this, paying for a top-notch VPN service won't let you down. A reliable and good enough VPN won't cost you more than $12.
And the VPN provider is nicer enough, you can also get a money-back guarantee to test it out.
FAQs
Can I Use A Free VPN With Valorant?
Yes, you may use Valorant with a free VPN.
However, it is not recommended because free VPNs do not deliver the same experience as paid VPNs.
There are restricted server networks and data caps with free VPNs. Using a free VPN may also risk your privacy.
Will Using A VPN With Valorant Ruin My Gameplay?
Using a VPN to play Valorant may not affect your gameplay. However, depending on the VPN you select, you may face difficulty.
Using the wrong VPN can cause high latency and slow down your gameplay.
And if your internet service is unreliable, using a VPN may cause additional connection drops.
How Do I Lower My Ping Using A VPN?
If you're suffering from high ping issues while smashing your enemies in Valorant, VPNs can potentially help improve it.
Make sure you choose a VPN with low latency.
Such VPNs feature servers that are optimized for gaming. Also, select the nearest server location to your actual location and disable additional features that may cause latency.
Final Takeaway
Looking for ways to improve your gameplay, reduce latency, and explore different servers is a never-ending search.
But choosing the a VPN for Valorant may end your problems.
And since picking a suitable VPN may take hours long research, we came forward and tested different VPN services.
Through our tests, we discovered that NordVPN's gaming-optimized servers, remarkable security features, and user-friendly clients make it the safest bet for Valorant.