The security of the internet has grown to be a top concern for everyone in the modern world.
Keeping our online activities private and safe is crucial, given the increase in cyberattacks and data leaks.
A Virtual Private Network (VPN) is a great way to secure online privacy and security.
It is a tool that can help you secure your online privacy and get around geo-restrictions.
A VPN encrypts your internet connection and hides your IP address. It prevents third parties from accessing your data.
It may also help you to access content restricted in your country.
Even though many paid VPN services are accessible, not everyone can afford them. Free VPN websites are helpful in this situation.
Over time, Free virtual private networks, or VPNs, have gained popularity.
But not every VPN is the same; some might be less efficient than others.
Thus, we have created a list of the top 5 best free VPN websites that actually work and are reliable.
Also, offer the features required for secure online browsing.
In this post, we will review the top 5 free VPN sites and services and how to pick the best one for your needs.
5 Best Free VPN Websites in 2024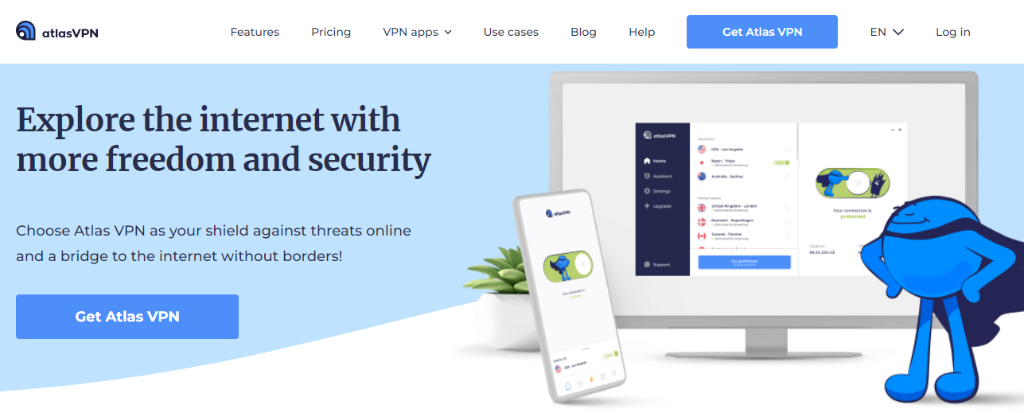 Atlas VPN provides a fast and secure VPN service with a generous plan.
With limitless data and bandwidth, Atlas VPN is a free VPN service.
It safeguards your data with military-grade encryption and has a stringent no-logs policy.
Thus, it does not keep any data about your internet activities.
Additionally, it provides servers in more than 20 different countries.
Enabling easy access to content that is geo-restricted from anywhere in the world.
Atlas VPN has servers in several countries. The United States, Canada, the United Kingdom, and the Netherlands are a few of them.
But you can only connect to one server location, which is the sole drawback.
It lets you view geo-restricted content like streaming services like Netflix, Hulu, and Amazon Prime Video.
Atlas VPN's capacity to block malware and phishing attempts is one of its distinguishing features.
Also, it contains an integrated ad blocker that speeds up your browsing.
It is easy to use and accessible on all major platforms. You can download and install the app with only a few clicks.
Its simple and intuitive interface makes it easy to connect to a server and browse the web securely.
Atlas VPN provides inexpensive pricing, rapid server speeds, and high-quality encryption.
It is a service to consider if you're seeking a trustworthy VPN.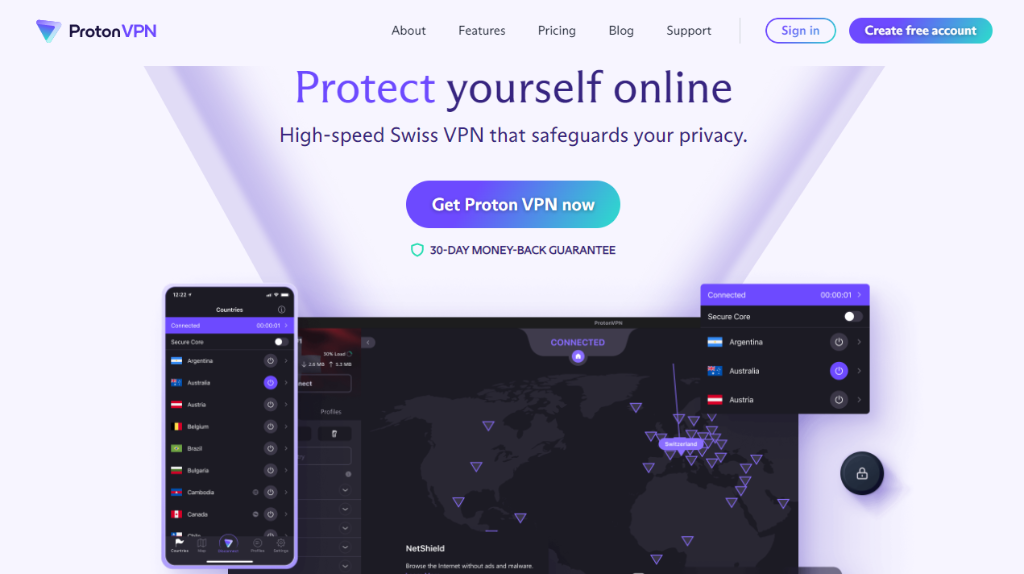 In the VPN industry, Proton VPN is a well-known brand.
It is a VPN created by the developers of ProtonMail, a well-known encrypted email provider.
Proton VPN provides a secure and private internet browsing experience.
Thanks to its advanced encryption and no-logs policy. It, too, does not store any traces of your online activities.
Focusing on security and privacy is one of Proton VPN's key advantages.
To guarantee that your online activities are always secure, It uses AES-256 encryption.
Proton VPN is a privacy-focused VPN service offering both a free and premium version.
The paid version offers a large server network of 50 countries.
This allows you to access geo-restricted content from anywhere in the world. But there are certain restrictions with the Proton VPN free edition.
It comes with reduced connection speeds and access to servers in only three countries.
Including the United States, Japan, and the Netherlands.
Internet censorship bypassing is one of Proton VPN's main features. Moreover, it divides your traffic among several servers.
Making it even more difficult for someone to steal your data.
In conclusion, Proton VPN is a trustworthy and safe VPN service, as it aids customers in safeguarding their online security and privacy.
Anyone concerned about their online privacy and security should consider it because of its strong encryption and no-logs policy.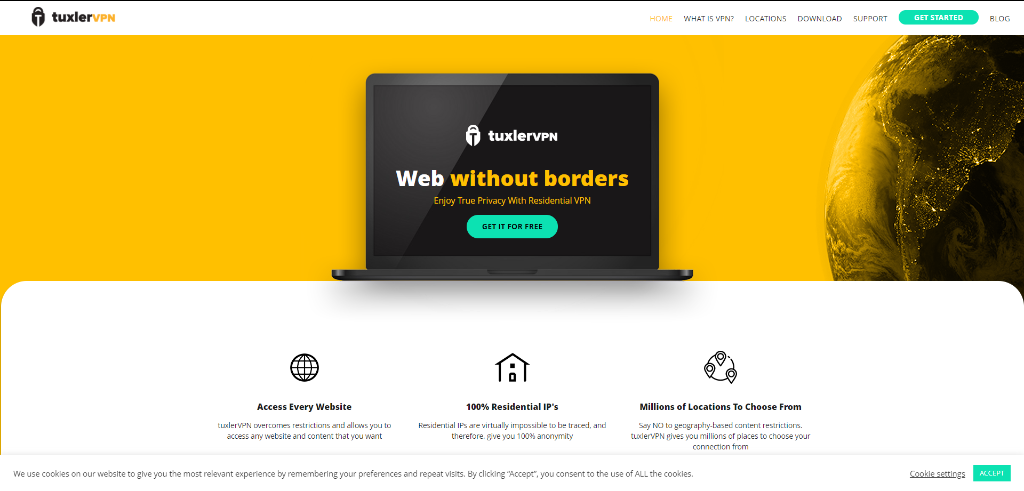 Tuxler VPN is a free VPN that provides basic privacy and security for your online activities.
It might not offer as many features as other VPN providers. But for those with a limited budget, it is a wonderful choice.
It is simple to use and has a user-friendly interface, so anyone can use it.
Moreover, a browser extension is also available, making it simple to use with your favorite online browser.
The fact that Tuxler VPN is free to use is one of its key benefits.
Thus, you can protect your online activities without paying for a VPN subscription.
However, it's crucial to note that Tuxler VPN's free version has some restrictions. It only provides access to a small number of servers.
Thus, accessing content from some areas might be more difficult, and browsing could be slower.
Despite its limited server selection, Tuxler VPN offers some fundamental security measures.
It has a strict no-log policy and employs 256-bit encryption to protect your online data.
Overall, Tuxler VPN also offers a simple design, making it easy to set up and use even for those who are not tech-geeks.
But if you need faster connection speeds and access to more servers, you may want to consider upgrading to the paid version.

One of NordVPN's main advantages is its vast server network.
Available on over 5,000 servers in more than 60 countries, NordVPN provides fast and reliable connections for its users.
NordVPN constantly scores highly in terms of speed.
There may be a little speed reduction for customers when using the service.
Although it is often very minor and shouldn't impact browsing or streaming quality,
Regarding customer support, NordVPN offers 24/7 live chat support and a brief support section with tutorials and FAQs.
On NordVPN's website, users may also discover useful articles and instructions.
Moreover, NordVPN offers advanced features, like double VPN and Onion over VPN, which add extra protection layers.
The double encryption technique is one of NordVPN's unique characteristics.
It encrypts your data twice instead of just once. This makes it nearly impossible for anyone to steal or read your data.
NordVPN secures your online activities and shields your sensitive data from prying eyes.
It uses cutting-edge encryption technologies, including 256-bit AES encryption.
It also provides many security features, like an automatic ad-blocker that shields you from intrusive pop-ups and ads.
A kill switch that cuts off your internet connection if your VPN connection is lost.

Surfshark VPN is a VPN provider that offers a 7-day free trial with access to all its premium features. It also offers a 30-day money-back guarantee.
All servers are accessible throughout the trial period with unlimited bandwidth.
Thus, it's a great choice for those who wish to try the service out before committing to a paid plan.
Like NordVPN, Surfshark VPN also features a vast server network. It consists of more than 3200 servers spread throughout 65 nations.
Thus, regardless of your location, you can easily access content from around the globe.
And also take advantage of quick and dependable connection speeds.
Advanced encryption techniques are one of Surfshark VPN's primary characteristics, too.
Besides 256-bit AES encryption, many other security measures are also present. Such as IKEv2 and OpenVPN.
Which ensures that your online activity remains completely private and secure. Even when you are using public Wi-Fi networks.
A kill switch is one of the extra security features of Surfshark VPN. It stops your internet connection if your VPN connection drops.
Moreover, a CleanWeb feature blocks ads, trackers, and malware. Ensure your online activity remains completely secure and private.
Surfshark VPN is a great option for anyone looking for a secure, quick, and easy-to-use VPN service.
Thanks to its advanced security features, large server network, and inexpensive pricing.
How to Pick the Best Free VPN
The VPN service providers mentioned above are all great choices for free VPN services.
But there are a few key factors to consider when deciding which is best for you.
Security: The priority when choosing a VPN service should be Security. Yes! Look for a VPN provider that uses strong encryption features such as AES-256.
Check For a No-logging Policy: Apart from strong encryption, a strict no-logging policy is also crucial in terms of security.
It means that the VPN service does not record your online activity. This is important for ensuring your online privacy.
Speed: Once you're satisfied with the security, ensure the VPN you select has fast speeds and low latency, especially if you want to use it for streaming or downloading large files.
Server Locations: The next thing is to verify that the VPN has servers in the regions you need.
Server locations also affect the speed and accessibility of the VPN service.
Data Limits: Streaming or downloading content can be challenging if a free VPN has speed and bandwidth restrictions.
Look for a VPN with high-speed connections and no bandwidth limits. And make sure the VPN offers enough data for your needs.
Privacy: You want to be as anonymous as you can when accessing banned websites.
In other words, you need a VPN provider that adheres to a no-logs policy and offers high-quality encryption, data leak protection, and system-wide monitoring.
Device Compatibility: Make sure the VPN is compatible with the devices you use.
Customer Support: Search for a VPN company that provides top-notch customer care and helpful tools like FAQs and tutorials.
Additional Features: Last but not least, some free VPNs could have extra features like malware protection or ad blocking.
Consider these extra features while choosing a free VPN to get the most out of your online experience.
FAQs
Are Free VPNs Useful for Playing Online Games?
Online video game play may bring a lot of joy, but lag or high ping can make it uncomfortable.
The good news is that using a free VPN while gaming can help to mitigate these issues and improve your gaming experience.
A VPN can help reduce lag by reducing latency by routing your link through a server that is near the game server.
Additionally, it can protect you from Cyber-attacks and other undesirable behavior while you're playing online.
Although they are more difficult to discover, some free VPNs also include extra features like split tunneling and unlimited broadband, which makes them even more beneficial for gamers.
Can I Use a Free VPN for Streaming?
Yes, you can use a free VPN for streaming. However, free VPNs may have limited data or slower speeds, affecting your streaming experience.
Using a paid VPN service is recommended for the best streaming experience.
Do Free VPNs Offer Unlimited Data?
Not all free VPNs offer unlimited data. Some free VPNs may limit the amount of data you can use.
At the same time, others may reduce your connection speed after a specific quantity of usage.
However, many of the VPNs we reviewed in this post offer unlimited data.
It's essential to check the specifications of each free VPN service to determine whether they have any data restrictions.
Do Free VPNs Come with Risks?
Free VPNs frequently contain intrusive privacy policies that permit user tracking and data collection.
As a result, the VPN becomes a honeypot that collects your data for profiling reasons and enables the VPN provider to make money off of you by reselling your information to outside parties like marketing firms and data brokers.
However, it has been discovered that free VPNs include worrying DNS and IP leaks, inadequate (or nonexistent) encryption, and even spyware-containing programs.
Because of this, employing certain VPNs is inappropriate for security and privacy reasons.
These issues make free VPNs potentially dangerous and risky for your devices and data.
Conclusion
People looking to preserve their online privacy and security without spending a fortune should consider using a free VPN.
Picking the best free VPN requires research and consideration of your specific needs.
In contrast, paid VPN services offer more features and better performance.
There are still many free VPN websites that offer reliable and secure services.
When choosing a free VPN site, it is essential to consider the above factors, such as security, speed, server locations, data limits, customer support, and device compatibility.
The above VPN providers, Atlas VPN, Proton VPN, Tuxler VPN, NordVPN, and Surfshark VPN, are all great options for those looking for a free VPN that works well.