Are you tired of seeing posts from people you no longer want to follow when you scroll through your Instagram feed?
Using various strategies, you may have attracted a sizable following, but now it's time to clean things up.
In this situation, you need to find the best unfollow app for Instagram to help you.
Instagram unfollowing apps available are an excellent alternative to manually unfollowing accounts one at a time.
These apps make it simple and quick to mass unfollow inactive or non-following accounts.
The best part, though? You can expand your profile while maintaining a natural follower-to-follower ratio.
Discover our top picks for the best Instagram unfollow apps in the article to simplify maintaining your Instagram profile.
Best Unfollow App For Instagram in 2023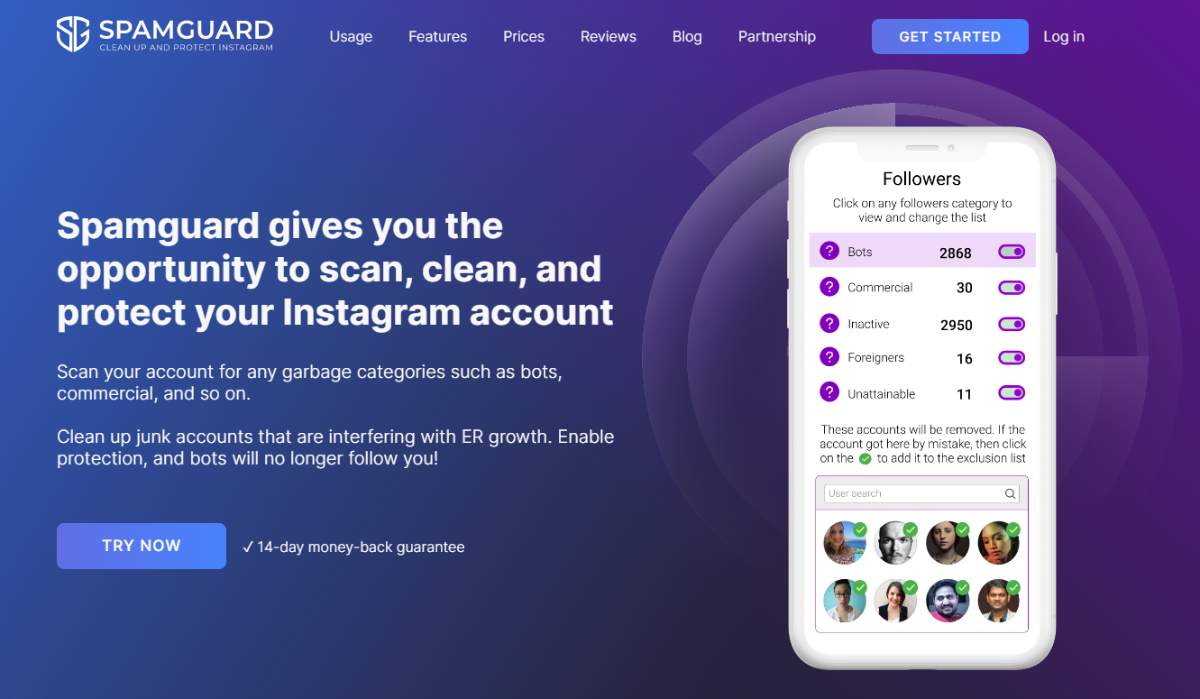 If you're tired of spam and bots clogging up your Instagram feed, you should consider using SpamGuard.
This practical and cost-efficient online service focuses on clearing up Instagram accounts.
With SpamGuard, you can quickly stop spam accounts, unwanted followers, and comments from appearing on your Instagram profile.
The anti-spam monitor of SpamGuard is one of its standout features; it helps to safeguard your Instagram profile from unwanted interactions.
To better understand your needs and offer specialized solutions, they also provide a free analysis at the start of their service.
SpamGuard is a thorough cleaning that can increase the engagement and reach of your profile rather than just an app for mass unfollowing on Instagram.
To concentrate on natural and organic growth, they can help you eliminate commercial accounts, bots, and inactive followers.
The tool provides thorough audience analysis in addition to cleaning services, assisting you in determining the most promising regions for organic growth.
For anyone looking to optimize their Instagram profile and increase engagement at a low cost, SpamGuard is a fantastic option, thanks to all of these features.
So why not give it a shot and download SpamGuard immediately for a spam-free and cleaner Instagram experience?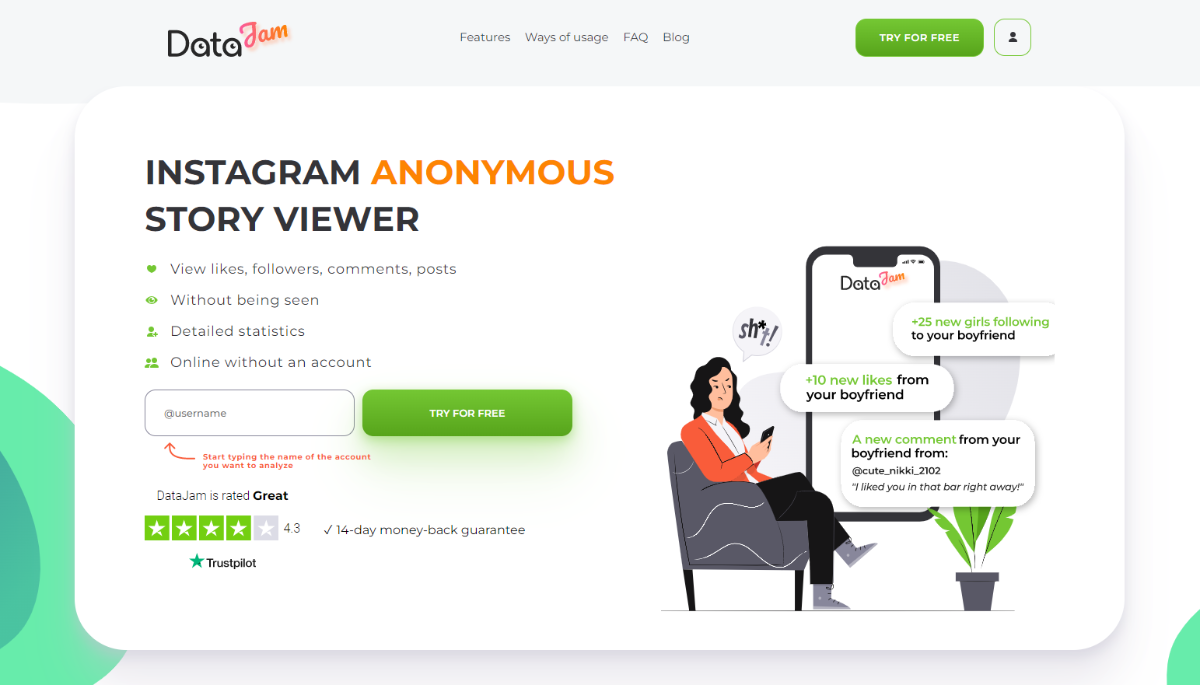 DataJam is a reputable cleaner app because it can remove unwanted followers and spam accounts.
However, DataJam offers far more than simply the ability to unfollow.
This tool allows you to analyze the audience of your Instagram profile thoroughly.
This feature will enable you to understand your followers better and concentrate your Instagram strategy on organic growth for personal and business accounts.
The best part is that DataJam operates in the cloud, so there is no need to download any specific apps, making it a convenient tool to use while traveling.
Its anti-spam monitor is another notable feature.
Ghost accounts can be removed from your Instagram profile, and You can block unwanted comments and followers.
Because DataJam is entirely anonymous, the owner of the Instagram profile will have no idea that you were spying on them.
Don't be concerned about your privacy.
You don't need to share your Instagram username or password to use their features.
In addition to these options, DataJam offers comprehensive statistics that are constantly updated.
As a result, you will be able to receive notifications about Instagram profiles whenever and wherever you need them.
But the best part?
You don't need to be an expert to use DataJam's features because they are effortless.
Phantombuster is a well-known Instagram unfollow app that provides a variety of features to assist you in developing your brand and online presence.
Their informative website, which explains how they operate and how you can benefit from them, is one of the things that makes them stand out.
Phantombuster lets you unfollow multiple users at once but also assists you in keeping your account free of phony accounts that might harm your reputation.
They even provide data extraction, which enables you to find crucial data about your brand and niche and use it for your marketing strategy.
These days, Instagram growth requires a strategic approach, and Phantombuster is an excellent option for assisting you in achieving your objectives.
Phantombuster offers code-free automation, data extraction, and mass unfollowing to help you develop your brand and find new clients.
They provide a 14-day no-information free trial of all of their services, including the growth hacker plan.
Before signing up, you can also view a tutorial on their website to learn more about their operations.
When working with Phantombuster, you can be confident that you are communicating only with individuals who are interested in your content, and they offer reasonable rates to meet your needs.
Their ultimate objective is to quickly and successfully assist you in growing your brand online.
4. AiGrow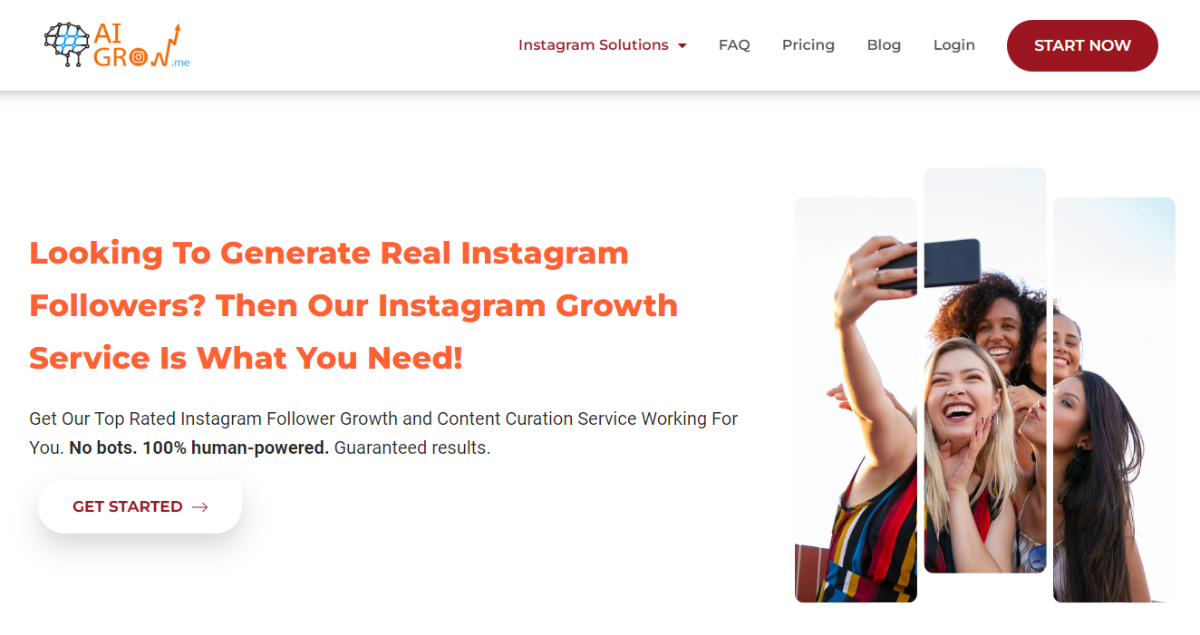 AiGrow is the next best unfollow app for Instagram on our list, and it does a great job at a reasonable price.
This Instagram marketing service has everything you need to promote your business.
The service is unique among Instagram unfollow apps because it employs real people to unfollow you.
This prevents you from exceeding Instagram's daily limits, which could result in suspending or deleting your account.
However, AiGrow is more than just an unfollow app. It also lets you automate messages, giveaways, and contests and schedule and repost content.
Because of the platform's expert social media managers, unfollowing accounts on Instagram is risk-free.
It provides email support, security measures, and prioritized support in an emergency because they value your safety and security.
If you want an affordable and efficient way to manage your Instagram marketing, AiGrow is your best bet.
5. Mass Unfollow for Instagram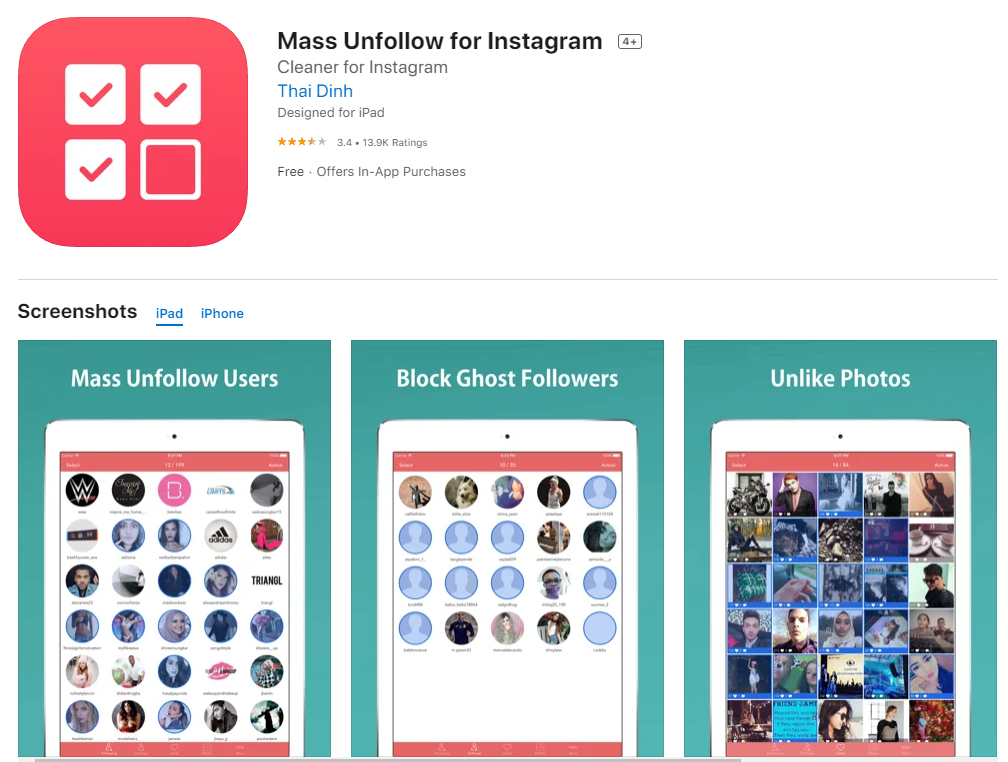 This app's ability to help you perform all your actions in bulk is one of its most significant advantages.
It is fantastic for people who don't have the time or energy to complete each one manually.
You can easily manage all of your profiles from one location with the help of the Mass Unfollow for Instagram, which supports multiple accounts.
Additionally, it has a relationship indicator that can be very useful for monitoring your interactions and ensuring that you engage with your followers and follow them correctly.
The ability to track ghost followers, or people who follow you but never interact with your content, is one of the best features of this app.
You won't need to break the bank to access these incredible features because they are affordable.
6. IG Analyzer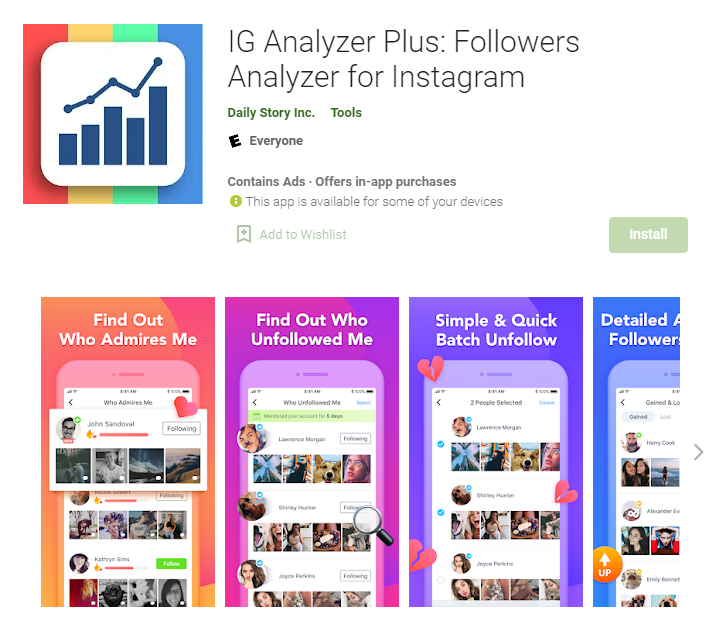 IG Analyzer is an excellent choice if you need a cheap unfollow app for Instagram.
This app offers accurate real-time information about your profile's performance and reliable data about unfollows and real followers.
They make it simple to see who has unfollowed you and who has removed their comments or likes from your posts.
Saving time by unfollowing and following multiple accounts at once is just one of the many benefits of using IG Analyzer.
The app also shows how many people are following you and how many have unfollowed you on Instagram so that you can gauge your overall success.
IG Analyzer also helps you find your most engaged followers and see how many people aren't following you.
You can use this data to administer your Instagram account better.
7. Follow Cop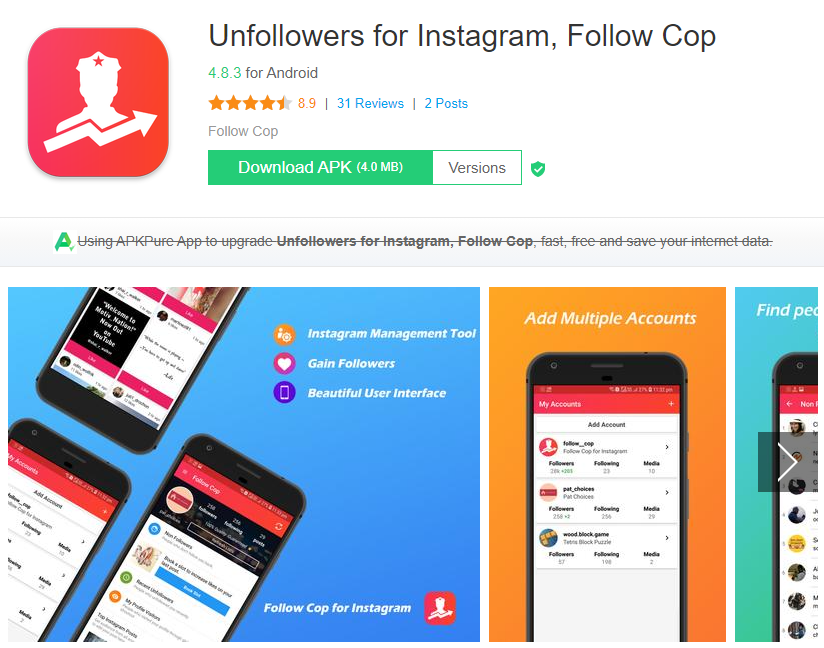 The last choice we have is Follow Cop. It is really great to keep track of your unfollowers.
Not only that, but the app also claims to provide worldwide exposure for its users' Instagram pages.
However, Follow Cop is more than just an unfollow tool, it's a management tool for Instagram that can help you organize your page and attract more fans.
The app is available for immediate, free download and uses by Android users.
Follow Cop is a time- and energy-saving tool for managing your Instagram account, and they will even give your page a worldwide shout-out if you do well enough.
Follow Cop is a great option to manage your Instagram account at a low cost and with minimal effort.
Importance Of Unfollowing Profiles On Instagram
Sometimes you need to stop following people, and doing so can help your online reputation.
People's impressions of your Instagram profile are heavily impacted by the ratio of your followers to the number of people you're following. 
It may look like you aren't interested in interacting with your audience or creating a community if you have many followers but follow a few people back.
A user's perception of your credibility may suffer, affecting how well you do on the platform.
A substantial and genuine Instagram following is crucial if you want to work with brands or businesses.
Influencers with a dedicated fan base are in high demand by companies looking to promote their wares.
Brands are more likely to work with someone more genuine and committed, even if that person has fewer followers, if they also produce quality content and engage with their audience.
You can boost your Instagram popularity by reducing the number of accounts you follow and concentrating on the people who show genuine interest in your posts.
Doing so increases your chances of connecting with people interested in the same things you are.
This organic expansion will help you amass a more genuine fan base and increase your profile's desirability to advertisers.
Conclusion
If you want to become an Instagram influencer or expand your business, nothing is more important than building a sizable fan base.
However, success can be hindered by many inactive followers, and this is where using a top Instagram unfollow app comes in handy.
Those not interested in your content can be easily removed using one of the recommended unfollow apps.
New people who are interested in what you have to say and who will contribute to the growth of your brand can then fill the void thus created.
Which app should you download, then? Find the one that suits you best by trying them all.
You can improve your chances of being noticed as an influencer or brand on Instagram by using the best unfollow app for Instagram.
If you start using it right now, your Instagram will become popular.