Having a large number of followers but a negligible amount of interaction with our posts is a familiar and frustrating experience for all of us.
It's time to take charge of your Instagram profile and cultivate a loyal fan base. An external cleaning app is an answer to this problem.
They make it simple to spot and get rid of bot or inactive followers, figure out who isn't interested in your content, and generally enhance your Instagram experience.
To help you narrow down your search, we have compiled a list of the best Instagram cleaner apps for Android and iPhone.
These Instagram cleaning apps have fantastic tools to help you reach your objectives, whether you're an entrepreneur, an influencer, or a regular user.
These apps can do everything from mass unfollowing to blocking fake profiles easily and efficiently.
Best Instagram Cleaner Apps for Android and iPhone in 2023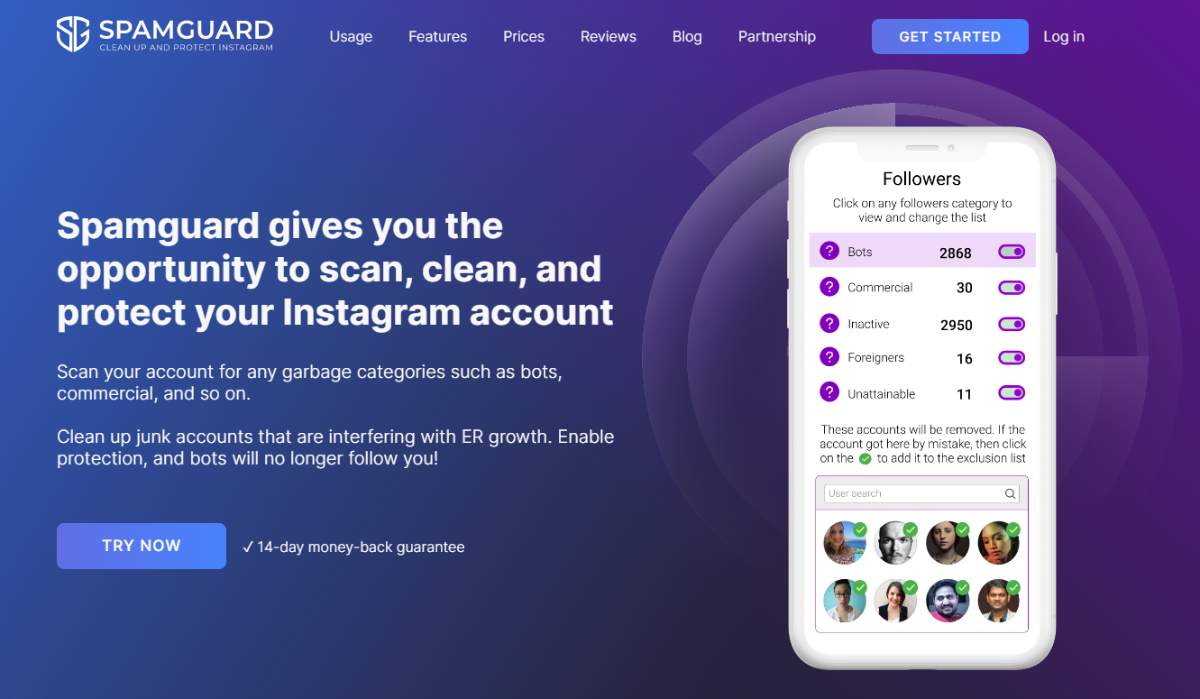 SpamGuard is one of the best options available for both Android and iPhone users. Audience reach and engagement matter more than more conventional metrics like the number of followers, and SpamGuard can help you increase both.
This spam-blocking anti-follower and comment-hiding online cleaner are explicitly designed for Instagram accounts.
It gives insights into your target demographic, helps you grow your business organically, and safeguards your information in real-time.
Clean up your Instagram account and prevent spam, commercial accounts, and inactive users with the help of SpamGuard.
In minutes, it deletes fake profiles and blocks people not engaging with your content. The best part is that it is cloud-based and therefore does not require any actual app installation.
And it's lightning fast, so you can finish the task with mouse clicks. It also works well if you have multiple Instagram profiles and want to keep track of them all in one place.
Today is your chance to get this top app for free and enjoy the benefits of a spam-free Instagram account.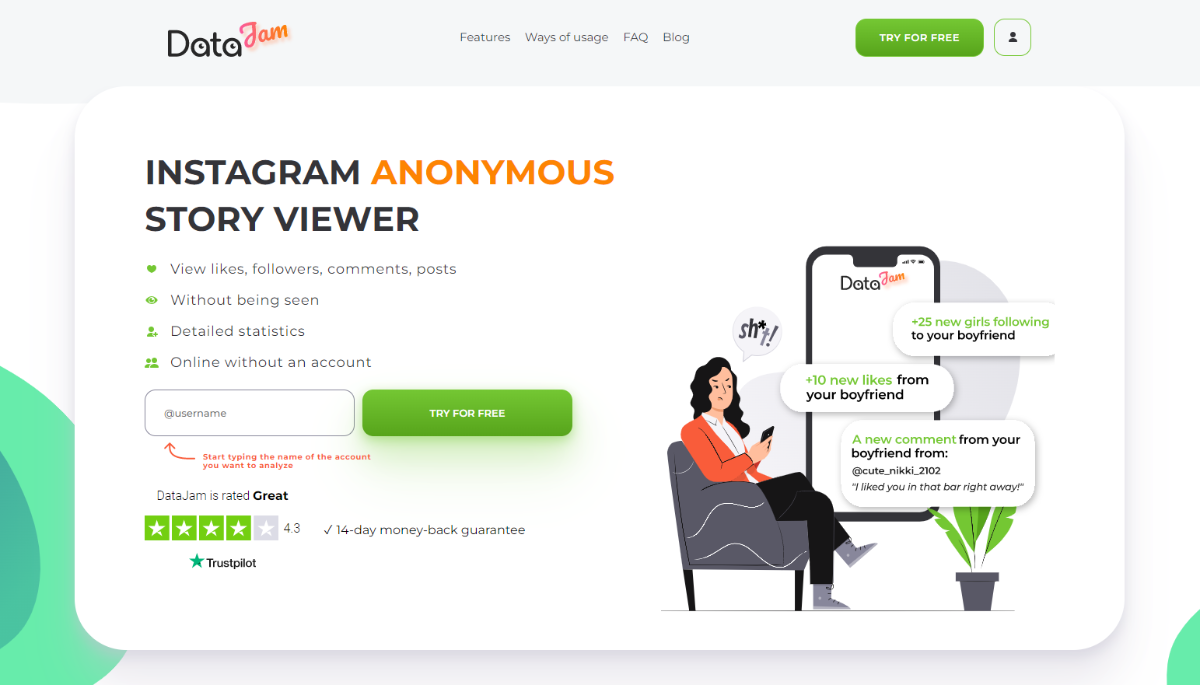 The DataJam app is another cleaner app at the top of the list. DataJam is a quick and effective Instagram cleaner that offers you a thorough audience analysis and removes spam accounts and unwanted followers.
DataJam is a fantastic tool for both personal and business accounts because it allows you to clean your Instagram account of bots, commercial accounts, and inactive followers.
The program includes an anti-spam monitor that can delete ghost accounts from your Instagram profile and block unwanted comments and followers. You can take it wherever you go because it is mobile-friendly.
Since it operates in the cloud, using it is simple and hassle-free since you don't need to install any specific apps.
One of DataJam's best features is that it expands your profile's audience and engagement, which will help you attract more followers and raise your engagement rate.
Additionally, it gives you access to a thorough audience analysis, which will help you better understand your followers and direct your Instagram strategy toward organic growth.
3. Instant Cleaner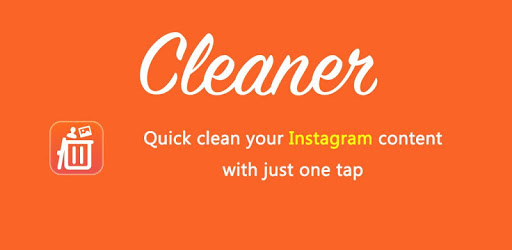 Use Instant Cleaner to effortlessly remove outdated content from your feed and clean it up. Instant Cleaner offers an array of helpful features to assist you in cleaning up your Instagram account, with a particular focus on cleaning up your follower list.
With ease, you can block any follower you don't want to see your content, unlike with images and videos.
That's not all, though. Additionally, Instant Cleaner can assist you in getting rid of outdated content and unfollowing users you are no longer interested in following.
They have many practical tools at your disposal to make cleaning as quick and straightforward as possible.
Say goodbye to clutter and unwanted followers on your Instagram account. Experience a cleaner, more organized feed by using the reliable Instant Cleaner.
4. Follow Cop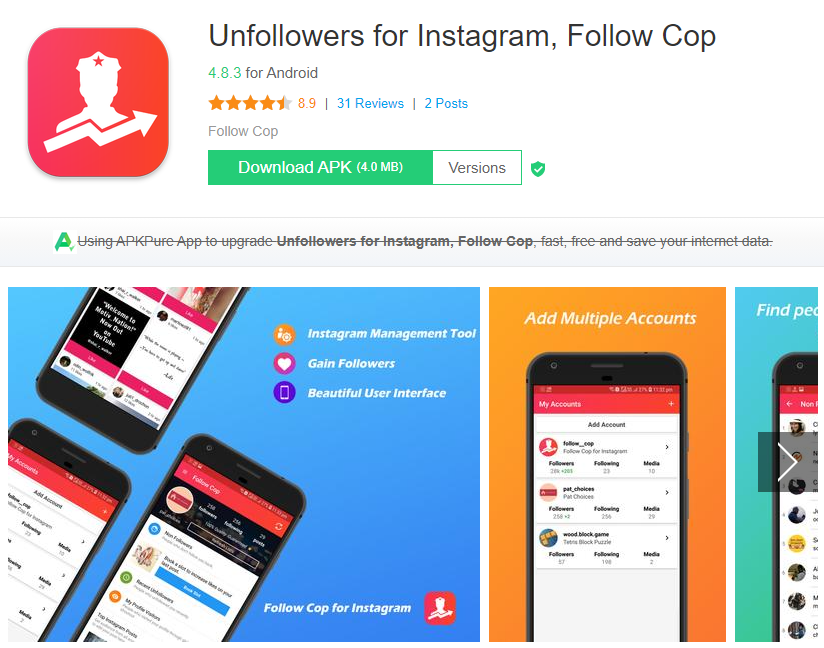 Follow Cop is the ultimate Instagram cleaner app that will completely change the way you manage your social media presence.
It is intended to assist you in identifying and unfollowing ghost accounts that are no longer actively engaging with your content on a large scale. It even keeps track of who has unfollowed you.
Follow Cop also includes numerous other useful features to assist you in better managing your Instagram account.
It can, for example, assist you in identifying accounts that aren't following you back and identifying fake followers who use automated tools to inflate their engagement.
The tool allows you to unfollow up to 20 people at once with a single click, and there are no hourly limits on the number of accounts you can unfollow.
This makes it an excellent choice for Instagram users who require quick and efficient account management.
You can also identify your least engaging followers, manage your existing followers more quickly, and gain more visibility on Instagram in general.
5. Firing Table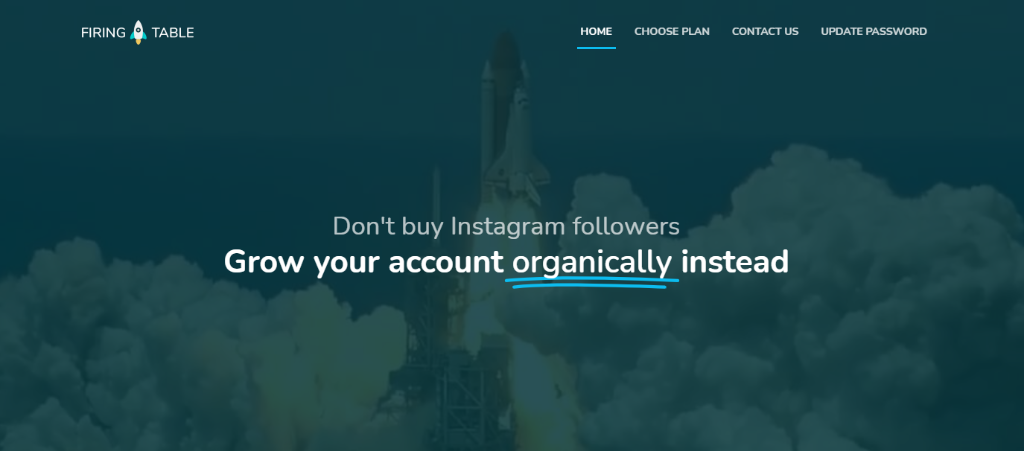 Firing Table is a specialized Instagram cleaner and growth service that can assist you in organically growing your account.
They offer personalized account management plans, in contrast to other services that advertise the ability to buy Instagram followers, to assist you in achieving limitless growth without using spammy methods.
You can hire a personal manager to help you promote your Instagram account for a reasonable monthly fee.
The service has several features to help you clean up your Instagram profile and its benefits for organic growth.
Interacting with your followers is made simple by their automated DMs and auto comments, and getting started is also made simple by their quick registration process. Firing Table's commitment to giving you personal attention is one of our favorite things about it.
It can assist you in customizing your account management to meet the specific requirements of this platform, unlike other apps that try to be all things to all users.
6. AiGrow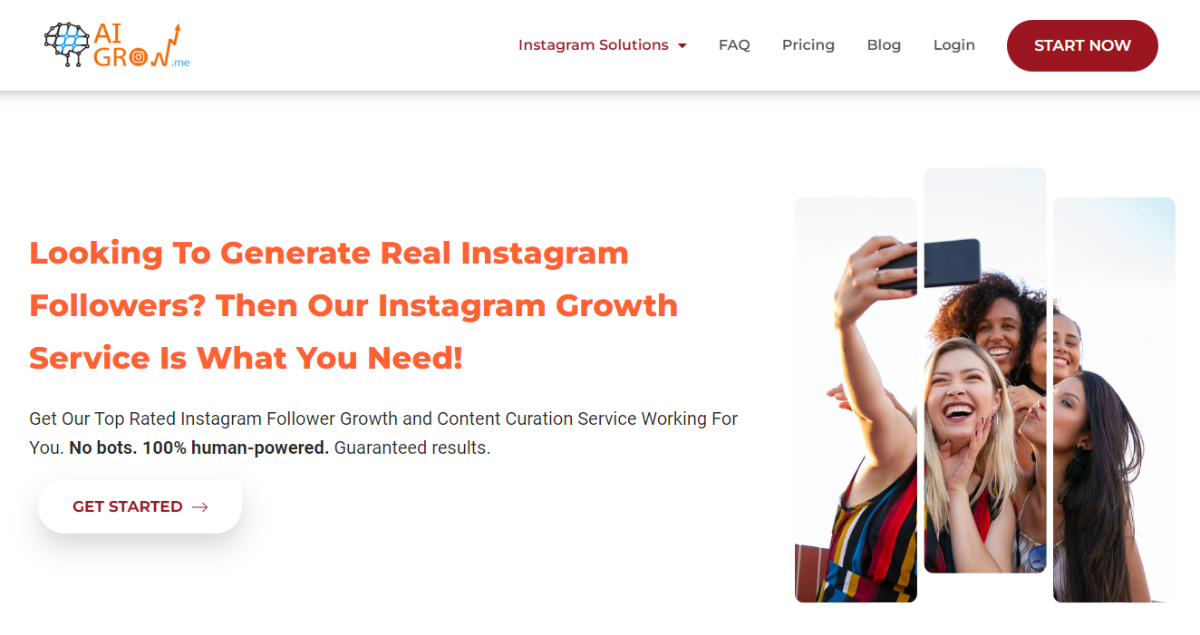 AiGrow is one of the best apps for Instagram unfollowing. The unique feature of AiGrow is its personalized Instagram account manager, which ensures you don't break any of Instagram's rules.
Quick unfollowing is just one of many features offered by the app. You can send automated messages, schedule posts, and request email support anytime. An expert manager must unfollow manually to stay within Instagram's daily limits.
You can organize giveaways, repost content, and much more with AiGrow. It is a complete, economic Instagram marketing package.
With a skilled social media manager in charge, you can be sure that Instagram's rules won't be broken and your account won't be suspended.
7. Cleaner for IG
Instagram's inactive or "ghost" followers can be easily identified and deleted with the help of Cleaner for IG. Users can bulk unfollow individuals or remove their likes from content with this app.
There's also a function that displays people who haven't uploaded a profile picture. Genuine profiles can be "whitelisted" to protect them from being removed inadvertently.
It's an effective method for getting rid of inactive users who follow you on Instagram (also known as "ghost followers").
Users with extensive lists of unwanted followers will appreciate the convenience of Cleaner for IG's mass-unfollow feature.
This app also allows to delete unwanted posts and block or unblock other users. It is an excellent choice for those who value minimalism on Instagram, thanks to its straightforward design and ease of use.
8. Inflact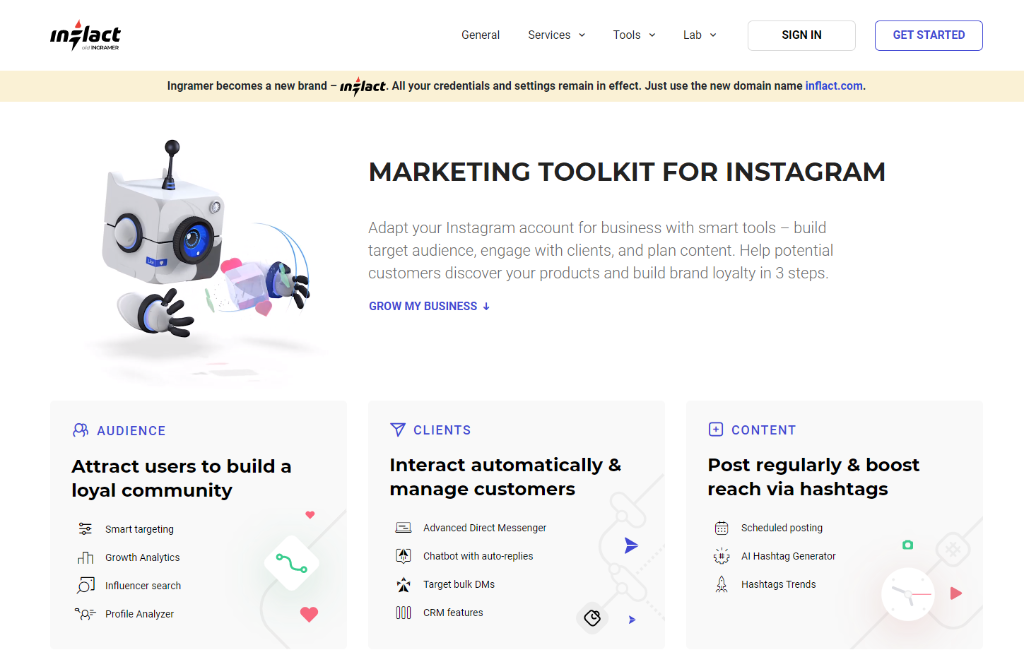 Although Inflact's primary purpose is to purge dormant or ghost accounts, it provides far more than just this one service.
Their Smart Tools make it simple for users to modify their profiles for commercial purposes, and they boast of being a comprehensive marketing suite for Instagram.
Inflact provides more than just an Instagram cleaner; it also helps you connect with your audience, schedule posts in advance, and plan out future content.
Their resources are organized in a way that makes finding the help you need simple, with distinct sections dedicated to content, clients, and target audiences. Furthermore, Inflact can guide you through the process of selling on Instagram.
When you use Inflact, you can manage your Instagram without switching back and forth between different apps. Their unified platform streamlines your Instagram experience, increasing your engagement and audience growth.
9. ITL Social Media Cleaner
The adaptability of the ITL Social Media Cleaner app has earned it high marks from satisfied customers. There is only one app to download, regardless of your device.
It is a one-stop app for managing all of your social media profiles. It is compatible with both the iPhone and Android.
ITL Social Media Cleaner can help you organize your social media profiles and feeds across multiple channels.
The best part of this app is that it has all the features you need without any unnecessary additions. It's a potent instrument for handling your social media profiles expertly.
10. Growthoid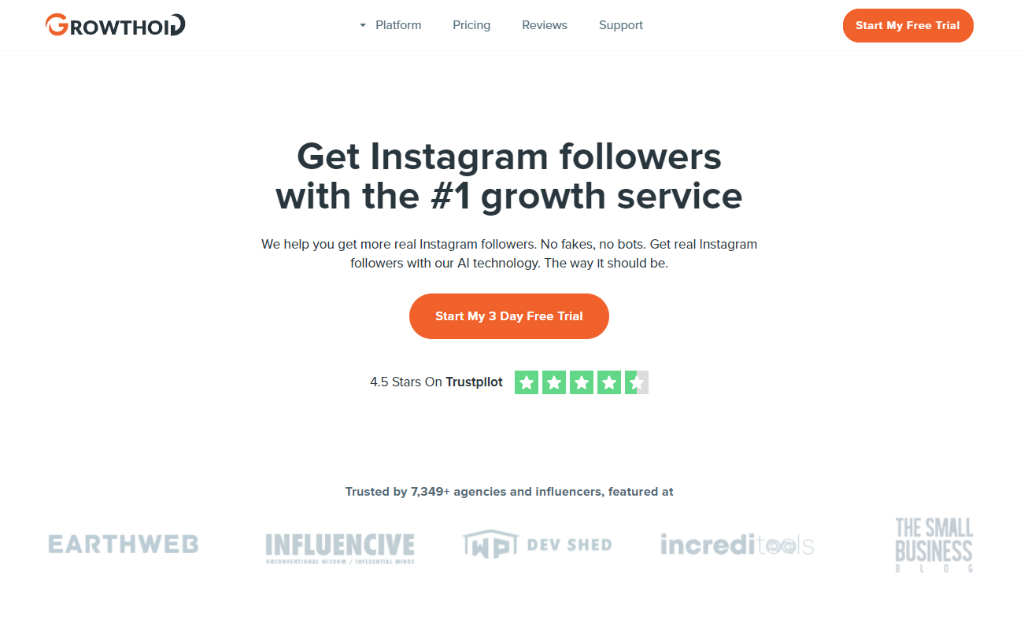 It's a growth service that can assist you in growing your following while also optimizing your account.
You can quickly mass unfollow accounts that aren't enhancing your profile by selecting users interested in your content and adding them to a safe list.
But Growthoid is capable of more than that. Additionally, you can get rid of ghost accounts and unwanted followers with the aid of this Instagram management tool.
It guarantees to assist you in gaining the right kind of followers, real people who genuinely care about your content.
By removing bots and fake profiles using cutting-edge technology, Growthoid ensures you only communicate with actual Instagram users.
However, it's important to remember that Growthoid must be used cautiously. Avoid engaging in actions that might result in a shadow ban on your account.
However, we adore the fact that Growthoid can find profiles that are similar to yours and help you draw in more followers who are enthusiastic about your specialized field.
11. Followers & Unfollowers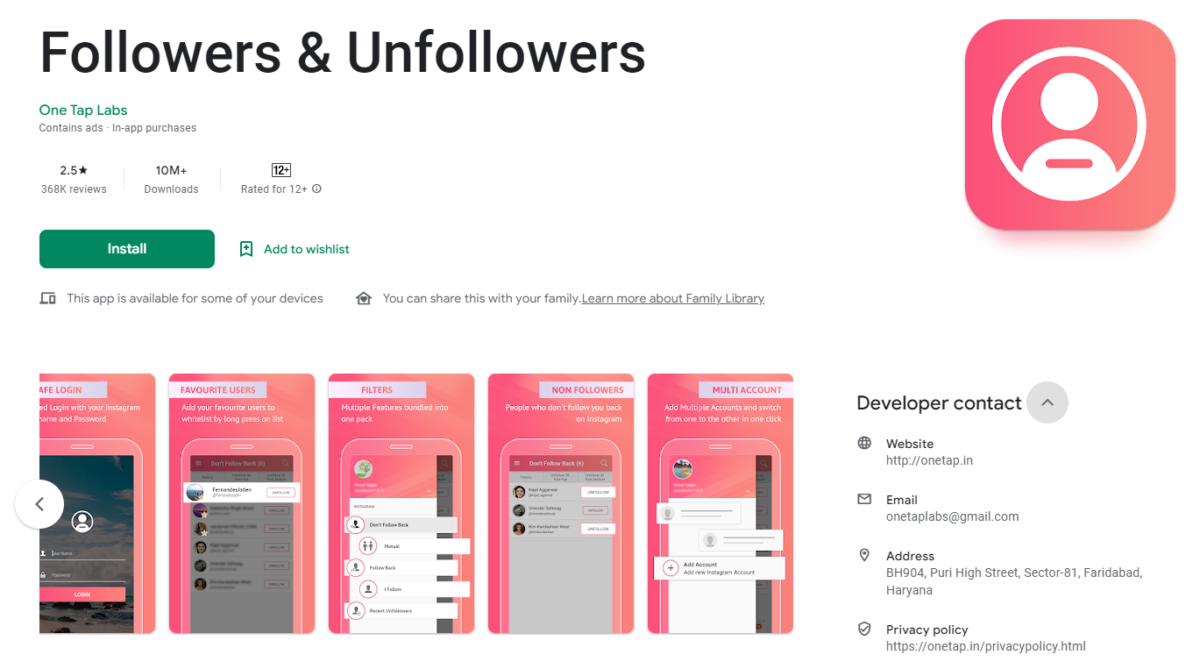 The Followers & Unfollowers app makes it simple to remove up to 50 people who aren't following you back from your feed with a single tap.
The app also has a white-listing feature that excludes certain users from being unfollowed. This can be especially useful if there are some accounts you'd like to keep in touch with, even if they don't follow you back.
It can reveal who has stopped following you over the past week. For those who manage multiple Instagram accounts, it enables multiple account logins, which can be a huge time saver.
The app's intuitive design makes switching between tabs and keeping track of your followers simple.
12. Unfollow for Instagram App
The free app Unfollow for Instagram can help you better manage your Instagram followers. With this handy Android app, you can effortlessly discover and unfollow people who aren't following you back.
One of its best features is its ability to unfollow users individually or in groups. This means you can tweak the cleaning procedure to suit your tastes and maintain an orderly list of followers.
Its straightforward design and user-friendly features make it ideal for new and experienced Instagram users.
Which Followers Should You Remove to Maintain a Clean Instagram Account?
Instagram is a numbers game, and how many people follow you can influence how other users view your profile.
Unfollowing the appropriate accounts can help you achieve a healthy ratio, increasing your engagement rate and visibility on the platform.
Ghost Followers
Ghost followers are accounts that don't engage with your content in any way, such as by liking or commenting.
It's crucial to unfollow these accounts because keeping them on your following list can drastically reduce your engagement rate.
Profiles that Overpost
Accounts that post too frequently can clog your feed and prevent you from seeing the content that matters most to you.
You don't have to unfollow someone if you find an account that posts a lot completely. Instead, you can mute them. This way, you can still access their content if you want to, but it won't clog up your feed.
Spam or Fake Accounts
Because they provide no engagement and can negatively impact the performance of your account, fake or spam accounts are problematic.
Since these accounts typically have no profile picture, an arbitrary username, and few or no posts on their Instagram page, it is not difficult to identify them.
Followers Who Are Inactive
Inactive followers are accounts that no longer use Instagram but may have liked your posts in the past.
You can find these accounts by sorting your following list by "least interacted with" and unfollowing the accounts that appear on it.
Unfollowers
You can increase your ratio and keep a healthy following list by unfollowing accounts that have already unfollowed you.
Conclusion
Instagram users now have more options than ever before for managing and deleting their accounts' followers. You're on the right track if you're using an Instagram cleaning app.
You can use the free versions of these Instagram cleaner apps if you don't have the funds to upgrade to the paid versions.
You can test out any of the best Instagram cleaner apps for Android and iPhone mentioned in this article to observe how it performs for you.