SocialMonk is an option for anyone who is looking for a personal account manager and real followers and likes for their Instagram growth.
We all know that it's pretty hard to grow it naturally these days, which is why a company like this can be so effective.
Social Monk Review 2022
SocialMonk says that their services are done 100% manually, and any of them can be terminated at any time. We love everything that Social Monk has to offer, but we still think that you should keep your eye out for other companies at the same time.
This is because there have been user reviews that this service is run via bots.
What is Social Monk?

Social Monk is a social media growth manager that can be your personal Instagram growth manager, which is always nice – especially if you have a busy schedule and not a lot of time to do everything on your own.
They say that you can hire your own Instagram account manager, and that they're a lot better than any bot out there.
They get the job done 100% manually, and the best part is that you can terminate your subscription with them at any point, so there's nothing tying you down to being committed to them for a long time.
All in all, they appear to be the kind of company that really wants to help you with your growth on Instagram.
What are SocialMonk's Features?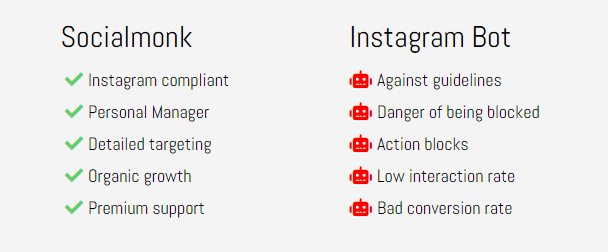 SocialMonk has many features, but one of the ones that really stands out is their target group management that can help you through location, follower, and hashtag targeting.
Being able to grow your hashtags through features like this is unique and creative, as is being able to target people by location. They also say that they have a follower management feature, meaning that they can help you manage your Instagram followers and your Instagram profile as a whole.
Lastly, they will help you with interaction management, so that you can give out likes and comments based on location and hashtags. In general, we think that Social Monk's features are up to par and what you would need if you want to start thinking really seriously about your Instagram growth.
What is Social Monk's Pricing?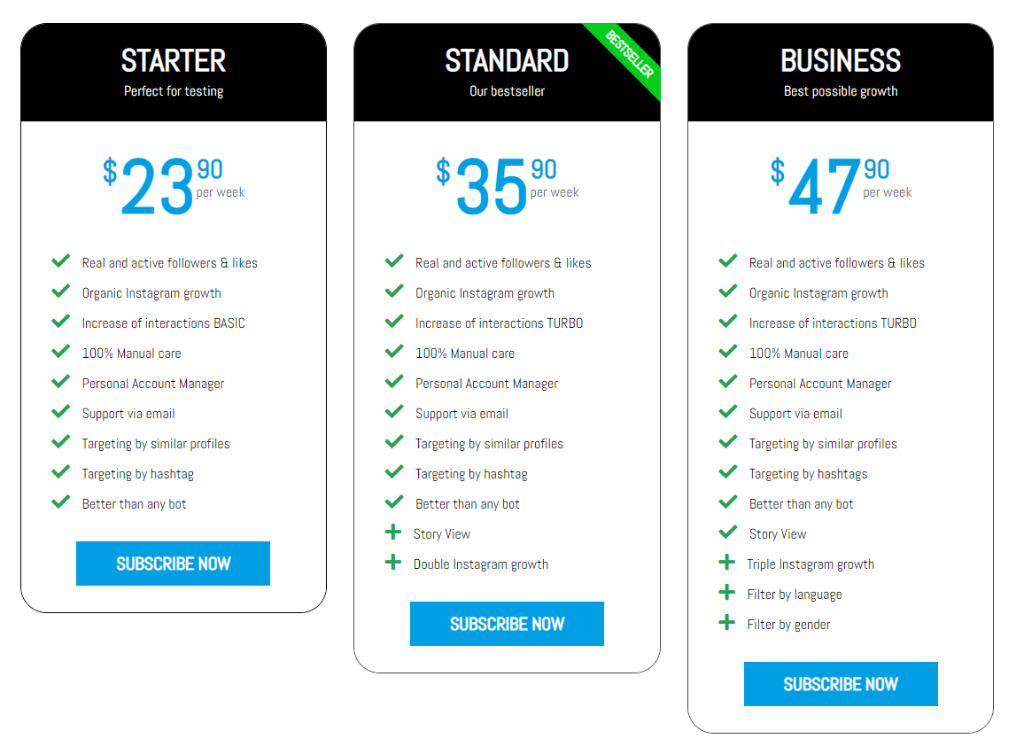 Social Monk offers a lot when it comes to their pricing. They offer their most basic package which is going to set you back $23.90 a week, and this includes active and real likes and followers, organic Instagram growth, and an increase in interactions.
They also say that they can help you with it all through 100% manual care, a personal account manager, and support through email, which is a good level of support. They offer targeting through similar profiles, as well as hashtags, and they say that these features are easily better than any bot.
Their standard package is what they call their bestseller, and this can help you with organic Instagram growth as well as 100% manual care. You get a personalized account manager, support through email, and targeting by hashtags.
Additionally, you get story views and double your Instagram growth, which is super helpful and a great add-on to the basic package.
Lastly, their business package is going to set you back $47.90 a week and comes with all of the standard features that you will get in their other packages, but you also get triple the Instagram growth, filtering by language, and filtering by gender.
All in all, when thinking about all of these prices, we think that they reflect reasonable rates that are competitive in the industry.
You will probably struggle to find better deals, especially considering the quality of the features.
How Did Social Monk Do in Tests?
We put Social Monk to the test as we do with all of the companies that we check out and review here.
This is so we can make sure that we give you a well-informed review about them, meaning that you can make up your mind whether to give them a go yourself or not.
We signed up for their most basic package, which as you know cost $23.90, and we are pleased to say that we loved the results.
Their personal account manager got in touch with us immediately to talk to us about what our target audience comprises, and as soon as they did this they started sending the right engagement our way.
The best part is that our engagement rate went up, and we're impressed with the fact that none of the engagement dropped off again at any point.
What About Their Team?
Another way to determine whether a company like Social Monk is legit or not is to see what they've got in terms of info about their team on their site.
The more information they have, the easier it's going to be for you to connect with them and build up a solid working relationship. It also shows you as the potential client that they are prepared to have an open door from the beginning and they aren't going to hide anything from their clients at any point.
Companies that want to take shortcuts and don't really care about their clients won't have this level of accountability, and you need to watch out for this.
Review Verdict
So, all in all we think that Social Monk is worth your time, and they are going to make sure that you have everything covered when it comes to your growth on Instagram.
However, as we have mentioned already, it's worth having a few more options out there, just in case something were to happen.
This way, you can make the most of multiple brands, and the individual features that make them unique. If you're in the mood for something else right now, then let's talk about it.
Here are our reviews of the best SocialMonk alternatives.
SocialMonk Alternatives: First Look
"I've always liked Growthoid because they are simple, straightforward, and they know how to take care of their customers. They know how to make sure that their clients are getting the best service out there, and they know how to grow their accounts like mine, which is more effective than I've ever experienced."
"I love Nitreo because they offer a really easy way for me to grow my Instagram account, that's also safe. I was worried for a long time there about the security of my account, because so many companies I had come across didn't care enough about it. All I can say is thank goodness for Nitreo."
"I love that Stellation Media has a lot of options for someone like me, who needs a lot of help with my brand online. I need help with my website, and I need help with my Instagram, so being able to find a company that can do both is a win-win."
"I like Task Ant because they helped me turn my hashtag game completely around from zero to hero. It's harder than you think coming up with the right hashtags for an Instagram account, so they definitely got me sorted. They're really nice and personable as well."
Best for Being Simple: Upleap
"I think the thing that drew me to Upleap the most was just how simple they are. At first, I thought that they were just another generic Instagram growth account that wasn't going to be able to help me all that much. If I knew how wrong I was going to be, I wouldn't have taken so long to try them."
Best for Security: ektor.io
"Security is a top priority for me with my Instagram account. I know that it's a top priority for a lot of other people out there as well. This is why I can't get enough of ektor.io. These guys know exactly what they're doing, and they can cover all the bases, so they're totally worth what you pay for them."
"I like Followersup the most for my Instagram growth because they have so many different ways of helping me. It doesn't matter if I need help with my Instagram growth or my Twitter growth, they have services that can make it happen. There aren't too many companies out there that can help with growth this varied."
The Best SocialMonk Alternatives
When we reviewed Growthoid, we discovered that they have some of the quickest, most efficient features in the business, which is good if you're someone who doesn't have a lot of time to waste, and wants just to get going with their Instagram growth.
We know that time is money in this industry, and so does Growthoid.
The best part is that they can help you with so much more than just your Instagram engagement – they can help you upload posts in advance, and they can help you come up with the best hashtags for your profile.
Growthoid is by far the top SocialMonk alternative we tried.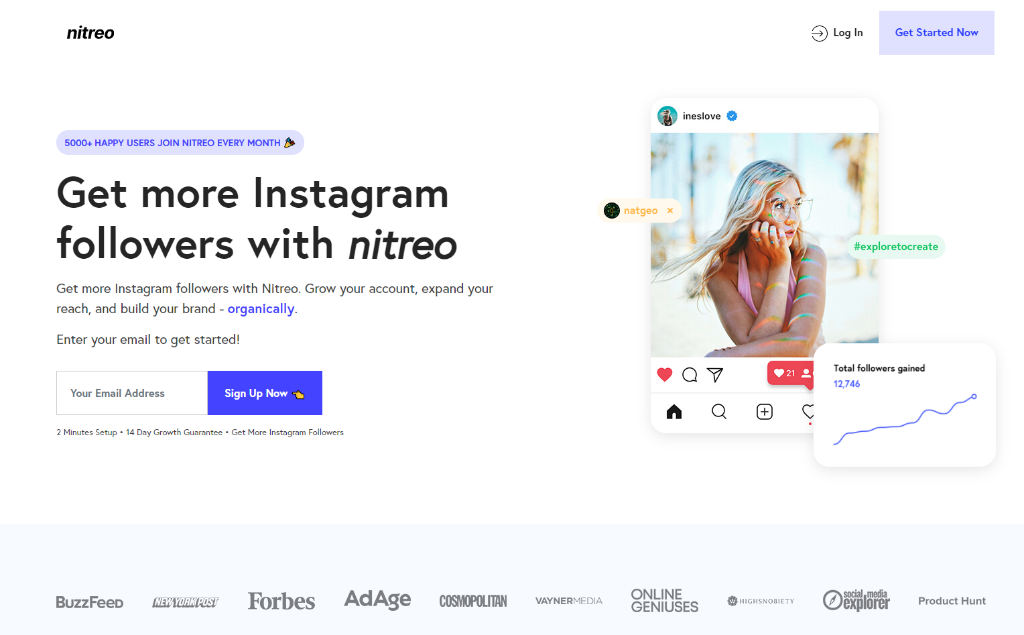 Nitreo is a great replacement for SocialMonk.
As you can see from our reviewer, they're stoked about Nitreo because they think that they're one of the best growth services.
Not only do they promise to be able to grow their client's accounts well, but they promise to do it organically, which is definitely what everyone wants in this type of industry right now.
They also have a two-week money-back guarantee, which means that if you end up not liking them, there's no love lost.
It only takes two minutes to get set up with them, and they promise that they can help their clients get more Instagram followers.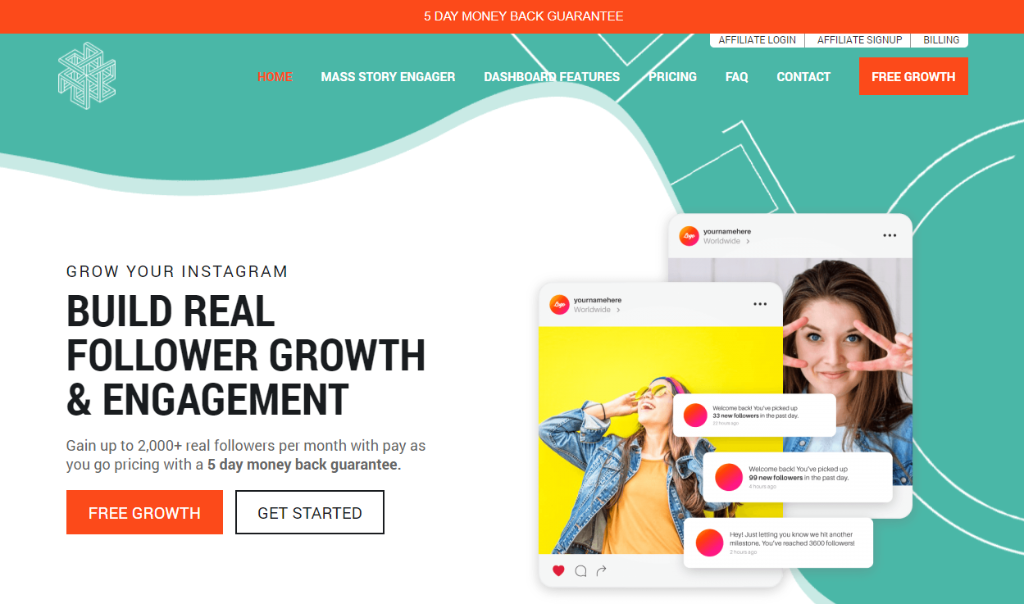 Just like the review said up there, Stellation Media has proved once again that they're the best at what they do. They were already a great company, to begin with, and had a lot of great services to offer their clients.
But now, they've upped the ante and are offering updated features that fit in with what Instagram is offering now, like mass story viewer.
There really isn't anything that they can't help you with, and you can even get in touch with them and request a demo.
If you want a completely automated system and targeted followers, then you need to get in touch with Stellation Media.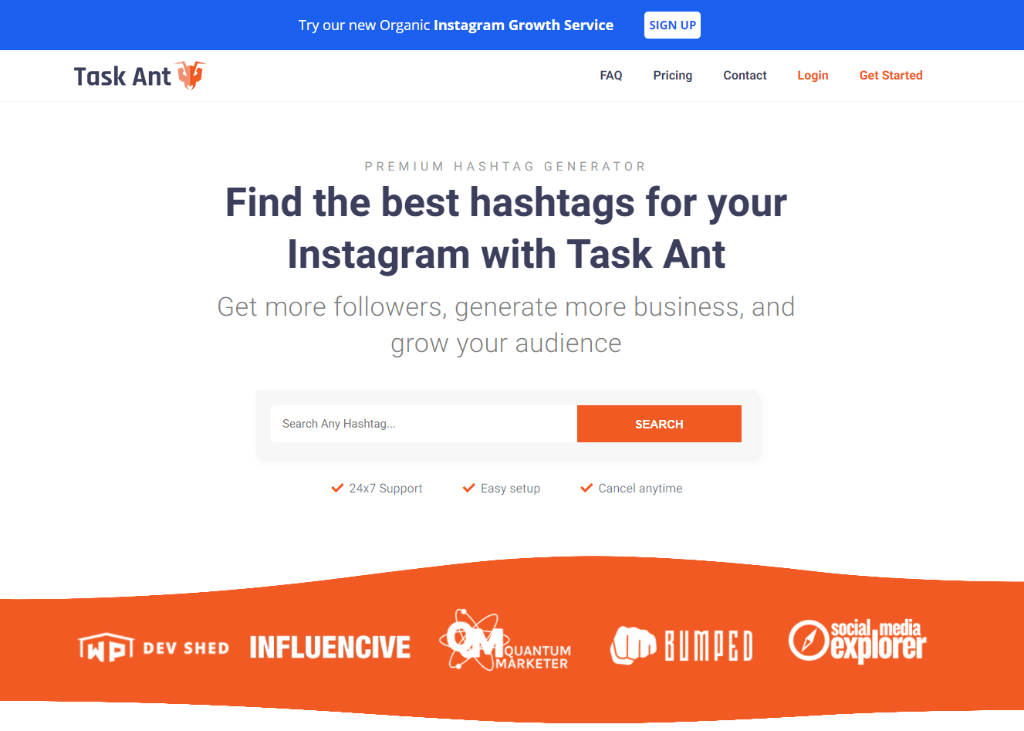 Hashtags are becoming more and more important these days, as more people realize the connection between having the right hashtags on their content and finding the best people to interact with it.
If you don't have a good hashtag strategy, then there's not a lot that you're going to be able to do to help your page grow.
Your content needs the right hashtags, and they need a company like Task Ant as a result.
These guys know the ins and outs of the perfect hashtag list, so check out their generator, and check out how they can handle most of what you need for your Instagram.
Best for Being Simple: Upleap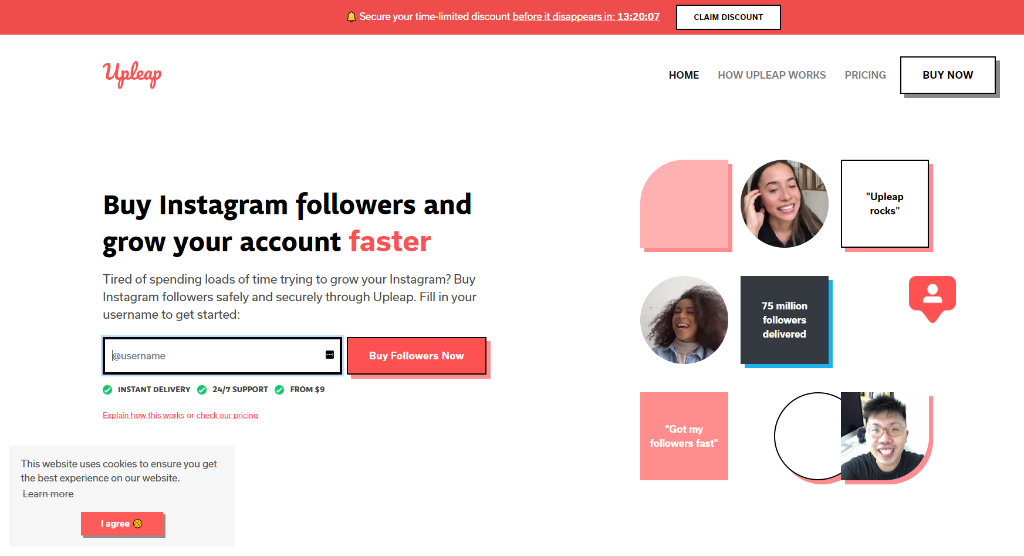 There are a lot of companies out there that take a lot of flak for being simple, and most of them deserve it. However, one company that doesn't deserve the flak that they get is Upleap.
From the outside looking in, Upleap appears to be just another Instagram growth service that can potentially help you with your growth, but it's going to be average quality. However, Upleap is actually the complete opposite of this.
They not only can help their clients with high-quality engagement, but they offer a personal account manager to handle it all. What's not to love?
Best for Security: ektor.io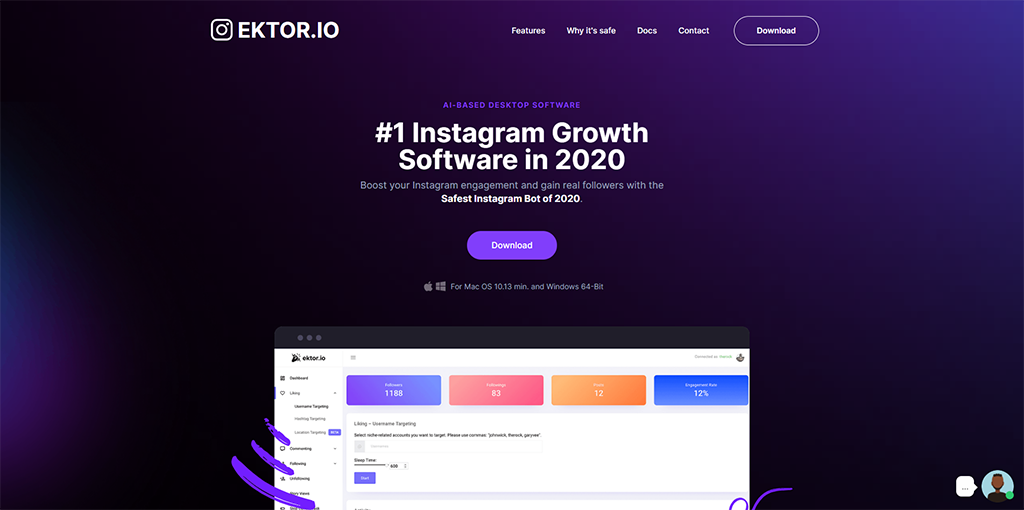 Just like our reviewer said above, being worried about your online security and Instagram reputation is a valid concern.
This is why there are companies like ektor.io, who are passionate about making sure that their clients don't worry at all. When you're growing an Instagram account, the last thing you need to be thinking about is whether you're going to get red-flagged or not.
Ektor.io has undetectable features, so there is zero risk. They even use proxies to protect your page even more. We love that they can help you with everything, but still put security as a top priority.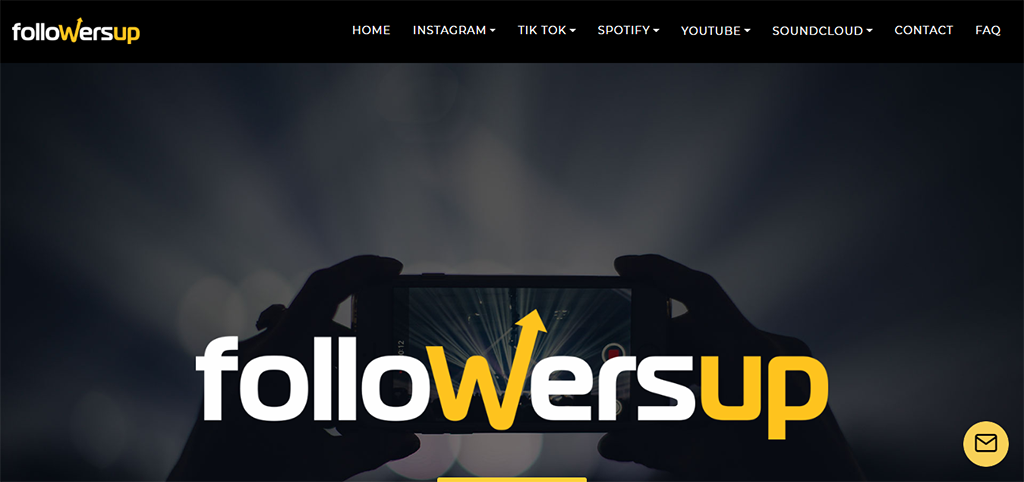 One thing that is an issue in this industry is being able to grow all of your social media profiles at the same time.
Unless it's your full-time job and you have all the time in the world to do so, we're going to hazard a guess that you simply don't have the time, yet want to find a way to make sure they grow alongside one another.
Enter Followersup. This company can take care of your Instagram growth – but they can take care of your Twitter growth and Pinterest growth, too.
They consolidate all of your engagement for the ultimate growth package, which is going to make all the difference.
Did You know?
Did you know that if you've already got a pretty good-sized Instagram following, the chances are that 52% of them are going to be female, and 48% of them are going to be male?
The stats show that Instagram is ever so slightly more popular with females, so if you have a larger female audience, you'll know why. This applies to the U.S., as well as other countries out there as well.
Our Review Process
It's not easy to find companies like the ones on our list above. There are many companies out there that you should avoid. How do we come up with lists like this, then? By doing our homework.
We take a look at 322 Instagram growth services and consider 4700 customer reviews that talk about both great and not so great things.
This is the only way that we can come to an unbiased decision about which companies to feature on this list so that you're only working with the very best.