In today's digital world, the way that people consume music is different.
It can be tough to get your music out to new people if you don't have the help of music promotion services, which make it much easier to get noticed and generate interest in what you create.
There are so many different options out there in terms of music promotion services, so it's important to know what's available to you and which ones can bring you the best results at prices that can suit your budget.
If you're just getting started with your music career, you may have a hard time finding a reputable company that will be able to offer you a way to promote your music without charging you an arm and a leg.
It's also really important to use tools that can help you get your music out to new people.
It's virtually useless if you're trying to get people to take you seriously and spend all of your time working on that, cutting down your time for music creation.
You need to find a healthy balance, and when you employ the best music promotion services to help you, you'll have more of a fighting chance.
Music can be competitive, but with passion and the right tools + strategies you can gain the necessary notoriety.
Ready to find out more?
Let's check out the best music promotion services, what they are, how they help you, as well as some FAQs about growing your music efforts.
Best Music Promotion Services in 2022
You are bound to have a much better chance of getting your music out to more people and finding success through your hard work when you use the best music promotion services.
These services will harness the power of different social platforms to give you more exposure and get your music listened to by more users.
We'll discuss what the service provides you, what platforms they work with, and what type of promotion you can expect when you use them.
SoundCampaign really has a lot going for it when it comes to being a music promotion service that can assist you.
Whether you are a curator, or you're somebody who is hoping to get help being featured on a Spotify playlist, these guys are going to make it really easy for you.
They say they connect artists with playlist curators, so they have a pretty well established network in the world of Spotify in general.
You can either choose between two options, you can either get help if you're somebody who releases music, or you can get help if you are somebody who owns playlists, and you were trying to get them in front of new audiences.
If you visit their website, you will see tons of customer reviews that are all positive and our recommendation when it comes to using these guys is that you start talking to them about what you would like your campaign to look like, and then from here, they can help you curate the perfect campaign in order to promote your music on Spotify.
Daimoon Media has a pretty unique approach when it comes to being a music promotion service.
They can assist you not only with Spotify, but they can assist you with YouTube and SoundCloud as well, so that you can expand your audience on all relevant music streaming platforms out there, and make sure that everything is covered.
They say that their features have been built for artists specifically, and they can help you reach millions of new fans.
These guys offer a unique approach when it comes to music marketing, and they're also going to take you through the process of how they do this.
They say that they are on a mission to help their clients reach their full potential and you can go through their video tutorials that you'll see on their website at first, if you want to learn more about how they work.
YouGrow works with different social media networks to help you get more listeners in your fan base. The main platforms that they work with include YouTube and Spotify, so if you're hoping to promote on SoundCloud you'll have to skip YouGrow.
Using their services, you can get your music out to different users and you'll have the chance to increase your streams as well as followers and playlist placement.
The rates that YouGrow offer are pretty affordable for the services that you can find with them, so they're worth a shot if you want to expand the reach that your music has.
Omari is regarded as one of the best music promotion services because they are professional and also help you to get your music out to the right users.
They have had thousands of clients on YouTube, Spotify, SoundCloud, and even Instagram.
They have videos on their site about how all of their music promotion services work, and you can clearly see their pricing on their order form.
They only accept clean music, so if your work is explicit, you may not be able to submit it.
You can get organic Spotify, YouTube, and other social promotions from prices ranging from $77-$3497, so there seems to be a good variety that may work for a range of people depending on your needs and budget.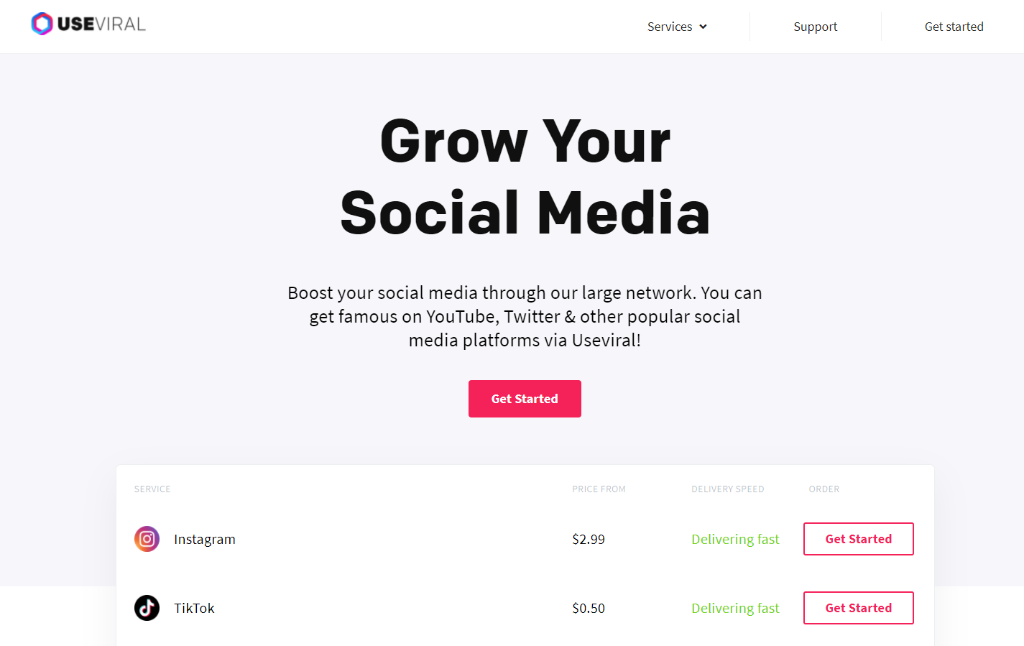 UseViral is one of the premier social media marketing sites, which brings them to the top of our list of best music promotion services.
UseViral has services for promotion on so many different platforms, including Spotify, SoundCloud, and YouTube.
You can also use their services to gain traction for your music on TikTok, Instagram, Facebook, and others.
With their expansive network of in-house users, you'll have much more exposure from real, authentic people.
UseViral makes music promotion easy, safe, and quick.
You can get different promotional packages per social network at prices that make sense, and your promotion will be delivered very quickly.
Don't miss out on UseViral if you want to promote your music on various social media sites.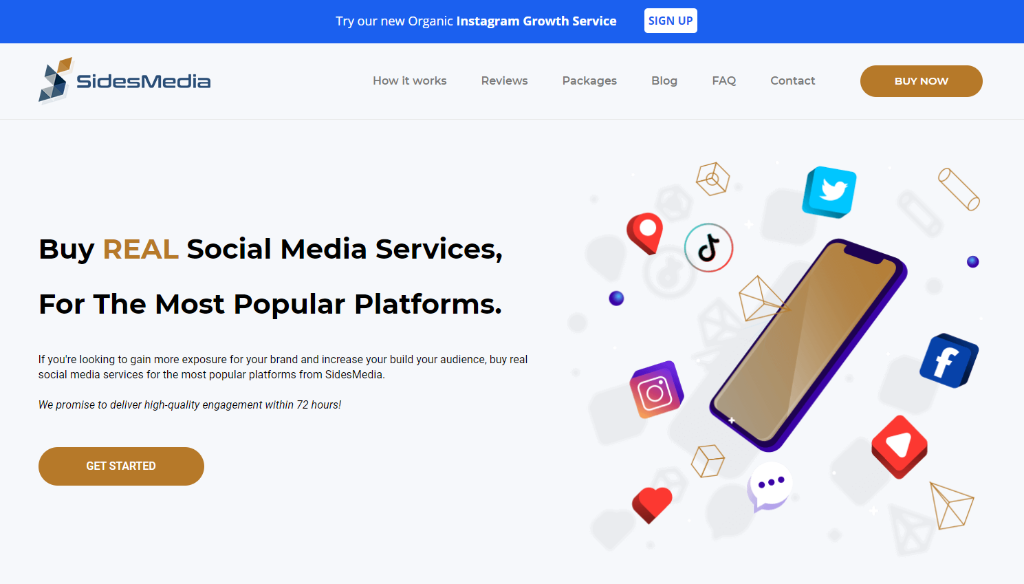 If you're weighing your options in terms of the best music promotion services for top networks like Spotify, YouTube, and SoundCloud, you should definitely be checking out SidesMedia.
You can't match their developed user base that helps to get more exposure for your music and increase your popularity.
You can get different types of engagements on Spotify and Soundcloud, as well as on YouTube.
You choose what you want SidesMedia to help you with, and they'll take care of the rest. It's simple and straightforward to get going with SidesMedia.
Not only that, SidesMedia isn't going to hurt your profiles and they won't break the bank.
SidesMedia makes it incredibly accessible to get your music out to new users.
7. Starlight PR
Starlight PR is one of the best music promotion services when it comes to hosting PR campaigns.
They claim to have hosted some of the hottest music artists out there including Cardi Bi, Post Malone, R. City, and others.
Starlight PR goes beyond simply trying to help you with social platforms; they claim that their campaigns will help you to get featured in blogs, magazines, as well as on the radio.
While this all sounds great and has been well received by some clients, it's quite expensive.
It will cost you upwards of $3000 if you want to take advantage of the 4-week campaign offered by Starlight PR.
If you are just starting out and don't have the budget, you may want to look at other options that are also considered some of the best music promotion services as per this list.
8. Playlist Promotion
You may be familiar with Playlist Promotion; as their name suggests, they work on getting you traction via Spotify playlists and blowing it up so that you can get loads of exposure through that.
They don't work with too many other methods, so you won't be able to get as much variety when you work with Playlist Promotion.
That said, if you really want to take advantage of playlists, they may be perfect for you. You can submit your song(s) and they will find a playlist for you.
You can also get YouTube media services through them if you want to market to YouTube as well.
Packages range from $350 to $2,500 for playlist campaigns, so they're not a cheap option either, making them a bit less accessible, depending on your budget.
9. Behind the Curtains Media
As one of the best music promotion services, Behind the Curtains Media really wants to help you get your music heard and help you to "navigate the rapidly changing music industry."
They offer music promotional services for multiple networks.
They will help you with release strategy, publicity, playlisting, Spotify optimization, social media marketing, press release, and more.
They offer hourly consulting at $60/hr and their packages start at $300.00.
Most of their services are geared towards consulting, so you're not going to have them doing the work for you— you'll be doing what they advise you.
If you're looking for a company to do the marketing and promotion, this one may not be it; if you need some guidance, they could work.
10. Independent Music Promotion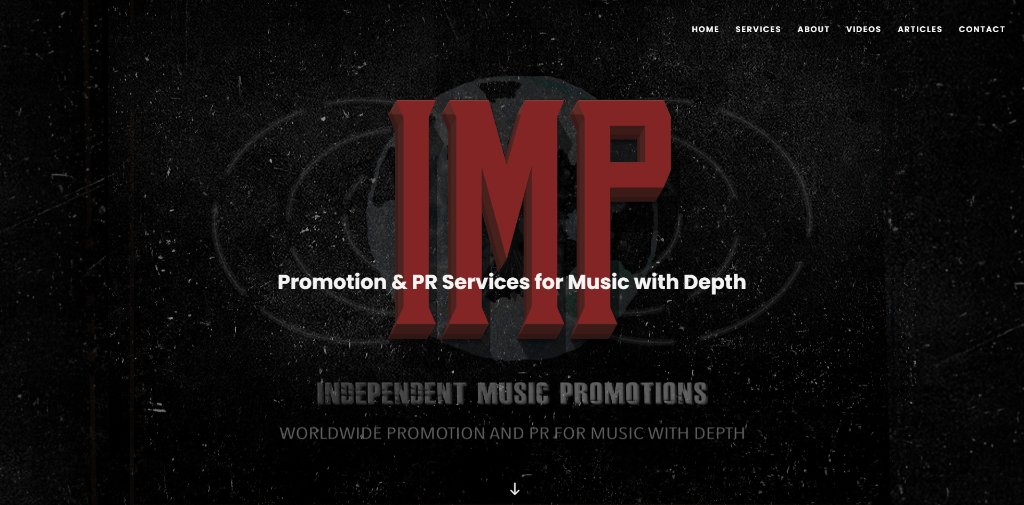 IMP offers services for promotion to those looking to start their music career.
They are especially interested in helping those who produce "music with depth," so they want to focus on artists that are really saying something profound with their music.
They have quite a strong brand image which is good depending on your niche, but their costs are pretty high depending on your budget.
Their packages start at $795; they do include guaranteed placements, which is good.
They've recently tried to introduce smaller campaigns for new artists, but you should check with IMP to see what current offerings are on the table.
11. HUDL Music 
HUDL wants to help you get your name out there, offering fans and music creators the opportunity to collaborate with each other.
It's a simple and easy-to-use app that allows creators to share their music and be listened to by the community of music.
If you're looking for a free option, this could be considered one of the best music promotion services around.
Consider, though, that it's uncommon to see free music promotion that gets you in front of your target audience, so it really depends on who you're able to connect with via HUDL.
Try them out and see if you're able to come into contact with your target audience.
It's free to sign up; you simply need to give them some basic information about who you are and what you do.
What are Music Promotion Services?
A music promotion service is a tool that can get your music seen and noticed by more people on a variety of social media networks.
This could include on platforms like SoundCloud, Spotify, Facebook, Instagram, among others.
Some will use a combination to get your music seen by more listeners who may be interested.
At the end of the day, the way that we now consume music is different than in the past, which is why it's very important to harness the power of these types of services.
Imagine that there's a music creator that puts hours and hours into their music, making it priority one in their life, and giving it their all to create something that is different, interesting, and worth listening to.
All of that time spent recording, producing, and mixing seems like ages, but the creator is certain that if they just work a little harder and get their single or EP out, they will be able to make it.
The creator tries to get people ready for the launch on social media and after it's finally out, they see hardly any results— no support, no validation, no engagement, nothing.
A few friends and family members have said congrats, a few plays, and other than that, radio silence.
This is where the creator may contemplate giving up, abandoning the dream altogether— or they could take advantage of the best music promotion services to generate more interest in and exposure to their music.
There are different types of promotion services for music creators and all different sorts of ways that they work to get your content in front of more people.
We're going to explain 10 of these services and discuss how they work, what you can expect, and why you need them.
Why Music Promotion Matters
Music promotion is important regardless of where you are in your career.
It doesn't matter if you're just starting out if you're in the middle of your career, or if you've already got a pretty strong footing in your musical niche.
At every step of your journey, you're going to need to take advantage of the best music promotion services to help you get your content out to more people and generate hype around your music.
In addition, you may want to consider which platform(s) you're using to market your music as well as which ones may serve as an opportunity to reach even more people and get heard.
Music Promotion by Location
Consider the fact that not all of your music is going to appeal to a global audience.
Perhaps you're from Los Angeles and you want to target the west coast audience from Los Angeles, San Francisco, Oregon, Washington, and a few other states.
What if you're looking for promotion in big US cities, such as New York, Boston, Denver, Atlanta, LA, and others?
Perhaps you're currently US-based but you want to target international audiences like those who live in Japan, London, UK, China, India, Toronto… you get the picture.
Even if you find that many of the best music promotion services work well with organic growth, you may want to consider which ones can help you with location targeting if that's something you're interested in.
While the majority of creators would love to take advantage of a global audience, if you find that you need to do some extra targeting for your audience, you may want to look for a company that can help you with that.
When you think about YouTube, it is truly the best platform for global music promotion as well as for music by location.
YouTube is the go-to platform for many people when they want to check out some different music, and that means that you can take advantage of a huge audience pool.
It can sometimes be valuable for artists just starting out to focus their marketing efforts on YouTube and other platforms towards listeners in your own area and then expanding your targets down the road.
Music Promotion on YouTube
Many people immediately think of music promotion with their minds pointing to Spotify or SoundCloud.
While these platforms are good for musicians, you may want to consider why YouTube hasn't been one of your main focuses.
It's important to keep in mind that you want your music to get the maximum amount of reach, and if you want to harness the biggest audience, YouTube certainly has it.
With close to 2 billion monthly active users, there are many more potential listeners that you can access with YouTube as compared with Spotify or SoundCloud.
That doesn't mean you shouldn't focus on all the platforms, but if you can establish your presence on YouTube, you can already have a platform that's set up for future developments such as launch videos, behind the scenes, new releases, and music videos.
This is very valuable. Don't wait to get started with your music promotion on YouTube.
Many of the best music promotion services on this list are able to help you with that as well as other networks. If you don't have any real videos shot, don't worry.
You can always use a standard album cover or thumbnail can work just fine when you simply want to get your music out to the world via YouTube.
You could even use a lyrics video to share the lyrics of your music with listeners.
In any case, don't let it hold you back from being on YouTube. Even the top artists are using their album covers to launch music on YouTube.
It's not a tool to be ignored.
Music Promotion on Spotify
These days, music streaming services like Spotify have become the most popular way to discover new music.
Even after the top artists release their new tracks or albums, users expect to be able to listen to them on Spotify.
In the second quarter of 2021, Spotify had a reported 365 million active users on a global scale.
They increased their user base by about 70 million in just a year, which does give testament to the fact that the streaming service is still gaining a lot of traction in its industry.
That means that it's considered the top music streaming app and can open your music up to a huge amount of your target audience, although YouTube still has substantially more users.
Spotify is also a good platform because if your music gets added to playlists, it can gain more exposure and get shared with more people, which is a benefit.
Music Promotion on SoundCloud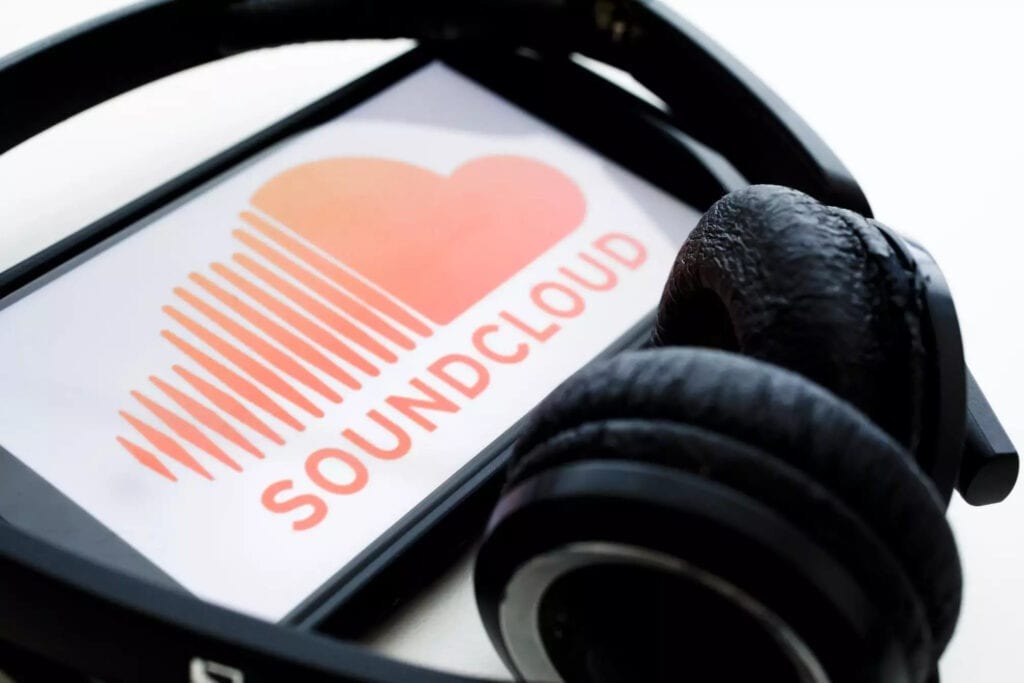 Many of the best music promotion services also focus on SoundCloud promotion because it's widely regarded as one of the best platforms for new music creators and offers them a channel to get discovered and share what they make with the world.
It hasn't been released how many active users are on SoundCloud as of 2020, but the most recent data shows that there are about 76 million registered users on SoundCloud with a monthly listener base of 175 million (2021, listeners with and without registered accounts).
That means you still have a great chance to reach millions of people on SoundCloud.
It's also good for new creators who only want to upload audio tracks. It's been known as a place for many musicians to launch music.
SoundCloud used to have more listeners than Spotify, but with the paid music streaming app gaining traction in the past few years, it's worth it to consider using the best music promotion services on both networks to gain even more traction.
You're also likely to reach a different type of listener on SoundCloud than on Spotify, so you may want to consider who your target audience is and which platform you're more likely to reach them on.
Music Promotion Services FAQ
Now that we know about the best music promotion services as well as a bit more about each platform, we wanted to take this last opportunity to answer any final FAQs that are floating around out there about music promotion services.
Here we'll tackle 6 of the most common questions around the best music promotion services, hopefully helping you to make the best choice for your music efforts.
Which Platform Should I Promote My Music On? 
As you can see from above, you have three basic networks that you can promote your music on: YouTube, Spotify, and SoundCloud.
These are the most common, and those are what you're likely to find when you look for the best music promotion services. 
It can be a bit overwhelming to have to try and create content and uphold a presence on all three platforms, but if you have the resources and the know-how, it's good to get some visibility going across all three of the platforms. 
If you don't, choose one or two that is most likely to help you get noticed by your target audience.
If you know that many of the users you're looking to target view YouTube for music, then go with YouTube. Same goes with Spotify and SoundCloud. 
You should also consider taking advantage of your other social media networks to direct traffic to your YouTube, SoundCloud, or Spotify.
You can promote your content on Instagram, Facebook, and other social networks so that people become interested in your music and begin to seek you out. 
Does Free Music Promotion Work? 
There are lots of different "free" promotion services out there supposedly that can help you to get music promotion at no charge.
This, as you can imagine, is very unlikely to bring you results that benefit your efforts in some way. 
After all, with so much different weight put on follower count and engagement on social media, accounts that have this type of power aren't going to give out their reach for nothing.
It's impossible to find the best music promotion services without having to pay for them. 
One of the things that you might find are Fiverr services, but these are also not typically free.
Any type of service that claims to give you any social media, promotional, or marketing exposure at no charge does put off some huge red flags. 
The majority of these types of services are spam, offer paid services that they want to get your information and spam you to sign up for, or contain malware and/or put your device at risk.
It's not possible to gain free music promotion. 
While you can use strategies like finding the best hashtags for music promotion on Instagram, Facebook, YouTube, and Twitter, this will only get you so far.
You should do your research, but ultimately if you want to gain real exposure, you'll likely have to have a marketing budget. 
This isn't something new— marketing has always been this way.
People now feel that because social media is free, everything else should be free too, but marketing has always cost money, whether it be via TV ad, magazine, radio, etc. 
Don't trust services that claim to offer you free promotions. 
Where Can I Promote My Music?
While we've talked about 3 possible promotion networks (Spotify, SoundCloud, and YouTube) as well as other social media platforms that can help; your efforts, is there anywhere else that you can promote your music? 
You could submit your song to one of the playlist curators on Spotify and see if they opt to include you. 
In addition to these main networks, you can use Apple Music, Bandsintown, Songkick, create a music website with Wix music, add your music to Last.fm, share your content on Reddit Music, and so much more. 
These are just a few options, but as you continue to expand your music and look for new promotional opportunities, you could consider using some of those to help you out, or go for it now if you're ready to expand your presence and gain more listeners. 
How Do I Make My Song Go Viral? 
One thing you may want to consider is using other social networks like TikTok and Instagram where influencer marketing and content creation is important.
Many creators use music when they create content, so if you can get your song to hook on with influencers you may find that it goes viral. 
If your song catches on as one of the challenge songs or viral content creation songs, you can pick up some serious traction and expand your listener base and even generate more interest in you as a musician. 
You should also continue to network and collaborate with others to expand your reach and get your content out to new people. 
How Much Does It Cost to Promote Your Music? 
While this question varies depending on which of the best music promotion services you decide to use, if you want a full-blown marketing campaign, it's obviously going to cost you a pretty penny. 
Because not everyone has a huge marketing budget, especially when first starting out, it's important to find one that balances quality with affordability and can still bring you excellent results without wasting time or money. 
It can be difficult to know which companies out there are actually going to help you and which ones won't, so using this list as a reference can help you to find affordable options that make sense for your budget. 
Some of the most affordable services for music promotion include the services at the top of our list such as UseViral and SidesMedia. 
Is Fiverr Good for Music Promotion?
Fiverr is just a website that offers you the chance to find independent sellers who are providing services; Fiverr is a legit website, but the quality of music promotion on the platform varies from seller to seller.
In order to ensure that the service is legit and that you're paying for something that's valuable, you should look into the promoter as thoroughly as possible and ask questions so that you can verify the service is legitimate. 
If they seem to be bothered by the fact that you want to investigate and get all the facts, you should probably avoid them as that is typically an attitude that someone has when they are trying to be deceptive. 
You can, once in a while, find promoters on Fiverr that can help provide something similar to the best music promotion services on this site, but it's important to do your research and check carefully before paying for services on Fiverr. 
Final Thoughts
There aren't that many reliable companies that offer the music promotion services; many are quite expensive and can't guarantee the results that you need.
We've included the top 10 options that may actually be able to help you and get your music out to a wider audience.
You should take advantage of the best music promotion services if you want to help your music career get moving and start to generate some real income from your efforts.
It's a good idea to use combined methods that include these services as well as multiple social media networks.
Spotify, SoundCloud, and YouTube are the principal sites for marketing your music, but you shouldn't shy away from platforms like Instagram and TikTok either— they can be incredibly fun platforms that, with the right content, can help your music to go viral and start to generate interest.
We wish you the best in your endeavor to expand your musical success. Which service worked best for you? We love to hear from you.