It's becoming increasingly important to use a proxy or VPN when connecting to the internet.
It is one of the most effective ways to boost the security of your personal information.
Of course, there are hundreds of proxy providers on the market.
It can be hard to decide which ones are worth investing in. Fortunately, this guide is here to help you.
Read on to discover the best places to buy UK proxies.
Top Reasons To Use Proxies
The most common and obvious reason to use a proxy is to change your location without physically relocating.
If you've ever searched on the web for information you'll notice that what you get is localized.
The services and other sites that are suggested are based in your country and likely to be in your area.
It doesn't matter if your location is turned off because your location is revealed in your IP address.
Every connection to the internet has an IP address, it's what allows data to be sent and received by millions of different people every day.
Your router will have an IP address and your individual computers and mobile devices will connect through it.
Using a proxy changes the IP address from your router to one that you choose, and it can be anywhere in the world.
Here's why that's a good idea:
Local Content
If you need to see what's going on in the UK, or even in a specific town in the UK, but you're living or staying somewhere else, you need a UK proxy.
This changes your IP address and makes it appear that you're UK-based.
It's surprising how much more relevant and informative your searches will become.
This is also a great way to access local streaming services.
For example, with a UK proxy you can view UK television shows even if you are in Spain, Australia, or the US.
Hide Location
When you connect to the internet through your internet service provider theory will assign the IP address and this tells everyone your approximate location.
Your internet provider may even keep details of your internet activity, allowing them to build a profile of you. This can then be sold to interested parties.
Using a proxy makes this virtually impossible.
Deter Cybercriminals
Perhaps the biggest reason to use a proxy is simply to improve the safety of your personal information.
Cybercriminals can hack your internet connection and then backtrace it. This can give them access to your physical location and the files on your computer.
They can even use this approach to add malware and spyware to your device.
Using a proxy means this isn't an option because tracing backwards leads to the proxy IP address.
In addition, the best proxy providers will encrypt your data from end to end and even offer protection against malware and other threats.
If, for any reason, there is a block on a social media account or something similar you're likely to find it's not just impossible to access that account, but it's also impossible to create a new one.
But, using a proxy hides your original IP address and allows you to create a new account. This can be very useful.
Best Sites to Buy UK Proxies in 2024
Now you understand what a proxy is and why you should be using one, you need to check out the following best places to buy United Kingdom proxies.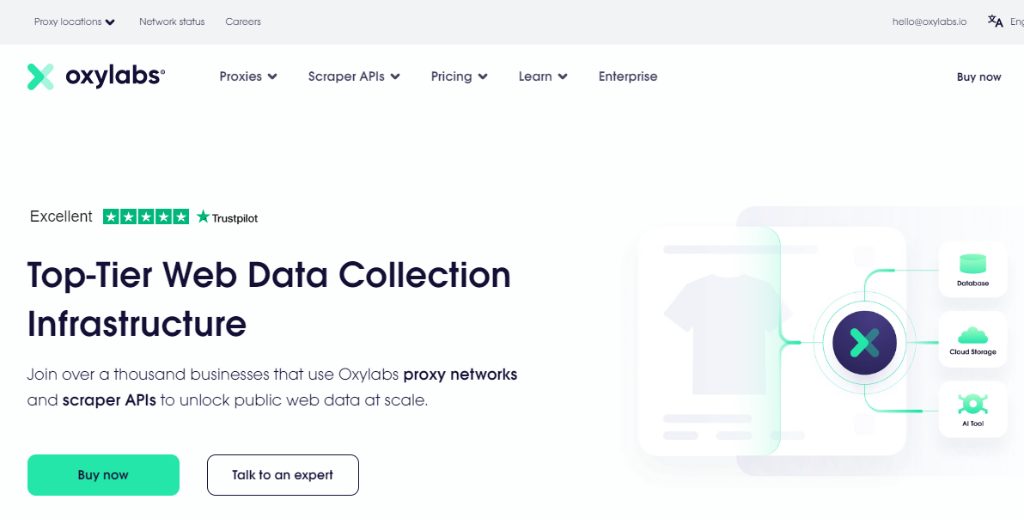 Oxylabs is one of the best-known providers of proxies. They have been listed on thousands of websites and give you access to over 100 million IP addresses.
These are a mixture of residential, datacentre, and uk mobile proxies. 
They offer nearly 200 locations, allowing you to choose where you appear to be located. It's worth noting nearly 5 million of the IP addresses are in the UK!
That's important as the bigger the pool of IP addresses the less likely it is you'll have connection issues.
Oxylabs is at the higher end of the price scale, making them a more attractive option for businesses.
However, they are still worth considering as an individual thanks to the premium service they offer and the impressive customer service team.
Oxylabs is cloud-based. This makes them faster and reduces the strain on your systems. They even offer a free 7-day trial.
It's worth noting that Oxylabs is very transparent regarding where the proxies are coming from.
They are all ethically sourced and regularly checked to avoid issues.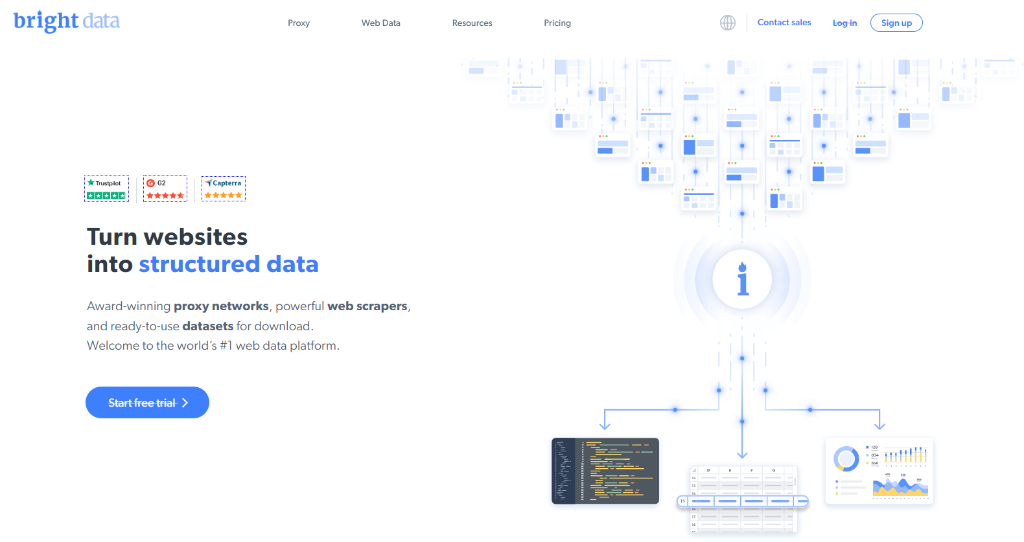 Bright Data has over 72 million IP addresses available for you to use with at least 2.5 million of them being UK IP addresses.
Best of all, you can choose a specific town as your IP address. That can be very useful when looking for localized content.
The cost of Bright Data is comparable to Oxylabs. In other words, it's aimed more at businesses but individuals can still use it.
Bright Data does have an excellent reputation for connectivity with virtually no downtime and it is listed as the fastest proxy service on average.
It offers 24/7 customer support and the team is capable of answering most questions instantly.
You'll also find the dashboard is very easy to use, allowing you to change your location as frequently as you need.
It also focuses on transparency and ethically sources all its IP addresses.
You can request a free 7-day trial to test out how capable this proxy provider is.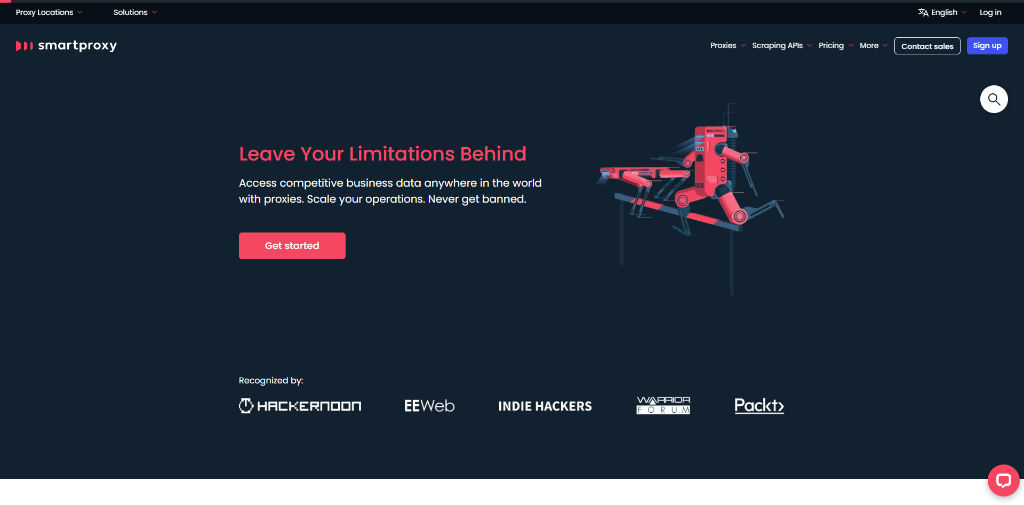 SmartProxy offers a variety of plans to make it easier for you to get started. You can choose when you subscribe or change plans at any time.
This UK proxy provider offers over 195 locations, including plenty in the UK.
It has in excess of 40 million IP addresses, including nearly 2 million UK IP addresses.
There is no limit on how many connections you can have running at the same time.
It uses automatically rotating residential IP addresses although you can opt for a 30-minute sticky session which fixes your IP address for 30 minutes.
Smartproxy offers residential and datacentre IP addresses, along with mobile ones, ensuring you get the best possible coverage.
They offer 24/7 customer support via email or live chat. The responses are fast and generally very knowledgeable.
Their prices range, starting from as little as $12.50 per month, making them a great way to start using UK proxies.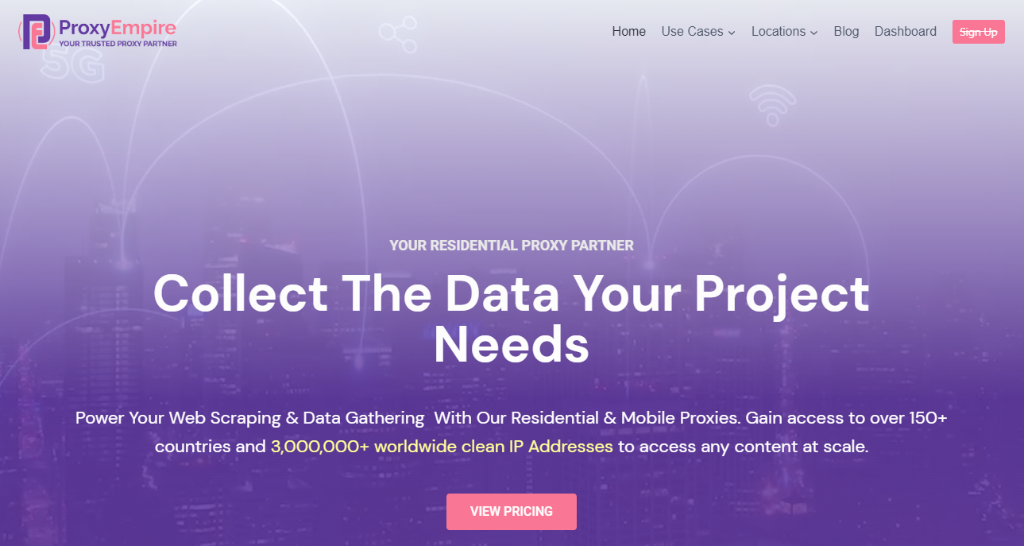 ProxyEmpire has over 31 million IP addresses for you to choose from.
They state a significant number of these are UK IP addresses but there isn't a definitive number.
If you're interested in other locations then they can give you access to 130 countries across the globe.
What makes Proxyempire unique is that they supply IP addresses for a session and they are automatically rotated.
That means the IP address changes every five minutes.
However, you can opt for a static session if required, allowing you to keep the same IP address for up to 60 minutes.
Proxyempire is cheaper than Oxylabs and Bright Data.
However, the IP pool isn't as big and the customer service team, while good, doesn't offer quite the same level of service.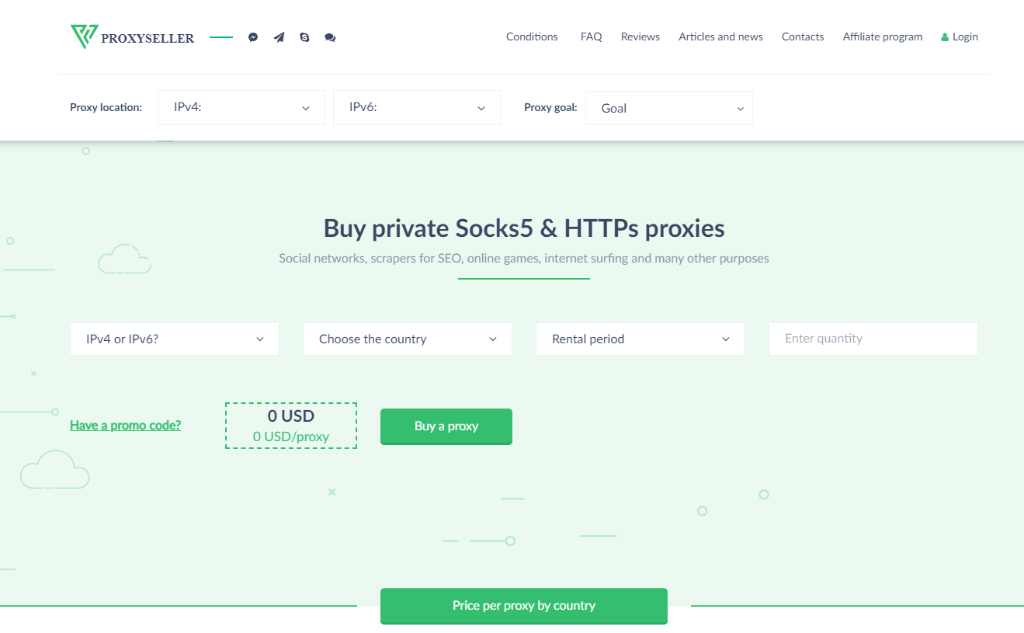 Proxy-Seller doesn't have as large a profile as many of the other offerings on this list.
Their locations are limited to the US, Canada, Germany, the Netherlands, and the UK.
Of course, if you're looking for UK proxies then they are still a great option.
You can have up to 20 connections, using different IP addresses, running at the same time. That makes it easy to appear to be in different places, when needed.
The cost is very affordable, one proxy will set you back $6.97 per month. The majority of their IP addresses are residential.
But, if you need speed they have datacentre IP addresses based in London and Manchester, giving you all the speed you need and retaining a UK proxy address.
Their pricing changes according to how many proxies you need. The higher the number the cheaper the price per proxy.
It's worth noting that the Proxy-seller dashboard takes a little time to figure out. It's not the best layout.
However, once you have worked it out you'll find the service very easy to use.
There is a good customer service team on hand to help you.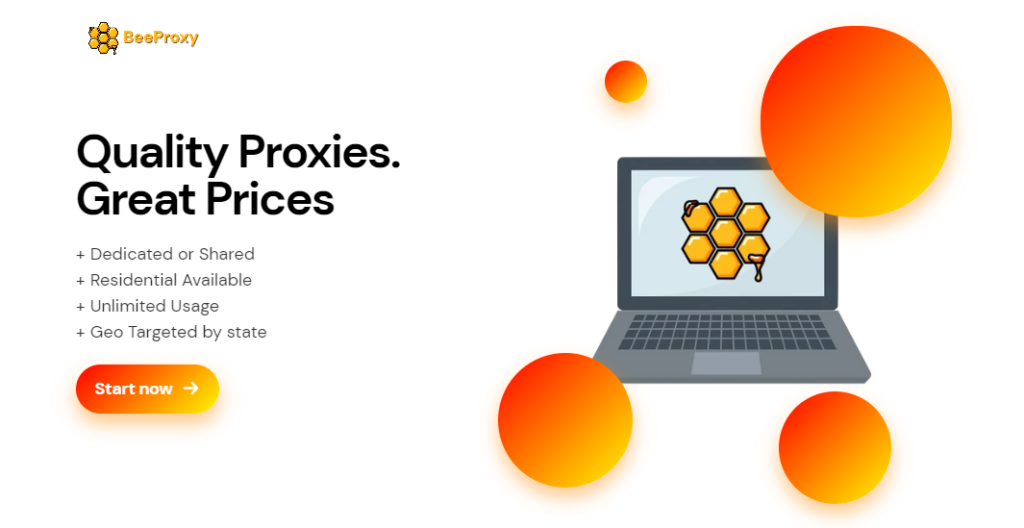 BeeProxy is one of the smallest suppliers of UK web proxies but still worth considering. 
They currently have over 2 million IP addresses with at least 315,000 of them being UK-based. That's enough for most people.
The majority of the proxies offered by Beeproxy are residential.
These are slower than datacentres but more secure, making them a better option for individuals.
Alongside this, Beeproxy offers proxy access for as little as $2.00 a month, making them the perfect introduction to UK residential proxies.
Beeproxy also has one of the easiest to use dashboards.
Once logged in the dashboard feels intuitive while allowing you to select your proxy addresses and check data usage, or upgrade your contract.
Are Proxies Legal?
Interestingly, proxies are neither legal or illegal. In short, there has been no specific ruling regarding their use.
The decision whether to allow proxies or not rests with the website owner.
In practice, many sites block proxies stating that they increase the likelihood of criminal activity online.
Of course, for the majority of proxy users it's simply a matter of protecting their own data and perhaps accessing geographically sensitive content.
For example, watching programs that are only shown on Netflix in the UK.
The bottom line is that it's not illegal to use proxies in the UK.
But, as many sites do their best to block them, you need to make sure you're using a reputable firm.
Rotating IP addresses and regular checks are an essential part of remaining undetected by websites.
Is It Worth Trying Free UK Proxies?
When searching for proxies you'll probably come across a variety of free UK proxies.
It can seem tempting to access the information you need without having to pay for it.
Free proxies can offer their services in the same way as the above proxy providers.
However, you'll often find free proxies are simply a list of IP addresses that you can add to your proxy server.
However, this isn't as straightforward as it seems. There are several reasons why you should be wary of free proxies:
Blocked Addresses
When you use a list of IP addresses there is no guarantee that the addresses haven't already been compromised.
Using one can get your account blocked.
It's generally better if you register with a free proxy provider, they are more likely to check the IPs.
But, you're not going to get the speed and reliability that you will when using a paid proxy.
Data Collection
Free proxy providers are likely to collect your data and create a profile which can be sold to third-parties.
That negates the anonymity of a proxy and can leave you open to excessive targeted advertising.
Criminal Activity
Free proxies don't need to be hacked as they are open networks and anyone can trace the information.
It's an easy way to find out more about where someone lives and collect personal details, effectively making you a target for cybercriminals.
While you may consider a free UK proxy, it's safer and faster to use one of the above 6 UK proxy providers.
Final Thoughts
Identifying the best places to buy UK proxies makes it easier for you to create an account with confidence and access the localized content that you need.
Most importantly, this approach is safe.
All you have to do is choose one of the UK proxy services and register for an account.
The site will talk you through the download process. Once you've installed the Uk proxy service it will take care of everything for you.
Of course, you can change specific settings by using the dashboard, it's usually intuitive to follow, allowing you to appear to be in London or any other city of your choice.