Proxies can assist users in unblocking content and gaining access to a broader choice of shows, improving streaming quality and enhancing privacy and security when viewing.
In this post, we'll go through some of the best VPNs and proxies for Netflix proxies and how to pick one.
You'll find helpful information here if you want to unlock geo-restricted material or improve your streaming experience.
Best VPNs for Netflix 2024
Using a VPN for Netflix can be even more advantageous than a proxy. These are the best proxies for streaming content on Netflix.
NordVPN – 🏆 Winner!

NordVPN is a VPN service that offers top-tier security features such as military-grade encryption, multiple security protocols such as OpenVPN, IKEv2/IPSec, and NordLynx, and a stringent no-logs policy enforced by deploying RAM-only servers to preserve customers' anonymity.
NordVPN provides consistently high network speeds, making it an excellent choice for watching and downloading.
It boasts a massive web of over 5,200 servers in 60 locations, allowing you to unlock banned content and ensure fast connection speeds.
NordVPN has several extra features, such as a kill switch, double VPN, etc.
NordVPN works with Mac, iPadOS, and iOS and supports various other platforms, like Windows, Linux, Android, and routers.
This makes it a versatile choice for families or groups with multiple devices.
It provides numerous payment plans, including monthly and yearly alternatives for up to three years and a 30-day money-back guarantee for trying the service.

Surfshark is an excellent VPN provider with fantastic security features, an extensive network of servers, and fast connection speeds.
It offers military-grade encryption, high-end security protocols such as OpenVPN and IKEv2/IPSec to protect online activities and privacy, and a strict no-logs policy.
It features consistently fast streaming and downloading speeds and a global network of over 3,200 servers to unblock material.
It also includes extra security features like split tunneling, kill switch, and multihop VPN.
Surfshark works not only on Mac and iOS but also with a variety of other platforms like Android, Linux, Windows, and routers.
In each of these cases, this VPN provides separate apps for simple setup and use.
Surfshark offers many payment options to accommodate various needs and spending limits in terms of cost.
A monthly plan, an annual plan, and a two-year plan are available. It also has a three-year plan with unique discounts and promotional offers.
Additionally, Surfshark also offers a 30-day money-back guarantee, providing you with the chance to test the service and receive a full refund if you're not happy with its services.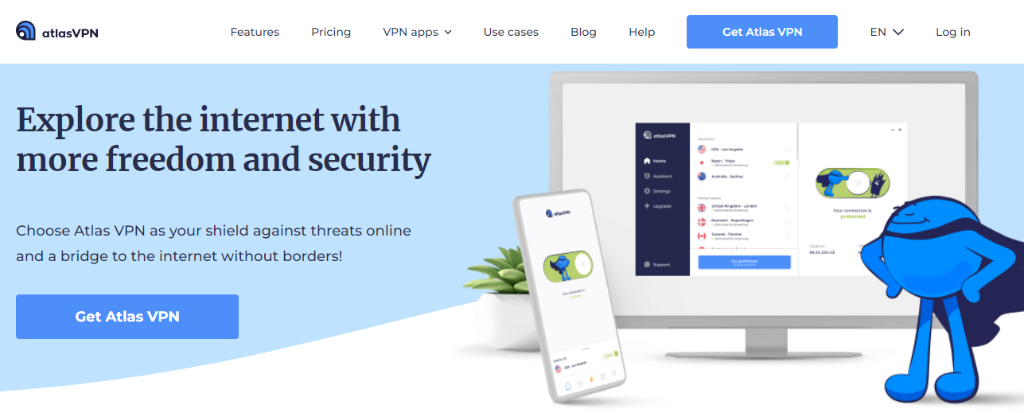 Atlas VPN, a relatively new VPN provider, has quickly established itself as one of the finest VPNs in the market.
Atlas VPN has outstanding security features to keep your online activity safe.
Your internet connection is protected by military-grade encryption, and several security protocols, such as OpenVPN and IKEv2, are available.
Atlas VPN also boasts a robust no-logs policy, which means it does not log your internet behavior.
This is critical for protecting your privacy and preventing third-party access to your browsing history.
Atlas VPN boasts consistently quick connection speeds, giving it a solid option for streaming and downloading if you're interested in its performance.
It offers an extensive network of over 750 servers spread across 37 countries, providing a variety of choices for unblocking prohibited content and assuring fast connection speeds.
Atlas VPN is not confined to macOS, iPadOS, and iOS; it also supports Android, Linux, and Windows and provides dedicated apps for quick setup and uses, making it a versatile alternative for families or groups with several devices.
It provides a 30-day money-back guarantee and several payment plans, including monthly, annual, and 2-year options.
Why is a VPN Better for Using Netflix than a Proxy
A VPN and a proxy are tools that can bypass geo-restrictions and access blocked content, but they work in different ways and have different levels of security and privacy.
Overall, a VPN is a better choice for Netflix because it offers higher security, privacy, and all-around protection and is more reliable and compatible with a wide range of devices.
In this section, we'll be looking at the factors that make VPNs a better option for Netflix users as compared to proxies.
Security
A VPN encrypts all the transmitted and received data, providing a higher level of security and privacy.
On the other hand, a proxy only encrypts the data transmitted to the proxy server, leaving the data received from the server unencrypted.
Privacy
VPNs have a strict no-logs policy and don't keep any records of your online activities.
Proxies, on the other hand, do not have such a strict policy, and they may keep some records of your online activities.
Protection
A VPN encrypts all the data that is transmitted and received, including your browsing history, search queries, and streaming activities, providing all-around protection.
A proxy only encrypts the data transmitted to the proxy server, which means that your browsing history and other online activities may still be vulnerable to tracking and monitoring.
Compatibility
A VPN can be used on a wide range of devices, including computers, smartphones, and tablets, and it can be configured to work with most operating systems.
A proxy, on the other hand, is typically only compatible with web browsers.
Reliability
VPNs are more reliable than proxies, as they have more servers and are less likely to be blocked.
Proxies are often free and, therefore, may be blocked by Netflix.
Best Proxies for Netflix 2024
Proxies are servers that operate as go-betweens between a user's device and the internet.
There are many proxies for Netflix in the market right now, but these are the best proxies you can use for this purpose.
Let's take a look at these proxies and the features that they offer.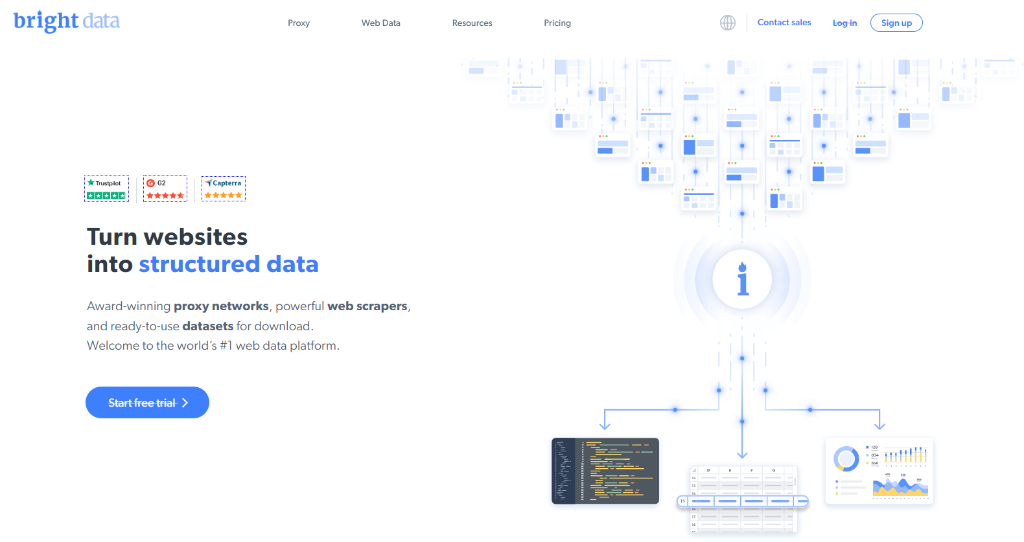 Bright Data is a leading provider of web data services, offering a wide variety of proxies in locations across the globe.
They have a vast selection of 72 million IPs present in around 195 countries.
These proxies are sourced from various user devices, but for more reliable and faster options, this provider also gives you the option to use any of the 600,000 proxies that it sources directly from many ISPs worldwide.
Similarly, its 7 million mobile proxies from mobile phones.
Bright Data offers a user-friendly experience for its essential services, which can be easily set up through its Chrome extension, with no coding required.
Its Proxy Manager is open-source, which adds advanced features such as intelligent routing, SSL decryption, and custom rules to reduce bandwidth use without any coding.
Other products such as Web Unlocker and Data Collector enhance the capabilities of web scraping and data collection capabilities, while Search Engine Crawler allows for precise location-targeted search results.
Along with all of these services, there's no limit on concurrent sessions, so you can make the most out of your proxy.
Bright Data offers many different pricing options for you if you're interested in using it.
It has four types of IP addresses; residential, data center, static residential, and mobile.
It also gives you the option to pay as you go. It offers you plans that start at $0.90 per IP for data center IPs, which comes up to $0.12 per GB.
In the case of static residential IPs, the cost comes at $0.50 per IP and $29 per GB.
The Residential IPs offered by Bright Data cost $25 per GB, while mobile IPs are $60. Monthly payment plans offer better pricing for traffic and Ips.
For example, if you spend $1,000 a month on Bright Data's Residential plan cuts the costs of your residential proxy down to $10 per GB, while the mobile proxy costs drop to $28 per GB.
Also, if you sign up for a yearly plan, it can save you an additional 10% on your bill.
Now, you'll need to keep in mind that Bright Data costs more than the average going rate of most proxies.
Bright Data, however, does have the most flexible pricing plans you can find in the proxy space.
And when we add in the utility of its Pay-As-You-Go feature, this proxy more than justifies its price.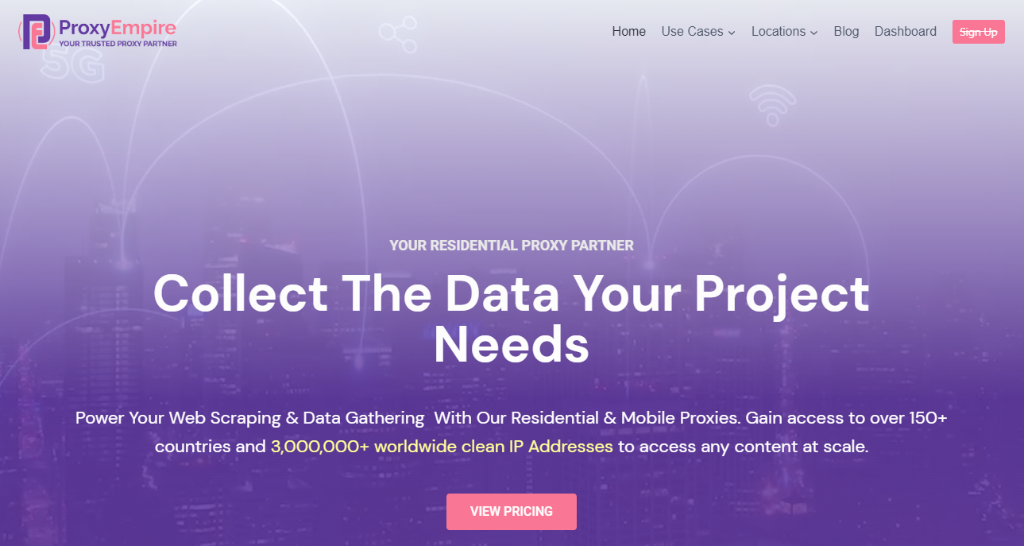 With servers located all over the world, ProxyEmpire is a premier provider of residential and mobile rotating proxies that enable safe connection and use of IP addresses from different nations.
Their coverage reaches over 150 countries, which may not be as comprehensive as other established companies in the sector, but it should be adequate for most demands.
ProxyEmpire provides a diverse choice of proxy IPs from over 150 countries and thousands of ISPs, making it an effective alternative for circumventing bans.
This extensive selection increases the likelihood of obtaining limited-edition footwear on popular releases.
Their proxies have been tested with various AIO sneaker bots and site-specific bots for well-known companies like Nike, Adidas, and Footlocker.
Their proxies are highly anonymous and support both HTTP and SOCKS5 connection protocols.
ProxyEmpire also allows customers to customize their proxies by enabling them to choose a maximum rotation period ranging from 90 seconds to 60 minutes.
ProxyEmpire's service is appropriate for a wide range of use cases, including social network account creation and management, scraping geo-specific market data, ad verification, SEO monitoring, and more.
Their proxies are compatible with any software, including custom software solutions, because they support numerous connection protocols.
Their entry-level plans start at $45 per month, and their most excellent public plan is $4000 for 1000 GBs of data, making residential proxy bandwidth $4 per GB.
It's preferable to get in touch with them personally if your business needs more than 1 TB of bandwidth per month because they also offer more extensive, tailored plans at lower prices.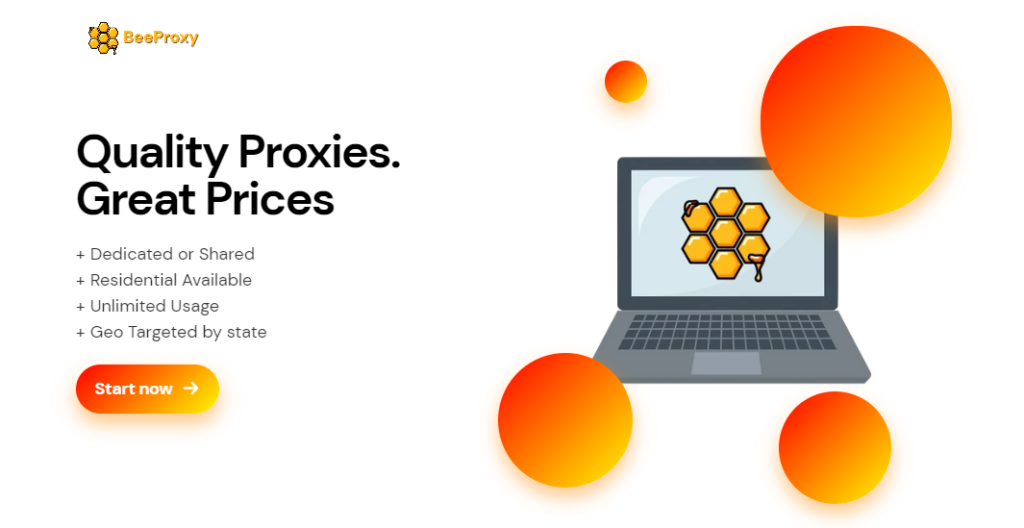 BeeProxy makes buying or switching proxies simple by providing a complete proxy management solution through a single dashboard.
You may also check proxy activity and make changes to settings from the dashboard.
The service offers a variety of proxies, including dedicated, shared, residential, HTTP, and SOCKS.
Compared to other proxy service providers, BeeProxy provides competitive pricing without sacrificing quality.
Pricing varies by proxy type; for example, shared proxies cost $2 per month, residential proxies cost $4 per month, and home and network proxies cost $16 per month.
The cost of dedicated proxies is $3 per month for single proxies and $6 per month for residential proxies.
In the case of residential and networking, at $24 per month.
There is a 30-day money-back guarantee. However, it is only applicable if you can't use the service because of bugs or subpar performance.
This service provider provides excellent session control with two forms of IP address rotation: session-based and time-based.
Session-based process changes the IP address after each request, whereas the time-based cycle changes the IP address after a set amount of time, with settings of 1, 10, and 30 minutes.
Users can also change their IP address before the time limit expires. This session control capability makes the organization perfect for account management.
A well-designed proxy service, BeeProxy, is used to mask the user's IP address and make traffic appear to come from the provider.
BeeProxy uses servers with a high-speed network of 1 GB/s to ensure minimal service delays.
It also has an excellent customer support system which helps you solve your problems quickly.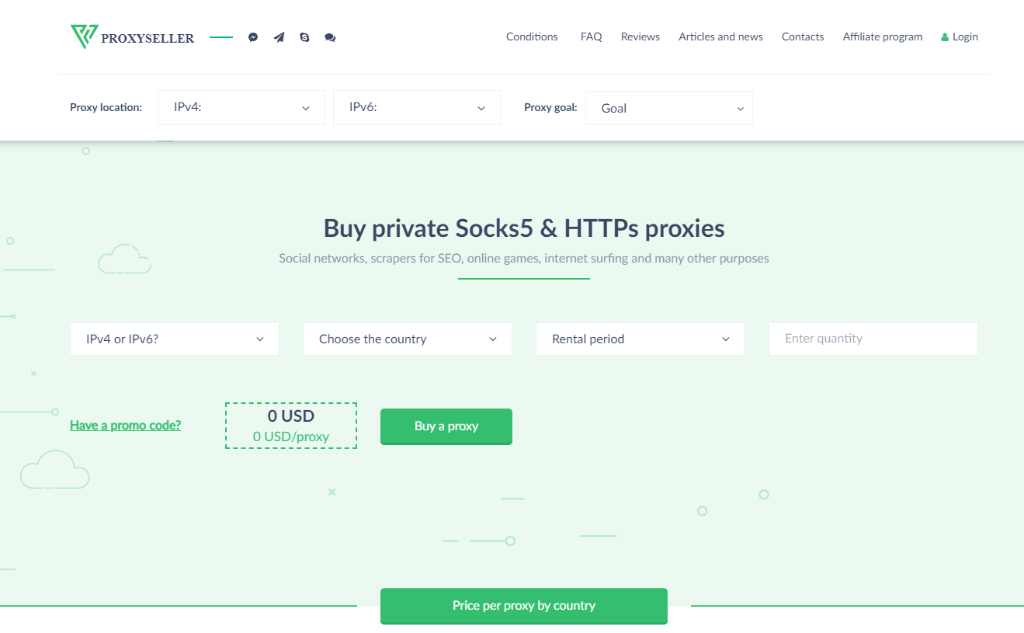 Proxy-Seller is a well-regarded data center proxy service provider based in Cyprus.
They offer affordable, reliable, and user-friendly proxy services that support SOCKS5 and HTTPS protocols, providing top-notch security and compatibility with various devices.
They are also one of the few providers that offer IPv6 proxies, which are a newer and more cost-effective option.
Users have the flexibility to choose from weekly, monthly, quarterly, bi-annual, and annual subscription plans and can pay using credit cards, PayPal, and cryptocurrencies like Bitcoin.
Proxy-Seller is a highly rated proxy supplier that provides its users with low-cost, high-quality proxy services.
They are a popular choice among small-scale internet marketers due to their various payment choices, including short-term subscriptions and the possibility of acquiring an unlimited number of proxies.
Users can also subscribe for two weeks, one, two, three, six, and nine months and for one year.
You can select from a range of membership periods, beginning with one week, and save up to 40% by choosing a one-year plan.
A proxy provider's location coverage is significant since it allows consumers to geo-target when using proxy services.
Many data center proxy services, however, have insufficient location coverage.
Proxy-Seller is one of the few providers with extensive geographic coverage in various countries, including the United States, United Kingdom, Canada, France, Russia, India, Germany, Ukraine, and others.
They also provide inexpensive mobile proxies.
Why Should You Use A High-Quality Proxy for Netflix
Region Unblocking
One of the primary benefits of using a Netflix proxy is that it allows users to view content that is not available in their location.
Users can access more Netflix material by connecting to a proxy server in a different country.
Privacy
When watching on Netflix, proxies can also be utilized to improve privacy and security.
Users can mask their IP address and encrypt their data by routing traffic through a proxy server, making it more difficult for hackers and internet service providers to track their online activities.
Bypassing Geo-Restrictions
Some businesses or educational institutions may use geo-restrictions to ban Netflix content.
A proxy server can assist users in circumventing these limitations and gaining access to the desired content.
Improved Streaming
A proxy can improve Netflix's streaming quality by decreasing buffering and lag.
The proxy server can function as a cache, storing a copy of the data packets and minimizing the number of hops the packets must take before reaching the user's device.
It can also minimize the burden on Netflix servers and the time it takes for packets to travel over the internet.
However, to minimize additional buffering and lag, choosing a high-quality, fast, and reliable proxy server is critical.
Avoiding IP Ban
Netflix employs IP tracking to detect and block customers who access its content through VPNs or proxies.
Using a rotating proxy can assist users in avoiding IP blocks and continuing to stream on Netflix.
Conclusion
In conclusion, a VPN is undoubtedly a good option, but if you're specifically looking for the best proxy for Netflix, there are many excellent services.
We recommend using Bright Data, but there are a lot of other good proxies like Bright Data, BeeProxy, Proxy-Seller, etc.
You can use these proxies to bring up your Netflix streaming experience.