YouTube started trading in 2005. It was formed by three friends, all of whom originally worked at PayPal.
The initial premise was simple, to create a way for people to share videos and stay connected.
Fast forward 18 years and YouTube now has over 2 billion monthly users with at least 30 million paid subscribers.
Of course, every subscriber supplies a little information about themselves.
This means, with billions of subscribers, there is a huge amount of information waiting to be scraped from the site.
You can't manually extract all the information you need, that's why you need the best YouTube scraper tools currently available.
Understanding The YouTube Scraper
Whether you create a YouTube account to follow and watch videos or if you're interested in posting them, you're going to need to provide some personal details.
These details, along with information regarding the types of videos you like to watch, can give a good indication of your likes and dislikes.
In most cases, people leave this information open for others to see.
Collecting the information allows the collector to group people with similar likes and dislikes.
This type of data makes it much easier for a business to target a specific audience, the one that is most likely to purchase its product.
However, while this data is freely available, you'll need to go into every YouTube account and make a note of the relevant information.
You can then compile the information in a spreadsheet and try to use the data.
Naturally, this will take a lot of time and effort.
For most people it's impossible. That's why YouTube data scrapers have become so popular.
These third-party programs can access all the different accounts for you, extract the relevant information, and create the spreadsheet for you.
All you have to do is import it into your customer management system and start targeting potential customers.
Why Web Scraping YouTube Is A Good Idea
There are several good reasons to invest in a YouTube scraper.
The potential benefits far outweigh any cost involved in scraping.
Market Comprehension
Extracting data from YouTube means you can see what products and services are being well-received and which aren't.
It helps you to understand market needs and how your product or service can fit, or be tailored to fit, specific needs.
Naturally, collecting data will allow you to see how well a specific product is received and whether it has fulfilled the intended aims.
The information you'll be extracting is publically available but will take a very long time to extract manually.
That's why you need to invest in the best YouTube scraper possible.
Lead Generator
A YouTube scraper will allow you to categorize people's interests and effectively create a list of people and businesses that may be interested in what you have to offer.
This list can be used to increase your business, you simply need to develop a targeted campaign to make people aware of your business and why they need your products or services.
It's much easier to convince people they need you if you know they are interested in your area of expertise.
Company Image
Your online company image is very important to the success of your business.
It can take as many as 12 positive reviews to counteract 1 negative one.
Naturally, negative reviews, or simply a lack of positive ones, will make it harder for you to attract new customers.
Fortunately, YouTube scrapers will help you check how your company is perceived.
This information is essential to help you create the right repair strategy.
Best YouTube Scraper Tools in 2024
To get the best possible results from data scraping you need the best YouTube scraping tools.
The following tools are some of the best in the industry and worth considering.
Phantombuster regularly tops the list as one of the best data scrapers on the market.
It's especially effective when you want to scrape data from YouTube.
It has an array of subscription plans with prices starting from as little as $30 per month.
The basic plan comes with five phantom slots, allowing you to choose the data you need to access.
Of course, you'll get more slots if you choose one of the higher-priced subscriptions.
The basic scrapers are designed to work for a maximum of one hour a day while higher-priced subscriptions can scrape for longer.
This, combined with the use of proxies, will help to ensure your data scraping goes unnoticed by YouTube.
All data collected is automatically collated into a file, which can be outputted as either CSV or JSON.
If you just want to test the software then you can select the free subscription.
It will only do 10 minutes of scraping a day. But, that's enough to see what the scraper can do.
You can start a free trial by entering your email address and following the online instructions. To access a paid subscription you'll need to create an account.
Fortunately, this is easy and they don't require a huge amount of personal details.
Phantombuster is based in the cloud, eliminating the strain on your desktop and allowing it to run all the time.
In addition, the customer support team is available via live chat 24/7. The service is excellent.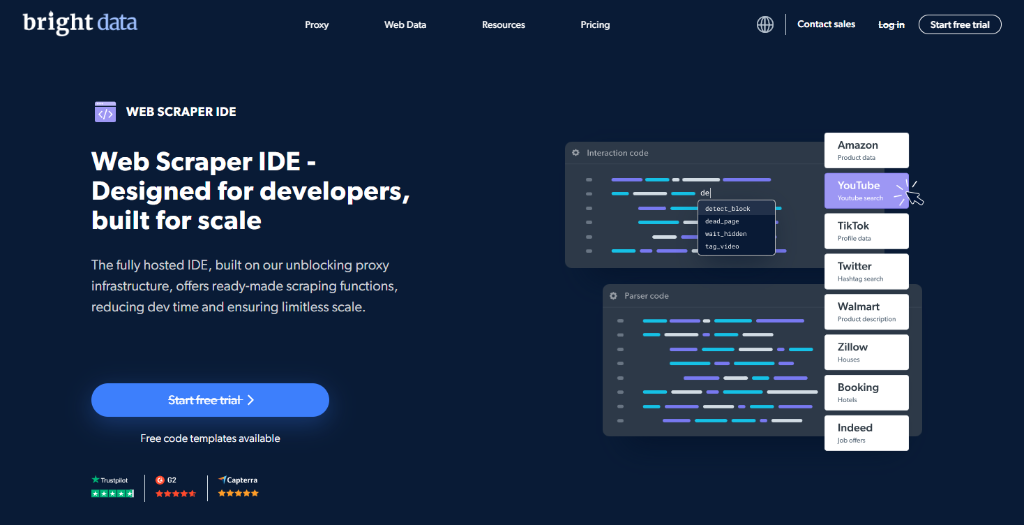 Bright Data is another highly respected data scraper. It guarantees performance and has a success rate of 99.9%.
Best of all, the dashboard is very easy to use, you'll instinctively know how to use the scraper within a few minutes of use.
Signing up is easy, click the link on their site and fill in a few details and you'll be ready to get started.
There are several payment levels to choose from, starting from $300 per month. You'll get 100,000 pages scanned for that.
Of course, you can, and should, register for the free 7-day trial first. This will help convince you how effective Bright Data is.
You need absolutely no coding knowledge, to scrape all you need is the target URL.
All data is collected and put into an Excel file, allowing you to examine it or integrate it into your own systems.
It's not the cheapest option but it is very reliable and very good at scraping data.
In addition, it has a knowledgeable and friendly customer service team. They can be contacted via live chat or email at any time of the day or night.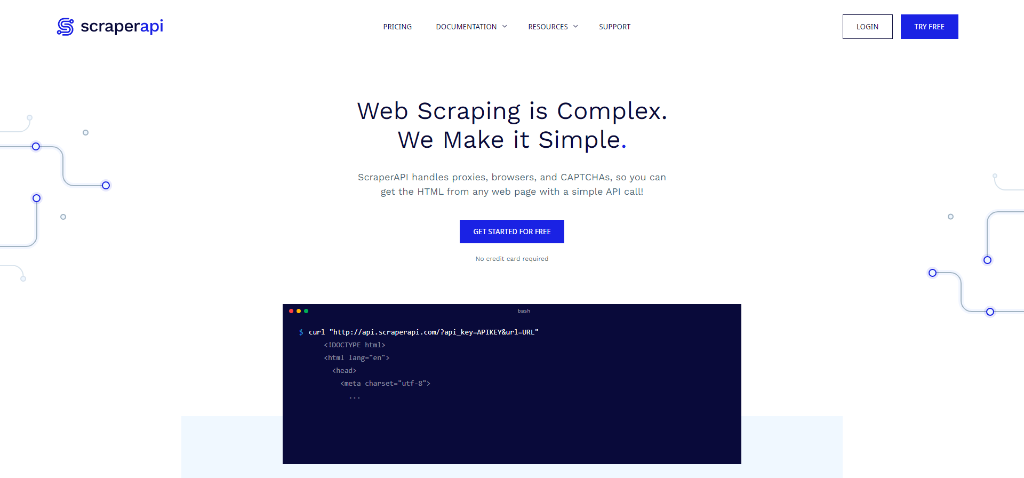 ScraperAPI has several features dedicated to scraping YouTube.
You don't need any coding knowledge to get started and they even provide a proxy to help protect your personal accounts and scraping activity.
In fact, they have over 40 million IP addresses which automatically rotate, ensuring you are always using a different IP address.
Their service is extremely reliable and is guaranteed to be online, collecting data, 99.9% of the time.
This is complemented with unlimited bandwidth.
You can test out their service with a free 7-day trial before you choose the subscription rate that best suits your needs.
Scraper API has an excellent customer service department which is always available to help.
They also have a large collection of tips to help you get the most from their system.

Apify is another great option and their prices start from as little as $49 per month.
Again, you don't need any coding knowledge, all you need to do is give the video or channel URL or a specific keyword.
Apify will take care of everything else.
They do offer a free 7-day trial, this will show you how effective their system is.
It can effortlessly collect likes, comments, video descriptions, and a variety of other useful information.
It's possible to use the system as it is. However, if you prefer, you can customize the search criteria and results.
Again, no coding knowledge is required.
All data is collated into a file for you to access and use as you wish.
You can choose your preferred file format, they offer Excel, HTML, JSON, CSV, and several others.
Apify also includes a proxy service to ensure your real IP address is hidden and no data scraping activity can be traced back to you.
5. ScrapingBee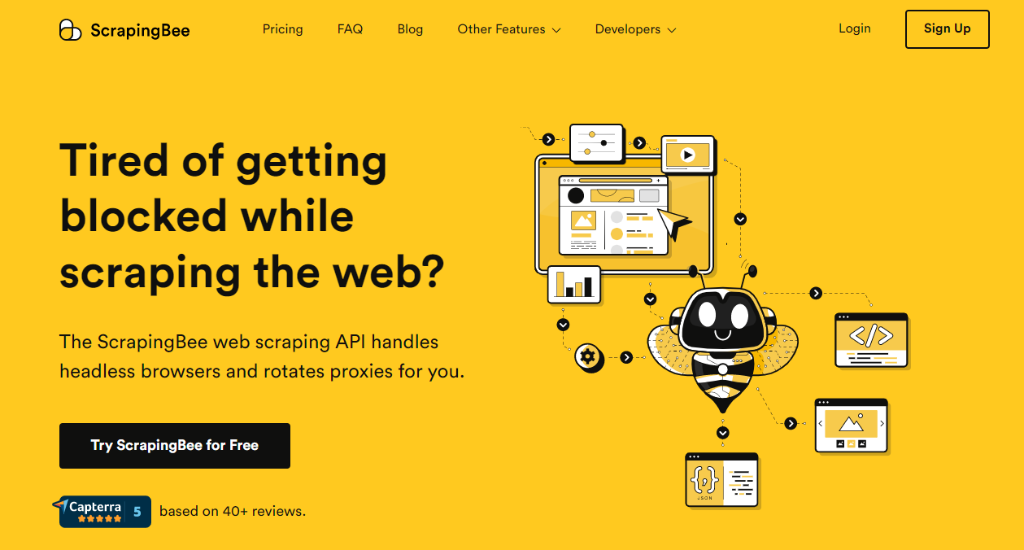 Scraping Bee is the final option on this list and is worth considering.
They also offer a free 7-day trial, allowing you to see how effective their system is.
Signing up is simple, requires minimal details, and can be completed in minutes.
The dashboard is very easy to use, all you have to do is specify the type of scraping you want to perform.
Scraping Bee makes sure that you know all the features they have to offer before you subscribe.
Best of all, the extracted data can be rendered in HTML format, making it very easy to read.
Of course, there are a variety of other formats, including Excel and JSON that can be used to read the data.
Scraping Bee has a large pool of proxies which automatically rotate, ensuring your privacy is maintained and you can scrape YouTube safely.
Prices start from $49 per month with 150,000 API requests or you can get 1,000,000 API requests for $99. That's an attractive offer.
They also have a dedicated customer support service that can be contacted 24/7 by email or live chat.
They will be able to help you with any query.
Is Scraping YouTube Channels Legal?
YouTube isn't keen on you scraping their data. They would rather keep it and use it themselves, without giving you any sort of business advantage.
In fact, if they detect an account is being used to scrape data they are likely to suspend or close the account.
That's why most scraping tools will recommend you use a proxy at the same time.
This protects your IP address and your account from being detected and suspended or deleted.
However, the right scraping tool can work without being detected, giving you access to the data you need.
The good news is that there is nothing illegal about scraping publically available YouTube data.
YouTube may close your account but you won't be committing a criminal offense.
Of course, it can be conceived as criminal if you are collecting data in order to harm someone physically or mentally.
Creating Your Own Data Scraper
To create your own data scraper you're going to need coding knowledge.
This isn't something you can learn just to start scraping, there are too many variables.
However, if you have the knowledge, it is possible to build your own YouTube scraper.
One of the most important things you'll need to consider is how to handle captchas, anti-bots, and the IP blockers used by YouTube.
You need to use multiple IP addresses, ideally with a proxy, to help your scraping go undetected.
Creating your own scraper is best done with Python as it has a large collection of libraries and frameworks.
You will need to have functioning JavaScript to access YouTube data. If you don't have this on, there is a lot of data you won't be able to scrape.
In short, it is possible to create your own data scraper.
But, in most instances, you'll find it easier to choose one of the best third-party apps listed above.
Is It Worth Using A Free YouTube Scraping Tool?
The short answer is no. A free YourTube scraper can be tempting, it's more cost-effective than paying to use a tool.
Unfortunately, many free tools are more interested in collecting your data than giving you the YouTube data you desire.
They will collect all relevant information about you and sell your profile, without any guarantee that the YouTube data they provide is of any use.
Free scraping tools can also introduce viruses and malware into your device, causing an array of additional issues.
Summing Up
Most individuals and businesses don't have the expertise needed to create their own code.
It's generally simpler to use a data scraper. However, it is important to know which are the best YouTube scraper tools.
Using one of the tools recommended in this guide will help to ensure you get the data you need without putting your own data at risk.
Take a look at the YouTube scrapers on our list and choose the one that will benefit you the most.
It could be the best decision you ever make.
Best of all, it's easy to start using the tools and get the information you need.
In most cases, you'll have your first data file within minutes.