Do you want the best rotating proxies that money can buy?
Proxies can be categorized according to a variety of criteria. However, there are two main types: rotating proxies and sticky or non-rotating IPs.
Each of these has a unique application based upon the requirements of the user.
For example, rotating proxies automatically switch IP addresses and modify them to create new sessions. This can be based on requests, time periods, or even status codes.
A rotating proxy assigns each user with a single-entry port, assigning random IP addresses to use.
This address changes after the defined period or each request. Rotating proxies are ideal for web scraping and crawling for information.
Other than certain rotating proxies that maintain sessions based on time, this type of proxy is incompatible with websites that rely on sessions.
Best Rotating Proxies in 2023
With various rotating proxies on the market, here are our top rotating proxies to buy for your needs.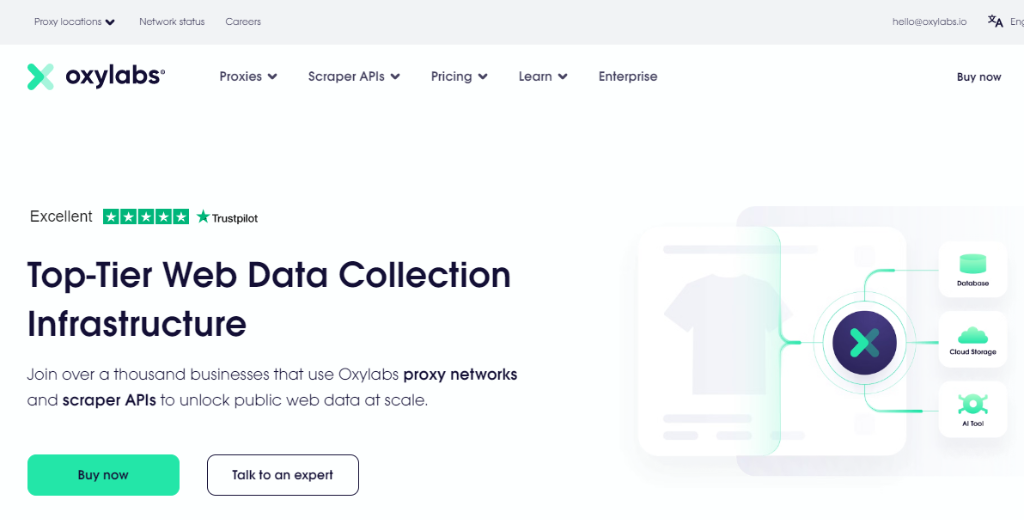 Oxylabs is targeted at web scrapers. The proxy provider based aims its services to cater to business needs such as brand protection, business intelligence, and market research.
Oxylabs services include several types of residential or data proxies and a specialized web tool for data extraction.
With over 100 million residential IP addresses and data centers spread across the globe, their proxies also support automatic rotation based on time or per request.
When time-based rotation is used, the IP address switches every five minutes.
However, pricing is steep for the premium provider and starts at $300 per month.
Features
Pay as you go from $15/GB, with no commitments. Cancel anytime.
Unlimited concurrent sessions and proxy rotator.
You can expect up to 99.9% uptime as Oxylabs' team constantly monitors available proxy pools.
A single backconnect proxy – avoid IP bans and CAPTHCAs.
Endpoint generator.
Integration with third-party software.
Proxy user management with Public API
Types of Proxies: Residential, Mobile, Rotating ISP, Shared and Dedicated Datacenter, SOCKS5, Static Residential.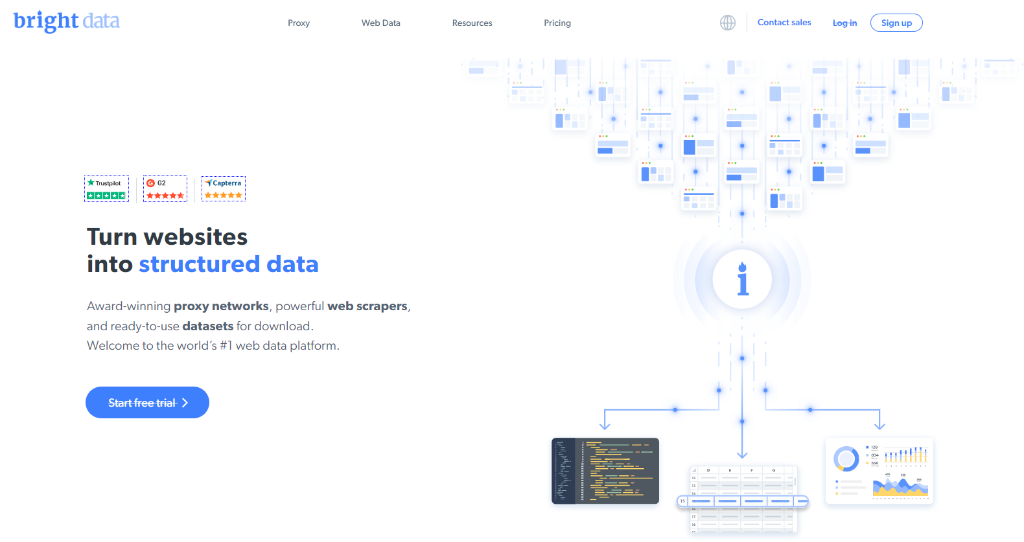 With a pool of over 72 million IP addresses, Bright Data is one of the world's most advanced and most extensive proxy services.
According to their website, their IPs can be used for all standard web browsing tasks such as ad verification and scraping.
This also includes tracking global search engine results for better targeting and optimization.
Bright Data is considered the best for IP rotation, as it gives you complete control throughout each session.
However, each session can't exceed above thirty minutes. Their residential proxies cover HTTP, HTTPS, and SOCKS5.
Furthermore, the service also offers sticky IPs for targeting special domains.
Their pricing structure requires a monthly commitment, determined by your basic usage limits.
Bright Data's plan tiers can be customized to meet your needs with the most affordable plan starting from $500 for 40GB worth of bandwidth.
Their rotating residential proxies begin at $12.50/ GB.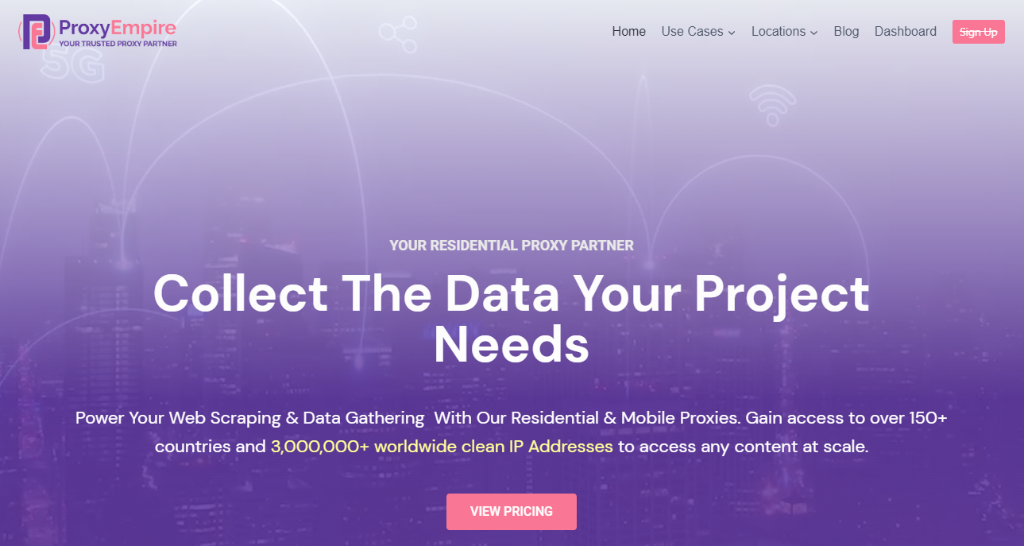 Although ProxyEmpire is a newcomer, it has unique features that have earned it a special place amongst users.
The server claims to have a near-zero failure rate, lower latency, and extremely fast speeds compared to other proxy networks.
Furthermore, it relies on more efficient network systems called DiviNetworks rather than Peer to Peer connections for a more stable, efficient, and secure connection.
Their servers are spread across the globe. Currently, their IP pool contains more than 20M rotating + 2M ISP proxies, which makes them the largest ISP proxy provider in the market.
However, their premium service is more expensive than others. Charged on bandwidth usage, ProxyEmpire's pricing begins at just $15 per month.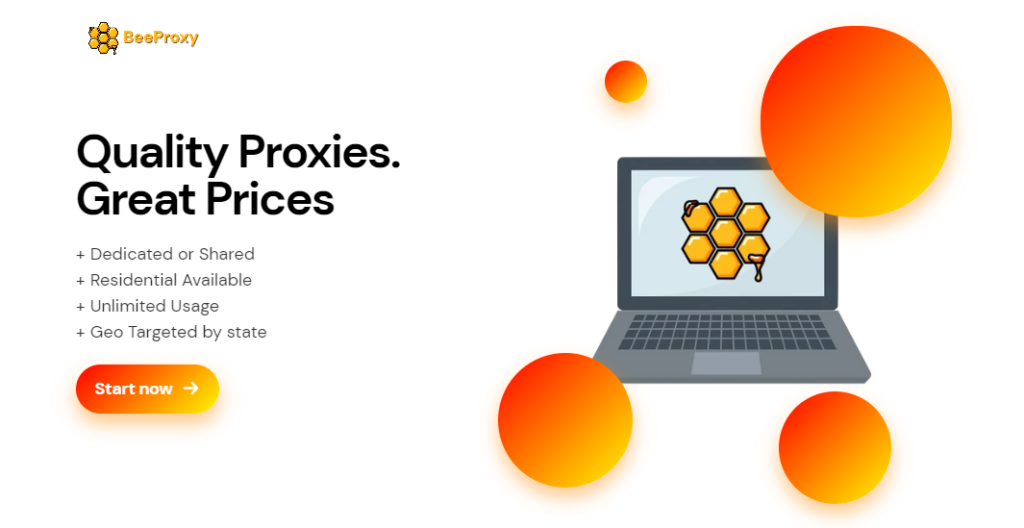 BeeProxy is a SOCKS 5 and residential proxy service provider that is secure, dependable, and secures your browsing connection to prevent blocking.
In addition, they have over 2 million residential IP addresses available for your use. BeeProxy has data center proxies in over 120 countries and also offers geotargeting.
BeeProxy supports both time-based and per-request IP rotation. You can select between time variances of 1, 10, or 30 minutes. Their pricing is extremely cheap and affordable for all.
Give them a shot.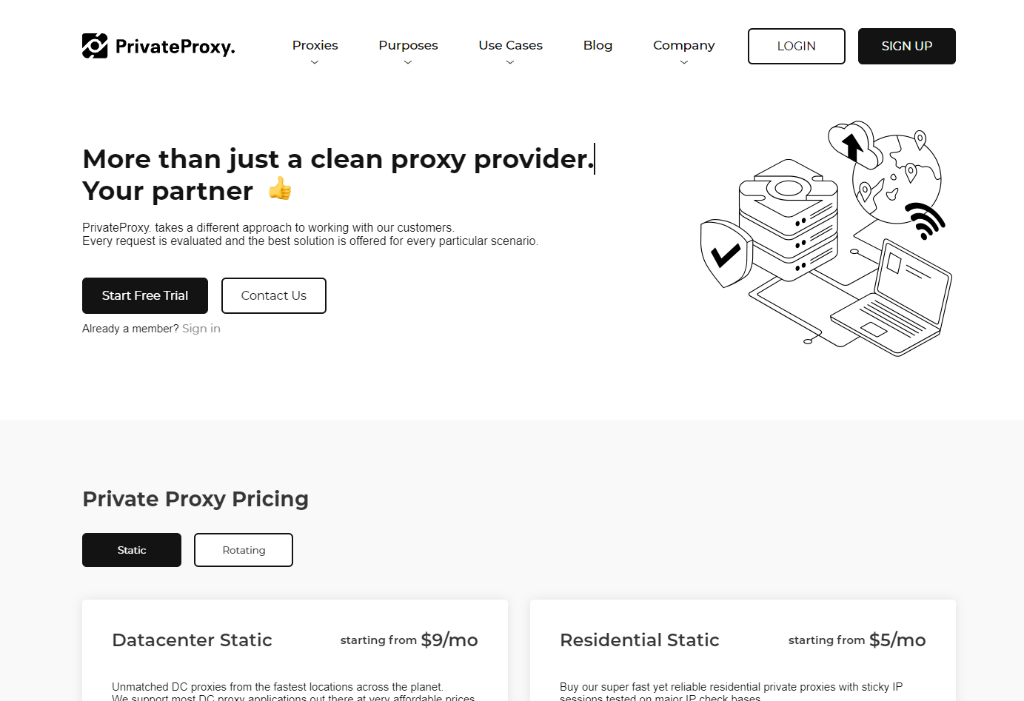 If you're looking for a rotating proxy that is going to be able to keep you safe and talk to you about what your individual needs are from the beginning, then you definitely need to check out the next rotating proxy on our list.
They say that you can choose between rotating or static proxies, which means that if further down the track you decide that you want to work with static proxies instead, you've got the flexibility.
They say that they want to work with their clients on ongoing basis, which means that they aren't just going to send out proxies your way, and hope for the best.
They are going to take you through a free trial in the beginning, and they are also going to consult with you in the beginning about what you are hoping to get out of using a rotating proxy.
Then, you can make the most of really reasonable pricing.
6. Shifter
Formerly known as Microleaves, Shifter is renowned for its rotating residential proxies and unlimited bandwidth.
Aside from residential proxies, the service also offers dedicated and shared options.
Currently, their proxy locations are available in over a hundred countries, facilitating a pool of over 31 million IP addresses.
With upgraded features, while Shifter does not offer individual request IP rotation, they support time-based switches.
The IP address assigned to you by their proxy automatically changes every five minutes.
Shifter supports both SOCKS5 and HTTP protocols to encrypt data. In addition, the service provider has a superior back-connect server than its competitors.
Unlike other proxies, Shifter's pricing is based on the number of ports you want. Their plans begin from $125 for ten ports a month.
You can also opt for a unique back-connected service priced at $249.99 per month for 25 ports.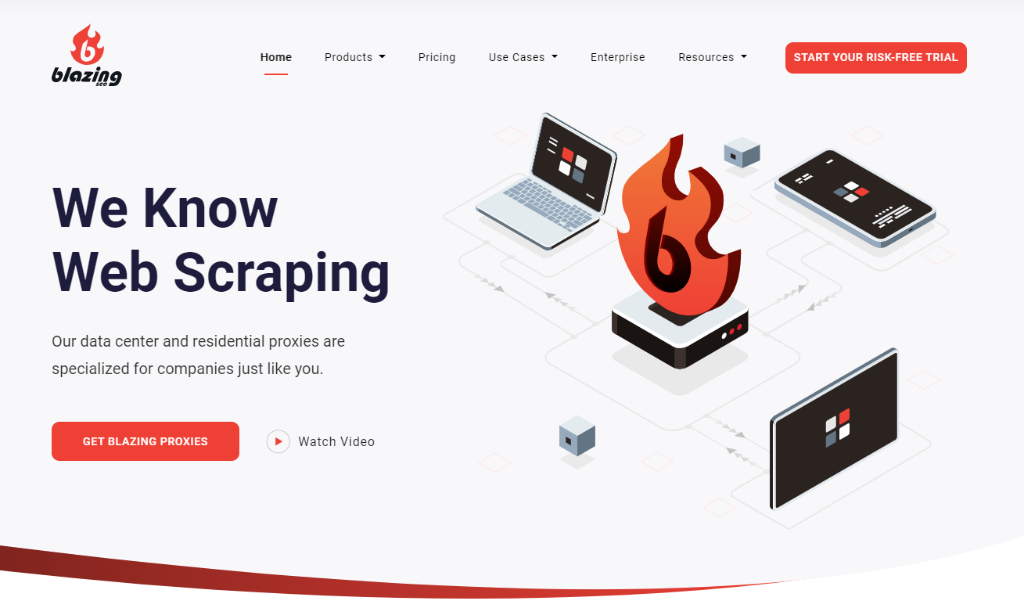 Blazing SEO Proxies is a smaller service provider that caters to other web services such as servers and VPS.
Their rotating data centers include unlimited bandwidth and proxies from nine countries, including Brazil, Germany, and the USA.
Due to the unlimited cap on bandwidth and threads, you only pay for the proxies you purchase for the time you select. However, BlazingProxy doesn't support rerouting IPs automatically after every request.
Instead, you should opt for time-based rotation, which changes your IP after a predetermined time between 10 and 120 minutes.
Their monthly plans begin at $11 per month, and they also offer a two day trial for the package you plan to buy,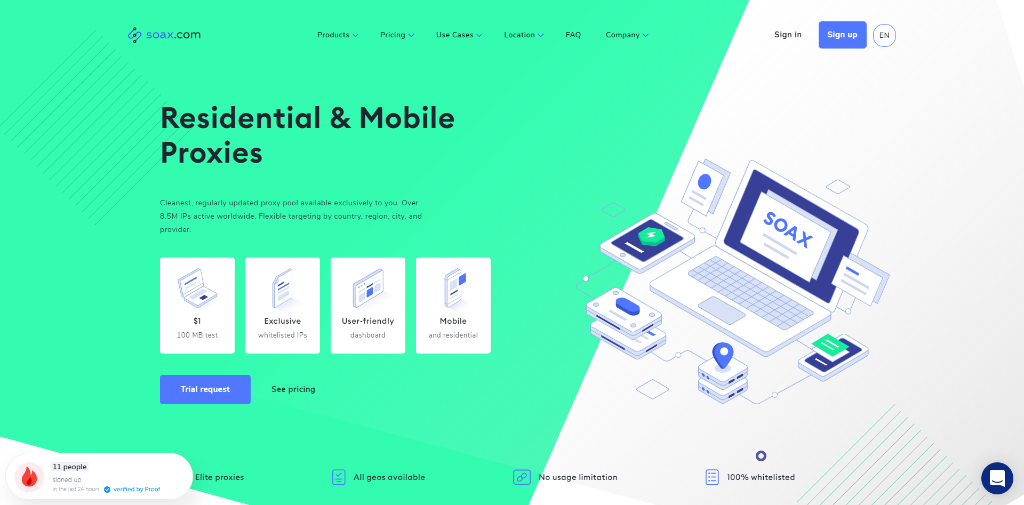 SOAX proxies are popular amongst users because of their extremely fast speeds and multiple servers to maintain anonymity and privacy.
Currently, they maintain their proxies worldwide, and you can even target specific cities with SOAX.
The residential proxy provider offers back-connect to over 8 million residential IP addresses, ranging from all types of devices such as laptops, mobile phones, and even WiFi devices.
But despite offering unlimited bandwidth, their concurrency is limited to 300 threads.
SOAX proxies are reasonably priced, and they offer six different subscription plans for users. Their starter package begins at $20 per day for 300 ports.
You can choose from various payment methods, including PayPal and WebMoney.
Furthermore, the SOAX dashboard is exceptionally user-friendly, and you don't need a password for authentication.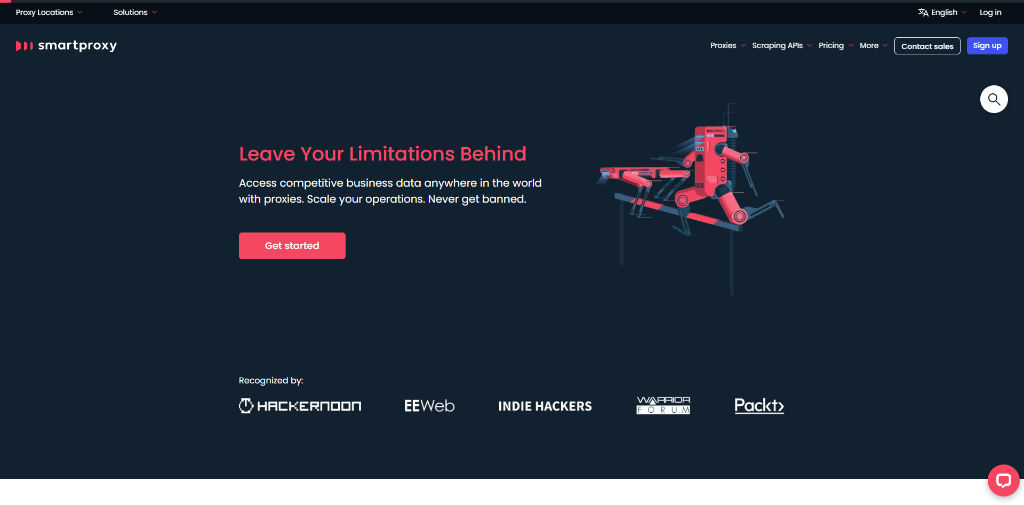 Smartproxy offers a variety of proxy services, ranging from shared proxies to private proxies if you want exclusive use.
One of the service's best features is that their plans all include unlimited bandwidth and traffic.
Smartproxy is currently compatible with all popular internet protocols, including HTTPS and SOCKS5.
In addition to these features, many of their plans support up to 500 concurrent threads.
While some plans limit this number, you can specify the number you want when purchasing your plan.
The proxy service offers price plans starting at just a few dollars per month, including over 40 million IP addresses and proxies located in 195+ countries and locations.
Their automatic rotation switches proxies on their own after every 5 minutes, but you can also purchase a plan that rotates it after each request.
10. Proxy-Cheap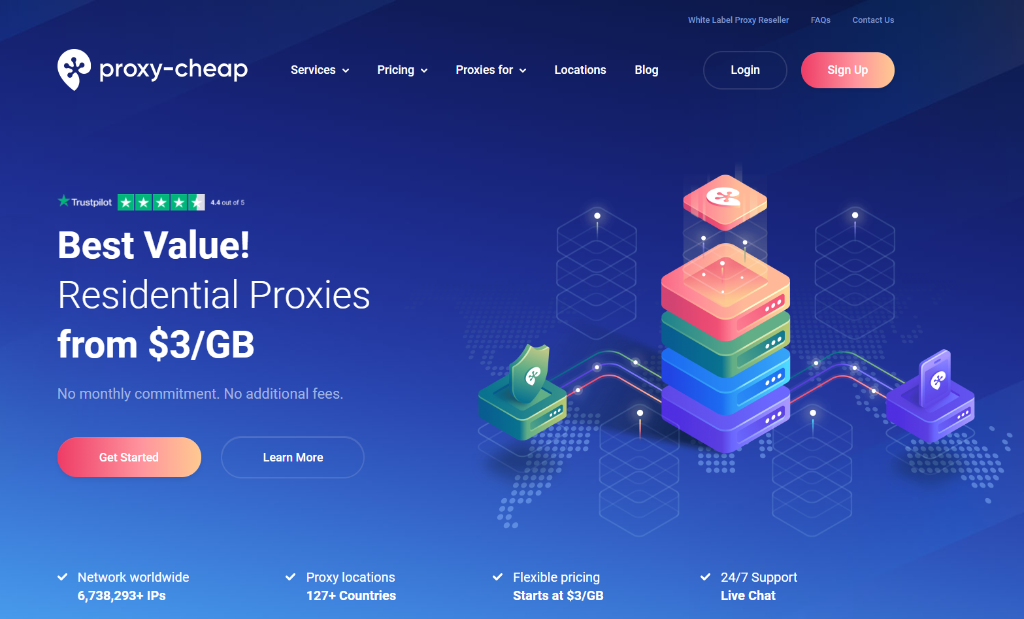 Proxy-cheap is a highly versatile service provider with residential, mobile, and IPV6 datacenter proxies.
Their proxies can be used for various applications, including social media management and automation, SEO, web scraping, and ads verification.
In addition, Proxy-cheap also offers wide geo-coverage, and as its name suggests, it is incredibly budget-friendly.
Proxy-cheap has approximately 6 million resident IPs in over 100 countries. However, their mobile proxies are limited to the USA and specific locations in Europe.
Proxy-Cheap prices are according to bandwidth usage. Unlike other service providers, you don't have to pay for the bandwidth you don't use. Their plans begin from $5 per GB per month.
As your bandwidth increases, the cost per GB decreases to as low as $3 monthly. Furthermore, Proxy-cheap offers a free trial upon request.
11. Infatica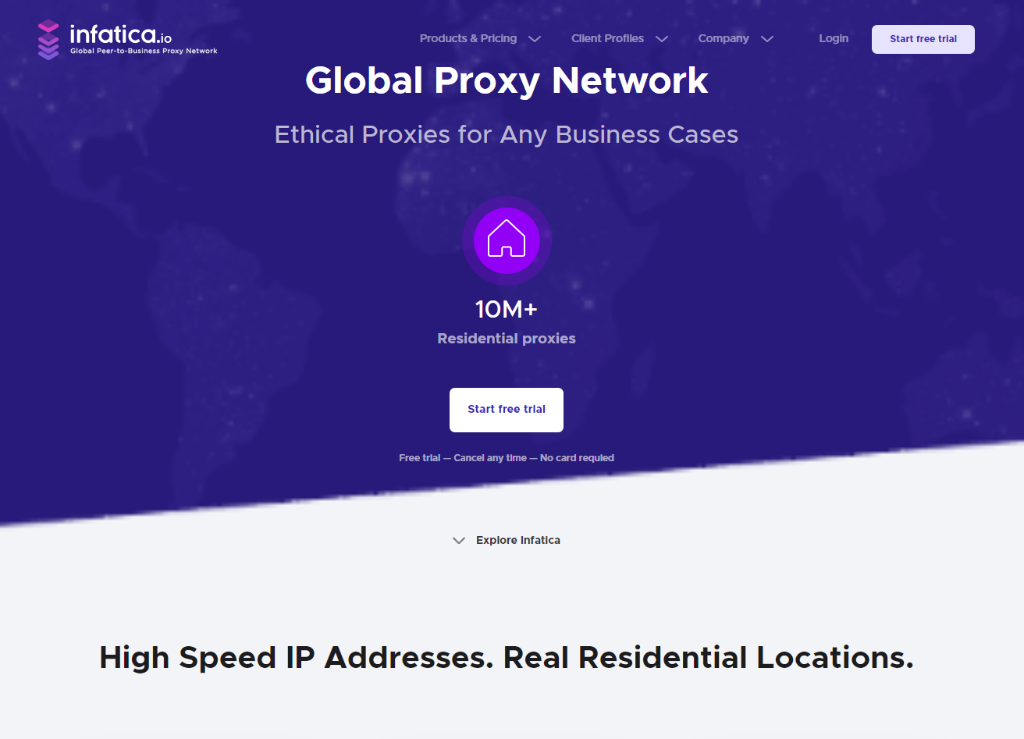 Informatica is a newer provider on the market, and it aims to provide businesses with residential or mobile proxies. Currently, their global network prides itself on providing ethical proxies for any use imaginable.
Informatica has an enormous proxy pool, with IP addresses from real residential locations globally.
Their pool currently switches between 1 million unique IPs daily and over 10 million addresses monthly.
Infatica servers are located worldwide, and you have complete control over IP rotation via their dashboard. In addition, you can also choose sticky sessions.
Infatica proxies are priced according to the number of ports and threads you use or create concurrently. Their monthly pricing starts at $440 for 3000 ports and unlimited bandwidth.
Webshare is distinct from other proxies mentioned on this list as it offers free proxies. However, this comes at the loss of unlimited bandwidth and thread concurrency.
Nonetheless, Web share users can access a large number of data center proxies at the lowest rates.
Webshare offers private proxies instead of shared proxies that are less expensive. As a result, you have exclusive access to the proxy, and your IP address will not be blocked from websites due to other people.
While Web share does not disclose the total number of IP addresses in their proxy pool, their data centers are located in over ten different countries, including the USA, UK, and South Africa, to name a few.
When you sign up on Web share, you instantly gain access to 1000 proxies but limit data usage.
These free proxies can be used as a trial to determine if they're suitable for your requirements. Paid plans begin at $5.44 per month for five ports.
13. LocalProxies
While there isn't much information on LocalProxies available online, the service offers automatic IP rotation per request.
However, the options are limited as they only offer automated rotation every 10 minutes.
Currently, LocalProxies offers proxy locations in the USA, UK, Australia, and Europe, to name a few.
In addition, they also offer geotargeting. You can subscribe to LocalProxies for $50 per month for a single port.
14. PacketStream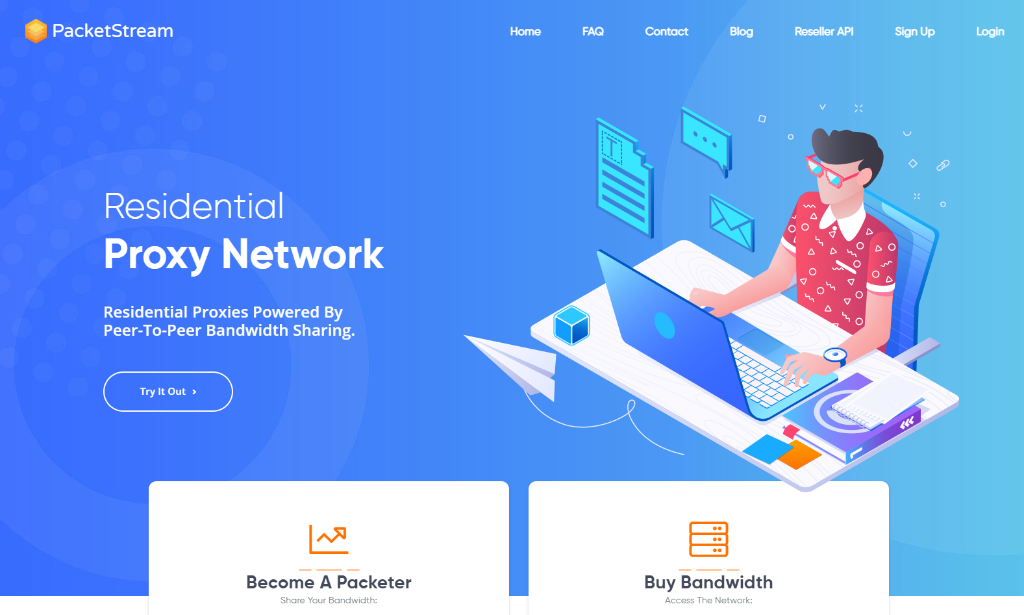 PacketStream is a US-based proxy provider that provides a wide variety of customers with inexpensive rotating residential IP addresses.
The proxies cover most of the world's countries and have a pool of IP addresses totaling more than 500,000.
Apart from proxies, PacketStream offers internet users the opportunity to share their bandwidth and connection for money.
PacketStream relies on a pair-to-pair connection, which is why their prices are very affordable.
In addition, since their proxies automatically rotate, you can use them to scrape the web quickly without any problems other than occasional security checks.
The pricing model of PacketStream is simple. For every Gigabyte of traffic you use, you pay $1.
However, you must purchase a minimum of 50 GB at a time and can request a free trial.
15. HomeIP
HomeIP connects you to more than 13 million residential IP addresses located in approximately 157 countries worldwide.
The best bit about HomeIP is that you can choose between sticky sessions and auto-rotating proxies.
Developers created the service providers for tech professionals and other developers. Thus they are incredibly reliable.
You can expect an uptime of at least 99.9%. HomeIP costs $200 per month for 10 GB worth of web surfing.
16. Zyte Proxy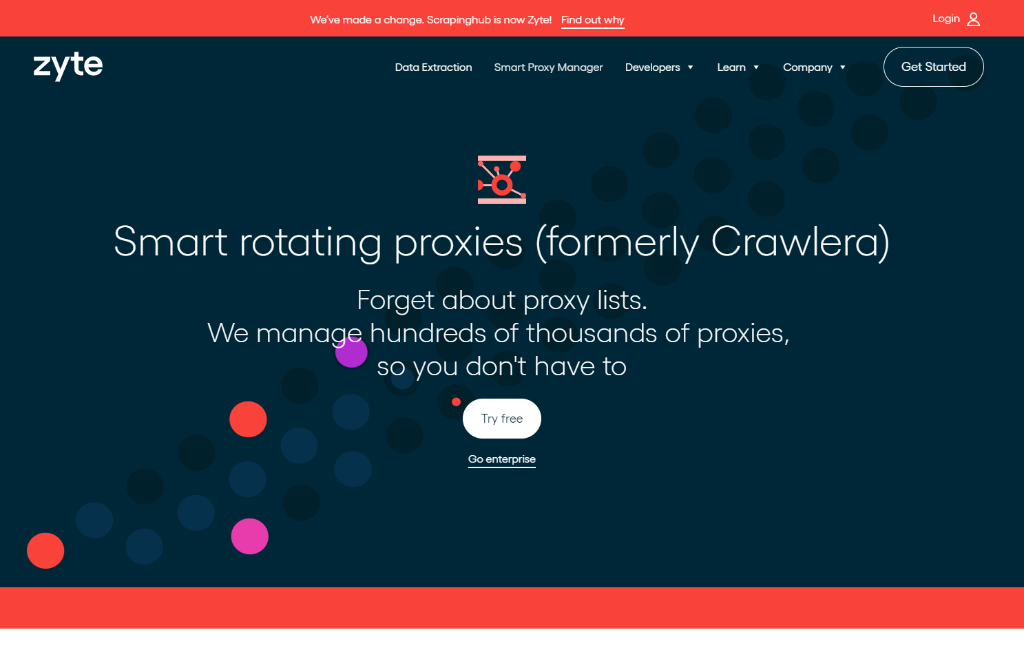 Formerly known as Crawlera, Zyte Proxy is a proxy API that reroutes your web requests through their proxy servers to prevent IP bans.
They rely on various techniques, including IP rotation and CAPTCHA prevention, to allow users to browse safely.
Zyte Proxy also includes a request detection algorithm and ban detection systems for users.
The service is based on the number of requests sent, and there is a limit on each plan on this number.
This means if your request is unsuccessful, you are not charged for it.
For $99, their starter package allows you to send 20,000 requests and create 50 concurrent threads within a month. In addition, they offer unlimited bandwidth to all users.
Benefits of Rotating Proxies
Online research and web access sometimes require you to visit multiple websites throughout the day.
Sometimes, you can find yourself moving through various pages on particular websites numerous times.
If the website uses tracking, your IP address may get flagged as suspicious, often resulting in a complete block from the site.
In addition, some businesses price products differently according to the country they are being bought in. Price research and scraping through competing websites become easier with rotating proxies.
Rotating proxies offer a pool of different IP addresses that switch periodically. This way, you can be sure that no one can track your actual IP or online activities.
Furthermore, rotating proxies are more effective in protecting your online presence. This makes cyberattacks less likely.
A reputable rotating proxy is also great for increasing SEO conversions if you are a marketer. You can also expect a higher success rate and a reduced tendency of having CAPTCHA checks.
Final Thoughts
Rotating proxies are a great option for web scrapers.
Not only do they secure your connection, but you can also send an unlimited number of requests to websites without getting banned.
Regardless of your usage, rotating proxies from the list above will help you enjoy your browsing experience and crawl websites more efficiently.