YouTube is a widely used platform for sharing and viewing videos. It allows users to watch, like, comment on, and upload any type of video content.
The platform can be accessed from various devices like desktop PCs, laptops, tablets, and mobile phones.
To make the video downloading process easier, various tools can download videos in bulk, including offline saved videos and personally created playlists.
These YouTube playlist downloaders can download videos in different formats, such as MP3 and MP4.
They can also provide high-quality video downloads, saving users time and effort.
Here is a list of the top 10 best YouTube playlist downloader apps, each with unique features and website links.
10 Best YouTube Playlist Downloader in 2023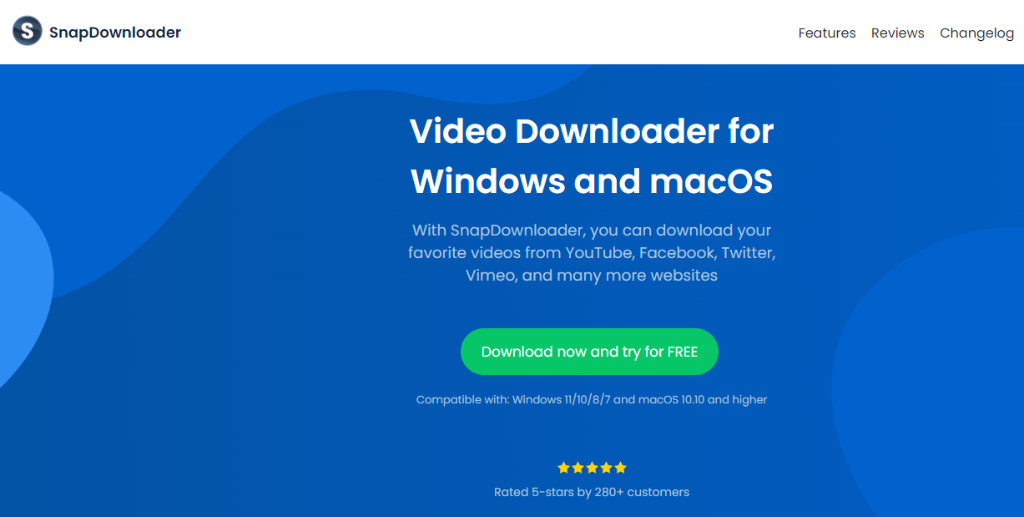 For Windows users looking to download their favorite videos and playlists from YouTube and other sites, a downloader software application is available that supports various video qualities, including the impressive 8k resolution.
Though the application is limited to Windows, those who swear by this operating system can use its features to grab videos from multiple websites, not just YouTube.
One of the most valuable features of this downloader is its built-in video editor, which lets you trim your videos as needed.
This can be especially handy if you want to conserve space on your hard drive, as you can quickly reduce videos to a more manageable size.
So if you're a Windows user looking to save your beloved YouTube playlists, this application might be your best bet.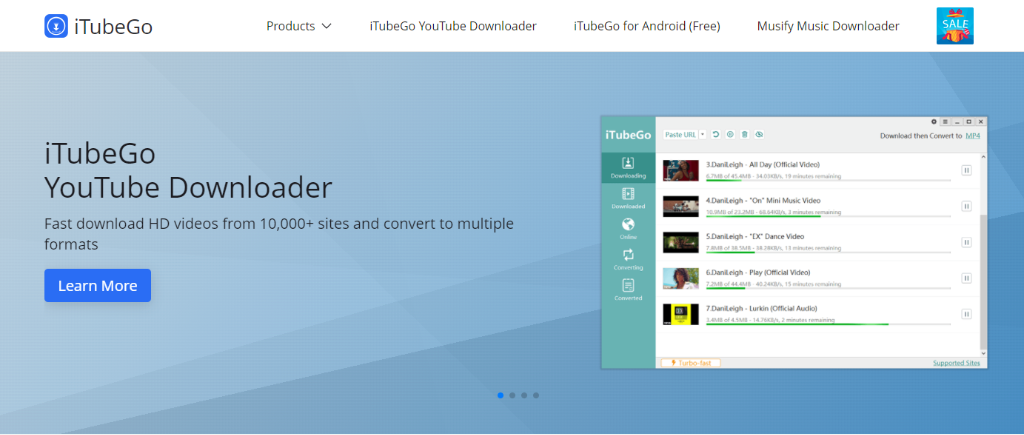 iTubeGo is a versatile YouTube Downloader that lets users download or convert videos to MP3, MP4, AVI, MOV, M4A, and more. 
With support for over 10,000 websites, iTubeGo can download videos from multiple platforms and is available for Windows, Mac, and Android devices.
Users can easily download YouTube videos, audio, playlists, and channels.
iTubeGo boasts several impressive features, such as downloading videos in total 4K/HD/8K, offering a 10X faster download speed, and protecting users' video privacy using a password-protected folder.
This feature helps keep downloaded video and music files safe from prying eyes.
Additionally, iTubeGo can download not just individual videos but also playlists, subtitles, and entire channels.
Finally, iTubeGo's conversion capabilities provide users with additional flexibility to convert videos to a wide range of formats.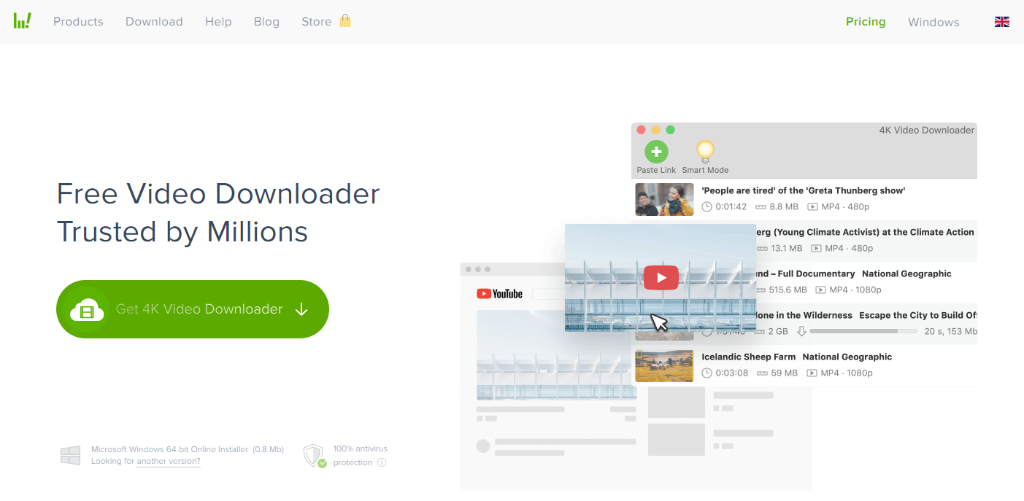 4k Video Downloader is a versatile video-downloading software that can be utilized across multiple operating systems, including PC, Mac, and Linux.
Whether you want to save a YouTube playlist with or without subtitles, such as "Watch Later," "Liked video," or Personal Mix playlists, 4K Video Downloader has got you covered.
It even facilitates saving entire YouTube channels or single videos in stunning 4K, 1080p, or 720p quality.
This software also lets you extract audio from YouTube Music in various formats, including MP3, M4A, or OGG.
4K Video Downloader also supports downloading 3D and 360-degree videos, immersing yourself in an even more captivating viewing experience.
The 4K Video Downloader is an exceptional video downloading solution with its comprehensive features and cross-platform functionality.
By Click Downloader is a highly acclaimed software for downloading playlists from YouTube.
What sets it apart is its user-friendly interface that makes the downloading process a breeze. 
The software is designed to identify when a user is watching a video on their browser and offers a quick and easy way to download it.
One of the most significant advantages of this downloader is its ability to download entire playlists in one go.
This feature is handy for music lovers who want to create playlists without downloading each video manually.
The software also supports downloading videos in different formats and resolutions, depending on the user's preferences.
By Click Downloader is a versatile tool offering various advanced features.
It can download videos from popular websites like Facebook, Vimeo, and Dailymotion.
It also has a built-in converter to convert videos to various formats, including MP3, MP4, AVI, and WMV.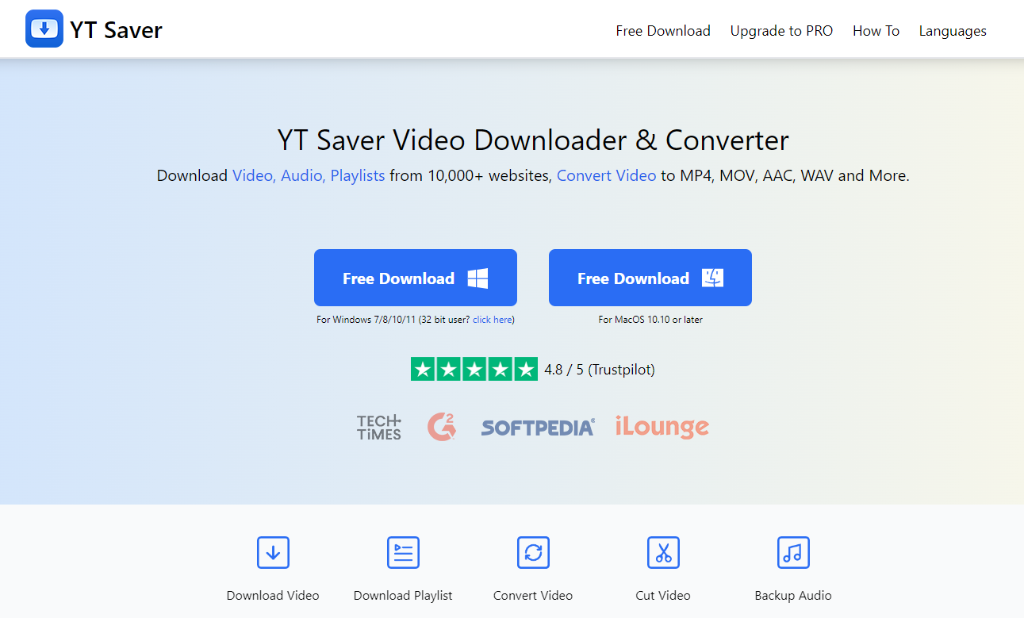 If you're looking for a versatile and reliable solution to download and manipulate YouTube playlists, YT Saver might be the answer you've been searching for.
This cutting-edge online tool is designed to facilitate playlist downloads and offer an array of advanced video editing features such as cropping, trimming, and cutting.
But that's not all – YT Saver goes above and beyond by prioritizing user privacy.
The platform employs robust encryption algorithms to safeguard the confidentiality of all downloaded content, ensuring that your personal information and viewing habits remain private.
What's more, YT Saver isn't just limited to YouTube.
It allows you to download and save your favorite videos and playlists from multiple video streaming platforms, so you can easily access your desired content across various sources.
And the best part? It's completely free of charge, allowing you to download your favorite videos without incurring additional costs.
6. VideoProc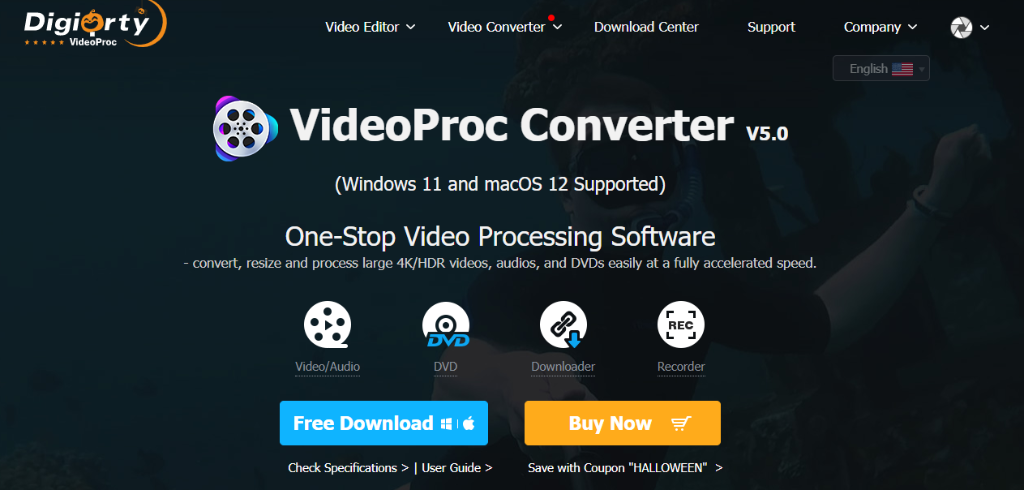 VideoProc is a cutting-edge online application designed to cater to the needs of video enthusiasts.
Among its many features, it offers a unique YouTube playlist downloader that allows users to download multiple videos in one go, making it an ideal solution for those who need to download several videos simultaneously.
Unlike other downloaders that bombard users with ads and other unwanted distractions, VideoProc is an ad-free solution focusing solely on delivering high-quality videos.
This ensures a streamlined and uninterrupted experience, letting users enjoy their favorite videos without unnecessary interruptions.
One of the standout features of VideoProc is its support for various video formats.
Users can download videos in MP4, MP3, WebM (audiovisual media), or FLV (Flash Video), making it easy to find the proper format for their needs.
This versatility ensures that users can download and play videos on any device or media player without compatibility issues.
7. Videoder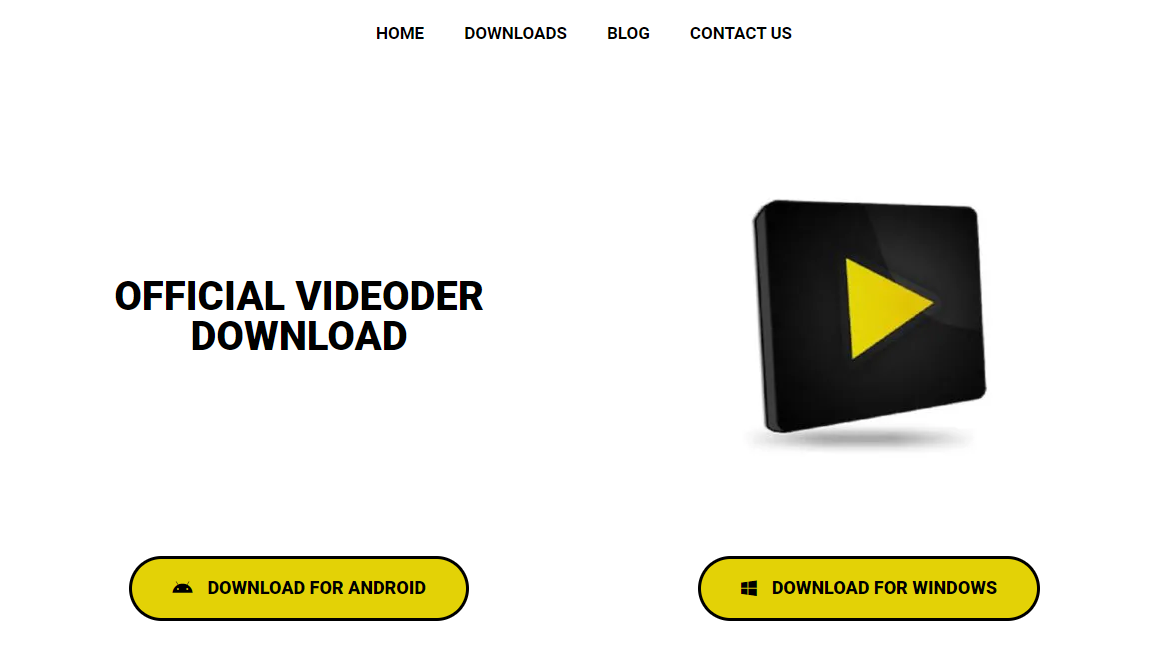 Videoder is a powerful app that allows users to download their favorite YouTube videos and playlists on both Windows and Android platforms.
It stands out from similar applications thanks to its unique features, such as a built-in web browser and ad blocker.
With Videoder, users can enjoy their videos without interruptions or annoying commercials.
Moreover, Videoder's impressive download speed sets it apart from its competitors.
It handles video downloads up to 4 times faster than other YouTube playlist downloader applications.
This feature lets users download videos quickly and easily without delays or buffering issues.
Overall, Videoder is a reliable and efficient tool for anyone looking to download YouTube videos and playlists.
Its unique features and impressive download speed make it a top choice for users on both Windows and Android platforms.
8. VidJuice
VidJuice is a powerful and versatile application that allows you to easily download videos, playlists, channels, and subtitles from various popular platforms, including YouTube, TikTok, Facebook, Vimeo, and over 1000 other sites.
With its user-friendly interface and advanced features, VidJuice is the perfect tool for anyone saving their favorite videos for offline viewing.
One of the standout features of VidJuice is its built-in video trimmer, which makes it easy to cut and edit your clips to just the right length.
Whether you're looking to create a highlight reel of your favorite moments or simply want to remove unwanted sections of a video, this feature makes it simple and intuitive.
In addition to its impressive downloading capabilities, VidJuice offers a high-quality audio bitrate of up to 320kbps.
This means you can enjoy your favorite songs and podcasts with crystal-clear sound and excellent clarity, making it a great choice for anyone who values top-notch audio quality.
9. DDownr
DDownr is an online tool that enables users to download their favorite videos from the internet easily.
One of its standout features is the ability to download YouTube videos or playlists in various formats, giving users more flexibility in choosing the format that suits their needs.
To download a video using DDownr, copy and paste the YouTube URL and select your preferred format from WebM, MP3, M4A, and MP4.
Furthermore, users can also choose the quality of the downloaded video, allowing them to control the amount of data consumed while using this free online tool.
10. VideoHunter
VideoHunter is committed to providing top-notch results and never settles for anything less.
This means that whenever you use this tool to download YouTube videos and audio, you can be sure that you'll receive the original quality of the content.
With VideoHunter, you'll have an exceptional experience every time.
Moreover, VideoHunter stands out as an unparalleled YouTube playlist downloader because it can simultaneously extract all the videos and music from a playlist.
It can download content from over 1,000 websites, making it a versatile tool for all your media download needs.
With output resolutions of 1080p, 4K, and even 8K, VideoHunter offers a range of options to suit your preferences.
Advantages of Utilizing a YouTube Playlist Downloader
YouTube is one of the most popular video-sharing platforms in the world, offering users an immense collection of videos on various topics.
While YouTube allows you to stream videos online, it doesn't provide the option to download videos to watch offline.
However, with a YouTube playlist downloader, you can save your favorite videos for later viewing.
In this part of the article, we will delve into the advantages of using a YouTube playlist downloader and other important information.
Converting Videos into Different Formats
One primary advantage of a playlist downloader is the ability to convert videos into various formats.
While YouTube supports several video formats, you may find that your preferred format isn't available.
Using a playlist downloader, you can convert a video into a different format, making it compatible with your device.
This feature is handy for people who want to watch videos on their mobile devices or computers that don't support specific formats.
Downloading Videos from Multiple Websites
Another great advantage of using a YouTube playlist downloader is the ability to download videos from various websites.
While YouTube is the most popular video-sharing platform, many other sites host exciting and informative videos.
With a playlist downloader, you can download videos from multiple websites, allowing you to watch your favorite content without visiting each website separately.
Viewing Your Downloaded History
With a playlist downloader, you can keep track of all the videos you have downloaded.
This feature is handy for people who download many videos and may forget which videos they have already saved.
By keeping a record of your downloaded videos, you can easily access them whenever you want to watch them again.
Saving Unlimited Videos
Another benefit of using a YouTube playlist downloader is the ability to save an unlimited number of videos.
This means you can download as many videos as possible without worrying about storage space.
This feature is handy for people who want to build a collection of videos on a specific topic.
Conclusion
For individuals who have a sluggish Internet connection or prefer saving videos to watch later, a YouTube Playlist downloader proves to be a valuable tool.
Whether for personal reasons or otherwise, a reliable video downloader will enable one to download videos while quickly maintaining the video and audio quality.
So, choose from one of these 10 best YouTube playlist downloader apps.