If you are not using YouTube as a part of your brand's growth online, then we think you should be.
It is by far one of the most popular video-sharing platforms out there these days, but if you want to use it to your advantage, then you need to know how to use all of its features.
One of these is the ability to save videos to watch later, and consequently, download them.
There are many different formats that you can download YouTube videos in, including MPEG, MP4, and AVI. You can even convert YouTube videos into MP3 files if you just need the audio.
With so many different ways to download and access YouTube videos from the website, we've written an article to explain all the latest ways that you can download your YouTube videos right now.
Is It Legal to Download YouTube Videos?
YouTube is pretty clear-cut with their terms of service that explains what you can and can't do on the platform.
If you download videos without permission, and sell them or commit copyright infringement, then this violates YouTube's terms of service.
So, while downloading videos from YouTube is a crime, YouTube has shown no desire to punish users for doing so.
There are a number of royalty-free videos out there with the right licenses which means that they are completely legal to download.
Additionally, if you are just downloading a YouTube video to use personally, then this can be considered legal also.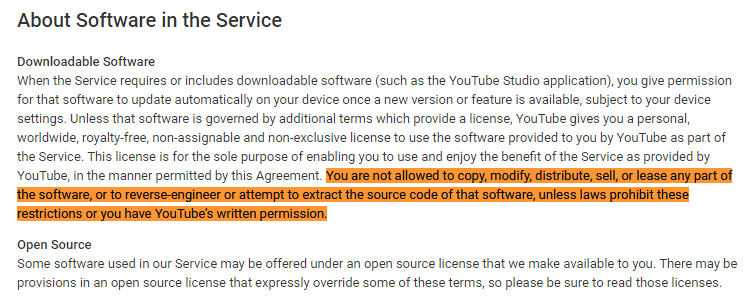 The bottom line when it comes to YouTube's terms of services is that you can watch their videos, but you need to use a Google application to do so.
Of course, there are plenty of third-party apps out there that will pop up and allow you to download YouTube videos.
This makes it pretty hard to ban users for exploiting YouTube videos, so at the end of the day it's completely up to you if you think that downloading videos from YouTube for personal use is the kind of thing that you are okay with.
How Do You Download a YouTube Video?
If you are still keen to download videos from YouTube, the process is really simple and straightforward. The first thing that you will need to download a video from YouTube is to use a video converter.
This is by far the fastest way to download YouTube videos, and the first thing that you will need to do is choose the best possible YouTube downloading tool.
As you might have already been able to guess, there are a lot of different downloading tools out there to choose from.
Let's talk a little bit about what kind of features you'll want to look for in a good quality video downloading tool, so that you don't end up wasting your time or money:
Video Quality: Of course, when you convert a YouTube video file to download it, then it needs to retain its quality. Your YouTube downloading tool should be able to manipulate the quality of the video, so that you get to decide your video's resolution.
Subtitles: Of course, some of us are going to appreciate being able to download YouTube videos that are in different languages. This is why being able to extract subtitles from YouTube videos is just as important as being able to download them.
Batch Downloading: Another great feature of good quality YouTube downloading tools is being able to download more than one YouTube video at the same time. If there is a channel that you really like out there, then you might want to download all of their videos at once.
Multiple File Compatibility: Your YouTube video downloading tool also needs to be able to save the videos that you download in more than one format. Typically, you should be able to choose from AAC, FLAC, MP4, or MP3.
Video Editor: There are many different reasons why you might want to edit the video that you have downloaded, so another solid feature of a good video downloading tool is being able to edit the videos with a built-in editor.
Speed: Of course, The YouTube downloading tool should be able to download YouTube videos quickly. The last thing you need to do is to be waiting around all day for your YouTube videos to download.
Copy the URL from YouTube
Now that you found the right YouTube downloading tool to use, you need to head on over to YouTube, and find the video that you are wanting to download.
To copy the video URL from YouTube, simply copy and paste the link displayed in the box.
Most downloading tools will be able to be opened in a new tab on the same window. Once you have opened it, a text box will come up where you can enter the video's URL.
Below is an example of this:
Of course, if you are using a downloadable video tool, then you will need to download and install it on your computer before you try and download anything else.
Make sure that your video downloading tool doesn't require you to download unnecessary software.
It should be simple and easy to install the program onto your computer, without any additional features that you won't end up using.
Choose Your Video Quality and File Format
Once you have copy and pasted the URL for the YouTube video you want to download into the text box, you will be given a number of different choices.
This will include the video quality, the file size, and the format that you want it to be downloaded in.
Once you have tweaked these to suit your needs, you can click download. If you are trying to download multiple YouTube videos at the same time, then you need to create a new folder on your desktop where you can save them all.
If you regularly use a VPN, then you might want to change the location for better downloads.
Once the downloading process is complete, you can play the video wherever and whenever you want.
How Do I Download a YouTube Video Directly?
The good news is that you don't have to use a YouTube video downloading tool every time you want to download a video. It can be pretty easy to download a YouTube video directly from YouTube.
Let's talk about it.
1. Find the Video
Open YouTube and find the video that you want to download.
2. Add 'ss' into the URL
The next thing you want to do is edit the URL of the YouTube video. All you have to do is enter 'ss' after 'www'. Just make sure that it is before 'youtube.com'. once you have done this, hit the enter button on your keyboard, and you will be redirected to a site like 'savefrom.net'.
3. Visit the Download Site
Once you have been redirected, there are a number of free services that you can use. You will also see that the text editor has already got the video URL, which means that you don't need to copy and paste anything.
This means that your video is ready to be downloaded, which means that all you need to do is select the 'download' button.
From here, you will get to choose the quality of the video as well as the format, before it starts downloading.
How Do You Download Videos with Browser Add-Ons?
Perhaps you are not comfortable with playing around with the video URL. And you might not be that keen on using a third-party tool to download your YouTube videos.
If this is the case, then you can use add-ons in your browser.
1. Choose Your Add-On
These days, there is an add-on for virtually everything you could possibly need. This means that there are a number of different options available for you to download YouTube videos.
Some of them are great on their own, while others a better suited for Chrome and Firefox.
2. Download the Add-On
Once you have found the add-on that you want to, select the 'add to' button that you should find on the homepage.
One thing that is important to note here is that you need to download the correct add-on for the browser that you are using, otherwise it won't work.
Once the add-on has been downloaded, make sure that you install it onto computer. If it isn't working once you've installed it, then try restarting your computer.
3. Go to YouTube
Once you have restarted your computer, or successfully installed the add-on, go to YouTube where you can find the video that you want to download. Once you're there, you will notice the little icon in the top right-hand side of your browser, which should give you the option to download the video.
This allows you to download the video directly from your browser through the add-on to your desktop.
4. Choose the Correct File Format
Most add-ons out there will give you a number of different options to choose from when it comes to saving your video.
You can not only choose between multiple formats, but a number of different video qualities.
Make sure that you get this right before you start downloading your video.
How Do You Download YouTube Videos with a Virtual Desktop?
Using a virtual desktop to download your YouTube video is another easy way to get You Tube content directly onto your computer.
Let's take a look at how to do it.
1. Find the YouTube Video
First, go onto YouTube and find the video that you want to download. Once you have done this, press 'enter' to start playing the video.
2. Add 'vd' to the Video URL
Add 'vd' to the URL before 'youtube' but after 'www.' Once you have edited the video, select the 'enter' button. You will then be redirected to the Django website.
3. Choose Your Format and Quality
Once you are on the YouTube VD website, you will be able to adjust the format and quality of your YouTube video.
4. Download the Video
Select the 'download' option, and within a matter of seconds it will be installed onto your computer.
How Do You Get YouTube Videos using a VLC Player?
If you don't have a VLC player on your computer already, then you will have to download one. This is an easy, secure way to download your YouTube videos.
1. Go to YouTube and copy the URL
Find the video that you want to download and copy the URL.
2. Open VLC Media Player
Make sure that you keep the VLC player open in your taskbar for convenience.
3. New Network Stream
When you open your VLC player, find the 'media' option and select it. Then, choose 'open network stream' if you're using Windows OS. If you're using a Mac, go to 'file', then 'open network'.
4. Open Media
You should see a page that has a text editor, and this is where you will want to paste your URL so that you can download the right YouTube video.
5. Select the 'play' Option
When you select 'play', the video should automatically begin to play on VLC.
6. Codec Information
Select 'tools' which you will find in the top right-hand corner. You will see an option called 'codec information'. Select this, and a new window will come up.
7. Location
You will need to copy the info from the video into the text box location that you will find at the bottom of the page.
If you are on Windows, this will be pretty simple. However, if you are using a Mac, then you will need to right click and select 'open URL'.
8. Copy and Paste the URL
You have already copied the URL if you're using Windows. Paste it into the web browser and select 'enter'. You don't have to worry about this if you're using Mac.
9. Save Your Video
You should see your video playing in the browser online. Right-click on the video and choose 'save video'.
10. Download Your Video
The video should automatically begin downloading. The default format will be MP4. Once you have downloaded the video, you can save it with the rest of your videos.
Once you have done this a couple of times, it will become second nature.
Final Thoughts
So, there it is – some of the best ways to download YouTube videos. As we have talked about, there are a number of different video downloading tools that you can use out there, both for Mac and Windows.
Don't be afraid to test them out first, to make sure that you have the right one, as once you have found the one that works this for you, you won't have to use anything else.
Good luck, and happy watching!