The best VPN for MikroTik routers and wireless hubs will ideally be a liaison between you and the entire World Wide Web as you connect through it to your streaming services, banking portals, business apps, and more.
MikroTik is among the leading network software and equipment companies, with millions of devices sold all across the world.
Revered as low-cost solutions for home, office, and commercial wireless networking equipment such as wireless routers and public Wi-fi hubs, MikroTik has made quite the name for itself in the European tech space.
There is a sharp increase in demand for online security due to raging cyberattacks every single day, and the need to use a VPN is now more than ever.
Although every major premium VPN service out there offers an app or browser extension to safeguard your browsing experience, wouldn't it be comforting to have a wireless connection that is always secured by default?
Best VPN for MikroTik in 2023
A virtual private network (or VPN) is the best tool anyone can recommend for enhanced internet freedom.
However, with so many choices available, picking the right one can take time and effort.
We're still deciding whether to condemn or praise the service for it, but MikroTik routers do not support every single VPN service out there.
If you wish to successfully secure your internet browsing experience right from the access point, aka the wireless router itself, you can only settle for the highly reliable and premium VPN providers.
Looking for our recommendations? We have the following three VPNs at the top of our list after thorough research and evaluation:
NordVPN – 🏆 Winner!

Our top pick for the best MikroTik VPN client is NordVPN.
Surpassing the standards of its rivals on every front, NordVPN is the all-inclusive VPN that will always satisfy you, regardless of what you use it for.
Headquartered in Panama, this service provider is known for its strict privacy policies. It has a no-logs policy that has been verified in independent audits twice.
But that is a quality every premium VPN should have.
The reason we deem it the best VPN for MikroTik routers is the massiveness of its server network, which comprises more than 5400 units.
NordVPN's network is quite widespread, covering approximately 60 countries.
Getting an IP address from your desired location is easy without physically being present there.
Luckily for MikroTik users living all across Latvia, as well as the rest of Europe, the VPN service provider offers around 1900 servers across 17 different cities in the United States alone.
This means that the residents of the United States can also benefit from such expansive coverage and circumvent all geo-blocks to watch a local TV show from a different region.
With a NordVPN app, speed is also taken care of.
Not only will it let you connect to a US server in less than a minute, but it will also let you enjoy seamless streaming from great distances.
Its proprietary VPN protocol, Nordlynx, takes most of its credit.
Built around WireGuard, which is the industry standard, Nordlynx is believed to be a lot faster and safer.
Aside from excellent speeds and unblocking power, NordVPN also grants its users privacy and anonymity online.
It helps safeguard them from the various kinds of cyber-crimes prevalent.
It uses AES 256-bit encryption in all its applications to secure its users' web traffic.
For users who require an extra layer of encryption to double their security, it also offers DoubleVPN.
Moreover, it includes an extremely reliable internet kill switch and a comprehensive leak protection system against IP, DNS, and WebRTC leaks.
Quite recently, it has introduced a fantastic Threat Protection feature too.
Thanks to this upgrade, users are now protected against viruses, malware, and intrusive ads.
With each subscription, NordVPN allows you to connect up to six devices simultaneously.
This becomes even better news when you take into consideration the easy compatibility of NordVPN.
Covering most of the platforms, NordVPN offers sleek apps for Android, iOS, Android TV, Windows, Linux, and macOS.
But the best part is that NordVPN is configurable on wireless routers as well, so MikroTik users can sit back and relax.
If NordVPN does not offer a dedicated app for your device, you can also use its browser extensions or router compatibility to avail of the services.
If you are still unsure, we recommend you take the VPN provider for a test drive and use its 30-day money-back guarantee.

Since the ISP is already charging you the internet service, along with the wireless router, in some cases, the cost of a VPN only adds to your expenses.
It is understandable if you are hesitant to opt for a VPN that is heavy on the pocket.
However, internet freedom should be the same for all, regardless of your budget.
That is why Surfshark is a part of our top three recommendations when it comes to picking a wireless router VPN for MikroTik that completely isolates your browsing history from the ISP, all at an affordable price.
When you begin to ask around about this VPN provider, the first thing that you'll hear about is its unlimited simultaneous connections offered with every account.
This is one of the most compelling key selling points of Surfshark VPN.
But if you wish to receive the best value for money, we suggest you commit to the service for the long term.
The longer the duration of your subscription, the better will be the price you receive.
By no means, however, being cost-effective indicates a compromise on quality standards.
Surfshark offers the same quality and features as its rivals, sometimes even better.
Granting its users their right to complete online privacy, Surfshark strictly adheres to its policies against data logging and provides the strongest AES-256-GCM encryption.
Like all other premium VPN providers, it lets you ease your mind of the worries of data leaks by providing a solid kill switch and DNS leak protection.
It also offers Multihop and Cleanweb, giving you an extra layer of security on your entire network.
Aside from its vast arsenal of security features, making Surfshark one of the best VPNs for MikroTik is also its worldwide network coverage.
Surfshark has over 3200 servers dispersed across 65 countries.
What's even more impressive is that 500 of these servers have been placed within different cities in the US.
Not only does this facilitate accessing the internet for MikroTik users in a secure and anonymous way, but it also helps European residents bypass regional restrictions imposed on the local content.
With such strong security measures and internet freedom, your streaming experience is bound to improve substantially.
The only concern that should now remain is the speed offered by this service provider.
Steering towards it, Surfshark offers the famous WireGuard protocol for use.
The safety you opt for will accompany high speeds for a lag-free and buffer-free streaming experience.
However, the US servers of Surfshark VPN might be slightly more crowded than the others, which can sometimes negatively influence the speed and performance.
Lastly, Surfshark VPN is easily compatible with any platform you use.
It has native apps for Fire TV and Android TV and can also be configured with Apple TV via a straightforward set of instructions.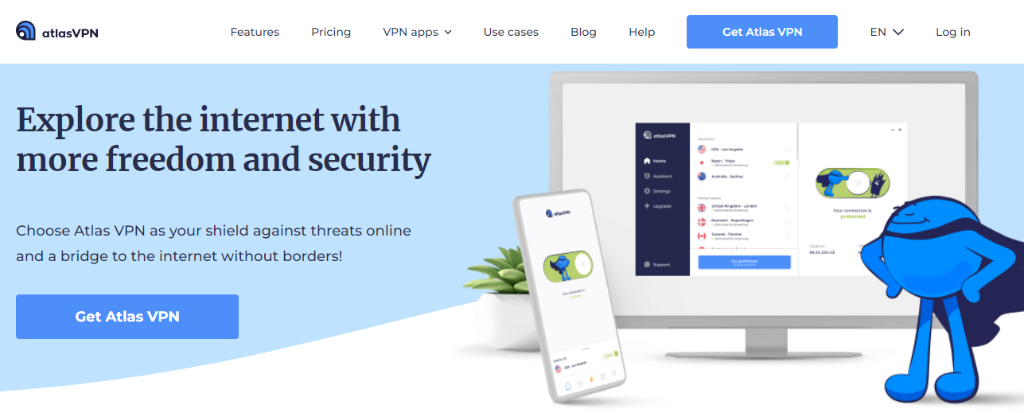 Contrary to all your predictions, our last recommendation is not one of the mainstream and veteran VPN providers.
Atlas VPN is a relatively new VPN provider that frequently tends to get ignored by users until they learn about everything it offers.
Alongside a reliable zero-logs policy and the highest possible data encryption standards, Atlas VPN offers several remarkable security solutions.
Additionally, it has a decent internet kill switch and features like SafeBrowse and SafeSwap, which go above and beyond our expectations from such a young player.
SafeBrowse protects users from malicious websites, whereas, SafeSwap ensures users become practically untrackable by providing them with a fresh IP every time they visit a new page.
It also readily blocks all trackers and immediately notifies you if any data breach concerns your personal information.
As crucial as all these features are, more is needed to make Atlas VPN the best MikkroTik VPN.
What does help is its network which comprises 750+ servers located across 30+ countries to provide global coverage.
Many of these servers are also placed in different cities in the United States.
This makes it ideal for unblocking content from all across the US when using a MikroTik wireless router, such as Hulu, Starz, Amazon Prime Video, Spotify, and more.
While some users may find Atlas VPN pricey in comparison to its experience in the field and industry, the provider makes up for that cost by offering infinite simultaneous connections to all.
If that needs to sound more convincing for those with a tight budget, we have another great piece of news!
Atlas VPN offers a free basic version, which liberally accommodates all the security features of its premium counterpart, earning it the title of a "freemium VPN."
Although the significant limitation of the freemium Atlas VPN is its number of server locations, MikroTik users are still good to go.
This is because two of the three available server locations are in America; New York and Los Angeles.
However, since these servers are accessible for free, they are overcrowded most of the time, affecting connection speeds in turn.
By opting for the freemium VPN, you will be compromising on performance to save some money.
Your streaming experience may be smoother than with a paid premium service.
FAQs
Can you Use NordVPN on a MikroTik Router?
Numerous VPN providers, including NordVPN, are supported by MikroTik routers.
In fact, you can create an IKEv2 EAP VPN connection to a NordVPN server on MikroTik routers running RouterOS version 6.45 and later.
All you need to do is access the RouterOS settings on the MikroTik router and follow the instructions here to set things up.
Is it Legal to Use a VPN for MikroTik?
Yes, absolutely. The use of a VPN is legal almost everywhere in the world.
However, several applications, online games, and streaming services forbid VPN usage and employ VPN blocks due to the many licensing agreements they have signed.
Lucky for you, MikroTik offers a range of VPN-enabled routers with OpenVPN support.
Is it Worth Using a VPN on MikroTik Routers?
A MikroTik VPN client setup on your router can be useful not just because it keeps the Internet of Things (IoT) and smart home appliances protected but also makes your complete home network secure.
The VPN can be accessed by any device that can connect to your network, which acts as a passive protective layer across the entire home, office, or public network.
Conclusion
A VPN is a great long-term security investment, and Mikrotik routers work well with the majority of VPN services available.
Don't pass up the chance to improve your browsing experience by getting the best and most obfuscated VPN you can discover.
If you don't have a very tight budget, we highly recommend NordVPN for unblocking MikroTik.
It has everything from the most significant number of US servers to excellent speeds for streaming and obfuscation servers to mask your VPN connection.
While everyone is entitled to their opinion, all of these features make NordVPN the best VPN for MikroTik routers.