Twiends Review 2023
Twitter is one of those platforms that you probably put at the back of your mind a lot of the time, because you're so caught up in Instagram and Facebook.
While it is a network that has been around for a long time, this doesn't mean that it's not just as important as its counterparts still for your brand's exposure.
The key to doing well on Twitter is to find a growth service who can help you with it, and not the kind of growth service that is going to screw you over.
What is Twiends?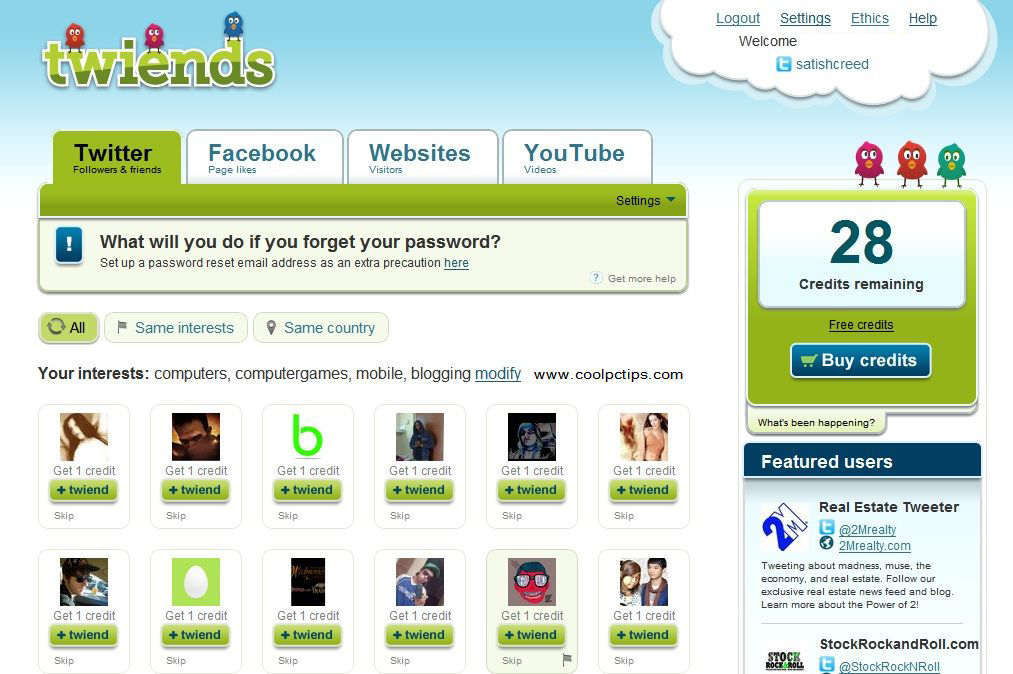 Twiends is a company that is relatively confusing as far as being able to help you with your Twitter growth, because they say that they can help you for free with certain aspects of it.
We generally don't like when a company says this, because there's almost always a catch, and it's almost always not worth your time in the end.
They say that they have free learning available to their clients, and they can help you track your new followers and show off your tweets. Beyond their free features, we think that they are running a Twitter bot that has a high chance of getting you in trouble with Twitter itself.
You need to be able to prove that your engagement is authentic, and if it's not, you're not going to do as well as you'd hoped.
What are Twiend's Features?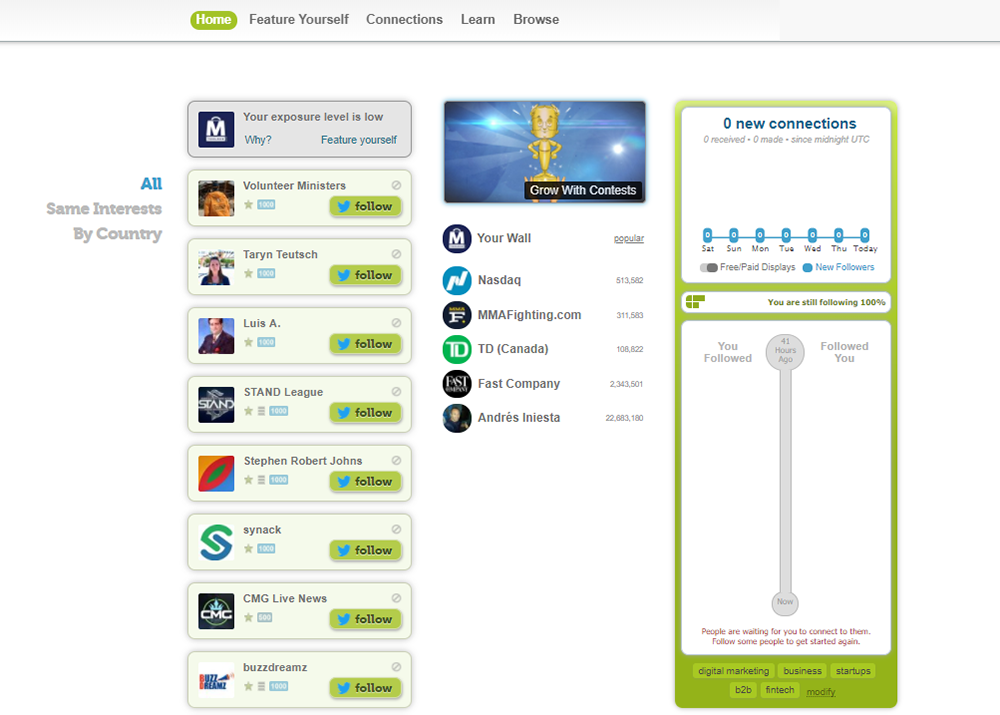 Again, Twiends is pretty confusing as far as their website is concerned, and uses a lot of buzzwords around their features but doesn't really seem to follow through all that much.
There's no webpage or section where they are explicitly laying out the services that they offer, but they say on their homepage that they can help you connect with new people on Twitter, and they also say that they are a leading directory of social media users.
Twiends says that you can add your Twitter account and start connecting with people – we think that this is probably a bot. As we mentioned, they can help you track your new followers to know if they're actually interacting with your content or not, and they can help you show off your tweets to their network of users.
They include an interest-based directory, so that you can discover people who have similar interests to yours. Lastly, they say that they have guides that you can use to grow your Twitter profile.
What is Twiend's Pricing?
This is another sore point for us when it comes to Twiends. Again, they mention something about free engagement, but beyond this we can't see any definitive features, or for that matter, any pricing to go over.
Of course, if you're signing up for something for the first time, you will want to be able to figure out how much it's going to cost you before you commit. This is just the name of the game, and it also means that you're far less likely to get duped further down the track.
When you can't see pricing and you decide to commit to something about their service, they hold the power because they can charge you whatever they want for it. Generally speaking, we don't suggest that you go for a company that can't offer up a few price points in the beginning before you've even registered for them.
How Did Twiends Do in Tests?
We put this Twitter growth company to the test despite the fact that we have no idea how much we're going to pay for them, because this is the best way for you to figure out whether they are worth trying or not.
We signed up for their basic features, and it quickly became evident that we were working with a company that was sending out a Twitter bot to do their work.
Despite all their guarantees on the website, this company uses a generic bot to sometimes find you engagement that is going to connect with your interests and niche, and other times, not at all.
Another thing that we experienced was a low retention rate, so a lot of the engagement we got from them went away again after a couple of days.
What About Their Team?
One of the things that we look for the most when reviewing Twitter growth companies like this is whether they have a lot of information on their website about their team or not. Twiends has a lot of information about what they claim to offer their clients, but when it comes to their team, they are lacking.
In fact, as we have talked about already, their feature information is also super confusing, so honestly if you go through their website we think that you're going to come out more confused than when you went in. This doesn't bode too well for them.
Review Verdict
So, at the end of the day and as you might have been able to guess, we don't think that Twiends is the best growth service in the industry that you need to worry about for your Twitter growth. They are definitely much more closer to a bot than a growth service, which comes with its fair share of issues.
You don't want to associate with a company that is prepared to send out random engagement, because it's not going to help your Twitter profile long-term, and it could end up getting you in trouble in the short-term, too. Best to avoid companies like this, and look at alternatives that can set you up for success instead.
Twiends is the kind of Twitter growth tool that can help you grow your Twitter growth both responsibly, and for free. If this is true, then this is obviously something that will appeal to a lot of people – you're not going to find too many companies like this out there that offer their services for free.
However, lately, we've noticed that there have been a few negative reviews out there on third party websites, which is a bit disappointing. Maybe it's time to take a look at what else is out there. We've got a list of the best Twiends alternatives.
Let's check them out.
First Look: Twiends Alternatives
"If you're looking for a company that's by far one of the best in the Twitter industry, then you need to be checking out Twesocial. They have dominated the market for quite a while now, and prove time and time again with customers like me that are the best option for my Twitter growth."
2. 2nd Best Out There: Tweeteev
"I think I like Tweeteev because they're another option alongside Twesocial. Both of these companies have helped me so much with my engagement, and I know that I can just go back and forth between them if I want."
3. Best For That Budget: Jarvee
"I know better than anyone how hard it can be to find a company out there that doesn't just care about making a profit, but also cares about making their services accessible to all. Jarvee is one of those rare kinds that truly cares about this."
4. Best for the Protection of Your Profile: Tweetfull
"Every now and then, it's good to just get on with things and start growing your account, but other times it's good if you can sit down with your Twitter growth company and talk to them about your engagement strategy. If you like doing this, I recommend Tweetfull."
"I like that Tweet Attacks Pro is the kind of company that can take my Twitter account and grows it with advanced features that I won't find anywhere else."
Twiends Alternatives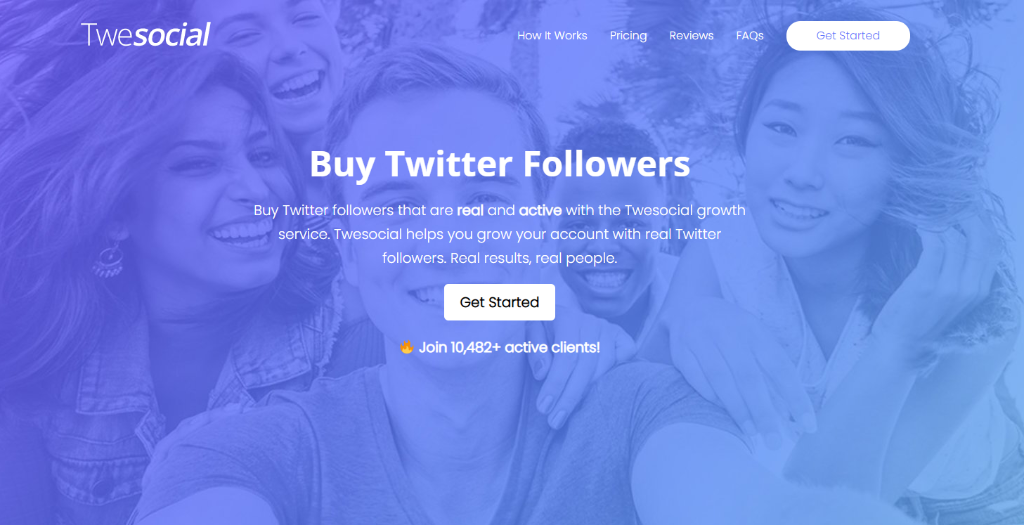 We think that Twesocial is one of the best out there because they just seem to tick all the boxes when it comes to their customers.
When we reviewed them, we noticed that they talk about never using fake engagement. They also have a high level of security, and their customer support is good too. With awesome prices, there really isn't anything that Twesocial can't do for you and your Twitter growth.
2. 2nd Best Out There: Tweeteev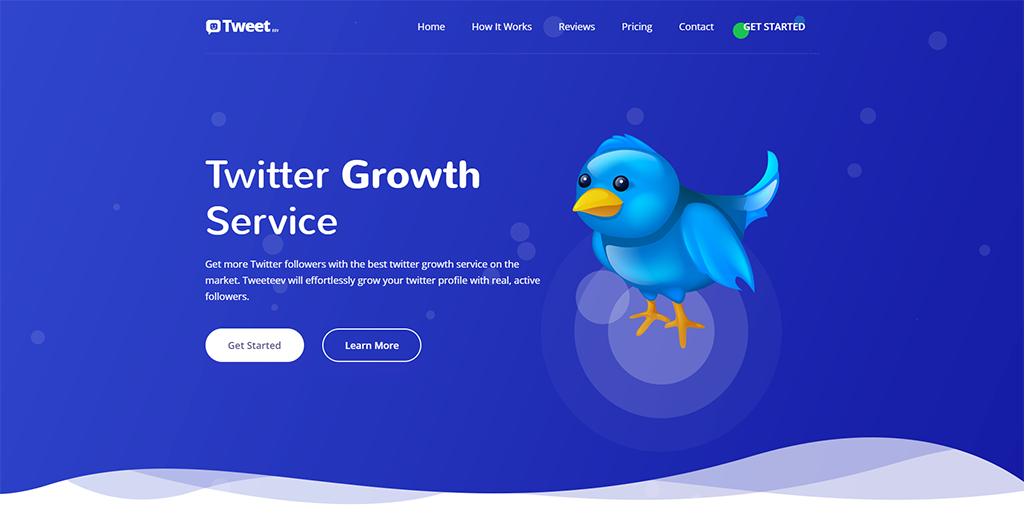 Just like our reviewer said above, if you're looking for a Twitter growth company that is similar to Twesocial or you want to go back and forth between them both, then we recommend Tweeteev.
You'll find all the same features, as well as similar price points. They also make sure to assure their customers that they don't use fake engagement.
3. Best for That Budget: Jarvee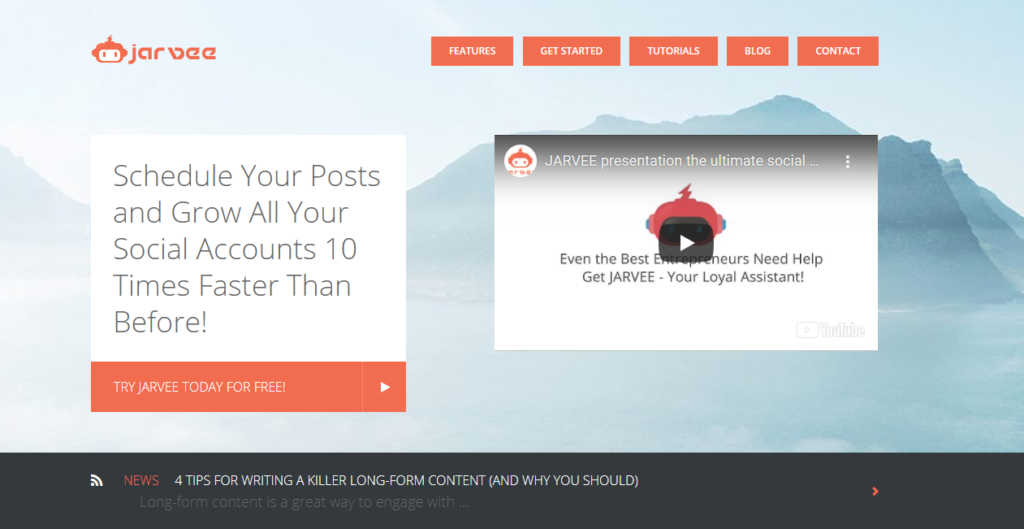 There's always those companies in every industry that just manage to do something that sticks. Jarvee is one of these companies, and because they've been around since the very beginning, they have seen it all.
They have seen Twitter shut down companies left and right, and while they have had their fair share of struggles as well, they have always remained on top. We have a deep respect for this.
4. Best for the Protection of Your Profile: Tweetfull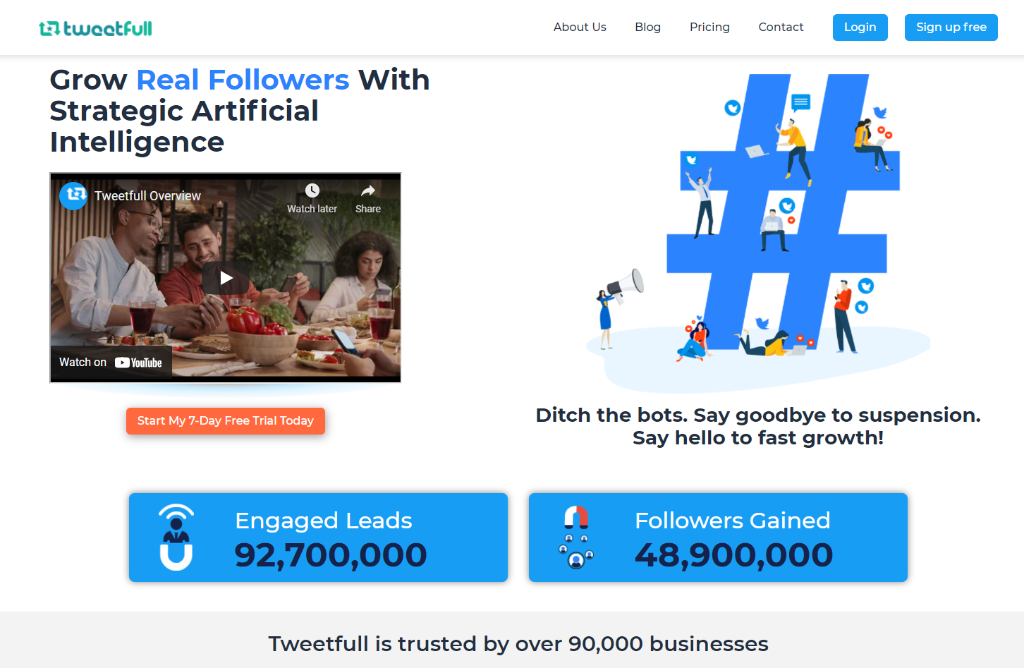 Tweetfull is one of those Twitter hacking companies that want to approach things from a technical angle. They know that hashtags are everything these days, which is why they talk to you about your hashtags and make sure you've got a solid hashtag strategy.
This is a high level of accountability that you're not going to find with too many other brands.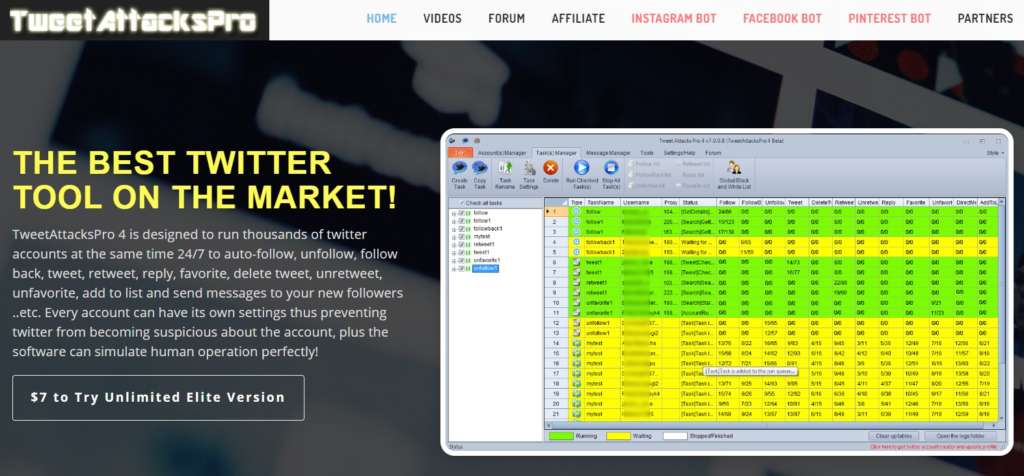 Tweet Attacks Pro has a sister company that people use for Instagram called Following Like, so if you've used Following Like before, then you'll know what Tweet Attacks Pro is all about.
They can help you with more than one account at once, and they have some pretty cool advanced features.
Our Review Process
When we take the time to decide who should be on our list of the best Twiends alternatives, we're sure to do a bit of research.
This is why we looked at 260 Twitter growth companies and read through 288 customer reviews, to make sure that we get both sides of the story.
This is a great way for us to figure out what is best by the people so that you can use genuine, honest companies for your Twitter success.