In the world of digital marketing, ecommerce advertising platforms play a vital role in driving traffic and generating revenue.
And when it comes to paid search advertising, Bing Ads is one of the most popular platforms in the market.
Owned by Microsoft, Bing Ads allows marketers to place ads on Bing search results pages, MSN, Yahoo, and AOL.
In this article, we will explore everything you need to know about Bing Ads, including its features, benefits, and best practices.
What Are Bing Ads?
Microsoft Ads is a platform that follows the pay-per-click (PPC) model and enables businesses to advertise their products or services on the Bing search network and its partner networks.
These ads appear at the top, bottom, or side of the search engine results page. With Microsoft Ads, businesses can access a wider audience, including demographic groups that might be challenging to reach on other advertising platforms.
For example, Bing Shopping Ads can help increase visibility and drive traffic to your online store.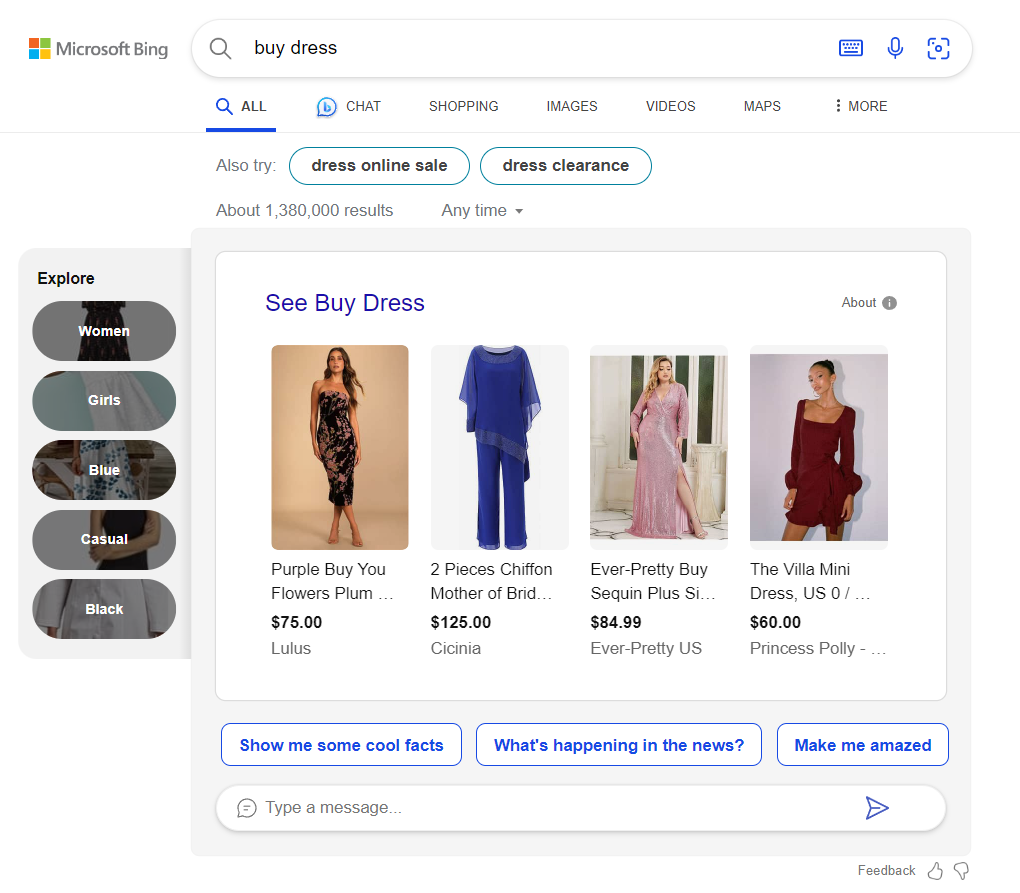 The setup and functionality of Microsoft Ads are quite similar to that of Google Ads.
You start by bidding on specific keywords that you think people will search for, and then Bing matches them with the searches conducted on its platform.
When there is a successful match, your ad is displayed alongside organic search results.
Creating an account on Microsoft Advertising is a hassle-free process that comes with no additional fees or hidden costs.
Moreover, running ad campaigns on Microsoft Advertising is quite budget-friendly, as you are only charged for the clicks received on your ads.
Compared to Google Ads, the cost-per-click on Microsoft Advertising is generally lower, ranging from 30% to 60%. This makes it a lucrative choice, especially for small businesses looking to optimize their budget.
Why Bing Ads?
Although Google Ads is the most well-known pay-per-click (PPC) advertising platform, Bing Ads has some unique advantages that make it worth considering.
One of the biggest benefits of Bing Ads is that it tends to have lower competition and lower cost-per-click (CPC) than Google Ads.
Additionally, Bing is the default search engine for Microsoft Edge and Internet Explorer, which means that it has a significant share of the search engine market.
While Google Ads may have a larger audience, if your customers are more likely to use Outlook than Gmail, Microsoft Ads might be the better choice for you.
Moreover, Bing Ads Manager has a LinkedIn Profile Targeting option that allows you to target highly relevant audiences by using profile information from LinkedIn.
This means that you can apply bid modifiers and target specific audiences based on their LinkedIn profile information, providing a unique advantage that Google Ads doesn't offer.
Setting Up Your Bing Ads Account
To get started with Bing Ads, you first need to create an account. If you already have a Microsoft account, you can use that to sign in.
If not, you will need to create a new account. Once you are signed in, you can create a new campaign.
Import An Existing Google Ads or Facebook Ads Campaign To Bing Ads
When you create your ad campaign, you have an option to import your existing campaign from Google Ads or Facebook Ads to Bing, which is a quick and easy process.
Choose "Import from Google" or "Import from Facebook".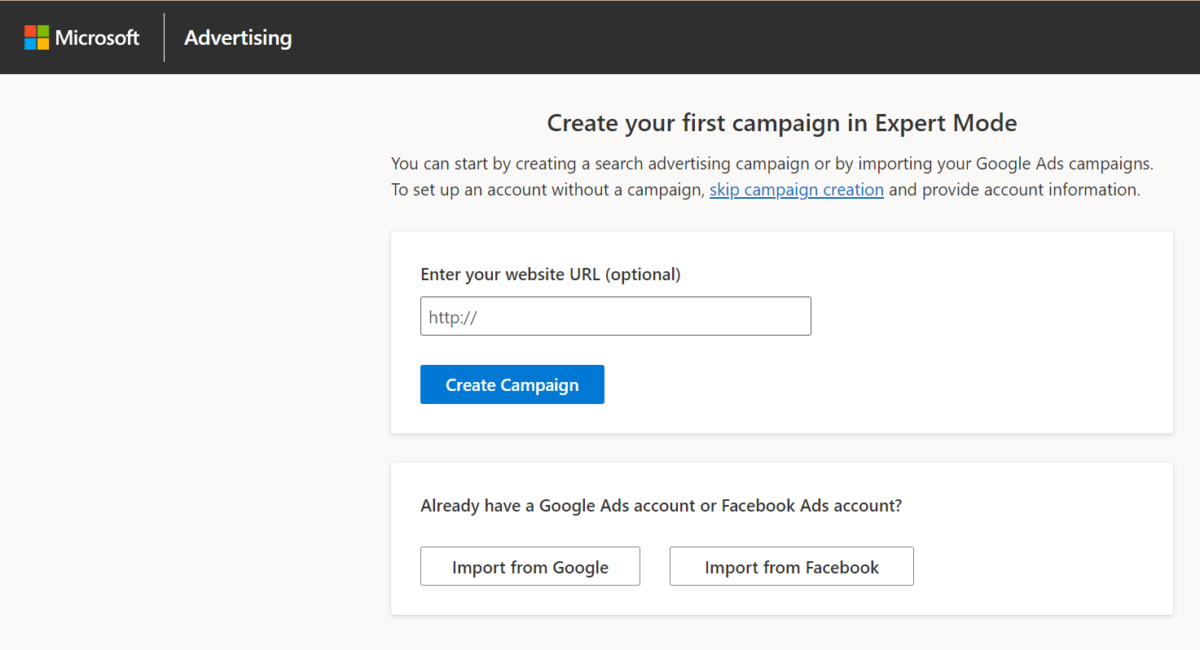 Then sign in to your Google Ads or Facebook Ads account and select the account from which you want to import your ad.


Keyword Research
The first step in creating a successful Bing Ads campaign is to conduct thorough keyword research. Start by brainstorming a list of keywords that are relevant to your business.
You can also use keyword research tools such as Bing Keyword Planner or Google Keyword Planner to find additional keywords. Look for keywords with high search volume and low competition.
Creating Your Ads
Once you have identified your target keywords, you can create your ads. The most important elements of your ad are the headline and the description.
Your headline should be attention-grabbing and include your target keyword. Your description should provide more information about your product or service and include a call-to-action.
Setting Your Budget
When creating your Bing Ads campaign, you will need to set a budget. Start by deciding how much you are willing to spend per day.
Bing Ads will then suggest a bid amount based on your budget and the competition for your target keywords. You can adjust your bid amount to increase or decrease the likelihood that your ad will be displayed.
Tracking Your Results
Once your Bing Ads campaign is up and running, you will want to track your results.
Bing Ads provides a variety of metrics to help you evaluate the success of your campaign, including click-through rate (CTR), conversion rate, and cost-per-conversion. Use this information to optimize your campaign over time.
Explore The Various Ad Formats In Microsoft Advertising
Product Ads
With Product Ads, you can showcase your products to potential customers with custom images, pricing, and seller information from your product catalog in the Microsoft Merchant Center.
In addition, a title for the product ads block is included, making it easier to grab the attention of potential buyers.

App Install Ads
When it comes to advertising your mobile application, App Install Ads are a highly effective solution to drive downloads.
Unlike text ads that redirect users to your website, App Install Ads provide a direct link to download your app with a prominent button.
One of the key advantages of App Install Ads is that they automatically detect the customer's mobile device and operating system and send them to the appropriate app store for download, whether it's the Apple App Store or Google Play.
This makes the download process seamless for users, increasing the likelihood of downloads.
Dynamic Search Ads
Dynamic Search Ads are a powerful tool that can help you create targeted and relevant ads for your website without the need for keyword lists, bid management, or ad title customization.
These ads are automatically created in response to search queries based on the content of your website or specific pages and categories.
Dynamic Search Ads are also suitable for advertisers who are new to search advertising and want to quickly and easily test the waters.
By automatically targeting relevant search queries based on your website content, Dynamic Search Ads provide a low-maintenance option for generating targeted traffic and increasing conversions.
Multimedia Ads
Multimedia Ads are a highly effective way to capture the attention of potential customers and increase traffic and sales on your website.
These ads use large visual imagery to showcase your brand and products, and are displayed in distinct sidebar ad positions alongside your existing text ad placements.
One of the main advantages of Multimedia Ads is that they match your content with potential customers' searches by combining and optimizing headlines, descriptions, images, and logos.
This means that your ads are more likely to be relevant and appealing to your target audience.
Vertical Ads
Vertical Ads are a powerful advertising tool that leverages dynamic data feeds to generate high-quality ads with personalized placements.
Unlike traditional keyword-based advertising, Vertical Ads use Microsoft AI to dynamically create and optimize ads based on your business's unique data and offerings.
Responsive Search Ads
Responsive Search Ads are a convenient advertising solution that takes the guesswork out of creating effective ads.
With Responsive Search Ads, you can provide up to 15 headlines and 4 descriptions, and Microsoft Advertising will use machine learning to mix and match the most optimal combinations to create effective ads for your potential customers.
Microsoft Advertising In Bing Smart Search
If you're looking to reach potential customers in Canada, France, Germany, the United Kingdom, or the United States, Microsoft Advertising in Bing Smart Search is a powerful tool that you should consider using.
One of the unique features of Bing Smart Search ads is that they can include a preview of your landing page, allowing potential customers to get a sneak peek of your content before they even click on your ad.
Microsoft Audience Ads
With visually appealing ad formats, such as those embedded within articles, Microsoft Audience Ads are designed to deliver an engaging user experience.
These ads blend seamlessly into the content of the page, while still providing visually-rich and engaging ad experiences for advertisers.
Audience Ads can be easily integrated into your existing Microsoft Advertising workflows, making setup, maintenance, and optimization effortless.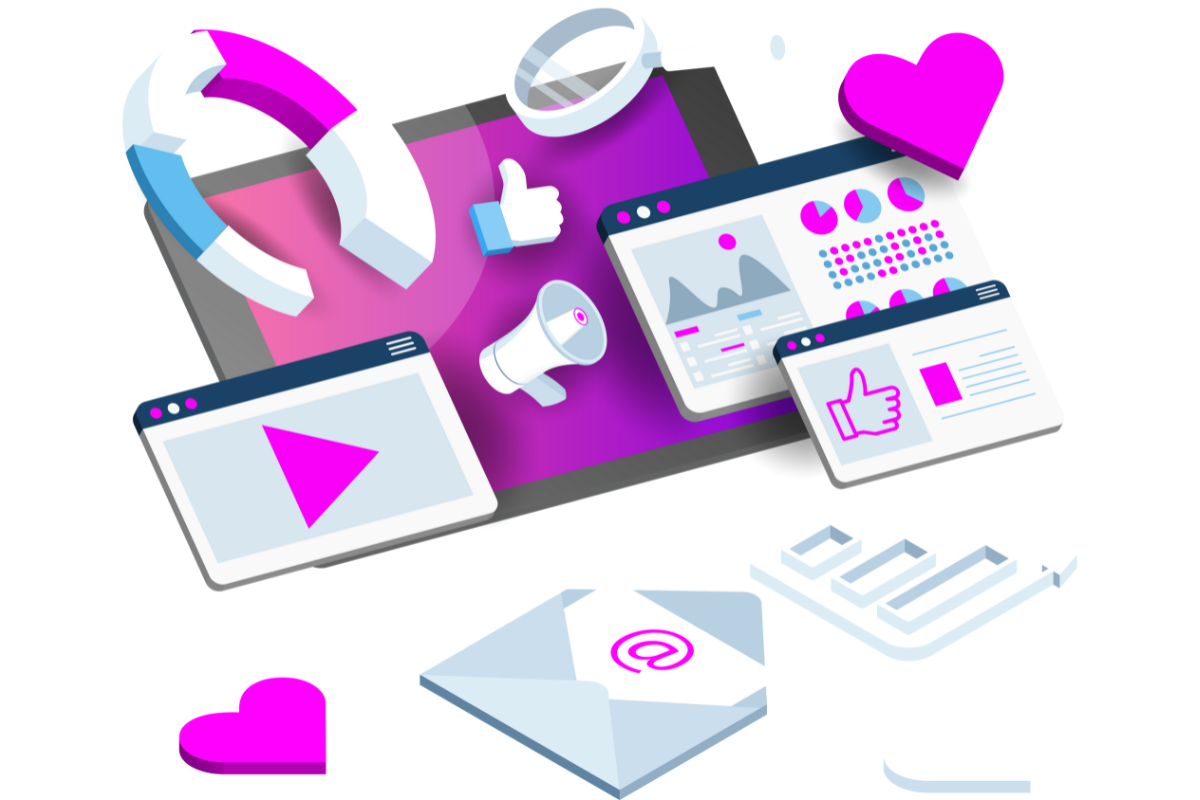 Best Practices For Bing Ads
To get the most out of your Bing Ads campaigns, here are some best practices to follow:
Choose relevant keywords: Make sure that your keywords are relevant to your business and the products or services you offer. Use Bing Ads' keyword research tool to find the most relevant and profitable keywords for your campaign.
Create engaging ads: Your ads should be engaging and provide users with a reason to click. Use ad extensions, such as sitelinks and callouts, to make your ads more informative and engaging.
Target specific audiences: Use Bing Ads' audience targeting options to target specific groups of users who are more likely to be interested in your products or services. This can help you improve the ROI of your campaigns.
Test and optimize: Continuously test and optimize your campaigns to improve their performance. Use Bing Ads' conversion tracking tool to measure the success of your campaigns and make data-driven decisions about your advertising strategy.
Monitor your competitors: Keep an eye on your competitors' campaigns to see what they're doing and how you can improve your own campaigns. Use Bing Ads' competitive analysis tool to get insights into your competitors' ad copy, keywords, and landing pages.
Conclusion
Bing Ads can be a powerful tool for promoting your business online. By conducting thorough keyword research, creating effective ads, and tracking your results, you can create successful Bing Ads campaigns that drive traffic and conversions.