We live in a society that is device-centric and where mobile devices are more used for many online activities than desktops or laptops.
This includes checking and reading emails.
The following email will address mobile email statistics you want to know.
If you've heard that email is a dying communication solution, you've been misled.
Today, new users register for work and personal email accounts all over the world.
In fact, there are billions of email users on the planet.
The truth is that more of them are reading emails via their smartphones, tablets, and other connected mobile devices.
Email isn't fading into the sunset anytime soon.
It's still widely used as an effective marketing and communication tool.
Let's get down to the topic at hand and discuss mobile statistics related to email.
Key Statistics
47% of smartphone users open retail and apparel related emails on their phones.
In 2016, email open rates from smartphones were over 50% in certain months.
Mobile email open rates grew by almost double, 14% compared to 27%.
In 2021, it was discovered that the email client market share accounted for 41.6% of all open emails.
In August 2021, Apple iPhone's iOS Mail had 38.2% of market share of all email clients.
35% of professional businesspeople in 2018 said they check their emails via mobile.
Almost 1.7 billion people check email on mobile phones.
42.3% of users will delete emails not optimized for mobile.
Globally, 36.3% of email opening comes from mobile devices.
Personalized emails bring a 50% higher email open rate.
Interesting Mobile Email Statistics in 2023
1. 47% of Smartphone Users Open Retail and Apparel Related Emails on Their Phones.
There are 2.6 billion global email users and 1.7 billion smartphone users.
In the retail and apparel sectors emails have a 47% open rate among smartphone users. In the non-profit sector, emails have a 35% open rate on smartphones.
While desktop email open rates are higher than smartphone rates, there is more smartphone use for opening and reading emails now than ever.
This trend is expected to continue.
(Easysendy)
2. In 2016, Email Open Rates from Smartphones Were Over 50% in Certain Months.
In the months of February, April, June, September, and November, email open rates ranged from 54% to 56% on smartphones.
In terms of desktop email open rates, those ranged from 16% to 19%. Internet webmail email open rates ranged from 25% to 29% in 2016.
This tells us the impact mobile phones, especially smartphones, have had on the email open rate realm.
(Easysendy)
3. Mobile Email Open Rates Grew by Almost Double, 14% Compared to 27%.
If you wonder how the mobile device industry has grown in terms of checking and reading emails, that figure has nearly doubled between June 2014 and June 2016.
In 2014, only 14% of mobile users opened their emails from their phones.
A 1% increase was seen in June 2015 where 15% of mobile users opened emails from their phones.
A massive jump to 27% occurred over the next year by June 2016.
(Easysendy)
While the mobile device environment accounted for a market share of 41.6% in August 2021, which was the highest share among environments, this was still less from just a month earlier when the share was 42%.
Second to mobile was webmail which had an email open market share of 40.5% in August 2021.
Furthermore, 16.2% accounted for Desktop and all other environments accounted for 1.6%.
(Email Monday, Litmus)
Among email clients, Apple iPhone's iOS Email took the market share in August 2021.
Gmail was second with 35.6% of the share and Apple Mail took 10.4%. Outlook has a share of 6% and Yahoo Mail 4.3%.
After that, came Google Android (2.1%), Apple iPad (1.2%), Outlook.com (1.1%), Samsung Mail (0.7%), and Window Live Mail (0.1%).
You can see how mobile overtook desktop and webmail clients.
(Email Monday)
6. 35% of Professional Businesspeople in 2018 Said They Check Their Emails via Mobile.
If you're a B2B (business to business) marketer, you should know that 2018 data shows 35% of professional businesspeople check their email via mobile.
It's likely that by now this percentage is higher.
These are busy professionals, so it makes sense that they would use mobile phones and devices for email.
It would be a bit inconvenient to carry around a desktop or laptop all the time.
Mobile devices are more convenient for these business professionals.
(HubSpot Blog 2)
7. Almost 1.7 Billion People Check Email on Mobile Phones.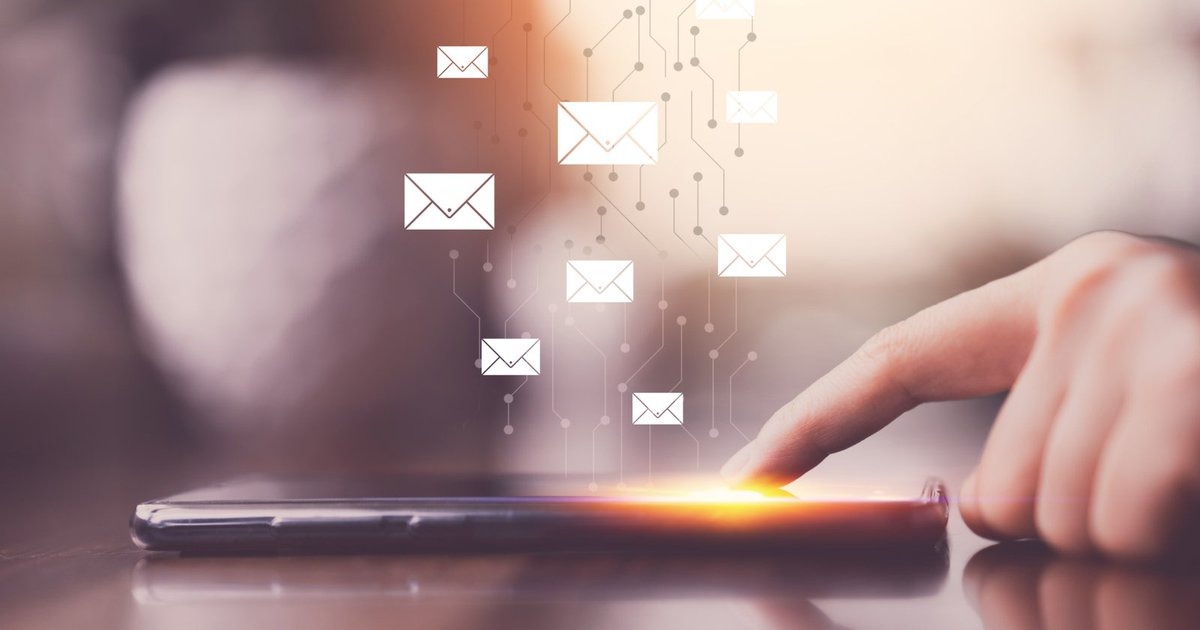 In terms of checking emails, the rate of mobile device usage has been on the rise.
In fact, 1.7 billion people check their email via mobile phones.
This method for checking emails has overtaken the use of desktop for email, which accounts for about 0.9 billion people.
As a marketer, you need these figures.
(Easysendy)
8. 42.3% of Users Will Delete Emails Not Optimized for Mobile.
One consumer survey revealed that if your emails are optimized for mobile, 42.3% of mobile device users will just delete them.
That won't help your open rates for sure.
Conversely, only 11.3% will read the email whether it's optimized for mobile or not.
(SaleCycle)
9. Globally, 36.3% of Email Opening Comes from Mobile Devices.
Email statistics reveal that 36.3% of all global emails are opened via mobile devices.
Even though this is a fact, 20% of marketing campaigns aren't optimized for mobile.
Remember, over 42.3% of mobile users delete emails that aren't mobile optimized.
(LinkedIn)
10. Personalized Emails Bring a 50% Higher Email Open Rate.
Whether users open emails via mobile, the web, or on their laptop or desktop, personalizing them offers a 50% higher email open rate.
So, imagine how much you can improve your email marketing by optimizing your emails for mobile devices and by personalizing them.
(Review42)
11. By 2025, More than 376.4 Billion Emails Are Expected to Be Sent Each Day.
Statistics show that by 2025, more than 376.4 billion emails will be sent per day.
This tells us that the future of email is bright. Email isn't dying out like some people may think.
It's just more used via mobile than other connected devices.
(99Firms)
12. According to Data from 2015-2019, the Email Sent to Received Ratio Is 3:1.
These statistics may come from a 2015-2019 study, but it's relevant today.
The sent to receive ration in emails is 3:1.
For instance, globally in 2019, the average number of emails sent per user was 30, while the number of emails received came ot 96, with 19 being spam.
(Radicati)
13. So Far, in 2023, Revenue Generated Through Email Marketing Accounts for $10.89 Billion (USD).
Current data for 2023 shows that revenue generated via email marketing accounts for $10.89 billion (USD).
Moreover, it's estimated that it will reach $17.9 billion by 2027, which is proof that email usage and email marketing is growing, not dying.
(Demand Sage, Josh Meah)
14. 75% of Email Users Check Their Emails Through Their Mobile Devices.
We discussed the usage of the most popular email clients, which showed that Gmail was ranked second after Apple iOS Mail.
However, now we know that 75% of people with a Gmail account check their email from a mobile device.
(Demand Sage)
15. Mondays Are One of The Best Days to Send Emails Since They Have a 22% Open Rate.
Another way to improve your email open rate is to send emails on a high open rate day.
That day happens to be Monday when the email open rate is 22% even for mobile users.
However, Tuesday has an open rate of 21.8% as does Wednesday/ Therefore, Monday, Tuesday, and Wednesday are the best three days for sending emails that get opened.
(Campaign Monitor)
16. Sunday Has the Lowest Email Open Rate at 20.3%.
While Sunday (20.3%) and Saturday (20.5%) are the so-called worst days for sending emails, the open rates for all days of the week are well within acceptable benchmark.
So, you can expect to see solid open rates all week long, though Monday (22%) through Friday (21.6%) have the highest open rates.
(Campaign Monitor)
17. Tuesday Has the Highest CTR at 2.4%.
In terms of click-through rates, Tuesday has the highest CTR at 2.4%. Every day of the week has an over 2% CTR.
Tuesday is first, while Monday, Wednesday, and Thursday have a 2.3% CTR. Sunday and Saturday each have a 2.1% CTR.
(Campaign Monitor)
18. The Highest Click-To-Open Rate Happens on Tuesdays at 10.8%.
Tuesday has the highest CTR, but it also has the highest click-to-open email rate at 10.8%.
Monday is second to Tuesday with a click-to-open rate of 10.6%.
Wednesday and Thursday each have a 10.7% click-to-open rate.
Friday, Saturday, and Sunday each have a 10.1% click-to-open rate.
(Campaign Monitor)
19. 92% of Today's Email Users Are Gen X Consumers.
More proof that email is still being used is that Gen X accounts for 92% of email users and Gen Z makes up 85%, which accounts for the third largest generation using email.
Also, there's nothing to show that anyone of any particular age group or generation emails more or less than the other.
(99Firms, MarketingProfs)
20. 40% of All Age Groups Using Mobile Email Say It's an Essential Tool.
According to statistics, 40% of mobile email users claim that email is their essential mode of communication across all generations.
People who use mobile to access their email come from all walks of life and among virtually all generations.
(99Firms)
FAQs
How Many Emails Are Opened via Mobile?
The latest data tells us that 81% of emails are opened and read via mobile, especially by subscribers who check their inboxes regularly.
What's Considered a Good Email Open Rate?
In 2020, an good email open rate is considered good when it's between 17% and 28% on average.
Just like click-through rates on the web, open rates are important to marketers. Open rates also vary depending on the industry.
What Effects Email Open Rates?
There are several factors that can affect email open rates. We have some for you here:
• Audience relevancy is important to good email open rates.
• The content of your emails will affect your open rates. For instance, are they engaging enough to make your subscribers look forward to getting emails from you?
• The quality of your email list has quite an effect on your open rates.
• The time of day that you send your emails makes a difference. 
• Your subject lines can make or break your email open rates.
How Can You Improve Your Email Open Rates?
We have researched ways to increase email open rates so we can share them with you.
Here are some tips to improve your email open rates:
• Do the double: Use the double opt-in so that subscribers must verify via email that they do want to get the emails.
While it's not required under GDPR, it's a good way to get higher open rates.
• Address book adding: Ask your readers to add your email address to their trusted contact (address book) list.
This will help ensure they are delivered, which increases your chances of better opening rates.
• Clean your email: Do some maintenance and clear your email of subscribers who aren't opening your emails.
A good rule of thumb is to do this when a subscriber doesn't open your emails three times in sequence.
Conclusion
Whether you're a marketing professional, a business, or one of our curious readers, these statistics about mobile email are useful.
This article should have convinced you that email marketing is here to stay because email is here to stay.
The only real difference in the email game today is that it's being done more from mobile than desktop.
So, don't be shy about sending those marketing emails out to mobile users.
Just make sure you optimize them for mobile.
By following some simple rules that are provided below, you can even improve your open rates.
Regardless of where you live, what you do for a living, or if you're retired, mobile email is a growing market in today's world.
We hope you have learned something new and valuable from these mobile email statistics today.
Sources