Do you need to find somebody specifically by name?
It might seem challenging, but it can be surprisingly straightforward with the right tools and know-how.
You may want to uncover the whereabouts of a long-lost relative, reconnect with an old friend, or even locate a former colleague.
Still, you do not know any email or social media usernames. Don't worry; we will help.
In this article, we'll explore various methods and teach you how to find a person by name to help you locate a person based on their name.
We'll cover more specialized options, like people searching websites and databases for the best results, so read on to learn how they can find a solution for you.
How to Find A Person by Name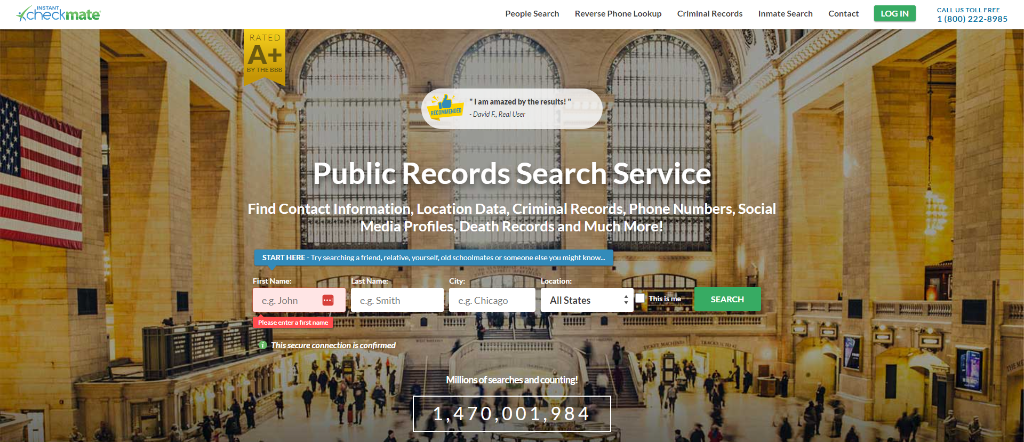 Instant Checkmate's standout feature is its people search function, offering a quick and efficient way to access background information.
Simply input a person's first and last name, optionally specifying a state for more precise results.
While leaving the location tab blank is possible, providing a state yields better outcomes.
This versatile tool serves multiple purposes, enabling searches for individuals, including oneself.
For those concerned about personal information, Instant Checkmate accommodates takedown requests.
Moreover, the platform extends its utility to enhancing community safety by offering a comprehensive search function for registered sex offenders in your vicinity.
Customer satisfaction is a priority for Instant Checkmate, as evidenced by favorable reviews highlighting its user-friendly service and responsive customer support.
Cancellation requests are promptly addressed, ensuring a hassle-free experience for users.
In sum, Instant Checkmate is a reliable and user-centric information resource.
Key Features
Focuses on community safety by providing a search function for registered sex offenders.
Allows users to request takedowns of their personal information.
It is known for its responsive customer support and hassle-free user experience.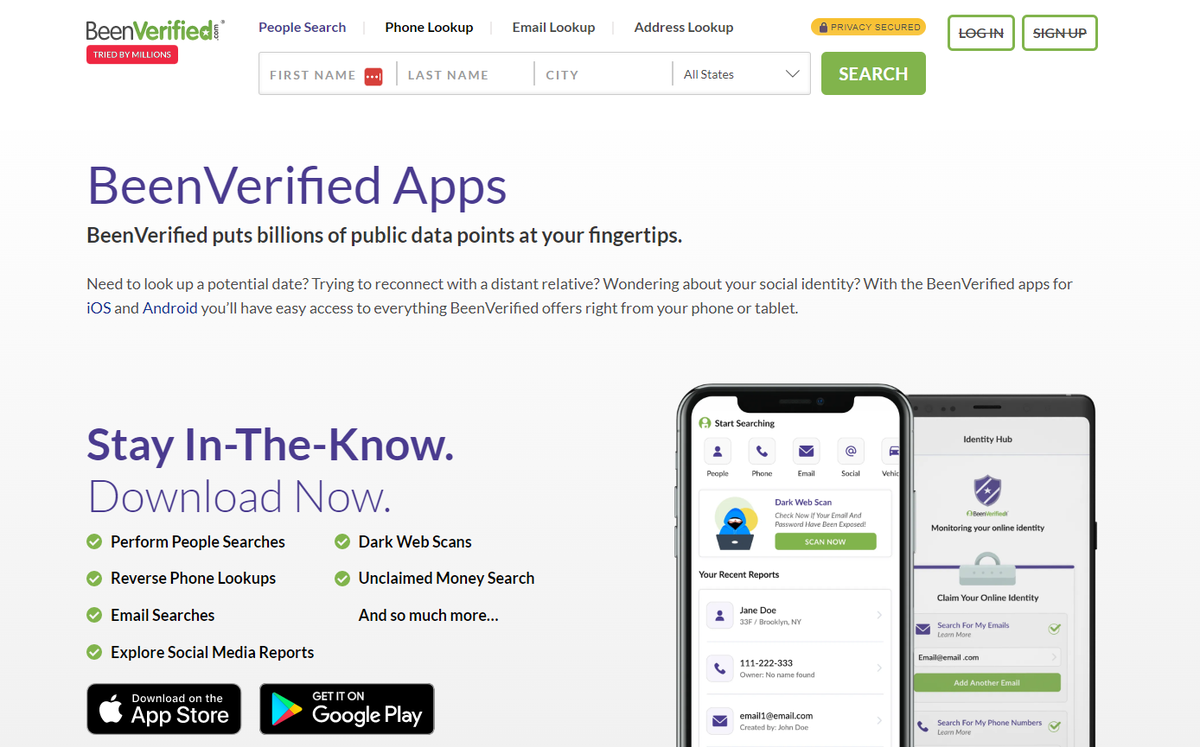 BeenVerified is a leading player in people search websites, renowned for its extensive toolkit designed to cater to diverse information needs. 
Whether your objective is reconnecting with a long-lost friend, confirming someone's identity, or delving into public records, BeenVerified offers a comprehensive array of search options to fulfill your requirements.
One noteworthy feature in their arsenal is the Property Owner Search, allowing you to unveil details about the proprietor of a specific property.
Beyond this, BeenVerified grants access to a broad spectrum of public records, furnishing invaluable insights into an individual's background and history.
For those seeking a deeper understanding of an individual's legal history, the site facilitates the acquisition of detailed criminal records, encompassing arrest histories and related information.
Moreover, their white page lookup feature is valuable for discovering contact information such as phone numbers and addresses.
It is a feature-rich service that you should definitely check out.
Key Features
Includes a Property Owner Search feature for property-related inquiries.
Provides access to detailed criminal records, including arrest histories.
Offers a white pages lookup feature for easy contact information retrieval.
3. TruthFinder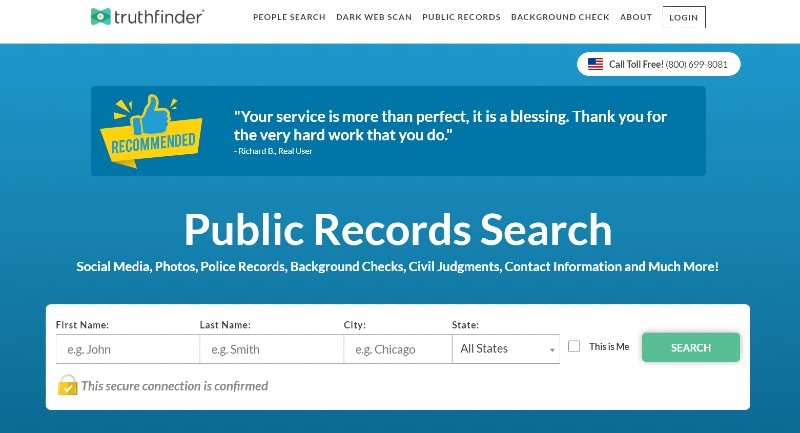 TruthFinder is a standout solution when it comes to finding individuals by name. 
It ranks among the best people search tools available, offering an excellent balance between the depth of information it provides and the cost.
When searching for someone, simply input their full name into TruthFinder's user-friendly search bar.
The platform then delves into an extensive collection of public records and online resources, swiftly presenting you with a comprehensive report.
What truly sets TruthFinder apart is the wealth of data it offers for its price point.
Compared to many competitors, it is a cost-effective yet thorough choice for locating individuals by name.
In addition to just a name, it can scan with other available info, including phone lookup, username lookup, and email lookup.
Another major plus is it can do a dark web scan, so the database seems endless.
You can rest assured if it's on the internet, it can be easily found using this tool.
If you're looking for a reliable and reasonably priced tool to find people, TruthFinder should be at the top of your list.
Key Features
Offers a dark web scan for comprehensive online information.
Provides a cost-effective yet thorough option for detailed reports.
Allows multiple lookup options, including phone number, address, username, and email.
4. Intelius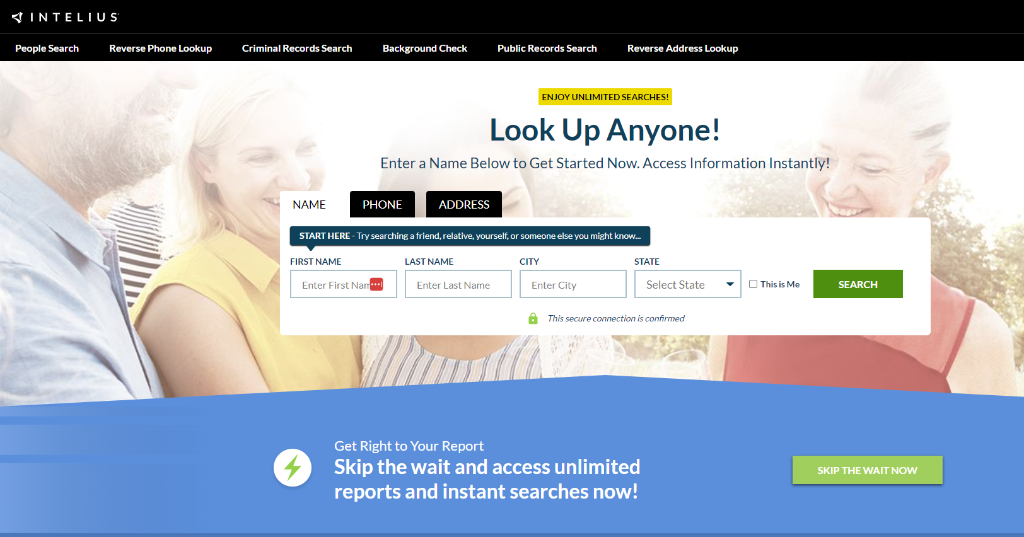 Intelius, a renowned name in the realm of people search engines, offers a multifaceted approach to finding individuals by name. 
Although prominently recognized for its background check services, Intelius is a versatile platform catering to various needs.
Beyond its core services, Intelius presents a valuable feature – the reverse phone lookup.
This function assists you in identifying unfamiliar phone numbers, extending its utility to verifying email and physical addresses, enhancing your security against potential threats.
Its colossal database sets Intelius apart, drawing from a staggering 20 billion public records.
You'll receive a top-tier extensive repository with comprehensive information, surpassing the capabilities of many other people's search platforms.
If urgency is paramount, Intelius offers an expedited option for a nominal fee, allowing you to access the desired information quickly.
Key Features
Distinguishes itself with a powerful reverse phone lookup feature.
It boasts a massive database of 20 billion public records.
Offers an expedited search option for swift results.
5. Spokeo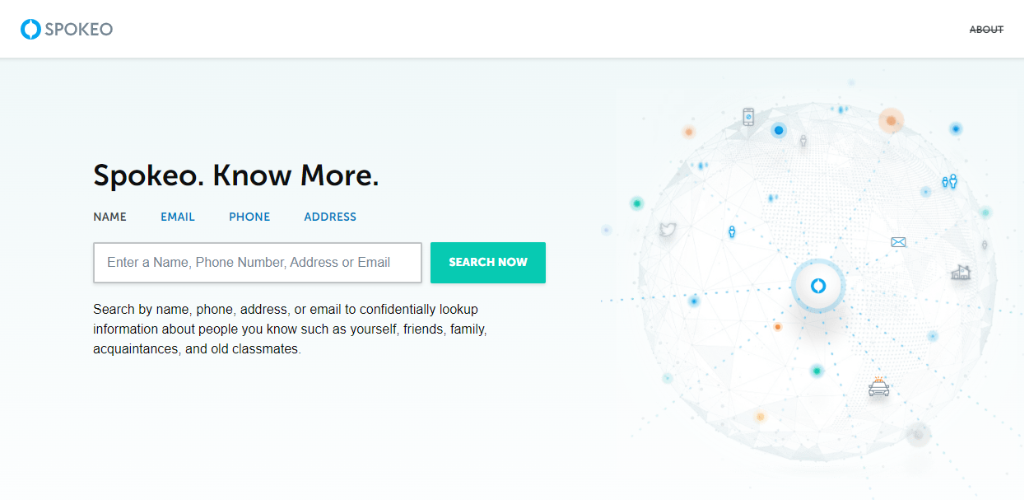 Spokeo is another reputable people search engine that consolidates data from diverse sources to assist you in finding individuals through multiple identifiers such as names, email addresses, or phone numbers.
The outcome of your search may encompass a wealth of information, including contact details and social media profiles, granting you a comprehensive view of the person in question.
One appealing aspect of Spokeo is its provision of a free basic search, although the results may be limited in scope.
Using Spokeo is a straightforward process. You can initiate your quest by visiting the Spokeo website, where a user-friendly search bar awaits your input.
Simply type in the information you possess about the individual you seek, click "SEARCH NOW," and let Spokeo's engine do the rest, furnishing you with the details you need.
Key Features
Excels in consolidating data from various sources for comprehensive results.
Offers a free basic search option for preliminary information.
Features a user-friendly interface for efficient searches.
Benefits of Name Lookup Tools
Efficiency – Name lookup tools streamline finding individuals, saving you time and effort compared to manual searches through traditional methods.
Comprehensive Information – These tools provide access to a wide range of information, including contact details, addresses, social media profiles, and more, offering a holistic view of the person you're searching for.
Safety and Security – They allow you to conduct background checks, helping you verify the credibility and history of individuals, which can be crucial for safety and security purposes.
Convenience – Online accessibility means you can perform searches from the comfort of your home or office at any time that suits you, without physical visits to government offices or libraries.
Anonymity – Name lookup tools often maintain your privacy, ensuring that your searches remain confidential and do not reveal your identity to the person being searched.
Accuracy – While not infallible, these tools often provide accurate and up-to-date information, reducing the risk of misinformation or outdated data.
Multiple Search Options – Many name lookup tools offer various search parameters, allowing you to refine your search based on additional information you may have, such as location or age.
Frequently Asked Questions
Is It Legal to Use These Tools to Find a Person by Name?
Yes, these tools are generally legal and ethical for personal use, such as reconnecting with friends or locating family members. 
They are designed to provide a valuable service within legal boundaries. 
However, using these tools with malicious intent or for illegal activities is strictly against the law and can have serious consequences.
Are These Tools Free to Use?
While some of these tools offer basic search capabilities for free, many provide more comprehensive reports for a fee. 
The paid versions often unlock additional features and access to a wider range of information, making them valuable for in-depth searches. 
It's essential to check each tool's pricing structure to determine the level of access that suits your needs.
Can I Use These Tools to Find Someone's Current Address?
Many of these tools provide individuals' current and past addresses as part of their comprehensive reports. 
This feature can be beneficial when trying to locate someone for various reasons, such as reconnecting with old friends or verifying an address for legitimate purposes. 
Remember that the accuracy of address information can depend on the availability of up-to-date records.
Conclusion
By now, you've gained valuable insights and learned how to find a person by name.
As you can see, it's a process made remarkably accessible thanks to the abundance of user-friendly tools available.
These five online tools can be your reliable companions in locating a person by their name.
Whether you want to discover contact details, background checks, or social media profiles, these platforms serve as rich repositories of information poised to assist you in your search.