There are a lot of people out there that are under the impression that Safemoon is the next Dogecoin.
There are a lot of people who believe that they can take the relatively new cryptocurrency coin all the way to the moon, and celebrities everywhere have started to endorse the cryptocurrency, including David Portnoy, who founded Barstool Sports.
Whether you're someone who missed out on Dogecoin, or you are trying to expand your current cryptocurrency portfolio and add a few new trendy tokens, then we've got everything you need to know about buying Safemoon. Let's find out how to buy Safemoon on Trust Wallet.
What is Safemoon?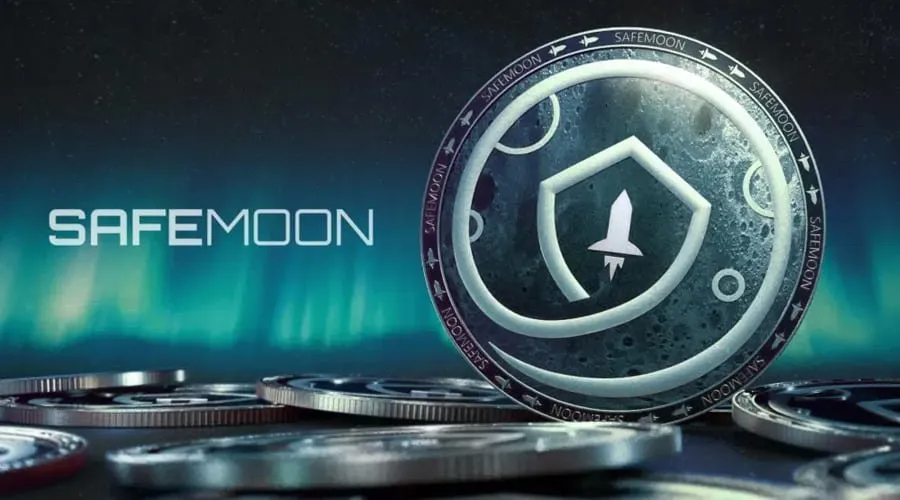 First things first, you need to educate yourself on what Safemoon actually is. It is a cryptocurrency that operates on the Binance blockchain and first got its start back in March of 2021.
Since then, it has grown exponentially both on TikTok and Twitter and has caught the eye of a lot of cryptocurrency investors out there.
In fact, and April, Binance ended up having to suspend withdrawals, because of how many people were trying to invest in the cryptocurrency.
So, before you purchase a trending token like this, you need to know that you were going to be penalized with a 10% fee because this is redistributed to other token holders so that they can incentivize holding and buying.
Safemoon Was developed to address a number of problems that could be found in the cryptocurrency industry, including a bad habit that a lot of cryptocurrency investors have of selling prematurely, and price volatility in general.
This is why they have the 10% selling fee.
The good news is that you're going to keep making money as new people purchase the coin, but the disadvantage is that if nobody buys Safemoon, the load demand is going to cause the cryptocurrency coin to decrease exponentially in value.
Back in April, Safemoon was trading at $0.000002, and in just two days, it grew to $0.00014. This means that it increased by as much as 7000%.
This means that if you invested $1600 on March 22, you would have earned an amazing $60,000 within the month.
How to Buy Safemoon on Trust Wallet
Buying Safemoon Isn't the most straightforward process, but with our step-by-step instructions below, we believe that you will be able to get your hands on this token in no time.
Converting BNB to Smart Chain through Trust Wallet
Download the Trust app through the app store.
Open your app and select 'create a new wallet'.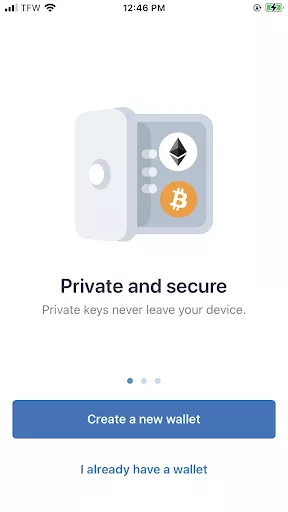 Make sure that you go through the terms of service and privacy policy. Select the box next to 'I accept the privacy policy and terms of service'.
From here, you will be supplied with 12 recover words. Write them down somewhere so that you don't lose them or forget them.
The app is going to then show you these 12 words, but they're not going to be in order. Put them in the right order and you will be taken to the main page.
Find 'BNB' and then select 'buy BNB'. Put how much money you are wanting to invest and then select 'next'.
You will be asked to make your purchase with a debit or credit card. You will need to wait until this purchase has been processed.
Go back to the main page and you should be able to see that you now have BNB. Select 'BNB' and then select 'more' and then 'swap to smart chain'.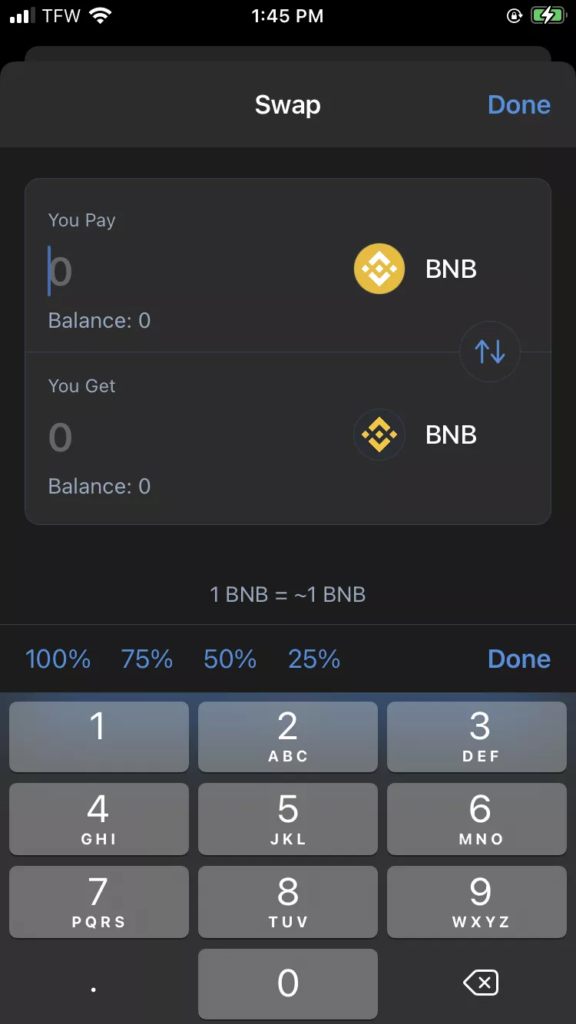 Go back to the main page and then you should be able to see that your order has been completed.
Use PancakeSwap to convert your Smart Chain to SafeMoon
For the next step-by-step process, you are going to need to have access to an Android device, and if you do, you will be able to skip the first instruction.
If you have iOS, then you will need to go through the first step.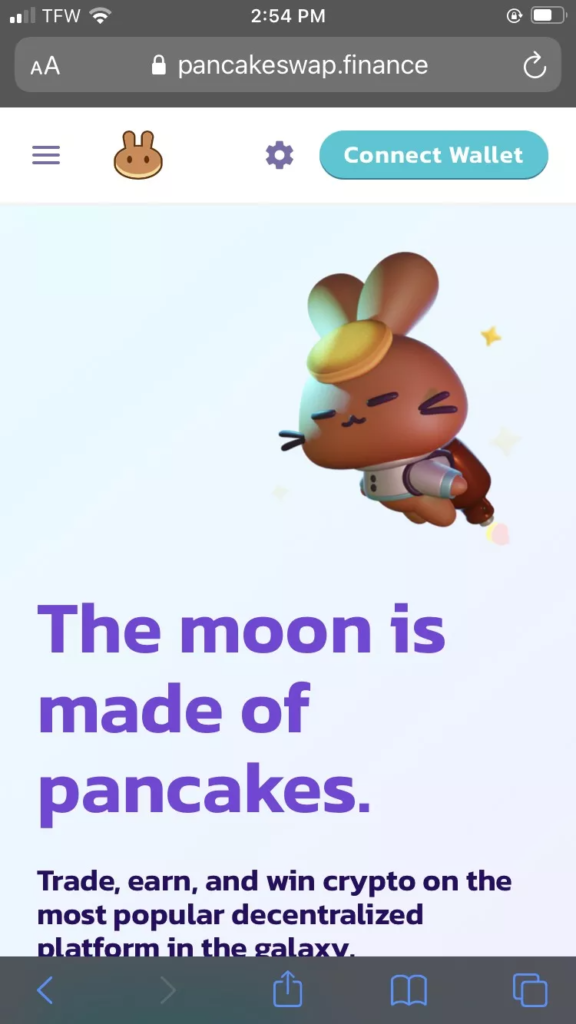 (for iPhone) open up your browser and go to PancakeSwap. Select 'connect wallet'. Choose 'trust wallet' and select 'trust'. You will be asked to login to your Trust Wallet account. Select 'connect' in the window where it says 'PancakeSwap wants to connect to your wallet'. Go to step 4.
With the TrustWallet app, select 'dAppps' at the bottom of the taskbar. Next, select 'PancakeSwap'.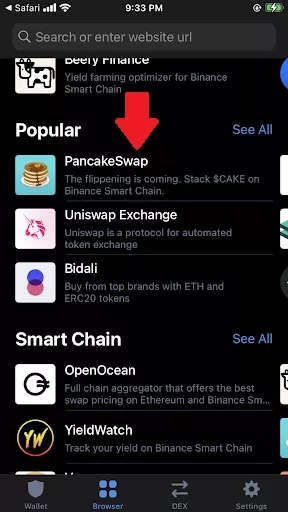 Select the 'connect' button at the top of the screen to the right and select 'TrustWallet'. You should be able to see that your coins are now in PancakeSwap.
Choose 'select a currency' and then enter 'Safemoon' into the search bar.
A notification is going to come up to tell you that Safemoon is going to take 10% of every transaction.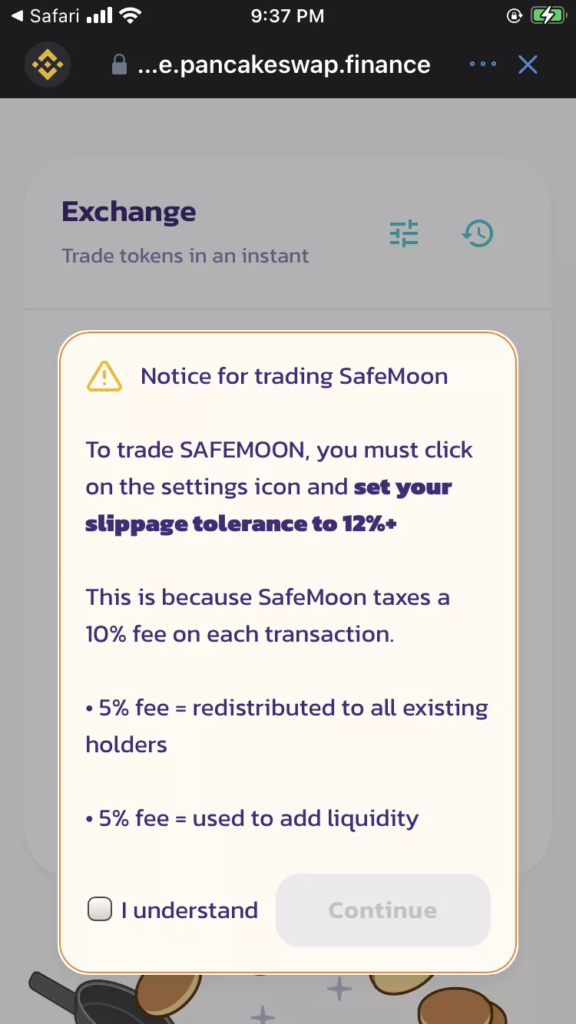 Select the icon right next to the symbol that represents time at the top of the screen to the right, so that you can set your slippage tolerance to 12%, so that you can still afford to pay them their 10%. Select 'x' and exit the window.
Select 'swap' and then 'confirm swap'. This is going to cause a 'transaction submitted' window to come up.
Select 'view on BcsScan. You should see on the status bar that is says 'success' which means that you have converted your smartchain to Safemoon.
How to see your Safemoon tokens in your TrustWallet
You are probably wondering now where your Safemoon tokens are, considering you just bought them.
Don't stress! We are going to take you through a few more steps so that you can see your Safemoon tokens in your TrustWallet.
Copy the address here for Safemoon: 0x8076c74c5e3f5852037f31ff0093eeb8c8add8d3
Go to the main page of your TrustWallet. Select the blue icon that you're going to see at the top of your screen to the right, and go to the bottom.
When you see the search bar, enter 'safe'.
Select 'add custom token'. Then you will be able to swap the network out from Ethereum to smartchain. Under the 'contract address' option, you will be able to paste the contract address above for Safemoon. Select 'save'.
You should now be able to see your Safemoon tokens in your TrustWallet.
How to Buy Safemoon on Trust Wallet: Final Thoughts
Just remember that Safemoon is still a really new coin, which means that while everyone is hoping it's going to be the next Dogecoin, there are no guarantees.
It is simply way too early to tell whether it is going to go to the moon, or it's going to fail miserably. Just make sure that you don't invest more than you can afford, and you'll be fine.
If you buy Safemoon, then buy it on Trust Wallet. It's the easiest method right now.