Getviral.io is one of those companies that claims to have a lot to offer its clients in terms of their Instagram growth.
GetViral talk about how they can assist their clients in growing their Instagram profiles organically, which means that they stay well away from the likes of fake profiles and using a bot.
This way, you've just got real people working on your profile's success – the way that they believe it should be. Or do you? We highly doubt it, and feel uncomfortable that they're even claiming this.
However, there's nothing wrong with broadening your landscape and recruiting the help of other companies that have alternative methods for growing your Instagram account, especially if you are even considering using Getviral.io, which we don't think you should be.
You can have a few options to choose from, and you don't have to worry about missing out on features that could fit perfectly in with your profile's goals and overall aesthetic.
GetViral Review 2023
High Quality?
Getviral.io promises that it offers a really high-quality caliber of features for its clients. We can confidently say that nothing about their features is high quality – in fact, it's going to compromise your Instagram's reputation as soon as you receive your package.
If you care about your reputation, then you need to stay well away from these guys. Those fake features will sit on your profile and make it look really bad.
Quick Delivery – Not Worth it
If you are someone that doesn't want to spend a lot of time waiting around for your Instagram engagement to be delivered, then GetViral has quick engagement.
However, quick engagement isn't the end-all and be-all, and we actually think that in this situation, it's harmful. When a company offers quick engagement, it means that they are sending you fake features, that are going to make your profile look terrible.
They can't be bothered spending any time on the quality side of their features – they just want to get them out the door.
Consistent Support – Don't Think So
Getviral.io claims to be committed to helping its clients with constant support. However, this couldn't be further from the truth.
Not only are they not offering consistent support, but we also promise you that it's going to be almost impossible to get in touch with them yourself if you need to. There have been lots of complaints about it being hard to communicate with them, so you're only signing up for a headache should you choose to go for them.
Fake Reviews
The thing that is the most disappointing about these guys is that they write fake user reviews on third-party websites like ReviewsXP – and they have even had their Trustpilot profile removed!
If that doesn't say GIANT SCAM, then we don't know what does. If you want your Instagram profile to not go down the drain and be associated with one of the worst companies in the industry, avoid these guys at all costs.
Let's review what we believe are the best alternatives to Getviral.io right now so that we can potentially save the life of your social media accounts.
First Look
"Media Mister has a way of helping clients like me with not only their features, but with who they know on the market. I love that they can connect me with people I would otherwise not be able to meet who can actually help me with my profile's growth in ways I've never thought."
"GetAFollower is an alternative to other companies on the market that I have used for a long time now, and they haven't done me wrong. I love that they can help me with reliable, high quality features, and the best part is that they have a great delivery time."
"SocialViral can help me not only with the engagement side of things, but with everything else associated with my Instagram profile. I also love that they can help me with the rest of my social networks out there."
"Growthsilo wasn't on my radar for ages because they are such a new company, but as soon as I took the plunge and tried them out, I was glad that I did. I love that they make everything organic, so I'm never going to be associated with anything but."
Best for Budget: Flick
"One of the things that I've always struggled with is my hashtags. With a company like Flick, I can cover my hashtag strategy, and still have time left over to take care of the rest of my account's growth. This is definitely best case scenario."
"Twesocial can help me with my social media growth in general, especially Twitter, which makes it easy for me to figure out ways to stay ahead of the competition, and preserve my current reputation."
GetViral Alternatives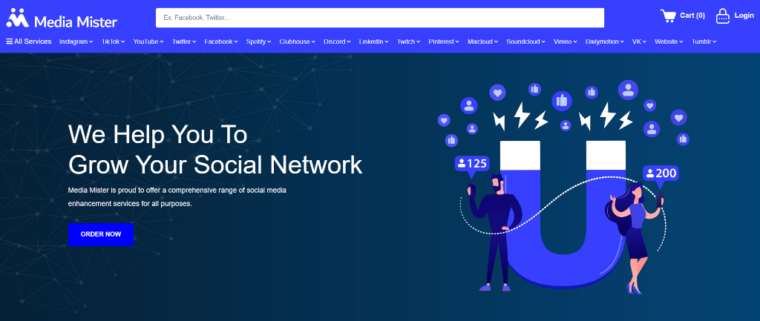 Media Mister is a great alternative to Getviral.io because they have an in with the social media marketing industry.
This is in the form of an exclusive network comprising of professionals and a variety of different niches, who work hard for you on your behalf to get your content in front of other people.
They say they can automatically assist their clients in boosting their social media through their vast network, which means that you can get famous not only on Instagram, but on Twitter and YouTube as well.
They have got a lot of different customer reviews on their website, as well as a lot of FAQs, so as far as we can tell, you can get to know this company really well before you sign up for anything.
GetAFollower is an alternative to Getviral.io that is known in this business for being really trustworthy.
This means that they are considered one of the most trustworthy sources for social media marketing in general, which is definitely a good enough reason to give them a go.
They say that they can assist their clients in gaining more exposure for their company, so they can increase visibility around their content, and build their audience in general. They want to also assist their clients in building up a real social media following for their most popular platforms.
Additionally, they deliver high-quality engagement within just three days, which when compared to other companies out there, is a really great turnaround time.
SocialViral is the kind of alternative to Getviral.io that promises its clients exclusive and real Instagram likes, views, and followers.
Of course, you'll have your company on more than just Instagram, and if this is the case, they can help you over on Twitter, Spotify, Facebook, and TikTok as well.
They claim to be one of the only places in this business where you can get real Instagram services, so if nothing else, this is a great reason to try them out. Beyond this, they can promise really quick results, and the best feature is that they have a tiered pricing system.
This means that you can choose how much you pay for their engagement, and you will only pay for what you get.
Growthsilo is an alternative to Getviral.io that is diverse enough to be used in a number of different settings.
One thing that we really appreciate about this company is they talk a lot about how their service is not only completely managed for you, but it comprises of authentic and genuine engagement.
You will never catch these guys affiliating with fake profiles, and you don't have to worry about whether they're going to use a bot for their features or not. At the end of the day, this is a simple, yet effective company that is determined to help their clients grow their social media profiles the way that they should be; with real engagement.
Best for Budget: Flick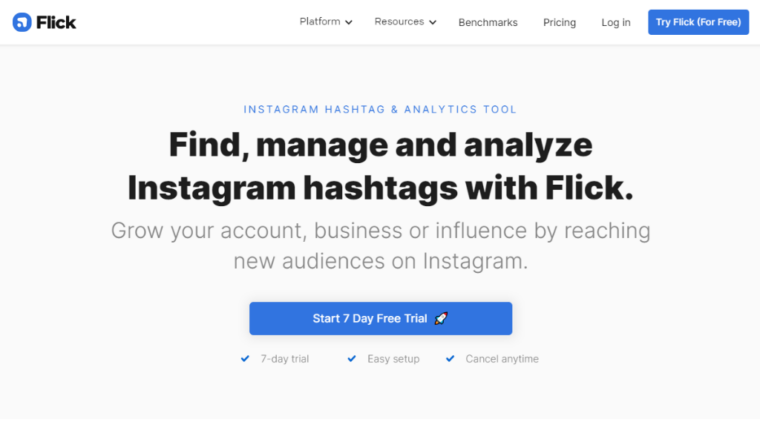 Flick is an alternative to Getviral.io that can of course not only help you with your Instagram engagement, but with your hashtags as well.
They say they can help their clients get more followers and business and help them grow their audience in general on Instagram.
As well as offering their clients 24/7 support, they say that the setup process is really easy, and you can cancel your subscription with them at any point. The first thing you will notice when you visit their website is that they have a hashtag generator, so that you can search up any hashtag, and get results right away.
They have also organized their hashtags into different sets, based on the content that you're putting up. This way, you can diversify your hashtags, and you don't have to use the same ones on every piece of content.
Twesocial is an alternative to Getviral.io that is going to be most effective if you use it with Twitter.
They are considered one of the best Twitter growth services on the market, and we love that their pricing is not only affordable, but their features are super simple and effective.
They use advanced targeting features and will sit down with you when you first start with them, and talk to you about what your goals are for your Twitter profile. From here, they can start to target the right audience for your content, so that they are going to be hyper relevant.
Our Review Process
When we review GetViral alternatives like the ones above, we make sure to do our homework. We look for at least 182 alternatives to GetViral and read through at least 3750 client testimonials.
With the client testimonials, we go over both good and bad things about the companies so that we can ultimately share with you what we believe are the very best in the industry.
This way, you can have a broader scope when it comes to your social media engagement in general, and you can have a few options up your sleeve to choose from if anything happens to GetViral in the future.
Make sure to check out the free trial available, and good luck!