Tired of standard messaging apps that lack uniqueness and jeopardize your privacy? Introducing secret messaging apps that cleverly resemble games.
These mobile platforms hide in plain sight, protecting your conversations from prying eyes.
This article will explore the 10 Best cheating secret messaging apps that look like games for your privacy and safety.
Whether you want to keep texts hidden from a friend or partner, these Android and iOS apps are your secret weapon.
10 Best Cheating Secret Messaging Apps That Look Like Games in 2023
CoverMe
Silence
Wickr Me
Calculator Pro+
Smiley
Hide My Text
Blur Chat
Dust
Gem4me
Telegram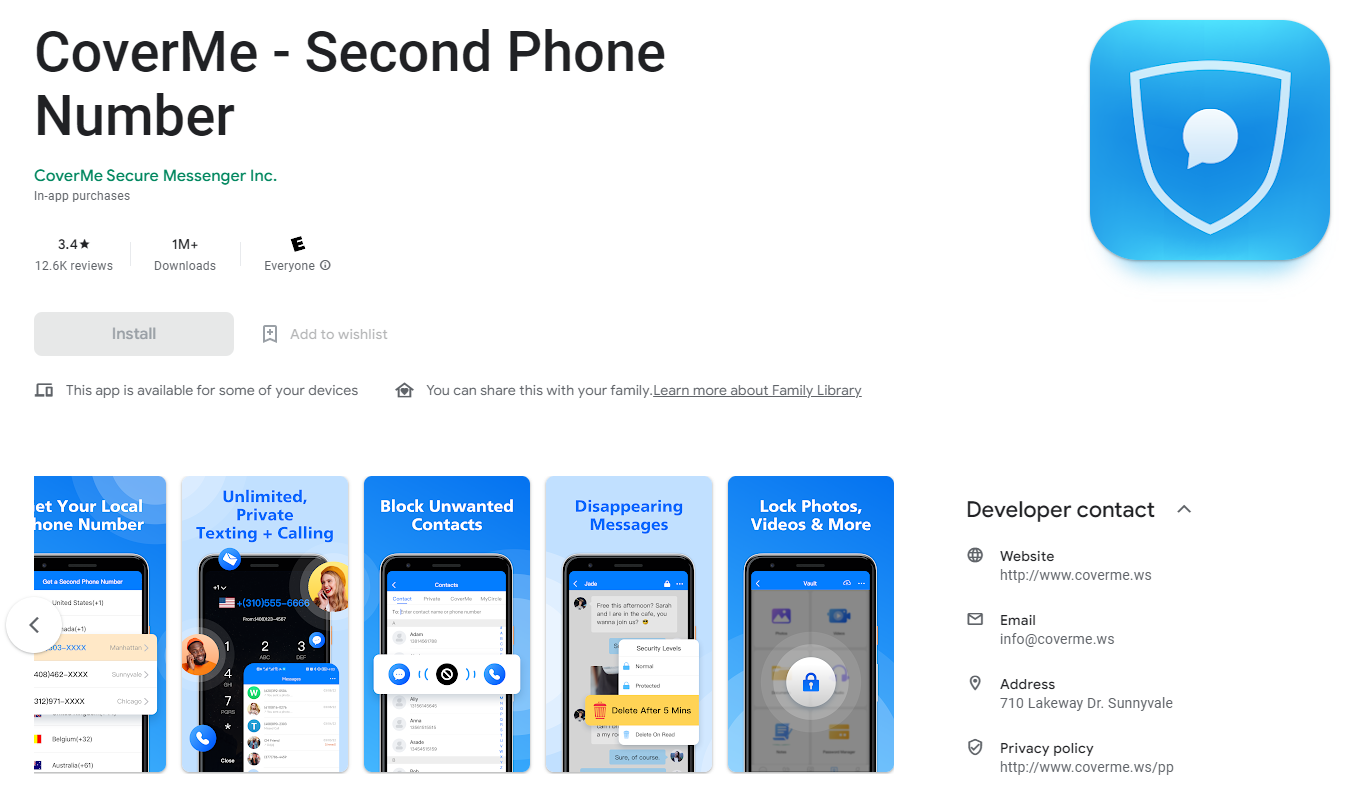 CoverMe is an extraordinary encrypted messaging application with exclusive secret calling capability.
With this innovative app, you can make calls from a secure burner line, making sure your identity remains untraceable. Protecting your data and maintaining your privacy has never been easier.
The app boasts exceptional security features, offering top-of-the-line end-to-end encryption.
Your messages are shielded from prying eyes, guaranteeing that only the intended recipient can access them.
Moreover, this app goes a step further by implementing automatic message deletion. After a specified time, your messages vanish, leaving no digital trail behind.
For added convenience, CoverMe introduces a unique shaking feature. Simply shake your device, and all the messages within the app instantly lock away, safeguarding your confidential conversations from unauthorized access.
Embrace the freedom to communicate securely with CoverMe. Experience unparalleled privacy and protection for your sensitive information.
Silence emerges as the top option for Android users looking for a private messaging app.
This application prioritizes privacy with an intuitive design that resembles a traditional SMS/MMS platform. Discover the remarkable features that distinguish Silence.
The Silence app provides an effortless user experience comparable to any standard SMS app.
There is no need to create an account, and the best part is that it is free, making it available to everyone.
It is built on trust, with privacy taking center stage. End-to-end encryption protects your messages, providing increased security and dependability.
Furthermore, you can send texts through Silence without an internet connection, giving you greater communication flexibility.
Silence encrypts your messages locally, ensuring their security. If your device is lost or stolen, your texts are safe, giving you peace of mind.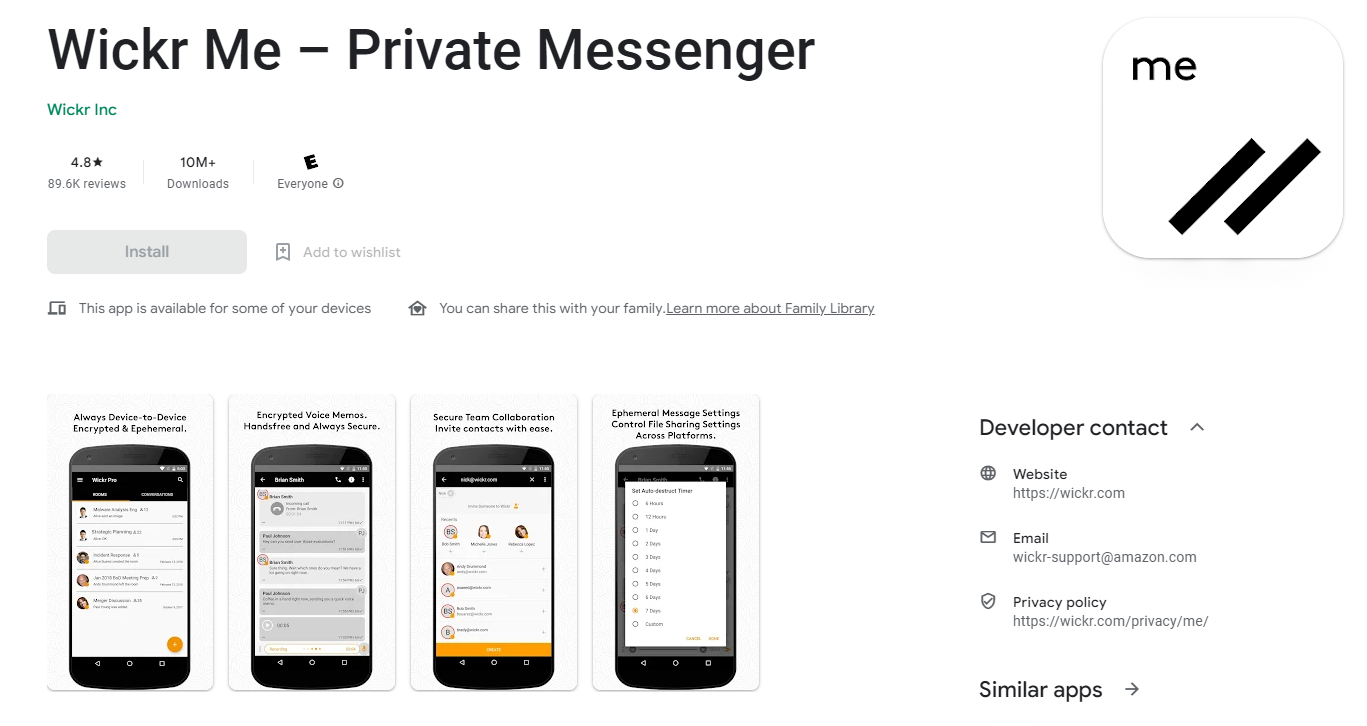 Wickr Me is another choice that offers a distinct game-like interface. With its unconventional icon, the app provides high privacy and security.
One of its main features is the self-destructing messages, allowing you to set a timer for message expiration.
The app also includes a Shredder feature that permanently deletes data, making it unrecoverable.
It implements E2EE for all messages, so they are secure and cannot be accessed by third parties.
The app supports various forms of communication, including text messages, voice messages, images, videos, and voice calls.
An advantage of Wickr Me is that it doesn't require a phone number or email address for account creation. Simply choose a username and password to safeguard your account.
With Wickr Me, you can enjoy private conversations and group chats, all within a user-friendly and game-inspired interface.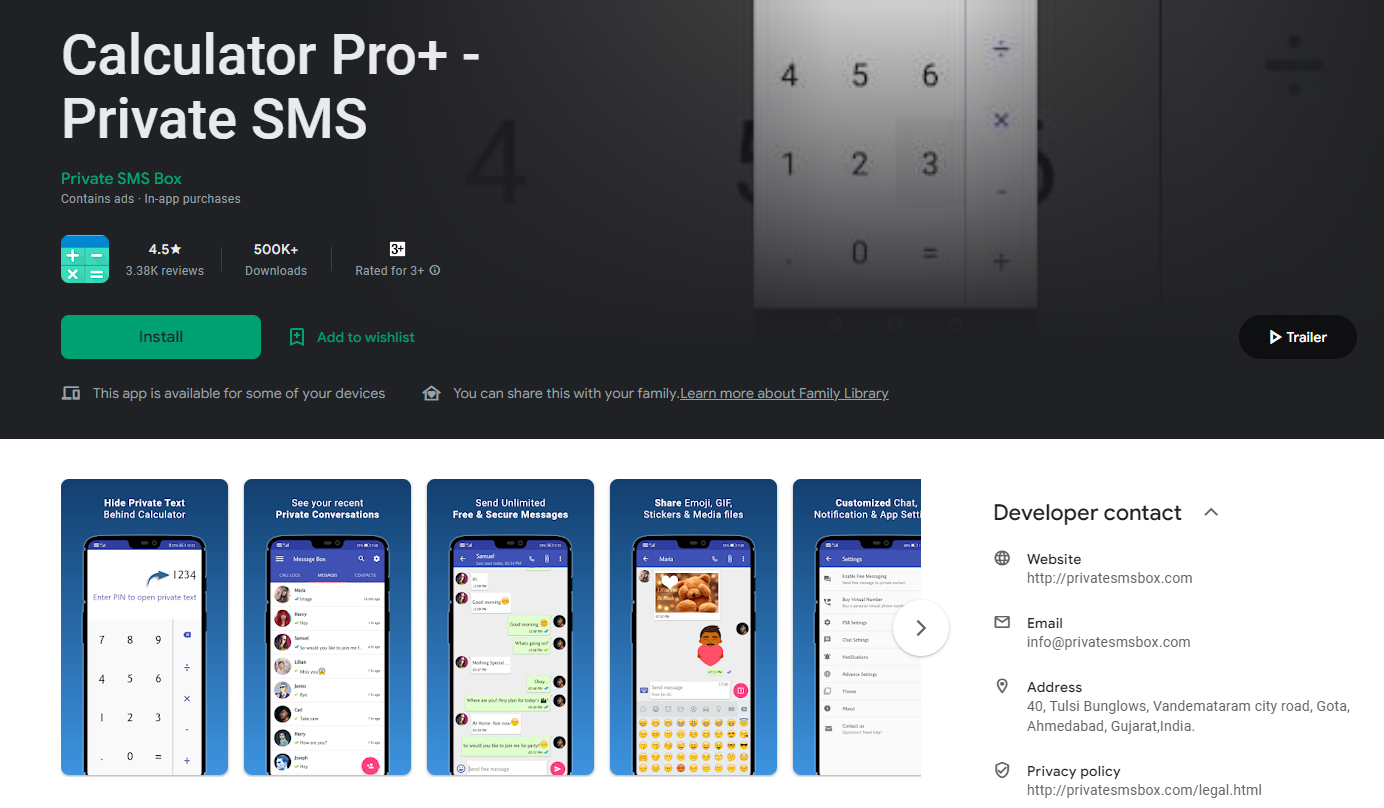 It is a unique messaging app that cleverly disguises itself as a standard calculator.
Its front interface mimics a genuine calculator, making it indistinguishable from a secret texting app.
However, behind its calculator façade, Calculator Pro+ offers a range of messaging features.
One of the key features is its PIN protection, ensuring that only you can access the secret messaging section of the app. You can also use the front-end calculator as a regular calculator, adding to its dual-purpose functionality.
The app is free to download and use, providing a convenient and cost-effective solution for secure messaging. It offers automatic message backups, alleviating concerns about data loss.
To enhance privacy, Calculator Pro+ includes a timeout feature, allowing you to automatically set a timer for the app to close after a designated time.
Improve your iOS messaging with the help of Smiley, a necessary app lauded for its reliable and secure features.
Use Smiley to have private conversations without worrying about being overheard or compromised.
The app uses a subscription-based business model, and there is a small fee to use its services. This guarantees a high level of dedication to security and privacy.
Smiley prioritizes your security and provides several security features, including the capability to set a password.
Thanks to this additional layer of security, your messages can be hidden behind a PIN that is only known to you, further protecting your private communications.
It is simple to set up and requires little effort.
Smiley simplifies the installation process for quick and trouble-free access because, unlike other applications, it doesn't require creating an account.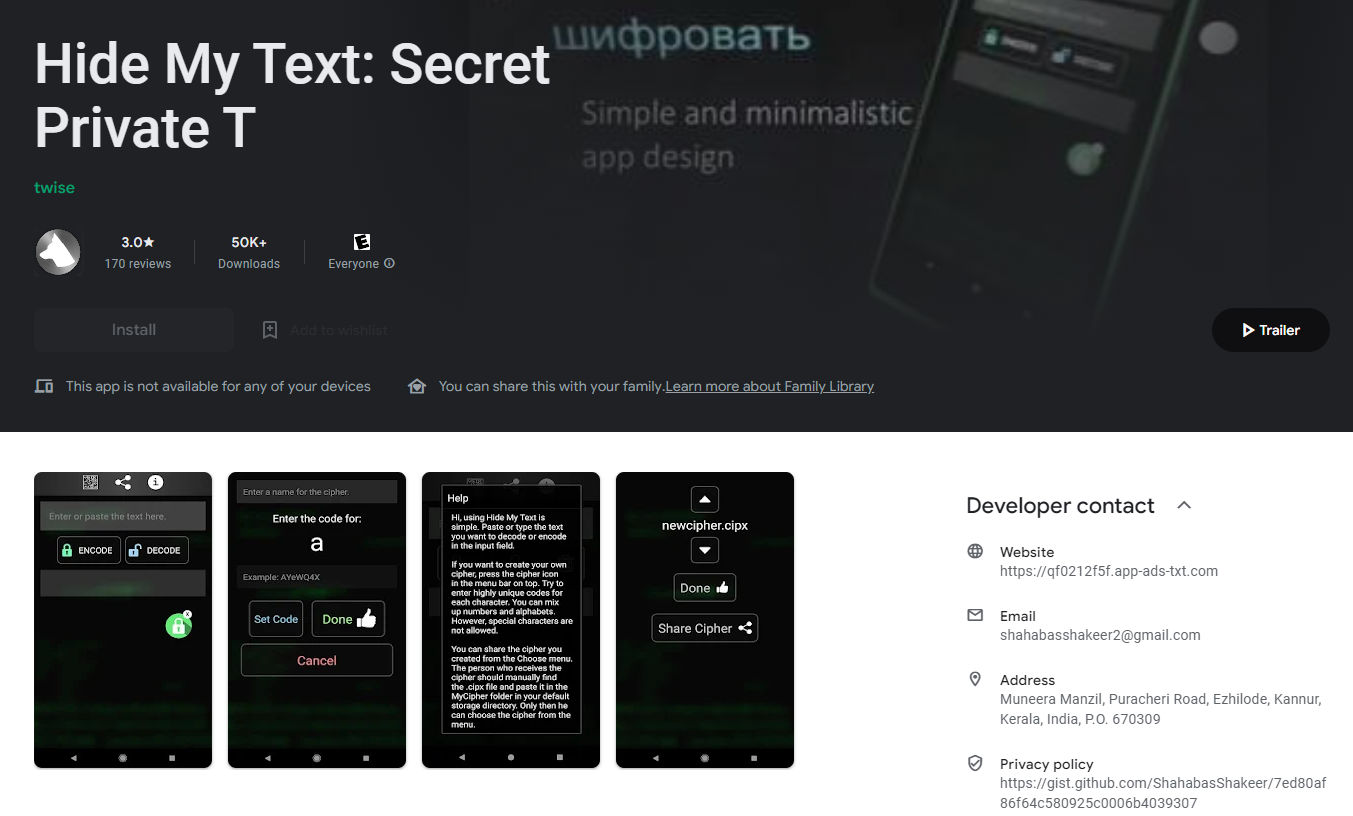 Hide My Text is an Android app that cleverly disguises itself as a game for an immersive messaging experience.
The app's icon, resembling a horse, deceives onlookers, giving the impression of a chess game or something similar.
However, behind its innocent appearance lies a powerful encryption tool designed to secure your text messages.
Simply pasting a phrase into the app automatically encrypts the text, rendering it unreadable to prying eyes.
Hide My Text also offers decryption capabilities, allowing you to decipher encrypted messages received from others.
You can even create your own cipher to add an extra layer of excitement. Share the cipher with a friend, enabling them to decrypt your hidden messages.
When someone glances at the encrypted text messages you send, they will see nonsensical gibberish.
This clever feature allows you to incorporate hidden messages within regular chats, with others assuming it to be a simple typing error.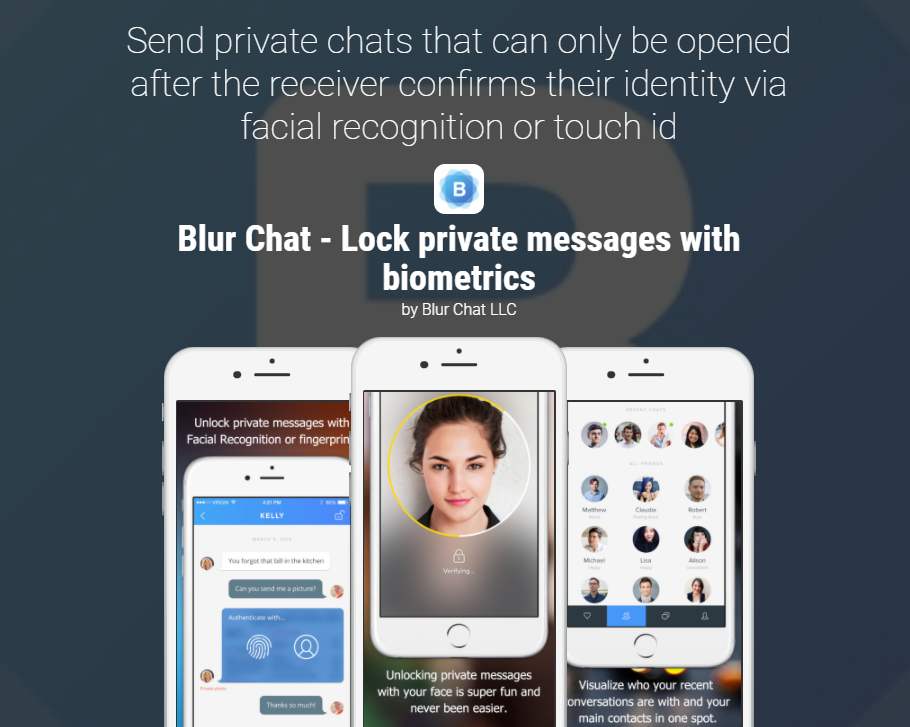 This app also prioritizes privacy by implementing features such as touch ID and facial recognition so that only you can access your messages, providing an additional layer of protection.
One standout feature of Blur Chat is the two-way delete functionality, allowing you to delete messages from your own device and the receiver's device.
It ensures that your conversations remain confidential and cannot be retrieved by anyone.
For added privacy, Blur Chat offers self-destructing texts.
Send messages that automatically delete themselves after a specified time, providing extra confidentiality and preventing them from being accessed in the future.
To further enhance anonymity, Blur Chat allows you to disguise contacts by modifying their names or images.
This feature enables you to conceal the true identity of your contacts, adding a layer of privacy.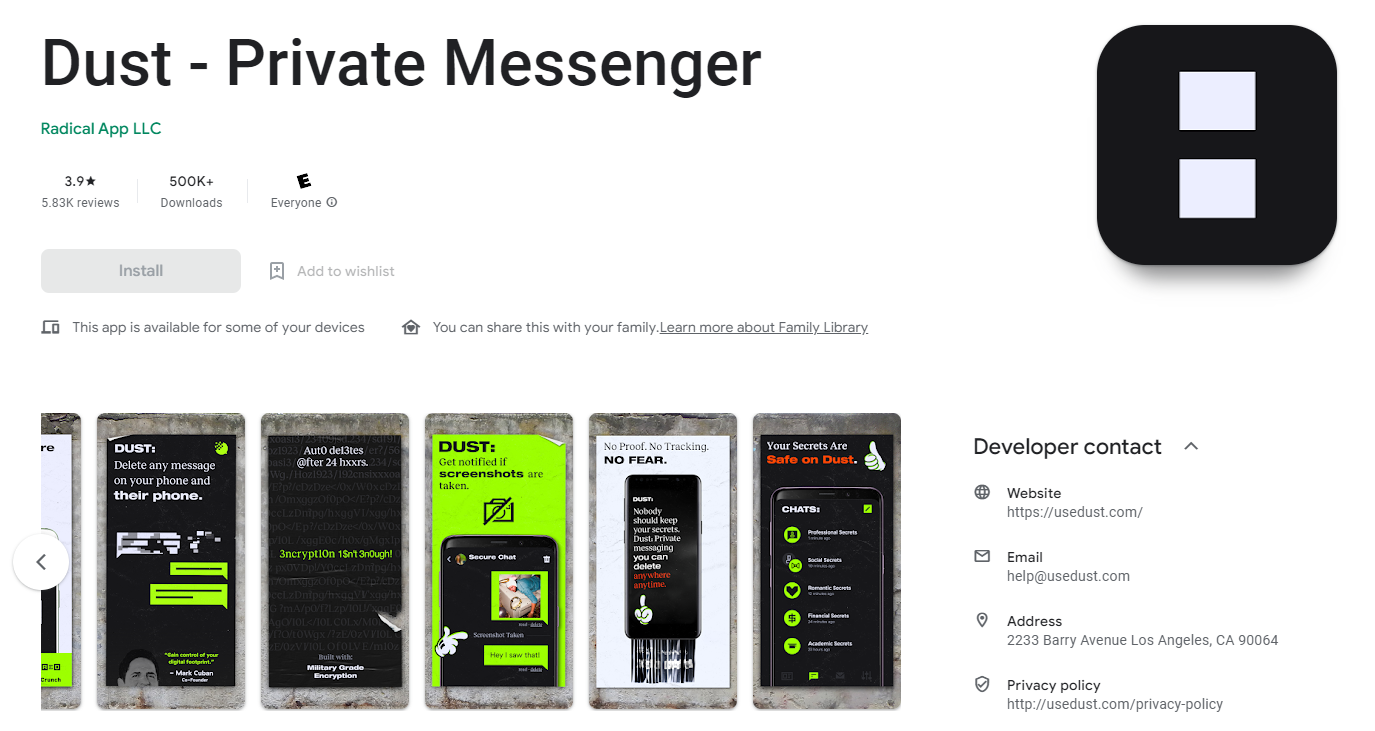 Dust is a fascinating messaging app that masquerades as a game. Its icon, which resembles a pair of dice, blends in on your device.
Its automatic deletion of chat history after 24 hours is a standout feature. All your messages are not left on your device, giving you peace of mind about unauthorized access.
You can also unsend messages at any time, with the added benefit of wiping them from the recipient's device as well.
It provides secure encryption, making it suitable for sharing sensitive information such as bank account information.
If you're concerned about leaving such information on the app, you can quickly delete the message after it's been read from both devices.
Furthermore, you get notified immediately if someone screenshots your message, allowing you to address any privacy concerns as soon as possible.
Dust introduces you to the world of covert messaging, where the lines between a game and a messaging app blur for a secure and private communication experience.
Gem4me is an engaging messenger app with a game-like interface.
It offers a straightforward and efficient messaging experience, allowing you to exchange text messages, images, videos, and files at no cost.
One standout feature of Gem4me is the ability to invite friends to chat with you anonymously using a unique QR code. Additionally, you can enjoy group chats on the platform.
An exciting aspect of Gem4me is its message editing capability.
Unlike many other apps, Gem4me allows you to edit messages after sending them, providing the convenience of fixing errors or revising content without deleting and resending the entire message.
Like a social network, you can create private or public channels on Gem4me. Share updates to your channel; subscribers will see them in their news feeds.
Gem4me also supports audio and video calls, expanding the range of communication options available within the app.
The messaging service elegram highly values the privacy of its users. The best option is Telegram if security is your top priority.
Your conversations are kept private and protected thanks to its exceptional security features, which include end-to-end encryption.
Further protecting your privacy, neither your personal information nor the chats you participate in are used for business purposes.
Syncing your account across multiple devices is one of Telegram's practical features. Thanks to this, you can access your contacts and conversations no matter what device you're using.
An enjoyable messaging experience is facilitated by the app's user-friendly interface and clear layout.
It is simple to use, making it simple for users to connect with others and communicate.
Telegram provides a complete communication platform that can meet a variety of needs. In addition to text messaging, it also supports voice and video calling.
Benefits of Using Cheating Secret Messaging Apps
Cheating secret messaging apps offer several advantages to users who prioritize privacy and discreet communication. Here are some benefits of using these apps:
Enhanced Privacy – Cheating secret messaging apps prioritize user privacy by employing robust encryption techniques to keep messages secure and inaccessible to unauthorized individuals.
Secure Encryption – These apps use encryption protocols to protect message content, making it difficult for anyone other than the intended recipient to access or decipher the messages.
Disguised Communication – The unique feature of these apps is their ability to disguise messages within a gaming or nonchalant interface.
Ability to Maintain Secrets or Surprises – They allow users to communicate covertly, helping them keep secrets, plan surprises, or engage in confidential discussions without the risk of exposure.
Selective Access – Users have control over who can access their messages, ensuring that only the intended recipients can read or respond to them.
Frequently Asked Questions
Are Cheating Secret Messaging Apps Legal?
Yes, these apps are legal to use as long as they are not employed for illegal purposes. 
Just use them responsibly and follow the laws and regulations of your jurisdiction.
Can I Trust the Encryption of Apps Like These?
The apps listed in our article prioritize user privacy and employ robust encryption methods to protect your messages. 
It's always wise to stay informed about the latest security practices and choose apps that regularly update their security features.
Can Cheating Apps Be Used on Both Android and iOS Devices?
Most of the cheating secret messaging apps mentioned in this article are compatible with both Android and iOS devices. 
However, checking the specific app requirements and compatibility is advisable before downloading.
Conclusion
Secret messaging apps disguised as games provide a discrete way to communicate without raising suspicion in times when privacy is increasingly important.
Our list of the 10 best cheating secret messaging apps that look like games includes various options to suit different preferences and needs.
From puzzle games to other default app tools like calculators, these apps keep your conversations private from prying eyes.