Are you sick of seeing advertisements every time you use the internet? If so, you are not by yourself. Many users now find the abundance of online advertisements to be annoying.
Ad blockers, fortunately, offer the solution you need.
They are software or browser add-ons that assist you in blocking unwanted advertisements so you can browse without interruption.
This article will delve into the world of adblockers and present you with the 10 best Adblock for Chrome tools.
These extensions are renowned for getting rid of annoying ads, speeding up page loads, and protecting your privacy.
10 Best Adblock for Chrome Tools in 2023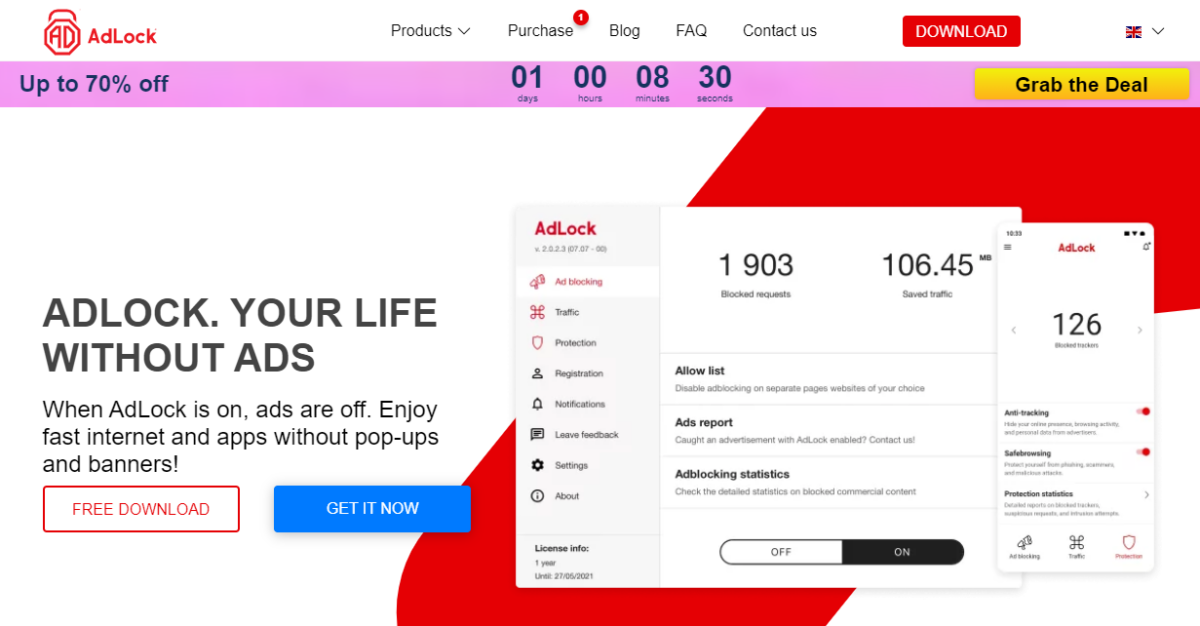 AdLock can block many online advertisements, including video ads, pop-ups, and even malicious websites. 
Renowned as the ultimate adblocker for Chrome, AdLock stands out among its counterparts.
AdLock is a premium solution with a low price considering the benefits you gain. The site also offers a free version, providing users flexibility.
Its primary function is eradicating ads, but its advantages extend beyond that. By blocking ads, the app shields your devices from potentially harmful links, ensuring your computer's or mobile device's safety.
Additionally, it enhances browsing speed and conserves significant mobile data. Simply visit the official AdLock website to download the application for any platform.
Choose between the free or paid versions, which boast sleek and user-friendly interfaces on Google Chrome for both computers and mobile devices.
While some websites may require AdLock to be disabled for proper loading, the process is effortless, allowing you to exclude specific sites from ad blocking.
You can still view listings and advertisements while resolving loading issues. Furthermore, AdLock even extends its benefits to removing ads from torrenting tools.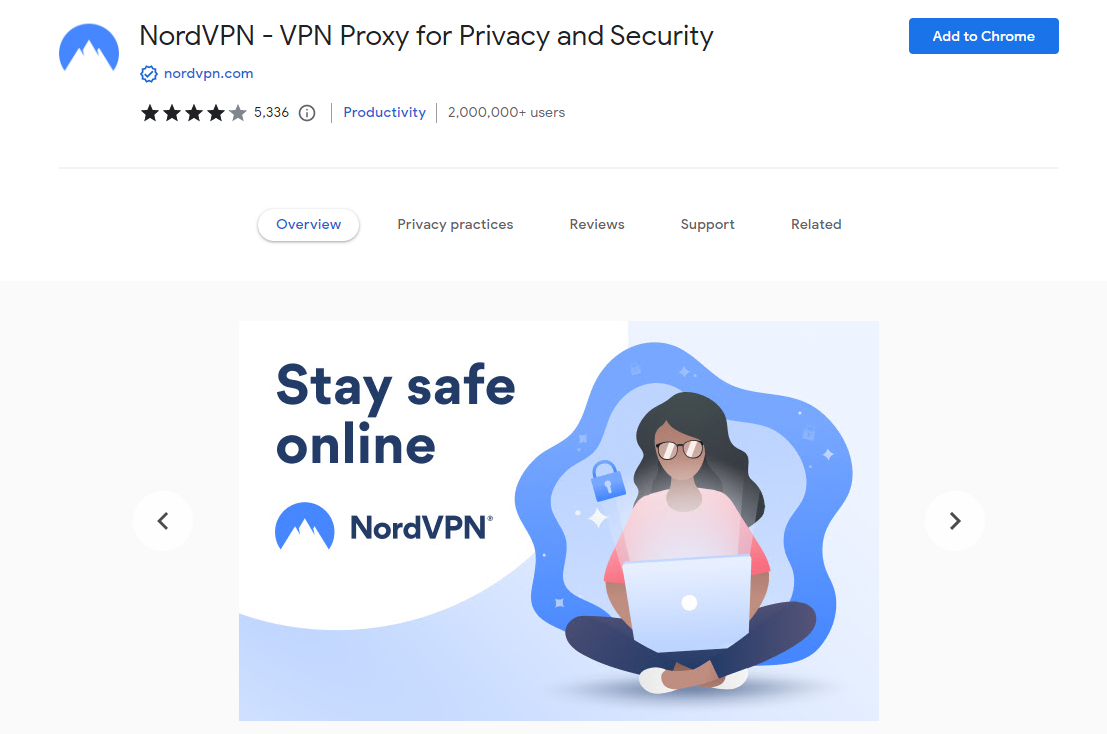 One remarkable aspect of NordVPN lies in its built-in adblocker, allowing users to maximize the benefits of both their VPN services and the ad-blocking feature seamlessly integrated into the system. 
You enjoy top-notch VPN services and gain the advantage of a robust adblocker that effectively eliminates intrusive ads, ensuring smooth and secure browsing experiences without any unnecessary distractions.
Ads can be incredibly bothersome, but with NordVPN, you can utilize one of the industry's finest VPN solutions bundled with a standard ad blocker.
Activating the adblocker is a breeze; simply open the app, select the shield icon, and ensure that the 'threat protection' option is enabled.
This combination of advanced VPN features and comprehensive adblocking capability makes NordVPN an exceptional choice for hassle-free online activities.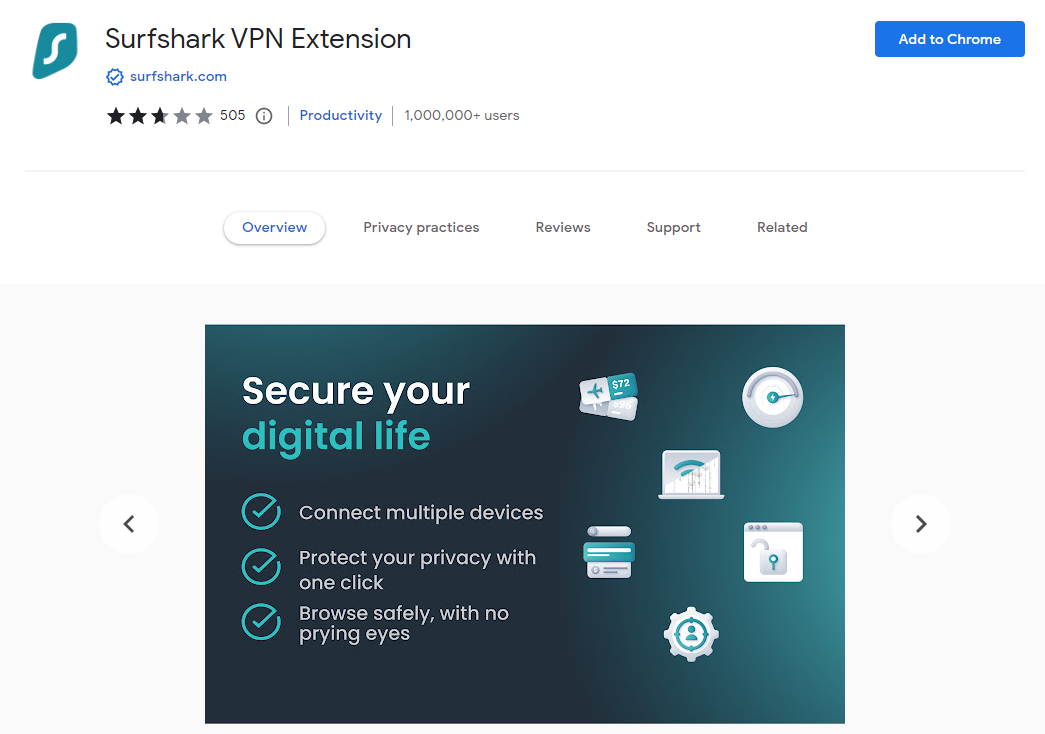 Discover the power of Surfshark, a cutting-edge adblocker extension for Chrome that revolutionizes your browsing experience. 
This exceptional tool blocks annoying ads and boasts an array of next-generation features. 
Alongside its ad-blocking capabilities, it excels in virus removal and safeguarding your IP address and online activities.
Regarding security, Surfshark CleanWeb is second to none, as it is an integral part of a comprehensive VPN security suite.
The app undergoes independent audits, and its providers strictly adhere to a privacy policy that guarantees the non-logging of your personal information.
For an additional fee, you can even unlock the full antivirus functionality. With a database housing over a million infected websites, Surfshark efficiently blocks malicious web pages preemptively.
Moreover, it offers a convenient cookie pop-up blocker, preventing interruptions from incessant cookie consent requests.
Should you desire access to specific websites, the Bypass list feature allows you to customize your preferences.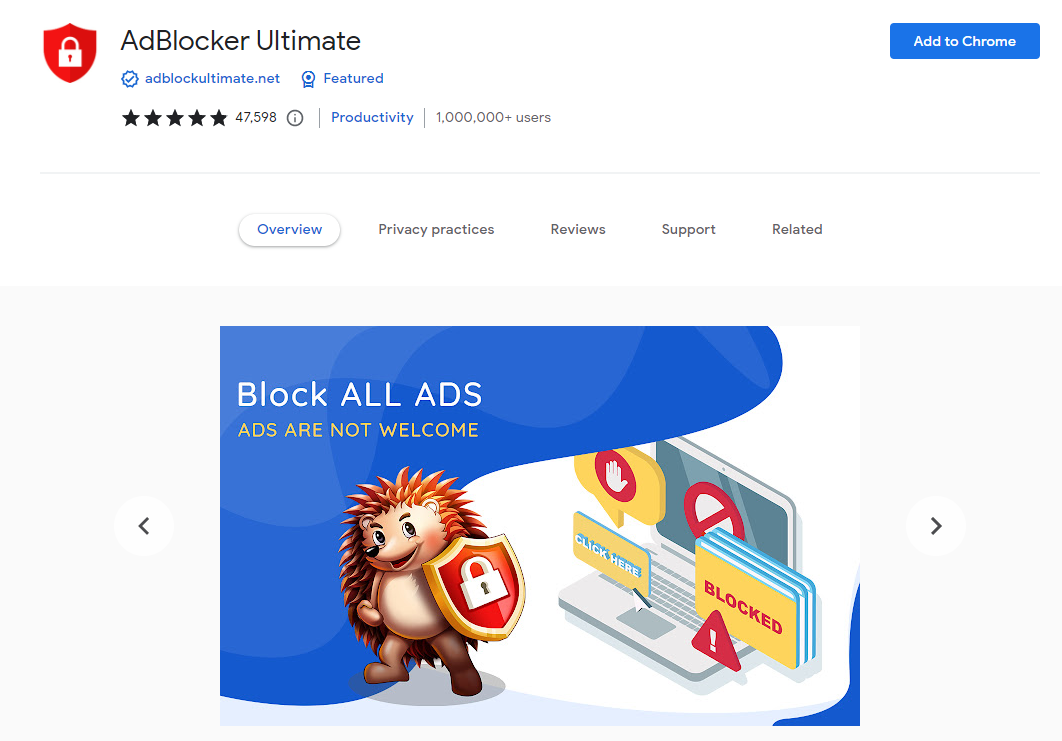 AdBlocker Ultimate is an outstanding Google Chrome add-on that enhances your browsing experience through various powerful features.
Its primary function is to remove ads, malware, and tracking, ensuring a clean and secure online environment.
However, this add-on offers more than just ad-blocking capabilities.
It also protects phishing websites and allows you to create a personalized whitelist of trusted sites.
The user-friendly interface of AdBlocker Ultimate makes it easy to navigate and customize according to your preferences.
Its efficient ad-blocking feature eliminates all ads, promoting a clutter-free browsing experience.
Additionally, the add-on offers element blocking, enabling users to block specific details on web pages selectively.
It is compatible with various web browsers, ensuring a seamless experience across different platforms.
It consumes minimal system resources, optimizing device performance.
Moreover, the whitelisting feature allows users to exempt trusted websites from ad-blocking, providing customization options and support for preferred content creators.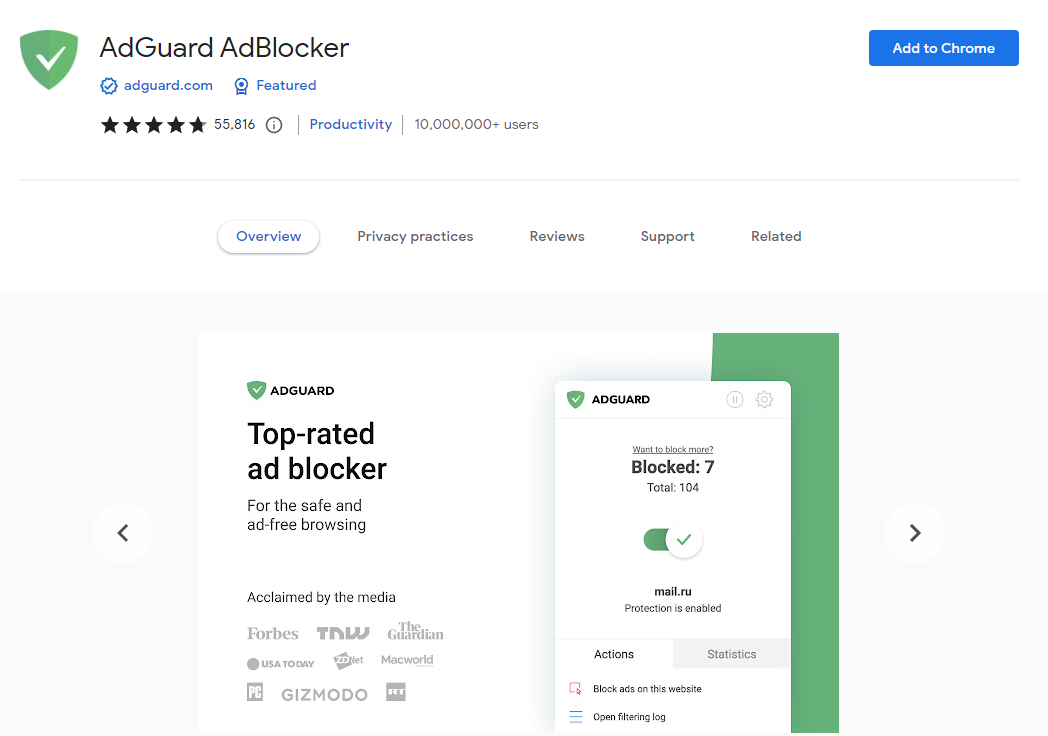 AdGuard provides a wide range of products that offer comprehensive ad-blocking and safe browsing solutions.
Depending on your preferences, it can be used as a browser extension or a standalone application.
Their products are available for a variety of platforms, including Mac, Windows, Android, and iOS, ensuring compatibility with your preferred devices.
In addition to individual device protection, it provides a home solution that protects all devices connected to your network.
This comprehensive protection goes beyond ad blocking, offering a secure browsing experience and parental control features to keep your family safe online.
AdGuard DNS is a standout feature of the company.
AdGuard DNS, unlike other services, is a free solution that does not require the installation of any software.
You can enjoy ad-blocking and enhanced privacy without the need for additional software by simply changing the DNS settings on any device.
This tool caters to user preferences by offering various products, including browser extensions and dedicated applications for multiple platforms.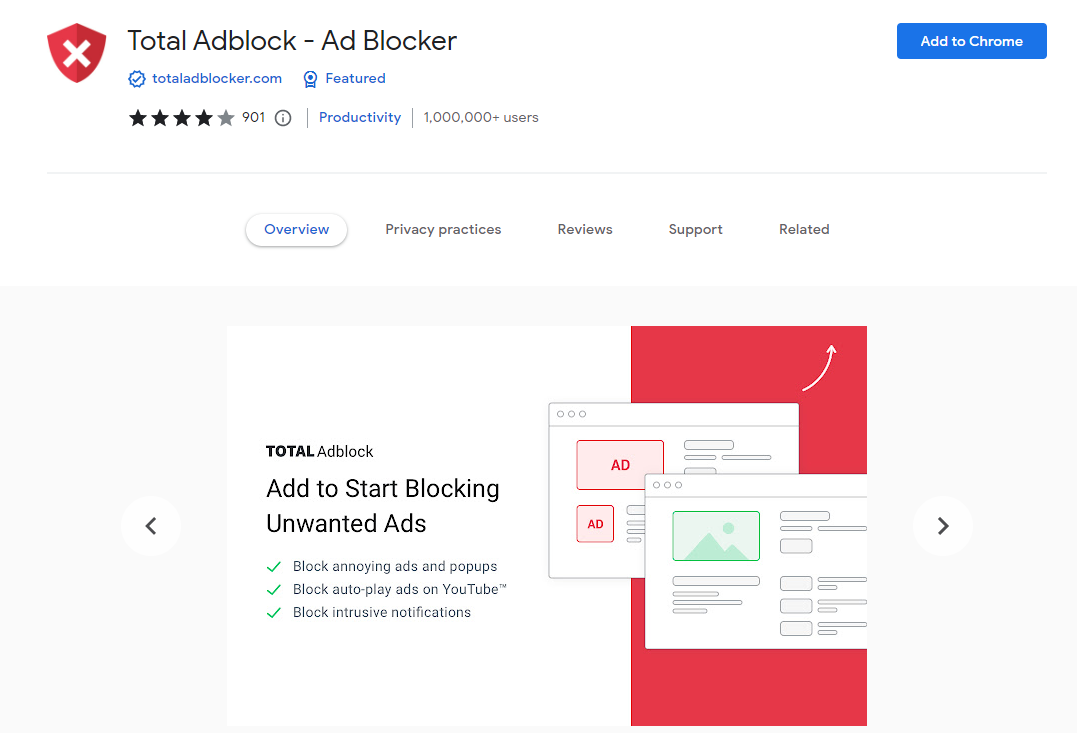 This outstanding tool is well-known for automatically blocking ads and trackers across the internet, ensuring uninterrupted browsing without the hassle of intrusive advertisements.
It is particularly good at detecting and removing ads on popular platforms such as YouTube, Facebook, and CNN.
With its user-friendly Chrome extension, TotalAdblock makes ad blocking easier.
The extension simplifies ad blocking by providing automated features, allowing users to enjoy an ad-free environment easily.
Its exceptional ability to detect and block ads and tracking servers distinguish it and earns it our highest recommendation.
In addition to its ad-blocking abilities, it provides features to optimize the page loading speed, further improving your browsing experience. It keeps your online activities private and secure by blocking trackers.
TotalAdblock's Chrome extension integrates seamlessly with your browser and requires only a simple installation process.
You can block all ads on the web pages you visit with a single click, saving you from the annoyance of intrusive advertisements.
Furthermore, TotalAdblock offers exceptional services for free, making it an accessible and cost-effective solution for ad-free browsing.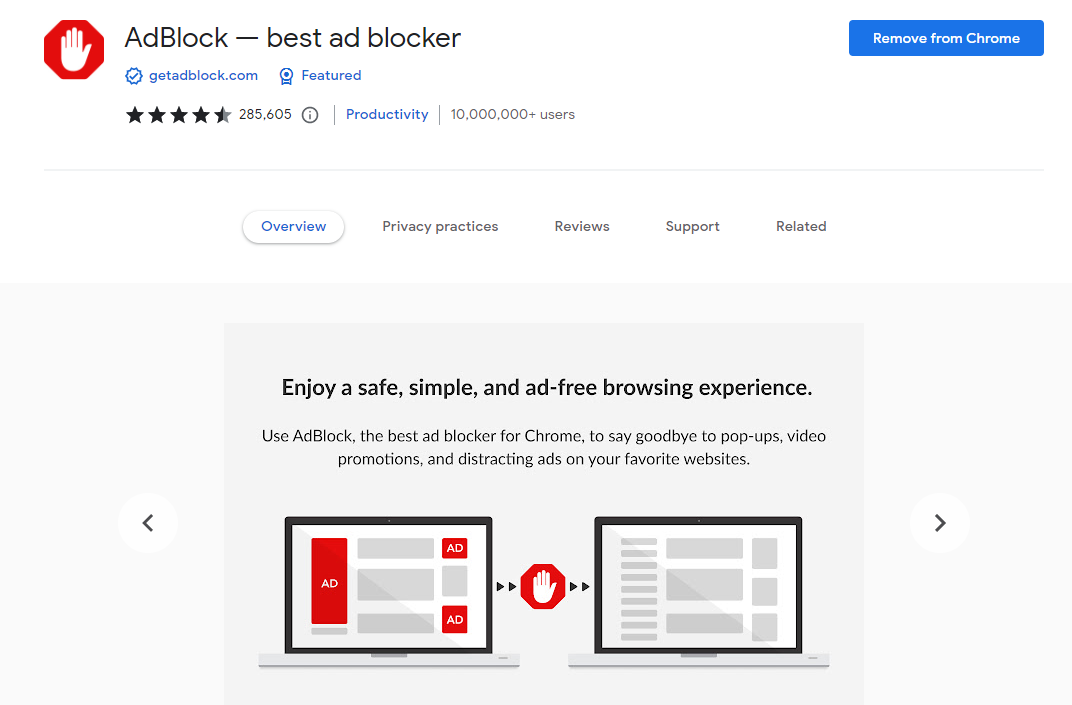 AdBlock is one of the best ad blockers for Chrome, effectively removing advertisements and pop-ups across a variety of platforms such as YouTube, Facebook, Twitter, and numerous other websites.
AdBlock allows users to customize their ad-viewing experience by opting to see ads, whitelisting specific websites, or blocking all advertisements by default.
It has a slew of impressive features that contribute to its exceptional performance. It is compatible with a wide range of browsers, including Chrome, Firefox, Edge, and Safari. It also provides multilingual support.
Notably, it excels at blocking pop-ups, annoying banners, video ads, and third-party trackers, allowing users to protect their privacy while browsing.
It also includes advanced features like malware protection, crypto-mining defenses, and the ability to whitelists, dark mode, customize filters, and colorful themes.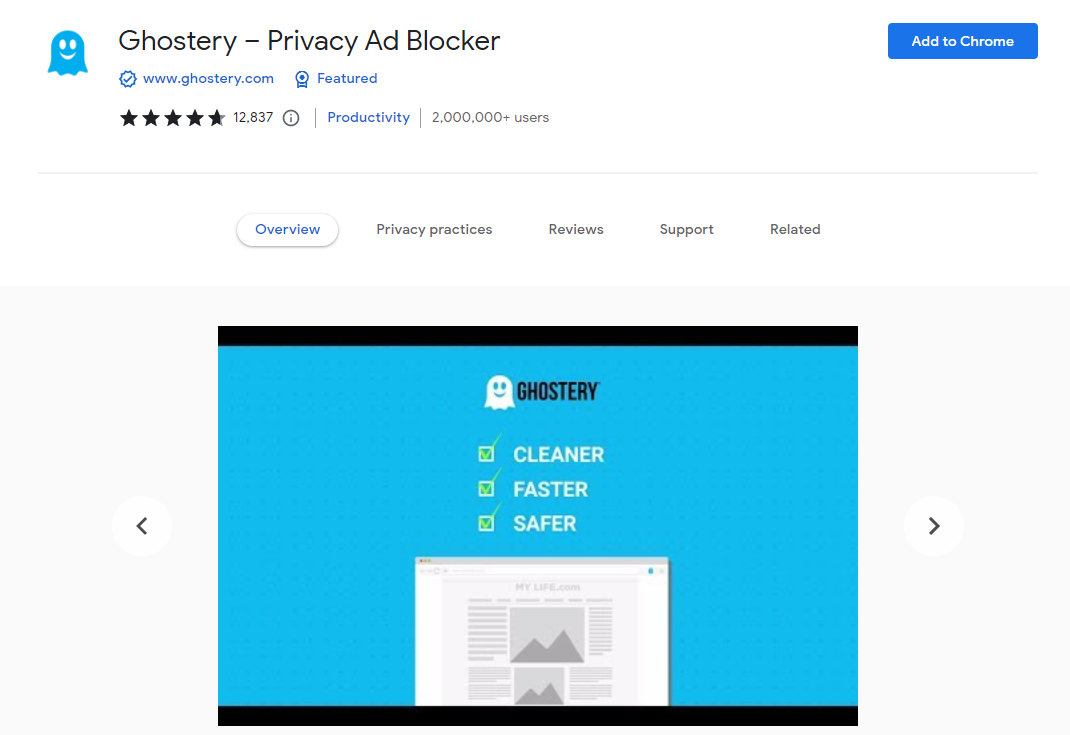 Ghostery presents itself as an exceptional open-source ad blocker, offering functionality similar to AdGuard but with the benefit of being completely free.
This cutting-edge ad-blocking solution employs intelligent blocking technology that optimizes your browsing experience by blocking ads and trackers.
The user-friendly interface of Ghostery enhances its appeal, providing insightful analytics and allowing users to customize their blocking preferences.
Ghostery delivers a safe and secure browsing environment by blocking a wide range of ads and trackers.
What sets Ghostery apart is its flexibility, enabling users to personalize its features according to their requirements and derive maximum benefit from the tool.
Moreover, Ghostery provides detailed analytical reports, showcasing the number of ads and trackers blocked thus far.
With its user-friendly interface and the availability of comprehensive analytics, Ghostery offers a seamless ad-blocking experience.
Enjoy a clutter-free browsing journey while gaining valuable insights into the ads and trackers being blocked.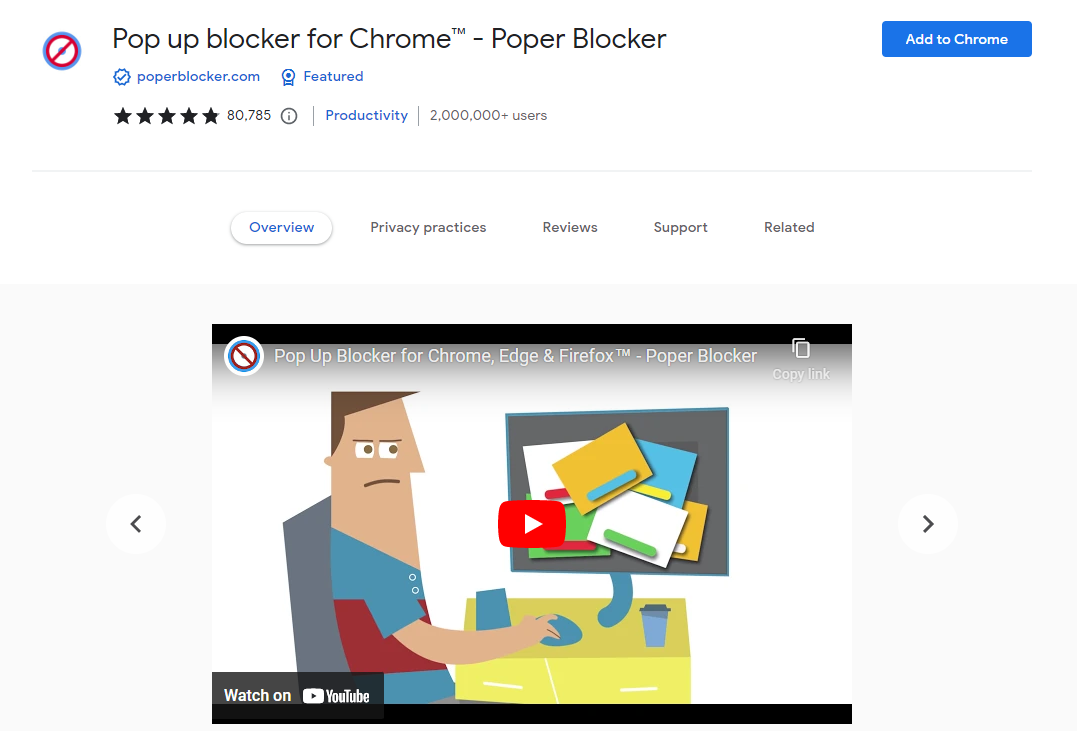 Poper Blocker, also known as Pop Up Blocker For Chrome, takes a unique approach by complementing other ad blockers rather than serving as a standalone solution.
Its primary focus is blocking a specific type of nuisance: pop-ups, overlays, scroll and timed pop-ups, and other similar variations that may evade detection by other ad-blocking tools.
You'll receive small notifications whenever pop-ups are successfully blocked, keeping you informed about its efficient performance.
Additionally, you can view your blocking statistics, giving you insights into the number of pop-ups prevented.
The beauty of Poper Blocker lies in its seamless integration with other ad-blocking extensions. It operates quietly in the background, working alongside your preferred ad blocker, and has minimal impact on system resources.
You can rely on them to effectively eliminate the annoyance of intrusive pop-ups while allowing your primary ad-blocking solution to handle the broader spectrum of ad types.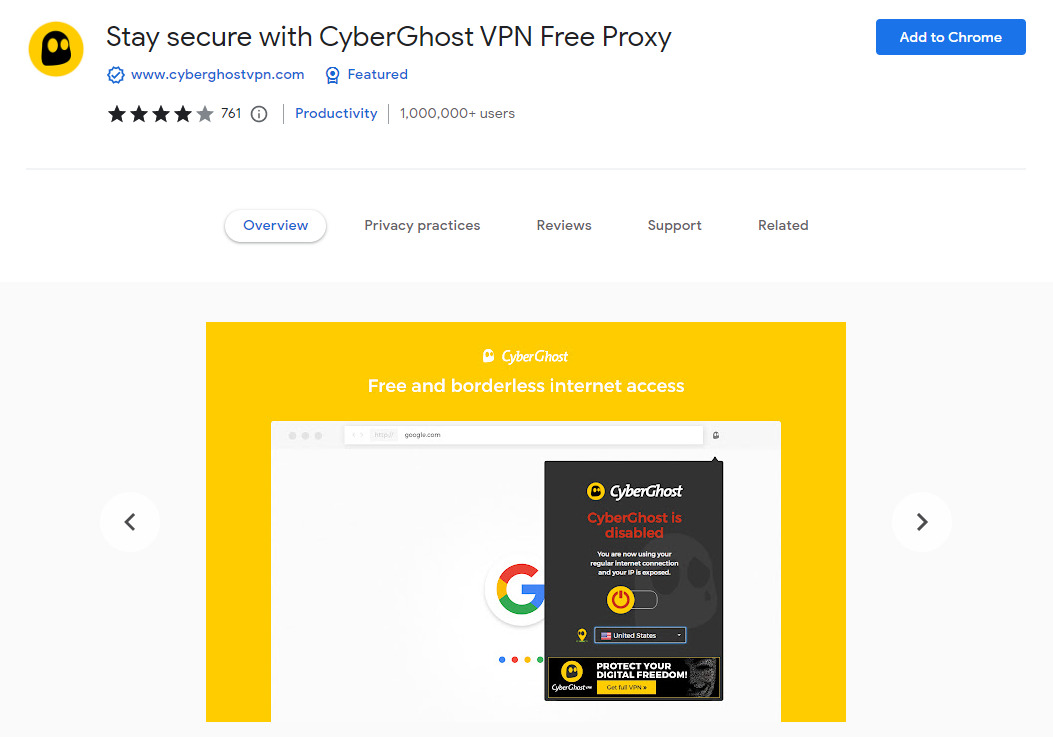 With unrivaled defense against malware, tracking, and intrusive ads, CyberGhost stands out as a remarkable and top-notch ad blocker.
Thanks to its user-friendly interface, you can manually activate many security features, though protection against dubious websites and pop-ups is strongly advised.
The tool adopts a more direct strategy by removing the code responsible for displaying ads at the server request level, unlike other blockers that merely block DNS requests from particular websites. Ads are effectively removed thanks to this creative technique.
You'll be astounded by its efficacy once you see the remarkable malware and ad protection in action.
When blocking ads from popular websites like Facebook, YouTube, and others, CyberGhost excels.
If you remove the ads, your browsing will be much faster and more enjoyable with fewer interruptions.
It encrypts your online data and offers a wide range of IP addresses to hide your personal information from ISPs and hackers.
Advantages of Using Adblockers
Let's examine a few of the benefits:
Improved Security and Privacy
Adblockers don't just stop ads from showing up; they also stop tracking scripts and cookies from watching what you do online.
Adblockers assist in preserving your privacy and lowering the possibility of being the target of malicious actors by blocking these tracking mechanisms.
Faster Loading Times
Ads can significantly increase the time it takes for pages to load, especially those with multimedia content.
The Adblock tools stop these ads from loading, making the browsing experience quicker and more fluid. You can access information and navigate websites more quickly with shorter loading times.
Decreased Distractions
Ads can be annoying and interfere with your reading or viewing.
Thanks to adblockers, you can concentrate on the content you're interested in without being constantly interrupted by pop-ups or banners, which remove these distractions.
Bandwidth Management
When ads are downloaded and shown on your screen, bandwidth is used.
Adblockers work to reduce bandwidth consumption by blocking ads, which can reduce your internet costs if you have a meager data plan.
Prevention of Malware
Some advertisements might link to websites that can infect your device with malware or contain malicious code.
They serve as a first line of defense against these dangers by preventing the display of potentially dangerous ads.
Frequently Asked Questions
Are Adblockers Legal?
Yes, adblockers are legal to use. They simply remove or hide advertisements from websites you visit, but they do not interfere with the website's functionality.
Can Adblockers Block All Types of Ads?
While adblockers are highly effective at blocking most types of ads, some ad formats may occasionally slip through their filters. 
However, the best AdBlock for Chrome mentioned in this article offers robust blocking capabilities.
Can Adblockers Improve Browsing Speed?
Yes, adblockers can significantly improve browsing speed by preventing ads from loading.
This reduces the amount of data that needs to be downloaded, resulting in faster page load times.
Can I Whitelist Specific Websites with Adblockers?
Yes, most adblockers allow you to whitelist specific websites.
This means you can choose to support certain websites by allowing ads to be displayed on them while blocking ads on other sites.
Conclusion
With the 10 best adblock for Chrome solutions we talked about here, you can bid farewell to intrusive and annoying ads while enjoying a smoother browsing experience.
Remember, the choice of adblocker ultimately depends on your preferences and requirements.
Experiment with different options to find the one that aligns with your browsing habits and provides the desired level of ad blocking and privacy protection.