Imagine the digital world as a battleground where your online privacy and security are constantly attacked.
In this fast-paced era of 2023, finding the perfect VPN service is crucial to safeguarding your personal information.
Fear not, for we have ventured into the depths of the internet to bring you the ultimate guide to the "10 Best VPN Services in 2023."
Join us as we unravel the extraordinary features of NordVPN, Surfshark, and Atlas VPN, the three leading champions in the world of VPNs.
But our journey doesn't stop there.
We'll introduce you to seven other remarkable VPN providers, each with their own unique strengths and offerings.
We'll empower you to navigate the intricate VPN landscape, from speed demons to privacy fanatics; we'll help you choose the VPN service that suits your needs.
The battle for online privacy has never been more crucial, but armed with our guide, you'll be ready to reclaim control over your digital presence.
Join us as we dive into the realm of the best VPN services and unlock the power of secure internet freedom.
Let's begin this exciting journey together!
10 Best VPN Services in 2023

In the vast realm of VPN services, NordVPN stands tall as a guardian of digital privacy in 2023.
With an unwavering commitment to protecting your online presence, NordVPN has earned the loyalty of users who rely on its formidable capabilities.
NordVPN's standout features set it apart from the rest.
Picture NordVPN as the armored knight wielding the mighty sword of AES-256 encryption, shielding your data from prying eyes.
Its Double VPN feature adds an extra layer of protection, routing your traffic through two servers for enhanced anonymity.
And with CyberSec, NordVPN fends off ads and malware to ensure a seamless online experience.
But NordVPN is not just about fortification; it's about unlocking the boundless possibilities of the internet.
Its extensive 5600+ server network empowers you to break free from digital borders, circumvent geo-restrictions, and indulge in a world of international content.
NordVPN's user-friendliness reigns supreme.
Its interface serves as a well-crafted map, guiding even the most novice users through the VPN landscape.
With user-friendly apps for various platforms, NordVPN accompanies you on your digital adventures, whether on Windows, macOS, Linux, iOS, or Android.
In 2023, NordVPN continues to evolve, optimizing its performance with lightning-fast servers that defy distance.
Pricing is competitive, making NordVPN accessible to users from all walks of life.
The company's customer support team provides reliable assistance, ensuring you're never alone in navigating the digital landscape.
NordVPN's relentless pursuit of excellence extends beyond its robust features and user-friendly interface.
The company constantly innovates, refining its arsenal and optimizing its performance to stay ahead of evolving online threats.
Its swift and stable connections, backed by a vast server network, enable users to conquer the digital realm with unparalleled velocity.
NordVPN's commitment to speed ensures seamless streaming, effortless browsing, and a secure online experience.
With NordVPN by your side, you can navigate the digital landscape with confidence and peace of mind, knowing that your privacy and security are in trusted hands.
As a force to be reckoned with, NordVPN safeguards your digital identity with unwavering dedication.
In the treacherous digital frontier of 2023, NordVPN remains a beacon of trust, unlocking the full potential of the online world.
You can embrace NordVPN as your steadfast companion, where privacy, security, and freedom converge.

Surfshark VPN has quickly risen to prominence in the VPN market due to its innovative features and unwavering commitment to online privacy and security.
One of Surfshark VPN's standout features is its ability to provide fast and seamless browsing experiences.
Whether you're streaming high-definition content, engaging in online gaming, or downloading files, Surfshark VPN ensures a smooth and uninterrupted online experience, free from any slowdowns or interruptions.
Privacy is a top priority for Surfshark VPN, and it employs robust security measures to protect your data.
With AES-256 encryption and Camouflage Mode, Surfshark VPN ensures that your online activities remain hidden and anonymous, safeguarding your sensitive information from prying eyes.
Surfshark VPN distinguishes itself by offering unlimited simultaneous connections, allowing you to protect all of your devices with a single subscription.
Whether it's your smartphone, tablet, laptop, or other devices, Surfshark VPN ensures that your online security extends across your entire digital ecosystem.
The user-friendly interface of Surfshark VPN caters to users of all technical backgrounds, making it easy to navigate the platform and customize settings.
It is compatible with various platforms and operating systems, including Windows, macOS, Linux, Firefox, Fire TV iOS, Android, and more.
Surfshark VPN's expanding server network provides users with the ability to bypass geo-restrictions and access global content.
With 3200+ servers strategically located in 100+ countries, Surfshark VPN offers a wide range of options for unlocking region-specific content and enjoying an unrestricted online experience.
In terms of pricing, Surfshark VPN offers competitive subscription plans that provide excellent value for the features and performance it delivers.
This commitment to affordability ensures that online privacy and security are accessible to users of all budgets.
Overall, Surfshark VPN is a leading VPN service that offers fast and secure connections, unlimited simultaneous connections, user-friendly functionality, and an expanding server network.
With its focus on privacy, affordability, and accessibility, Surfshark VPN empowers users to browse the internet with confidence and peace of mind.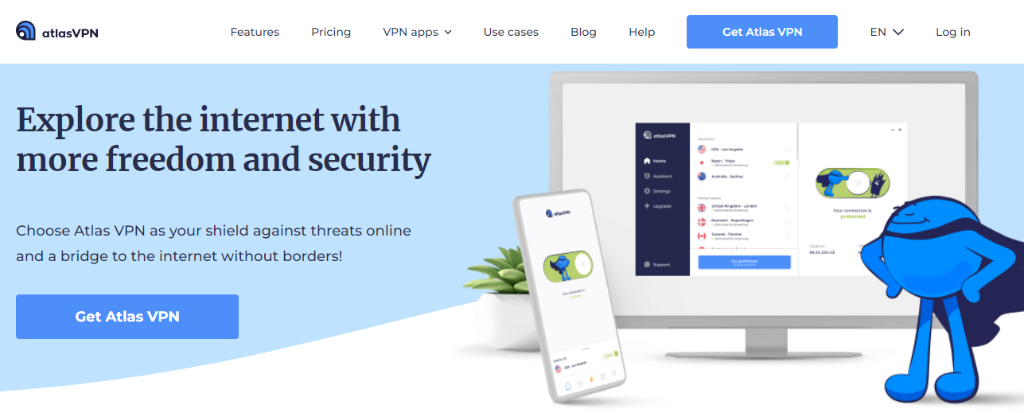 Atlas VPN is a rising star in the VPN market, offering a user-friendly and privacy-focused solution for online security.
With its emphasis on protecting user privacy and providing a seamless browsing experience, Atlas VPN has quickly gained recognition as a noteworthy VPN provider.
Privacy is a top priority for Atlas VPN. It utilizes strong encryption protocols, including AES-256 encryption, to ensure that your online activities and personal data remain secure and confidential.
Moreover, Atlas VPN operates under a strict no-logs policy, meaning that it does not collect or store any user data, further safeguarding your privacy.
Atlas VPN delivers reliable performance, offering fast and stable connections for various online activities.
Whether you're streaming content, gaming, or simply browsing the web, Atlas VPN ensures a smooth and uninterrupted experience.
Its optimized server infrastructure and widespread server locations contribute to efficient data transfer and seamless browsing.
With 1000+ servers located in 42 countries, Atlas VPN provides users with a wide range of options for global connectivity.
This allows you to bypass geo-restrictions, access region-specific content, and enjoy a more versatile online experience.
Whether you're traveling or exploring content from different parts of the world, Atlas VPN's server network ensures optimized speed and accessibility.
Atlas VPN prioritizes user-friendliness.
Its intuitive applications and user-friendly interface make it easy for both beginners and experienced users to navigate and customize their VPN settings.
The setup process is straightforward, allowing for seamless server selection and ensuring a hassle-free VPN experience.
In terms of pricing, Atlas VPN offers a freemium service that provides a free tier that allows users to experience the service with some limitations, making it an excellent option for those who want to try out Atlas VPN before committing to a premium plan.
The premium subscription unlocks additional features, such as faster speeds and access to a broader range of server locations.
In conclusion, Atlas VPN offers a user-friendly and privacy-focused VPN solution.
With its strong emphasis on privacy, reliable performance, and extensive server network, Atlas VPN provides a compelling option for users seeking enhanced online privacy, security, and unrestricted access to the internet.
4. ExpressVPN

ExpressVPN is another leading player in the VPN market, offering a reliable solution for global connectivity and enhanced online privacy.
With an impressive server network spanning 94 countries, ExpressVPN provides ample options for accessing geo-restricted content.
What sets ExpressVPN apart is its exceptional speed and performance.
Optimized servers and innovative technologies like Lightway ensure a fast and stable connection, even while encrypting your data.
This makes it ideal for streaming, gaming, and other bandwidth-intensive activities.
ExpressVPN prioritizes security, employing best-in-class encryption and security protocols to protect your data and online activities.
Features like a kill switch and DNS leak protection further enhance your privacy.
The user-friendly interface of ExpressVPN makes it easy for users of all levels.
Connecting to a server is a breeze, and the app is available on various platforms and devices. Customer support is prompt and helpful, ensuring a smooth experience.
While ExpressVPN's pricing may be higher compared to some VPN services, it reflects the premium features and performance it offers.
Flexible subscription plans and a 30-day money-back guarantee provide peace of mind.
5. CyberGhost VPN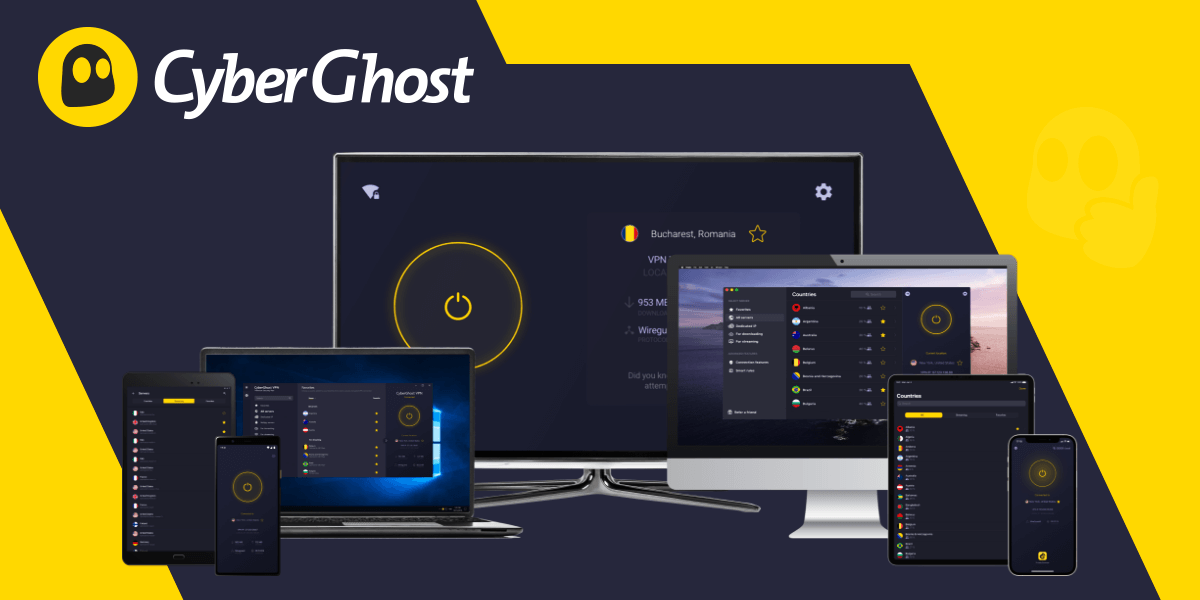 CyberGhost VPN stands out as a user-friendly VPN service catering to both beginners and advanced users.
Its intuitive interface ensures a seamless connection to servers, whether on desktop or mobile devices, making online privacy protection effortless.
One of CyberGhost VPN's distinguishing features is its extensive server network.
With servers in over 91 countries, users have a wide range of options for global connectivity.
Whether you need to bypass censorship, access geo-restricted content, or enhance online security, CyberGhost VPN's server network has you covered.
Security is a top priority for CyberGhost VPN, employing strong encryption to safeguard your data from potential threats.
Additional features like ad and malware blockers enhance your browsing experience while maintaining your safety.
With a strict no-logs policy, CyberGhost VPN ensures that your online activities remain private and confidential.
While not the fastest VPN service available, CyberGhost VPN still delivers decent speeds for most online activities.
Streaming high-definition content and general browsing are smooth experiences.
However, users engaging in highly demanding activities like large file downloads or online gaming may experience occasional slowdowns.
CyberGhost VPN offers competitive pricing with subscription plans that cater to short-term and long-term needs.
Its affordability, coupled with robust features, makes it an attractive choice for budget-conscious users seeking a reliable VPN service.
6. Proton VPN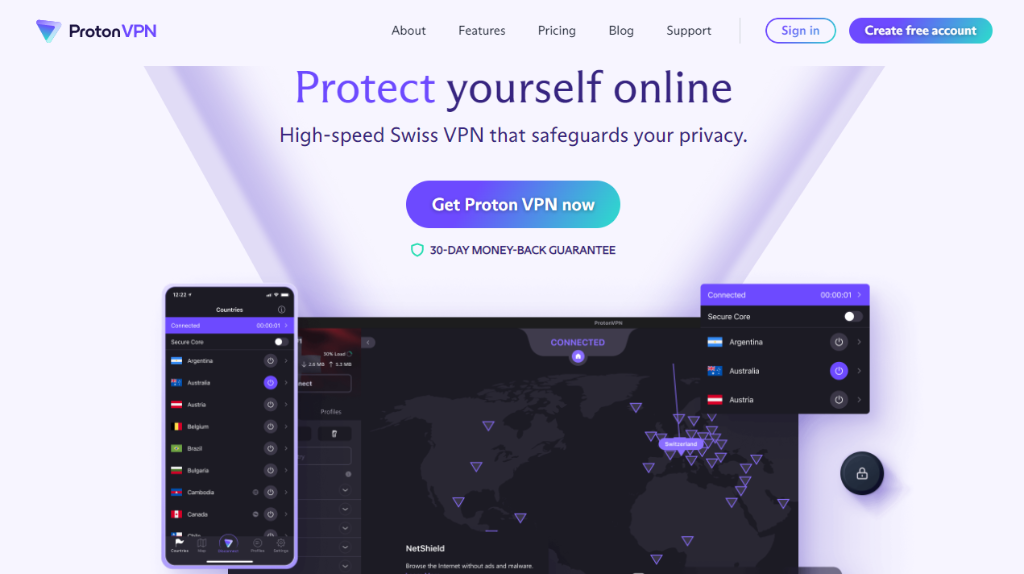 ProtonVPN is a privacy-focused VPN service developed by the creators of ProtonMail, renowned for their commitment to security.
With strong encryption and strict no-logs policies, ProtonVPN is a reliable choice for users seeking online privacy.
It prioritizes privacy and security, incorporating robust encryption, secure protocols, and a strict no-logs policy.
Your online activities remain private and protected, ensuring anonymity and peace of mind.
What sets ProtonVPN apart is its transparency and trust.
Regular security audits and open-source VPN clients demonstrate a commitment to transparency, allowing independent experts to review the service's code.
ProtonVPN offers a range of subscription plans, including a free tier for users to try the service with limited features.
Paid plans unlock additional benefits such as higher speeds, access to more servers, and simultaneous connections on multiple devices.
In terms of performance, ProtonVPN offers reliable speeds for most online activities, striking a balance between privacy and performance.
ProtonVPN's user-friendly applications make it easy to connect to servers and customize settings.
The intuitive interface caters to users of all levels, and the customer support is responsive and helpful.
7. Private Internet Access (PIA)
Private Internet Access (PIA) is an established VPN provider known for emphasizing security and privacy.
With its robust features and extensive server network, PIA offers a reliable solution for users seeking enhanced online privacy and unrestricted internet access.
PIA prioritizes user privacy and anonymity, employing industry-leading encryption and secure protocols to protect your data.
With a strict no-logs policy, PIA ensures that your online activities remain private and leave no digital footprints.
One of PIA's strengths is its vast 35,000+ server network, spanning over 84 countries.
This provides users with a wide range of options for secure and fast connections, enabling bypassing geo-restrictions and accessing region-specific content.
In addition to privacy features, PIA offers tools like ad-blocking and malware protection, enhancing your browsing experience and ensuring online safety.
Advanced users can benefit from port forwarding for customizing and optimizing their VPN connections.
PIA delivers consistent and reliable speeds for most online activities.
While not the fastest VPN service, PIA provides stable connections suitable for streaming, gaming, and general browsing.
With servers located worldwide, PIA minimizes disruptions for a seamless online experience.
PIA offers flexible subscription plans to accommodate different user preferences.
Monthly and longer-term plans are available, making it suitable for various budgets.
The affordability, coupled with strong privacy and security features, makes PIA an appealing choice for quality-conscious users on a budget.
8. Hotspot Shield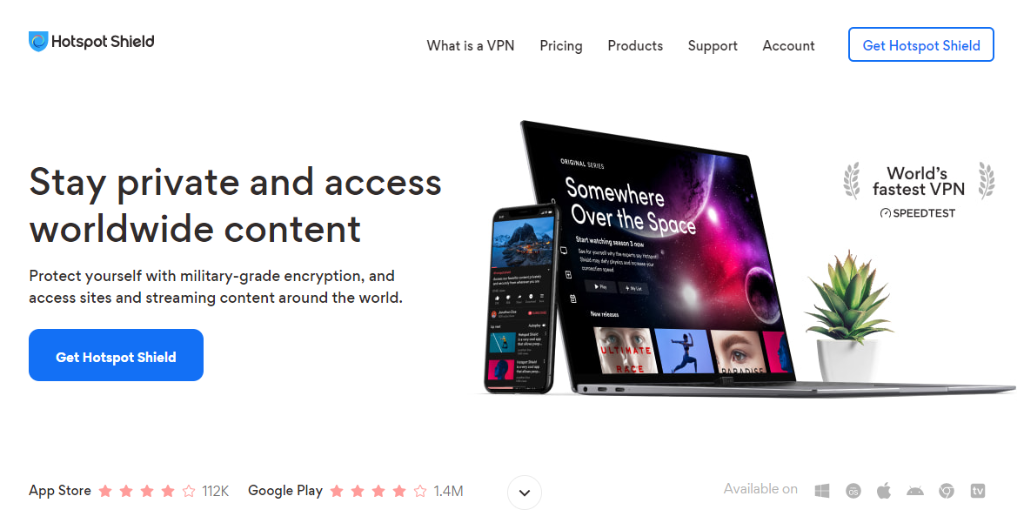 Hotspot Shield is recognized for its user-friendly design and strong emphasis on security.
Hotspot Shield is a dependable option for safeguarding online privacy and gaining access to blocked content, thanks to its cutting-edge technologies and strong encryption.
Hotspot Shield uses military-grade encryption to protect your data and secure your internet connection.
Fast and safe browsing is guaranteed by its unique Catapult Hydra protocol, ensuring a seamless online experience.
With Hotspot Shield, you can browse the web with confidence, stream entertainment, and download files with the knowledge that your online activities are hidden from prying eyes.
The extensive 3200+ server network of Hotspot Shield, which spans 80 countries, is a remarkable feature.
You can get around geo-restrictions and access content relevant to your region thanks to this vast network, which opens up a world of entertainment, news, and information.
Hotspot Shield's global server coverage will protect you whether you're traveling or just exploring material from various parts of the world.
In addition to privacy and accessibility, Hotspot Shield gives you access to extra options to improve your online experience.
A further layer of security is provided by integrated malware and phishing protection, which helps protect your devices from online dangers.
The ad-blocking feature of Hotspot Shield removes bothersome adverts, resulting in a more streamlined and pleasurable browsing experience.
Hotspot Shield is designed with user-friendliness in mind. Its intuitive interface enables you to connect to a server with just a single click, making it easy for users of all levels to navigate.
The VPN service is available on various platforms, ensuring compatibility with a wide range of devices.
9. IPVanish
For consumers looking for quick and dependable connections, IPVanish provides a comprehensive VPN service with a vast server network, cutting-edge functionality, and a dedication to user privacy.
With its extensive server network, IPVanish enables customers to connect to servers in their desired locations, get around geo-blocks, and view material from other zones.
It guarantees a seamless and uninterrupted experience whether you're streaming, playing online games, or doing anything else online.
IPVanish's services are fundamentally focused on privacy and security. Your data and online activities are protected by the service using robust encryption technologies.
Your online identity is kept private and secure thanks to IPVanish's stringent zero-logs policy, which forbids the company from gathering or storing any information on user activities.
A variety of cutting-edge features are offered by IPVanish to improve the user experience.
These include a kill switch that immediately cuts off your internet connection if the VPN connection breaks, protecting the security of your data.
Furthermore, IPVanish provides limitless concurrent connections, enabling you to secure numerous devices with a single subscription.
Performance-wise, IPVanish offers fantastic speeds for a variety of online activities.
IPVanish offers quick and dependable connections for streaming, downloading huge files, and gaming.
Without sacrificing speed or security, you may have a flawless online experience with a solid infrastructure and optimized servers.
10. Windscribe VPN
Windscribe VPN is a versatile and user-friendly VPN service that excels in security, privacy, and functionality.
It accommodates a variety of customers with its free plan and reasonably priced premium choices.
With a strict no-logs policy and strong encryption, Windscribe VPN protects your data and online activity with a priority placed on privacy and security.
Its free plan, which offers access to servers in several places and lets customers try out the service before committing to a paid subscription, is one distinctive feature.
Premium packages come with extra features, unlimited data, and the ability to get around geo-blocks on well-known streaming services.
A seamless experience across devices is guaranteed by the user-friendly software that Windscribe VPN provides for a variety of platforms.
With reliable speeds and a wide server network, Windscribe VPN enables users to browse, stream, and download with ease.
Additional features include an ad blocker and secure link generation for a safer online experience.
FAQs
Are VPNs Legal?
In most countries, using a VPN is legal. However, it's important to note that using a VPN for illegal activities remains illegal.
Additionally, some countries have restrictions on VPN usage or have banned VPN services altogether.
It's essential to check the local regulations and laws regarding VPN usage in your specific location.
Can a VPN Slow Down My Internet Speed?
Using a VPN can potentially result in a slight decrease in internet speed.
This is because the VPN encrypts and reroutes your internet traffic, which can introduce a small amount of latency.
However, with a reputable VPN service and a stable internet connection, the impact on speed is often negligible, and many VPN providers offer fast and optimized servers to minimize any slowdown.
Can I Use a VPN on Multiple Devices?
es, most VPN services allow you to use a single subscription on multiple devices simultaneously.
This means you can secure your connection on your computer, smartphone, tablet, and other devices with a single VPN account.
Remember to choose a VPN service that offers multi-device support and allows for the simultaneous connection of multiple devices according to your specific needs.
Conclusion
In the digital landscape of 2023, choosing the right VPN service is crucial for online privacy and secure content access.
Among the 10 best VPN services highlighted, each offers unique features and strengths to cater to diverse user needs.
They prioritize privacy and offer reliable connections and consider factors like speed, security, server coverage, user-friendliness, and pricing.
With these top VPN services, you can confidently browse, access restricted content, communicate securely, and prioritize online privacy and security with a reliable VPN service for a safer digital journey.