Whether it's work or your passion that keeps you on the move, you ought to get the best VPN for travel to make the best use of your time.
Whenever traveling, numerous things could require you to connect to the internet.
You'll need to connect your device to any public or private network for anything you do.
It could be for a tour or accommodation booking, checking your emails, posting an update on social media, hunting for some good food nearby, or navigating to the attractions nearby.
Luckily, it's always easy to find a free WiFi hotspot in today's technologically advanced world.
But, the increased vulnerability to cyber crimes and chances of encountering government censorships and geo-restrictions could still hamper your experience.
The best way to avoid such inconvenience is to arm yourself with the best VPN while traveling (domestically and internationally).
Best VPN for Travel in 2023
If your search for the ideal VPN is what led you here, you must have realized how difficult it can be to pick the best VPN out of the myriad available choices.
While many providers can be dismissed from consideration simply due to the lack of credibility, there are still plenty of reliable VPN providers.
Therefore, the best course of action is to devise a list of features you prioritize.
For instance, we have come up with the following list based on the network coverage, top-notch security, high speeds, and easy compatibility offered by these VPNs for travelers all around the world:
NordVPN – 🏆 Winner!

A reliable VPN provider is your best companion in a city away from home and all your trusted networks.
On top of our list today is NordVPN, which is trustworthy enough to let you fearlessly connect to any public WiFi and is an all-rounder.
There is no aspect of NordVPN where you would find it struggling to compete with its rivals.
If the size and coverage of server networks are essential for you, this VPN provider broadens your choices by offering more than 5400 reliable servers across 60 countries.
So, whether you are looking for a nearby server to get good speeds in a foreign country or to connect to a server back home, you should be able to find both quite easily.
This enormity of the network also means having a supreme unblocking power at hand.
Whether it's a financial transaction you need to carry out with a local bank or a streaming platform (such as Netflix US, Hulu, HBO, BBC iPlayer, etc.) you wish to access while you relax, NordVPN can unblock almost anything.
If you are worried your VPN connection may get caught, opt for the obfuscation servers that can mask your VPN use such that you can even circumvent the great firewall of China.
Internet freedom is not the only strength of NordVPN. It performs excellently from the security aspect too.
Being operated from the jurisdiction of Panama, you can rest assured that the provider is as log-less as it claims to be.
So, you can use it for any internet activity without maintaining any records of your actions.
NordVPN's prime focus is on the user's online security and privacy. It uses the best encryption technology to hide your data and activities from prying eyes.
For anything or anyone requiring more significant levels of security, DoubleVPN and Onion-over-VPN are available too.
NordVPN also offers solid protection against DNS leaks and a reliable kill switch that can be enabled to avoid spilling sensitive data in case of an unexpected connection drop.
Being connected to an unknown and untrusted internet network elevates the risks of your device being infected with malware and viruses.
To safeguard yourself against the such possibility, you can also use NordVPN's Threat Protection feature.
Usually, when you choose to secure yourself online with such robust VPN features, the speed tends to get affected. But that's not the case with NordVPN.
The signature Nordlynx VPN protocol that it provides allows you high speeds alongside high levels of security.
Whether gaming, streaming or casually browsing, no buffering or lags are expected to ruin your experience.
NordVPN offers excellent compatibility with easy-to-use apps for almost every platform. Also, you can connect up to six devices in parallel.
So, you can use it on your phone, tablet, or laptop as per your wish.
Even better, if you are traveling with company, you can share this convenience with friends/family too.

If you are committed to long-term traveling, you also need to get a VPN for a more extended period.
With most premium VPN providers, this decision could be expensive.
However, Surfshark is a top-quality VPN that is never too heavy on your pocket. In fact, the longer your subscription term, the more budget-friendly it becomes.
Besides your wallet, Surfshark takes exceptional care of your privacy and security online.
It follows a strict zero-logs policy to offer peace of mind to all its customers. This VPN service has many cutting-edge security features too.
For example, 256-bit AES encryption, a dependable kill switch, malware detection, ad-filtering, and strong defense against WebRTC, IPv6, and DNS leaks.
It allows you to increase your security levels by adding another layer of encryption via the Multihop feature.
And, if you can't risk exposing your VPN connection, you may also use the service in obfuscation mode.
Surfshark has also earned the second spot on our list because it has provided one of the fastest connection speeds in the VPN industry.
Since it uses the popular Wireguard VPN protocol, you will neither experience sluggish download rates nor will be buffering ever be an issue.
You may be tempted to stream your favorite TV shows or sports events in your downtime when offered such promising connection speeds.
Imagine the disappointment when government censorships or location-based restrictions make the streaming platform inaccessible. One starts to miss home terribly.
But don't worry! Surfshark can get you there virtually.
From its vast network of 3200+ servers in 60 countries, you can instantly choose one that is close to home.
This will give you an IP address from that region so you can access any local website you need.
If you are using a VPN only for your safety online, we recommend you choose a nearby server and benefit from the proximity in terms of speed.
The excitement of being able to continue streaming Netflix, Hulu, BBC iPlayer, etc., will further spike when you realize that Surfshark has dedicated apps for all desktop and mobile devices that you may own.
If you're traveling in a large group, share the good news because this VPN provider has set no limit for the number of devices that can use it at once.
You can have your entire group of friends or family use the VPN service on whichever device they own. What else can make your trip better?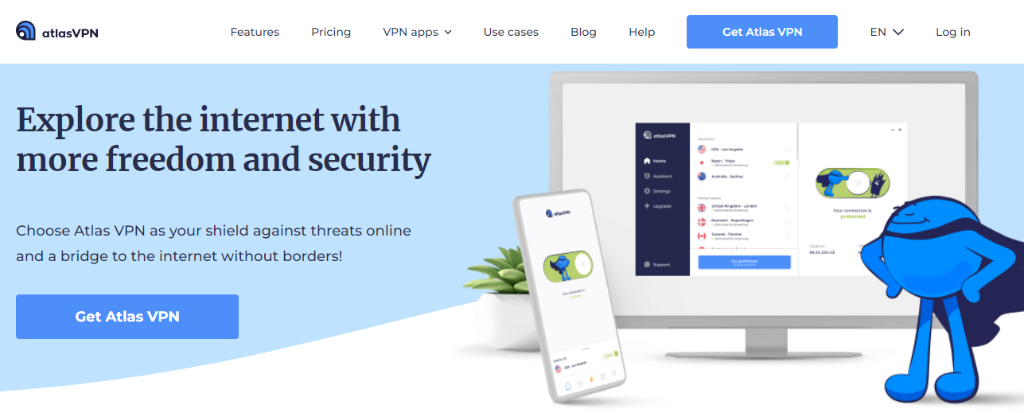 The third provider we found to be offering the best VPN for travel is Atlas VPN.
Making its appearance in the year 2019, Atlas VPN has recently been purchased by Nord Technologies.
So, critics believe the VPN service is poised to experience significant growth and improvement over the coming few years.
However, Atlas VPN has already gotten off to a brilliant start. It has a fantastic feature set and offers excellent value for the money.
It has many fascinating features enable you to browse the web safely regardless of where you are or which network you are connected to.
Whether you install Atlas VPN's app on your Windows, Android, iOS, or macOS devices, they will all have AES encryption, DNS leak protection, and a reliable internet kill switch.
Atlas VPN offers some other nifty features too.
By blocking harmful websites, for instance, the SafeBrowse function will protect you from malware attacks.
Also, you can level up your online anonymity with SafeSwap, which keeps changing your IP address to make your online activities untraceable.
Atlas VPN also has a free version available, which is equally safe. Most importantly, Atlas VPN strictly follows a no-logging policy for both versions.
While the free Atlas VPN is way better than most free VPNs available in the market, it does have its limitations in terms of server locations and data caps.
That's why it may not be ideal for streaming.
If you wish global access to Netflix, Hulu, BBC iPlayer, YouTube, or the likes, you ought to subscribe to the paid premium Atlas VPN.
Compared to other providers on our list, Atlas VPN's premium version may have a relatively modest network of servers.
There are only 750 servers, which have been scattered very strategically across 38 countries to provide the same unlocking potential as a veteran provider with a massive network.
Accessing a geo-restricted website from back home should be easy.
Despite such high-grade security measures, Atlas VPN does not slow down users' internet connection.
Using the advanced VPN protocol, Wireguard, known for providing fast and safe connections, Atlas VPN will impress you with its speed.
However, remember that the same cannot be promised about its free version because server overload often creates connectivity and speed issues.
The cherry on top of its spectacular performance is that Atlas VPN allows infinite devices to be connected to it with every subscription, and they can all be used in parallel.
FAQs
Is Downloading and Installing a VPN App Mandatory Before I Leave for my Trip?
No, it is not mandatory to download and install the VPN before traveling.
However, it may be helpful to do so if you plan to travel to a country where VPNs are entirely banned.
For instance, if you visit China or Russia, the official website of the VPN may also be blocked, making it difficult for you to download and install its app for your device.
Can I Use a Free VPN for Travel?
The primary reason for using a VPN while traveling is to securely use any non-trustworthy WiFi connection by hiding the actual location and employing robust data encryption techniques.
You may count on the VPNs we've recommended in this post to accomplish that, but free VPNs are generally not capable of providing the same level of security.
Due to the high number of users and a sparse number of servers in free VPNs, servers are frequently overburdened.
Free VPNs are, therefore, not ideal for data-intensive online activities.
In short, they are not secure, cannot unblock websites, and are not fast enough to be used for traveling.
Can Roaming Fees be Avoided by Using a VPN?
No, saving yourself from paying the roaming charges is impossible.
The location from which you connect to the internet is always visible to your phone service provider.
But they can't see the location of the server you are connected to.
How Can I use WhatsApp and Comparable Applications in Countries That Have Blocked Them?
You may notice that even commonly used services like WhatsApp are partially or entirely blocked in countries such as China, Saudi Arabia, Turkey, UAE, etc.
Whatever the situation, you can use a reliable VPN to get an IP address from any country where WhatsApp is accessible.
If VPNs are also blocked, you can use yours in obfuscation mode to get the internet freedom you deserve.
Conclusion
Obtaining a trustworthy VPN is a necessary step before traveling anywhere.
Regardless of where you go, the best travel VPN will make every connection to a public WiFi network as secure as possible and grant you the internet freedom you deserve.
The market is full of some excellent premium options you can choose from. If you have enough time, you should certainly check them out yourself.
But, if you can trust our opinion and want to save time, you should opt for NordVPN.
With its extensive fleet of servers that covers the entire world and an impressive suite of security features, NordVPN is unquestionably the best VPN for travel.