IP addresses have been an integral part of the internet since its inception.
These strings of numbers, commonly known as IP addresses, are used by servers and services to determine where data packets should be sent.
Each device connected to the internet has a unique IP address, and no two devices can use the same IP address simultaneously.
However, as more and more devices are connected to the internet, the limitations of IPv4, which only contains four numbers, become apparent.
To address this issue, IPv6 was introduced, which increases the number of numbers in the IP address string from 4 to 6, providing a total of 340 trillion possible combinations, enough to sustain internet usage for several decades to come.
In this guide, we've outlined the best IPv6 proxies you can use.
Best Sites to Buy IPv6 Proxies in 2023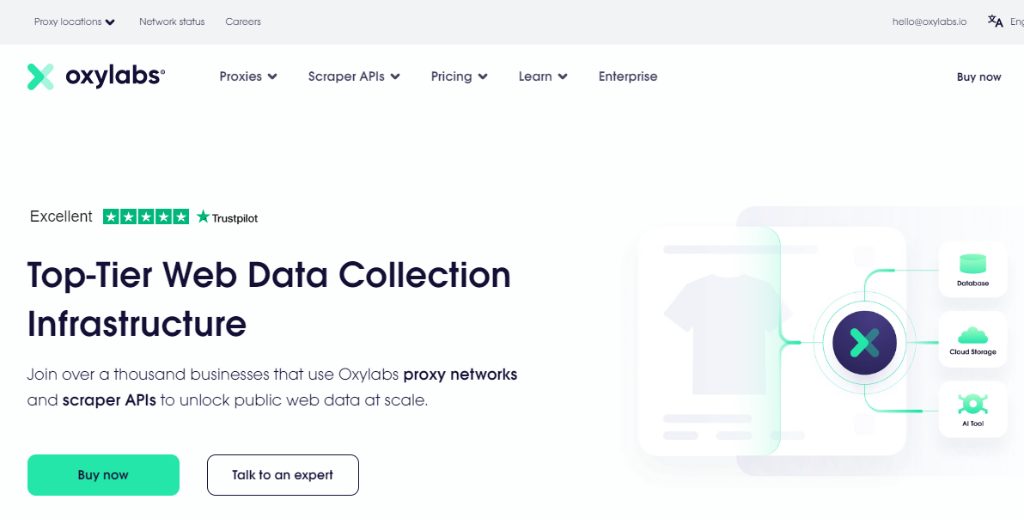 Oxylabs is a well-known proxy provider that offers a wide range of services, including the new addition of IPv6 proxies.
One unique aspect of Oxylabs is their lack of transparency regarding the number of proxies and locations, but they have a solid reputation for providing high-quality service.
When purchasing an IPv6 proxy package from Oxylabs, customers can expect dedicated proxies, ensuring they are the only ones using them.
Additionally, the company regularly tests its proxies for speed and latency, discarding any that don't meet its standards.
Another bonus is that there are no limitations on traffic.
However, Oxylabs does not have a published pricing structure for their IPv6 proxies, and interested customers need to contact the sales department for more information.
Features
Multiple Location Access
Oxylabs makes it easy to access proxies from various locations worldwide.
Users can choose from multiple geographical locations, including South America, Europe, Asia, and the US.
This is useful for businesses or individuals who need to access content or services that are geographically restricted or for scraping and data harvesting from websites that are only accessible from specific locations.
Full IPV6 Support
The platform is compatible with the IPV6, which is the latest version of the internet protocol.
This makes it ideal for data harvesting and other online services that require IPV6 compatibility.
Additionally, users can benefit from other internet protocols, such as SOCKS4 and SOCKS5, which can be helpful for certain online activities.
Built-in Safety Measures
The system blacklists any IP addresses that have been restricted or blocked, minimizing the risk of using a restricted IP.
Users can be sure that their IP addresses are safe and won't be blocked or restricted by websites or online services.
High Uptime
Oxylabs uses designed software in the most reliable centers worldwide, offering a guaranteed uptime of 99.9%.
Users can expect the service to be available and functioning almost all the time.
In-House Rotation
Oxylabs offers in-house IP rotation, ensuring that users never worry about using the same IP for all their activities.
Every time a user accesses the internet through one of Oxylabs' IP addresses, a different IP address will be used, making it more difficult for websites and online services to track or block the user's activity.
Simply sign up for one of their IP addresses, and they will take care of the rest.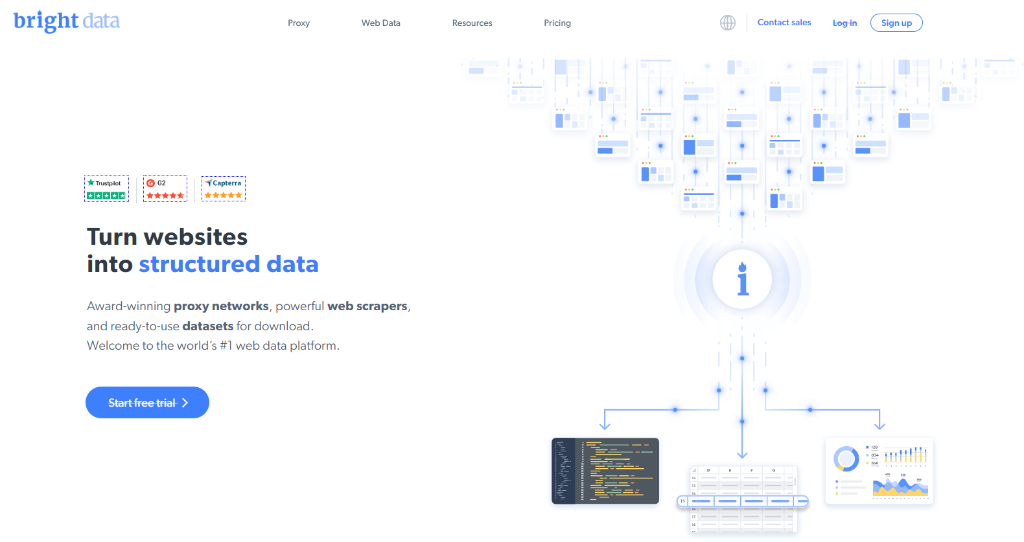 Bright Data, previously known as Luminati, has established itself as a top player in web data platforms.
They pride themselves on providing comprehensive solutions to meet the diverse needs of their customers.
With the ability to assist with everything from IPv6 data to various other aspects of online activity, it's no surprise that they have become a go-to for businesses and individuals alike.
One of the best ways to get a sense of what Bright Data offers is by requesting a demo.
This allows potential customers to test the service and make an informed decision before committing to anything.
And, with a network that boasts over 700,000 shared data center IP addresses from every corner of the globe, as well as a vast array of residential proxies – more than 72 million IP addresses that get rotated in 195 countries- you can be sure that Bright Data has the resources to support your online endeavors.
Their mobile proxy offering is equally impressive, with over 7 million available to customers.
This makes it an ideal choice for those seeking mobile-based content or services.
With over 15,000 satisfied customers worldwide, it's clear that Bright Data is a solid choice for anyone in need of high-quality web data solutions.
And with their proven track record and longevity in the industry, you can trust that they will be around to support your needs for years to come.
Features
Bright Data offers shared and exclusive IPs to suit your data collection needs.
Shared IPs are used by multiple users, while exclusive IPs are solely for your use on targeted websites.
Exclusive IPs also come with a cool-down period, ensuring that they aren't used on a targeted website for a certain number of days before they're purchased.
Cross-Platform Proxy Manager
Bright Data's LPM can be used on Linux, Windows, macOS, and Docker, making it a versatile option for all your data scraping needs.
With the ability to create and attach proxies to your own or third-party bots or crawlers, Bright Data maximizes success rates while minimizing cost through its waterfall routing method.
Bypass Website Blocks
Say goodbye to blocked websites with Bright Data's Unblocker technology.
Each website remains unblocked for optimal data collection by utilizing cookie management, IP priming, fingerprint imitation, IP rotation, and more.
Chrome Extension
Experience user-agent spoofing and network rotation from your web console with Bright Data's chrome extension.
While the free proxy add-on is perfect for personal use, it cannot be used for US Netflix or to access paid residential IPs.
The chrome extension also does not use WebRTC, IPv6, or DNS.
24/7 Support and Assistance
Bright Data's website offers extensive documentation, tutorial videos, FAQs, and even a personal account manager who is always available for Skype or email assistance, which can be accessed 24/7 via the web interface.
Enjoy one of the best support systems in the industry with Bright Data.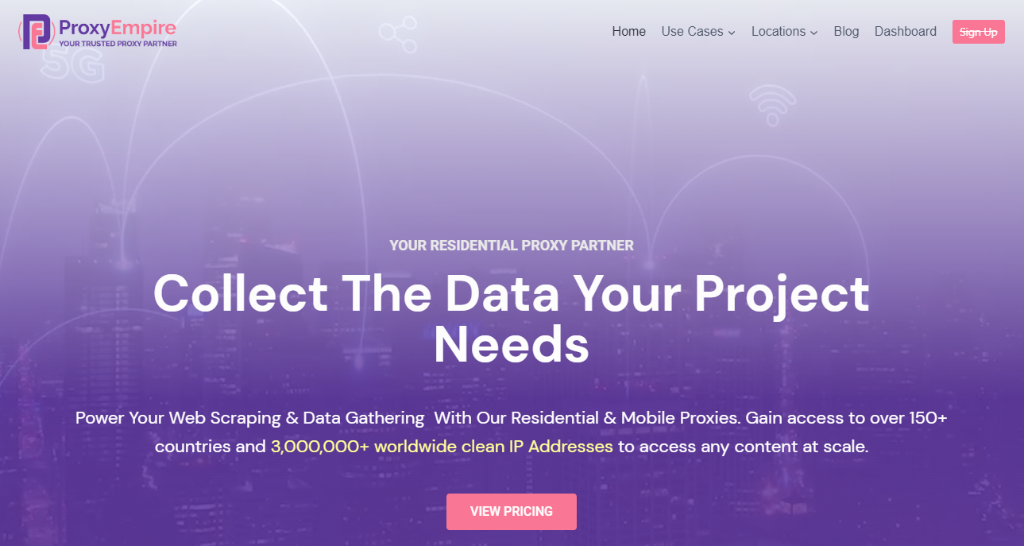 ProxyEmpire is a reliable proxy server that offers both mobile and home proxies. One of its standout features is its unlimited rollover data.
Unlike other providers, you don't have to worry about losing idle bandwidth or maintaining an active membership to make the most of your data usage.
The dashboard also provides detailed information on your data usage and remaining data.
It also displays a graph that shows your data activity over the past 30 days.
ProxyEmpire's proxies do not require IP-safe listing, but you can request it for added security.
Your account manager can assist you with this process.
ProxyEmpire offers a variety of payment options, including credit and debit cards through Stripe and bitcoin.
Signing up for one of their packages is accessible through the dashboard, and you can also pay via wire transfer by contacting their sales team.
Another significant aspect of ProxyEmpire is its lack of long-term obligations.
Features
Anonymous Data Collection
By utilizing ProxyEmpire's home and mobile networks, you can gain insight into a competitor's domain without detection or obstruction.
This is because residential proxies appear as genuine visitors, allowing for global or specific regional operations with coverage in over 150 countries and the ability to target particular cities.
Designed with retail businesses in mind, their dashboard offers tools for monitoring pricing and forecasting market trends.
Start by selecting a package that aligns with your company's needs.
Restricted Geo-Locations
Marketing campaigns that use an intelligent approach to ad verification may face challenges when targeting a global audience.
This is because ads are often displayed in specific regions, making it difficult to verify their placements.
For instance, an e-commerce business that sells to customers in the United Kingdom may struggle to monitor their ad placements from the United States due to geographical restrictions.
However, by choosing ProxyEmpire's home and mobile networks, marketers can easily bypass this issue by selecting a specific location and obtaining a list of proxies corresponding to the areas where their ads are displayed.
In less than 20 seconds, they can verify their ad placements and ensure their campaigns reach their intended audience.
Acknowledge Your Reputation
By leveraging the extensive reach and geolocation features of ProxyEmpire, reputation management companies can now monitor their clients' reputations on a global scale while gathering information specific to a particular region.
This allows them to gain insight into how their clients are perceived in different locations worldwide.
With the advanced capabilities of ProxyEmpire's network, these firms can collect data where it matters most rather than relying on simplistic systems.
Additionally, the residential proxies offered by ProxyEmpire provide a more natural and unobtrusive method of data collection, unlike data center proxies that may trigger alarms.
Theft of Intellectual Property
Protecting a business's ideas and intellectual property can be challenging, especially in countries where patents and trademarks are not heavily enforced.
However, with the help of a dependable proxy provider such as ProxyEmpire, companies can safeguard their ideas and intellectual property on a global scale.
The company's vast network covers over 150 countries, providing a powerful tool for brand protection agencies and legal teams to monitor and respond to intellectual property theft.
The use of residential proxies gives the added advantage of appearing as a legitimate visitor, making it harder for violators to detect and block operations.
Additionally, the dashboard provided by ProxyEmpire allows for easy monitoring of data usage and IP address, while the option to add IP allow listing adds an extra layer of security.
With the ability to cross-platform search for intellectual property violations, ProxyEmpire's network provides a valuable asset to any legal team.
Data Bottleneck
As retailers navigate the ever-changing landscape of e-commerce and online sales, they often encounter the challenge of data overload.
With so many platforms to keep track of and so much information to process, it can be challenging to stay on top of trends and make accurate predictions.
One of the most common issues retailers face is a data bottleneck, particularly during high-traffic seasons like the holidays.
To help businesses overcome these challenges, ProxyEmpire offers a unique solution.
As the only provider of home proxy data, they can help companies to scale their data collection efforts to match their needs.
With the ability to preserve data that isn't in use during quieter times, retailers can ensure that they have ample resources available when they need them most.
This eliminates delays and gives merchants the information they need to make informed decisions.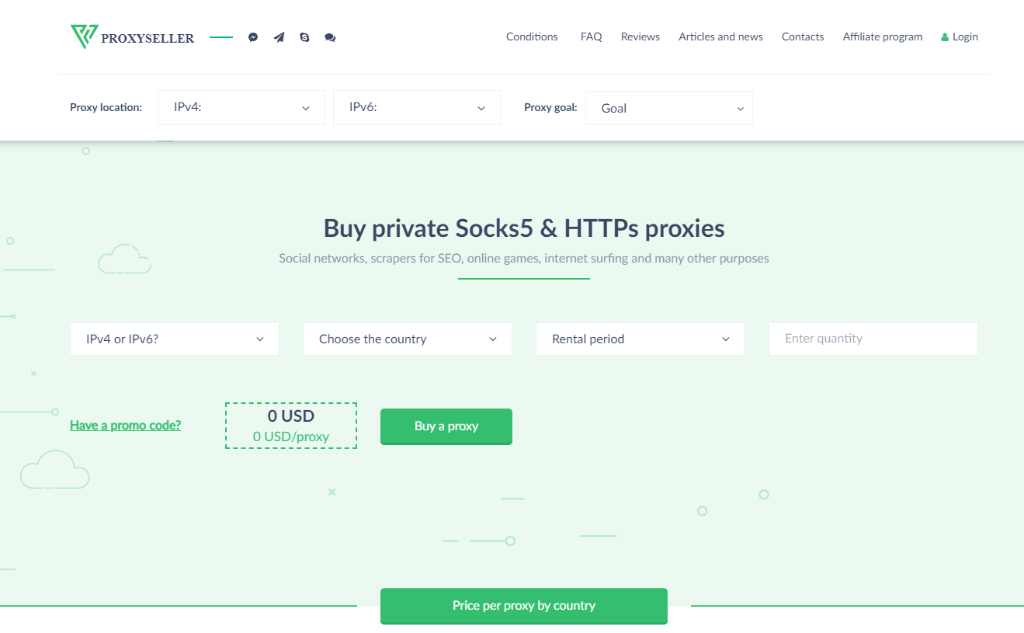 Despite not seeming to have much to offer, Proxy-Seller manages to garner some attention due to its unique features.
While it may be lacking in certain areas, it makes up for it in others, making it a viable option for those looking for IPv6 proxies.
However, one of the most significant drawbacks is the lack of transparency regarding the number of proxies offered.
The provider claims to have over 800 subnets, but it's unclear how many are IPv6-specific.
Currently, the provider has IPs in 8 countries across America and Europe. One advantage of using a Proxy-seller is the unlimited bandwidth offered with every package.
Additionally, they offer flexible package options, including ten predefined packages that vary in the number of proxies provided and the opportunity to create a custom package.
All packages are billed every month, with the option to receive additional discounts by paying for a more extended period.
Unfortunately, Proxy-seller does not offer a free trial but has a limited 24-hour money-back guarantee.
Features
Exclusive Proxies
All of the proxies offered by Proxy-seller are exclusive, meaning they are not shared with other users.
This ensures maximum privacy and security for customers.
With exclusive proxies, customers can be sure that their IP address will not be used by any other user, which minimizes the risk of being blocked or banned by websites.
Exclusive proxies also provide better performance and speed, as multiple users are not using the IP addresses simultaneously.
IPv6 Proxies
In addition to IPv4 proxies, Proxy-seller also offers IPv6 proxies from 8 different countries. This ensures that customers have access to the latest technology and protocols.
IPv6 is the next-generation internet protocol designed to solve the limitations of IPv4.
IPv6 proxies allow you to access websites and services only available through IPv6, ensuring faster and more secure connections.
24/7 Technical Support
The provider offers 24/7 technical support, ensuring that any issues or questions can be promptly addressed.
Customers have the support to use the proxies they've purchased effectively.
Whether you have a question about setting up your proxies, troubleshooting an issue, or need help with a specific feature, you can count on the provider's technical support team to be available and responsive.
Connection Types
The provider supports multiple connection types, including HTTP, HTTPS, and SOCKS.
You can use the connection type that best fits their needs.
With multiple connection types, customers can choose the style compatible with the software or application they are using.
The provider also supports advanced features such as user-agent rotation and cookies management.
Control Panel
The company's web console control panel is user-friendly, making it easy to manage and maintain the proxies you've purchased.
This allows customers to easily keep track of their proxies and make any necessary adjustments.
The control panel allows customers to easily manage their proxy packages, view usage statistics, and change their account settings.
The control panel will enable customers to set up allowlists and blocklists to control access to specific websites or IP addresses.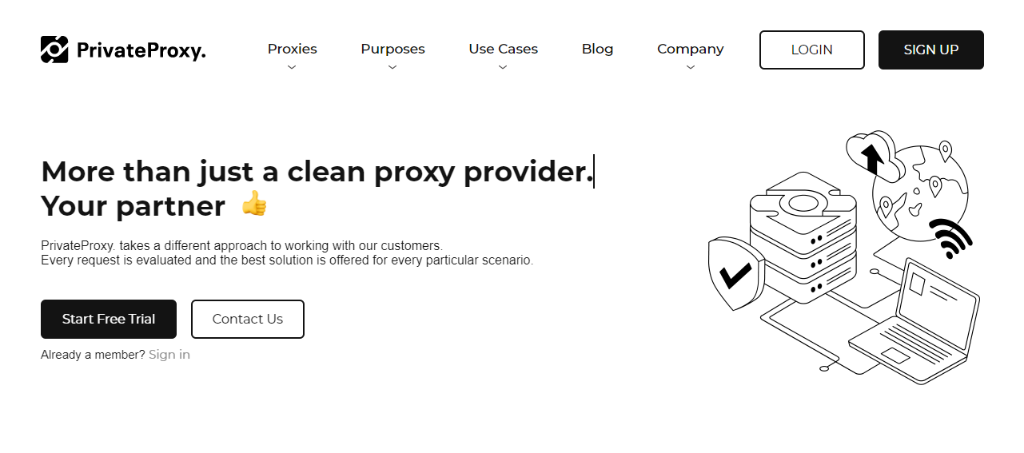 At PrivateProxy, you can access completely anonymous HTTP/HTTPS IPv4 proxies that are compatible with any browser or application that supports HTTP/HTTPS proxies.
Log in with your username and password, or authorize your IP address to initiate a proxy connection.
Both options have advantages and disadvantages, hence the availability of both methods for users.
While the options for configuration may be limited, you can request for proxies to be placed in a specific location via customer support after making a purchase.
Also, you can specify whether you want all proxies to be from the same area or different locations.
To help you decide if their service suits you, PrivateProxy allows you to test up to three proxies for seven days.
However, subscribing to the trial requires providing credit card information, which many users may not prefer.
Additionally, you can change your IP addresses for free once a month, giving you access to a new set of proxies in case your previous ones fail.
Features
Dual Authentication Method
PrivateProxy offers two options for activating your proxy session: logging in with your credentials or verifying your IP address.
Both methods have their benefits and drawbacks, so providing both opportunities is beneficial and allows the user to decide which one to use.
24/7 Customer Support
PrivateProxy offers its customers a dedicated team of experts available 24/7/365 for assistance.
Customers can reach out for help through various live chat, Skype, email, and phone channels.
The customer support team at PrivateProxy is known for their quick response time, ensuring that any questions or issues are addressed promptly.
One free swap
PrivateProxy offers its customers the ability to exchange their IPs monthly, free of charge.
This feature allows customers access to a fresh set of proxies, which can be particularly useful in cases where their previous IPs may have failed or been blocked.
By regularly swapping out their IPs, customers can ensure that they have a steady supply of available proxies, minimizing disruptions in their online activities.
Additionally, this service gives customers the flexibility to switch their IPs as per their requirements, which can be especially helpful for businesses that need to maintain their anonymity or for individuals who need to use different IPs for different purposes.
Ten Authorized IPs
Customers of PrivateProxy can authorize up to ten different IP addresses for usage with our proxies.
This feature stands out compared to other providers, who may only allow a limited number of IP approvals.
By enabling customers to approve up to ten IPs, PrivateProxy provides a significant benefit by allowing for greater flexibility and accessibility to its proxies.
This feature benefits business requiring access from multiple locations or individuals using different devices.
Instant Proxies Allocation
PrivateProxy has set up a system that enables customers to receive their set of proxies instantly upon making a payment.
This eliminates manual proxy allocation and allows customers to utilize the proxies immediately.
An email with the set of proxies is sent out automatically to the customer's registered email address after the payment is made so that customers can use the proxies immediately.
This feature ensures that customers can access the services and make the most out of them as soon as possible.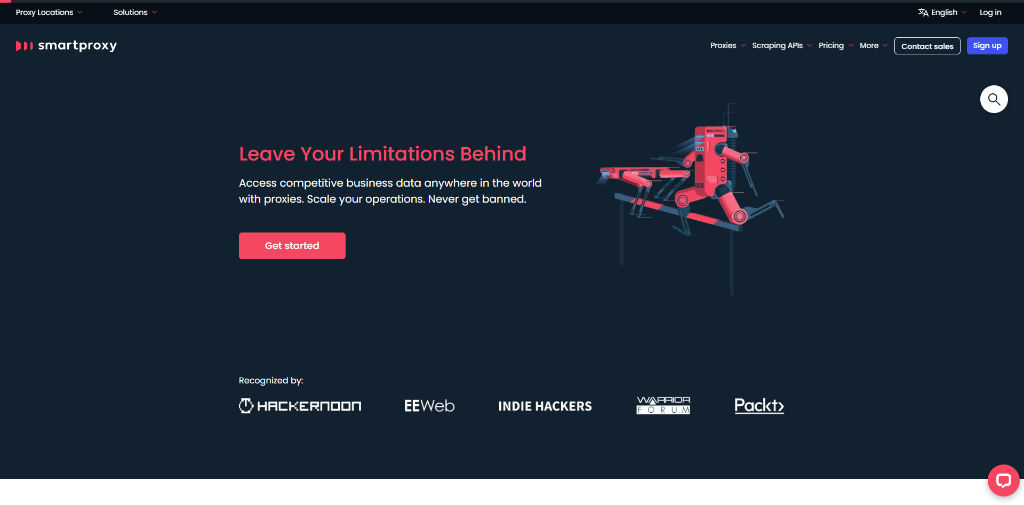 While SmartProxy may not have the same level of recognition as its major competitors, it is still a top-performing platform that provides a wide range of proxy features and capabilities at an affordable cost.
The company boasts over 40 million residential IPs, making it suitable for various applications.
Additionally, there are 40,000 regular US data center proxies available, along with the option for dedicated proxies.
One of the benefits of using Smartproxy is the absence of per-proxy pricing or concurrency limits.
Instead, users have access to the entire pool of proxies with unlimited connections.
The Smartproxy website even claims that its service allows for "juggling hundreds of accounts in a minute" on social media bots.
To ensure successful connections, Smartproxy offers various tools such as Search Engine Proxies for easy Google scraping and X Browser for creating profiles to reduce the risk of captchas or IP bans.
If you already have your preferred scrapers, SEO tools, or proxy managers, Smartproxy can easily integrate with them.
Its integration page provides setup guides for various software, including Octoparse, ScrapeBox, Jarvee, Apify, and NikeSlayer.
Features
Wide Range of Capabilities
Smartproxy offers a comprehensive set of proxy features and capabilities that cater to various applications.
Whether you're using it for SEO, scraping, or managing social media accounts, Smartproxy covers you with its extensive feature set.
Affordable
Smartproxy delivers its robust proxy features at an affordable cost, making it a cost-effective option compared to its competitors.
Additionally, the company boasts over 40 million rotating residential IPs across 195 global locations, ensuring you have access to various IP addresses for your needs.
Unlimited connections
Unlike other proxy services that limit the number of concurrent connections or charge per proxy, Smartproxy allows users to access the entire pool of proxies with unlimited connections.
This allows for a more efficient and cost-effective experience, as concurrency limits do not restrict you.
Easily Integrates
Smartproxy can easily integrate with your preferred scrapers, SEO tools, or proxy managers, making it a versatile option for various applications.
Setup Guide
Smartproxy's integration page offers setup guides for various software, making it easy to integrate the proxy service with the tools you already use.
This allows you to seamlessly incorporate Smartproxy into your existing workflow, making it more convenient.
Things to Consider When Choosing the Best IPv6 Proxies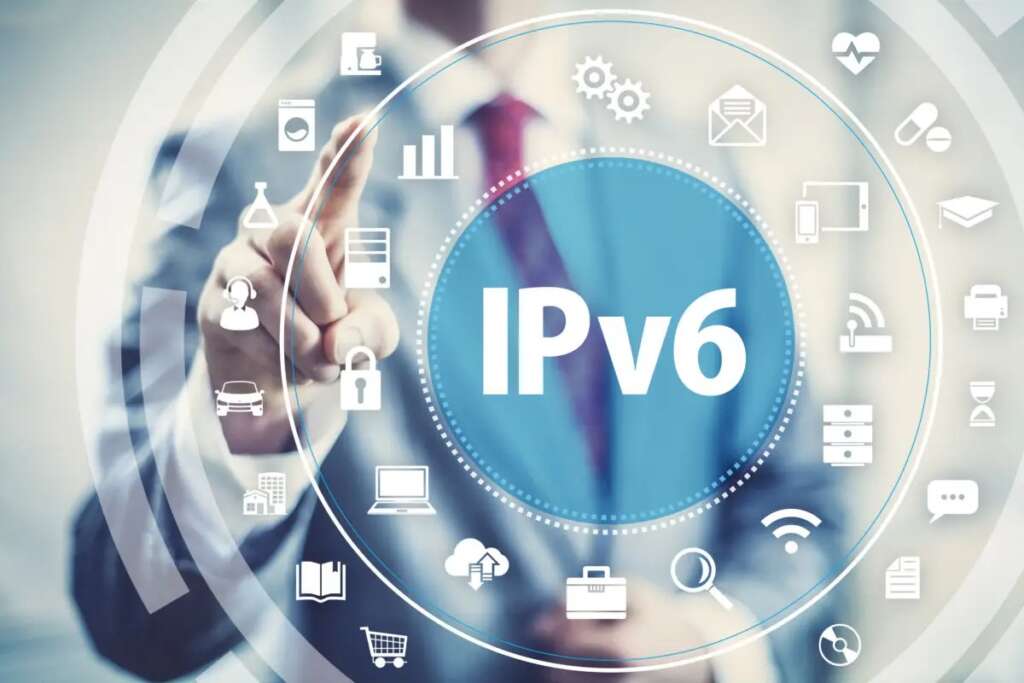 Security
As previously mentioned, IPv6 addresses are more difficult to track and block than IPv4 addresses.
However, selecting a proxy that provides encryption to safeguard your data during transmission is still crucial.
This is particularly important if you are handling sensitive information or performing tasks that require a high level of security.
Speed
The speed of a proxy can vary depending on several factors, such as the number of users utilizing the server and the server's location.
To ensure a smooth and efficient experience, choosing a proxy that offers fast and reliable connections is essential.
This will ensure that you can access the IPv6 addresses quickly and without interruption.
Features
Some proxies have advanced features such as session control and automatic IP rotation.
These features can be highly beneficial for data scraping or automating processes.
It is essential to consider if these features are relevant to your needs and choose a proxy that offers them.
Cost
The cost of IPv6 proxies can vary depending on the provider and the package you choose.
Selecting a proxy that fits your budget while still providing the required features and security is crucial.
Location
The location of the proxy can significantly impact the connection's performance and stability.
It is important to choose a proxy located in the region where you need to access the IPv6 addresses.
This will ensure a faster and more stable connection as the data does not have to travel as far.
Frequently Asked Questions
What Are I Pv6 Proxies?
IPv6 proxies are specialized versions of proxy servers that have been designed to be fully compatible with the IPv6 version of the Internet Protocol (IP). 
They are a newer type of proxy developed in response to the increasing adoption of IPv6 systems, as traditional IPv4 proxies are not fully compatible with IPv6 networks.
As IPv6 systems become more prevalent, the demand for IPv6 proxies has grown.
These proxies are not as widely available as IPv4, and their supply is relatively low.
This has led to them being priced lower than IPv4 proxies, partly due to the lower demand. 
Despite this, IPv6 proxies offer the same level of functionality and security as IPv4 proxies, making them an excellent choice for organizations and individuals looking to access IPv6 networks.
Should I Use I Pv6 Proxies?
IPv6 proxies are generally less expensive than IPv4 proxies, but it's important to remember that they are intended for specific systems that require their use. 
These proxies are not suitable for most standard software programs that require IPv4 proxies, as most software in the market today is designed to work with IPv4 networks.
When considering whether to purchase IPv6 proxies, evaluating whether your specific software or tools require them is crucial. 
They may be necessary for developers working on tools that will be used with IPv6 networks, but they are optional for most regular software programs.
In summary, it is essential to know the requirement of the software before purchasing IPv6 proxies.
Which Proxy Is Better, IPv4 or IPv6?
IPv6 proxies are generally less costly to operate than their IPv4 counterparts.
These proxies offer improved functionality, enhanced security, support for additional features, and a streamlined network infrastructure setup.
They also have the added advantage of better performance.
Conclusion
The best IPv6 proxies are a cost-effective solution for systems that require them.
They offer better performance, more robust security, and support for more features compared to IPv4 proxies.
However, it's important to remember that they are intended for specific systems and may not be suitable for most standard software programs.
For developers working on tools that will be used with IPv6 networks, IPv6 proxies may be a necessary investment.
Overall, it's crucial to evaluate the specific requirements of the software or tool before deciding to purchase IPv6 proxies.