Schools are iffy about students accessing social media and streaming platforms on university grounds due to the belief that it reduces productivity.
So, network administrators block Facebook, Twitter, Instagram, YouTube, Netflix, and Hulu for those on public Wi-Fi.
Bandwidth is another big consideration as everyone streaming or downloading content can lead to network overload.
It's also a security measure to protect student data as it is easier to pry on users on the public network.
VPNs are the absolute solution for all of these issues. It encrypts your data and routes your device connection from a different location.
In this post, we will discuss the best VPN for school wifi, which can unblock banned sites and keep your data secure.
Best VPN for School Wifi in 2024
The following VPNs work against the strictest blocks from school network administration.
NordVPN – 🏆 Winner!
Many VPN services are kinder to students with the pricing. They realize you may not have the funds and still need the privacy they can offer.
If you can provide your school ID to show that you are enrolled in a school or college, you would get special discounts from the providers we have listed.

The most customer-oriented VPN service to exist would undoubtedly be NordVPN.
It is fast enough to gain the approval of streamers like PewDiePie and tight with security for reviewers such as PCMag, Forbes, Wired, and BBC.
The obfuscated servers ensure that the knowledge that you are using a VPN is a secret, even from the school ISP.
NordVPN's DNS leak test lets you know if the network is fully secure.
They also provide a Kill Switch, so when the school network experiences a drop- as it does frequently- your data is secured, and you are logged out of the network.
Not only does NordVPN have AES 256-bit encryption, but you also get it twice.
With the dedicated IP address, you can whitelist every website blocked by the school network.
NordVPN especially has servers from streaming websites, so you get unlimited playback.
If you want to share files with other students, you can use Meshnet, which is a private, encrypted network separated from the school's Wi-Fi.
It gets you a direct connection to other devices while keeping your data safe.
There is no session logging, and customers can use NordVPN on upto 6 devices with a single account.
The VPN support is valid even while traveling and, most definitely, as you enter your school premises.
Some of the bonus features of NordVPN are:
Browser extension
Multi-factor authentication
5500 servers in over 60 countries
Onion router
Dark web monitor for when your data is compromised and sold on the internet.
Students get over 15% discount from NordVPN provided they are between the ages of 18 to 26.

Many VPNs have the reputation of being fast. But none get the same level of appreciation from TechRadar, Cnet, and PCMag as Surfshark.
Available at $2.49 per month, students get 83% off and another 2 months of free use.
Additionally, you can opt for a 30-day free trial, at the end of which, you can ask for money back if you feel Surfshark does not have all the features you need.
Surfshark can be used across all devices and as many as you want from a single account.
There is absolute protection against data leaks with the kill switch feature and ad block to save you from phishing.
The MultiHop option routes you to two private locations, shrouding you in another layer of anonymity.
The deal is sweetened with the IP rotator, which changes your IP at regular intervals while keeping you connected to the VPN.
The Bypasser option allows you to exclude certain apps from the VPN.
So, you can use Surfshark to browse Netflix on your VPN network and regular educational website on the school's public network.
Some more features provided by Surfshark are:
Military-grade encryption
No activity logging
Two-factor authentication
OpenVPN TCP
Secure DNS and leak protection protocol
Surfshark also has one of the largest databases of servers. It is present in 100 countries with over 3200 servers.
The camouflage mode allows you to hide your use of the VPN from the ISP, and with no border mode, you can take the VPN safely anywhere you want. 
Surfshark is one of the few security tools which has been independently audited.
This means experts have taken a look at the coding and determined it to be of A-grade quality.
The VPN providers also keep things interesting by offering months of extra use to anyone who can refer more people to their service.
Grab your unique link and get your school friends to download Surfshark, and the VPN will be as good as free for you.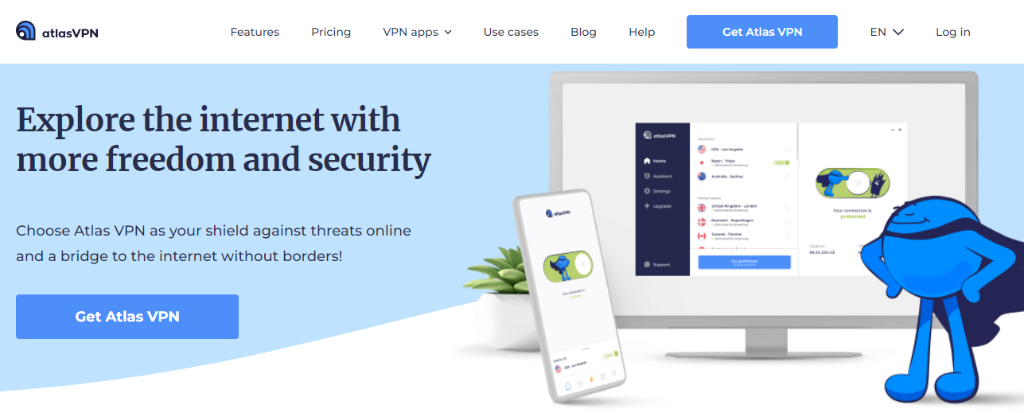 Lastly, on our list, we got Atlas VPN which is a freemium VPN service, with this free VPN for school wifi you can get access to almost all premium services.
You can unblock Facebook, Twitter, and other social media on school grounds with the free version of Atlas VPN.
If you are happy with 2 GB of data daily, you may not need to pay for the VPN service at all.
Though, the streaming servers are not available for the free plan users. So, if you need to watch a Hulu series while in school, you have to go for the 2-year student discount plan from Atlas VPN.
Considering you will get 83% off, though, it is as good as not paying, even for a student.
After all, the regular 2-year plan merely costs $2.05 per month. The offer is valid for students in the US, UK, Mexico, and Spain.
While being a relatively new name in the market, Atlas VPN gathered massive praise from Cnet, TechRadar, Forbes, and PCMag in a short time.
Not long after, it caught the attention of NordVPN, and the company owners had to bring it under their inventory of security solutions.
Atlas VPN is available on an unlimited number of devices once you register. It supports:
4k streaming
24/7 customer service
Ad blocker
Wireguard
Email and password protection
No logging
Atlas VPN users have access to over 750 premium servers in over 45 locations. Even free servers have PSEC/IKEV2, Private DNS, and P2P friendly system.
Thanks to the SafeSwap feature, you can access the internet from several IP addresses.
This will confuse the school network administrator, as it makes it hard to find your actual location.
The MultiHop+ option ensures your device is routed through several servers and locations, further splitting your data and making it impossible for anyone to read.
Split tunneling feature is also provided so you can access the websites blocked by your school through VPN and regular sites via public Wi-Fi.
Other excellent Atlas VPN features include a data breach monitor, network kill switch, and automatic location detection.
Atlas VPN powers through all geo-restricted websites and censorship.
Why Should You Use a VPN at School
Schools and college administrators do their best to secure the network. But there is only so much you can do for public Wi-Fi.
The ISP and smart hackers can still get your information. All it takes is for you to click an infected link before your data is sold to brokers.
The best bet schools have to block any website they think might be dangerous for the pupils to visit.
Unfortunately, they also take the liberty of blocking other websites like Facebook, Netflix, and Snapchat.
For good reasons, as blocking these websites eliminates distractions.
No more doom scrolling through an endless barrage of reels while you are studying in your chemistry class.
As an adult, you know to put timers on websites to keep yourself productive.
Students do not have the same self-control, especially since even adults fail with these measures.
However, sometimes educational websites like YouTube or Mubi get caught in the crossfire.
You no longer have access to the free YouTube course once you connect to the school's Wi-Fi.
There is no way to fact-check your paper on Reddit.
There is only so much the school servers will be able to take if everyone is free to stream, download, and play games on the network.
More than anything, schools want students to steer clear of torrenting.
It is illegal, and even if students share digital versions of the textbook, they can be punished.
Now, while schools and colleges may be justified, you do not have to comply with them.
It is annoying to have websites blocked while having free time, and you are looking for a break after taking classes the whole afternoon.
If you use a VPN in school, you can:
Change your location, so the restrictions on the institution's zone do not apply anymore.
Encode your data so onlookers cannot read it even over public Wi-Fi.
Unblock streaming websites without it overwhelming the school network and slowing down your connection.
Research what you need, as you will not see the error message every time you click on a new website.
Stay protected from malware and advertisement.
Torrent textbooks without anyone finding the source.
You can also use a Proxy to whitelist content in school. It is another IP address masking tool.
Only Proxy servers do not have the security, anonymity, and speed VPNs do.
How to Access A VPN in School
Schools are smart enough to block VPN websites. So, if you get the idea of using a VPN on the school ground, you may find yourself unable to go to NordVPN or Atlas VPN's website.
Of course, you could always register at home first.
But if it is urgent and you need to register with a VPN service immediately, we would recommend turning off the Wi-Fi and switching to mobile data.
Connect your phone to the school computer via Hotspot if you want to enable the VPN on it.
Go to any of the above-mentioned VPN websites.
Register with the service. Do not forget to make use of student discounts.
The VPN will automatically connect you to a fast and secure server. If not, you can choose a nearby server.
If you still face issues after connecting, clear cookies and caches and retry.
Get researching and streaming!
Frequently Asked Questions (FAQs)
Will School Know if I am Using a VPN?
Usually, schools would know if you are using a VPN while connected to their network.
Look through your school's guidelines to see if there are strict rules against it. 
The school can also find out the device which has VPN enabled. They would not know what you are doing on the server, though.
Of course, you can get in trouble if you are doing something illegal.
Can the Police Track My VPN?
The police do not have access to encrypted VPN data unless they get to the physical server while you are using it.
Even then, many VPN services use RAM servers, so no data can be copied directly from them. 
What they can do is contact the internet service provider and ask for activity logs. Now, your ISP would not have it if you are a VPN user, but they would know the company you are using. 
Unless you are using a provider who has obfuscated servers. Your ISP would not know you have VPN on this way. 
Can Schools See my Deleted History?
Your network administrator can view your browsing activities and the minutes spent on a webpage even after you delete your browser history. 
The only way to hide your activities is to use a VPN with data encryption and a no-log policy.
VPNs take you out of the network, so your activities are hidden. The only thing they know is that you are using a VPN. 
Final Thoughts
Blacklisting websites are your school's way of protecting your interests. However, it leads to boring campus life and obstruction of education at times.
While using the best school VPN, you can abide by the school rules, protect your privacy, and stream content without overwhelming the network.