In an era where online interactions have become a norm, the authenticity of digital identities is more crucial than ever.
Social Catfish is a unique platform aiming to unveil the truth behind online facades and protect users from falling victim to catfishing.
Social Catfish Review
This Social Catfish review explores the features, services, and user experiences associated with Social Catfish, providing an unbiased and detailed perspective on its offerings.
Social Catfish is not just about verifying identities; it's about revealing the reality behind a person's online presence.
Whether you've encountered a potential scammer or are connecting with someone new online, Social Catfish offers tools and services designed to bring clarity and peace of mind.
Features and Services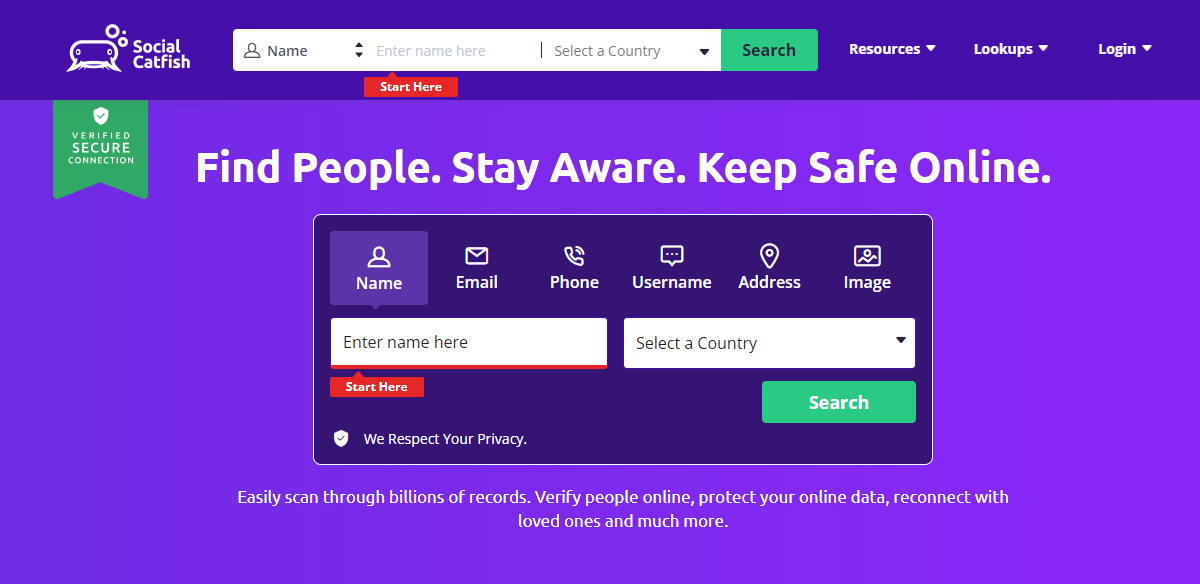 Social Catfish distinguishes itself through a plethora of features and services tailored to meet the diverse needs of its users.
From specialized search engines to a variety of search options, the platform is equipped to handle various online identity verification requirements.
Specialized Search Engine
At the core of Social Catfish is a specialized search engine that incorporates algorithm-based searches.
This technology enables users to explore and discover who they are communicating with across the internet, ensuring a comprehensive solution for online identity verification.
Variety of Search Options
Users are provided with a range of search options, including name, email address, reverse image search, phone number(s), and username.
These options ensure flexibility and adaptability, catering to different user preferences and scenarios.
Experienced Investigators
For more complex cases, Social Catfish has a team of experienced investigators ready to assist.
These professionals bring a depth of knowledge and expertise, ensuring that users have access to reliable and accurate information.
User Experience
With over 17,000,000 reports run and 200,000 satisfied customers, Social Catfish has established itself as a reliable service in the online identity verification landscape.
The platform boasts over 160,000 5-star reviews, reflecting a high level of user satisfaction.
User Testimonials
A myriad of user testimonials highlight the efficiency and reliability of Social Catfish.
Users like Janie have expressed gratitude, stating, "I am glad I searched, and it was worth the money spent because you saved me $50,000."
Such transformative stories underscore the impact of Social Catfish in empowering individuals with truth and control.
Social Media Presence
Social Catfish has garnered a significant following on social media, with over 11,577 Facebook followers and over 40,000 likes on various platforms.
This online presence reflects the platform's popularity and the trust users place in its services.
In conclusion, the first three sections of this review provide an in-depth look at what Social Catfish is, the features and services it offers, and the experiences of its users.
The platform stands out for its specialized technology, variety of search options, experienced investigators, and positive user testimonials, all contributing to its reputation as a reliable and effective tool for online identity verification.
Legitimacy and Safety
Navigating the digital landscape requires a discerning eye, and users often question the legitimacy and safety of online platforms.
Social Catfish has taken commendable steps to establish its credibility and ensure user safety, making it a trustworthy companion in the quest for truth.
Accreditation and Membership
Social Catfish proudly holds BBB accreditation and is a member of the Chamber of Commerce.
These affiliations provide an added layer of legitimacy and assurance, instilling confidence in users seeking to verify online identities.
Ethical Use and Privacy
The platform emphasizes the importance of using its services ethically and responsibly.
Users are reminded to respect people's privacy and avoid engaging in cyberstalking, harassment, or any other illegal activities.
Social Catfish is committed to fostering a safe and respectful environment for online investigations.
Safety Considerations
While the platform offers valuable tools for identity verification, users are encouraged to be cautious about sharing personal information and to conduct searches within the bounds of the law.
The safety of using Social Catfish ultimately depends on user intentions and adherence to ethical and legal standards.
Pricing Options
Understanding the cost associated with using a service is essential for making informed decisions.
Social Catfish offers a range of pricing options, catering to different levels of service needs and ensuring accessibility for various users.
Basic Search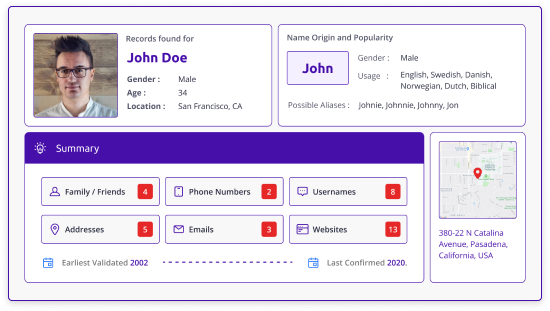 The Basic Search is a free service that allows users to search for a person's name or email address, providing initial insights into associated social media profiles or online accounts.
Reverse Phone and Email Lookup
For more detailed information, users can opt for the Reverse Phone Lookup and Reverse Email Lookup services, priced at $24.95 and $29.95, respectively.
These services offer insights into the owner's name, address, and other contact information.
People Search and Full Background Check
For a comprehensive overview, the People Search service is available at $49.95, and the Full Background Check service is priced at $79.95.
These services delve deep into public records and online data sources, uncovering extensive information about a person's identity and background.
Discounts and Promotions
Potential users should note that prices are subject to change, and Social Catfish may occasionally offer discounts or exclusive promotions.
For the most accurate and up-to-date pricing information, visiting the official website is recommended.
Review Conclusion – Is Catfish Worth It?
Social Catfish has carved a niche for itself in the realm of online identity verification, offering a blend of technology, variety, and expertise.

The platform's commitment to legitimacy, safety, and ethical use, coupled with its diverse pricing options, makes it a reliable choice for those seeking to unveil the truth behind online personas.
Whether you are reconnecting with a lost contact, verifying a new acquaintance, or safeguarding against potential scams, Social Catfish stands as a beacon of truth in the digital world, empowering users with knowledge and peace of mind.