The vacation rental and property management industry is already positioned as a rich, evolving sector with many growth opportunities for those who dare to discover it.
However, ensuring the desired yield for your vacation rental goes far beyond publishing your properties on a platform and waiting for the bookings to come in. 
It is a job that, although rewarding, requires a great deal of dedication, as well as organizational and management skills.
That is why the manual administration of your vacation rental business can become a tedious task once you reach a certain number of bookings and potential clients.
At that point, it is common that property managers decide to resort to a software that facilitates this management.
What Types Of Vacation Rental Software Exist?
Currently in the industry there are many types of software whose main objective is to help property managers and facilitate their work.
Therefore, it is possible to find softwares to centralize property management; softwares that include a great number of process and task automations; others aimed at price management, channel management, etc.
Nowadays, the offer is huge, so it is easy to find one that best suits the needs of each property manager and the type of management they need. 
One of the most important is the PMS, an advanced system that will become the neuralgic center of your business and your management.
It is important to note that the main function of vacation rental software is to facilitate the work of property managers by automating important tasks and functionalities.
Also, a software like this, will take care of centralizing all your listings, bookings and client communications so you can manage everything from a single dashboard, without the need to go back and forth from one platform to another. 
Incorporating software into the management of your business is the most suitable option for any property owner or property manager, whether you have a few or many properties.
For this, there are many softwares available in the market, so it is important that you identify the one that best suits you and your needs.
5 Reasons You Should Get A Vacation Rental Software
If you still have any doubts about whether or not to incorporate a vacation rental software into your business, this article will answer them.
The use of a vacation rental software will help you save time, increase your income, make your investments profitable, and see your bookings increase.
Here are 5 reasons why incorporating vacation rental software into your property management is the next step you should take in your business.
1.) Manages All Your Properties At Once
The vacation rental software, besides automating your tasks and functionalities, also takes care of centralizing everything related to the management of your properties.
This means that you will be able to manage tasks such as your clients' bookings, the listings of your properties in the different platforms, payments, rates, calendar or communications with your clients from a single panel.
Forget about costly manual tasks, switching from one platform to another or managing properties and reservations one by one. With a software you will be able to do all that without switching tabs. 
You can also enjoy better communication with your customers, facilitating contact with them and the ability to meet their needs and answer their questions, which will also improve their experience and their opinion of your property.
2. Saves You A Lot Of Time
If there is something you will notice especially after incorporating a software to the management of your properties, it is the amount of time you will save and that you will be able to dedicate to other tasks and activities.
In this way, you will be able to focus more on other aspects of your business that are more distant from the mere management of it, such as the decoration of your properties or the tuning of them.
This way, you will improve your properties in all aspects, which will have a positive impact on your performance and income.
3. Increases Direct Bookings
The booking engine that your vacation rental website will feature after the incorporation of the software will allow you to receive direct bookings.
Forget about OTA fees, you can get your own modern website, customized, mobile-friendly and free.
Your website is the image of your business, the letter of introduction to your customers and potential guests.
That's why a well-presented booking website with the right design and features to make it more complete will also have a positive impact on your bookings.
4. Improves Customer Service
The main factor that will make our business successful and move forward is directly related to the guests' experience and their appreciation of the services offered.
Therefore, taking care of the service you offer to your customers is one of the most important and crucial aspects. 
A vacation rental software plays a fundamental role in this regard.
With it, you will be able to offer customized services for each guest, such as personalized communications, or a unified inbox from which you can manage all messages and make sure you don't miss any unanswered communication.
You will be able to communicate directly and fluently with your guests before, during or after their stay.
You will offer them a personalized and complete service that will lead to more than positive reviews from them.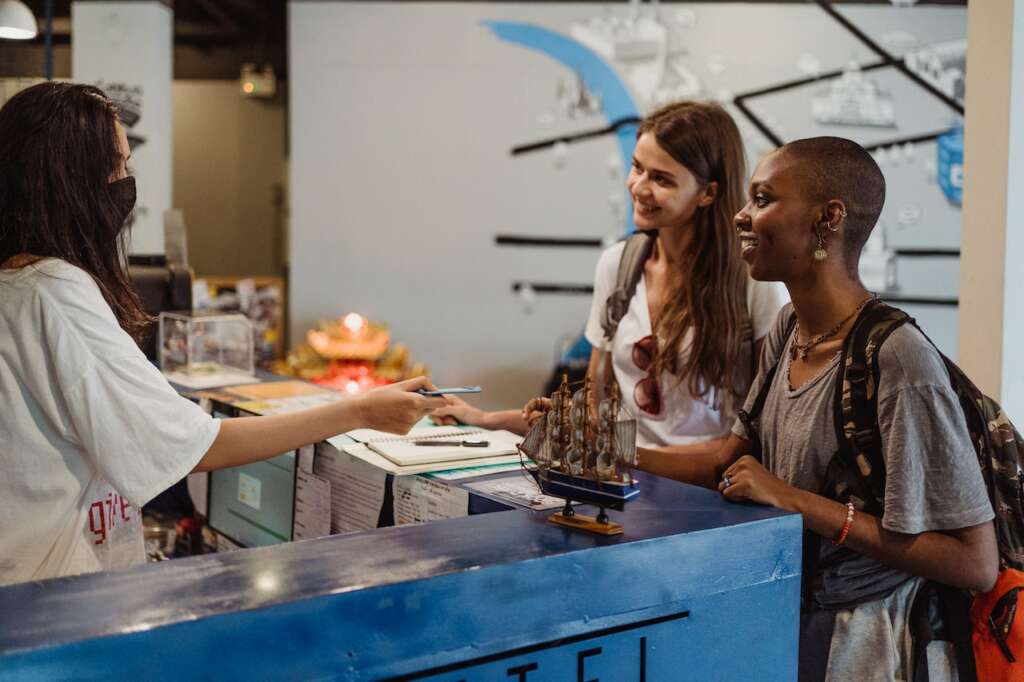 5. Gives You The Chance To Connect With Other Apps
As you have seen, a vacation rental software includes many automation and centralization features that will help you with the management of your properties.
However, the benefits are not limited to this, as it also gives you the possibility to connect with other tools and apps in a centralized way.
These integrations will allow you to increase the performance of your business and have an even more updated and complete system, in a simple and easy to manage way.
How To Choose The Right Software For Your Business?
You already know the main benefits and reasons why you should incorporate vacation rental software into the management of your properties, so now it is important that you know how to choose the best software to ensure the success and performance of your properties.
You should make sure that the software you choose is user friendly, and that it contains features such as easy-to-use website builder that helps you set up your own website the way you prefer, pricing management, channel management, a unified inbox and automation features.
To help you, we propose Hostify PMS, with all these features and many others that will make it much easier for you to manage your properties and automate your business. Are you ready to professionalize your business? Book a Demo with our Customer success team