Email marketing lets businesses connect with their target demographic, boost sales, and strengthen customer relationships.
However, manually collecting email addresses can be a tedious and time-consuming, and this is where email scrapers and extractors come in handy.
These tools automate gathering email addresses from various sources, such as websites, social media platforms, and directories, saving you valuable time and effort.
This article will explore the 10 best email scrapers and extractors available today.
Whether you're a small business owner, a digital marketer, or an entrepreneur, these tools will help you supercharge your lead-generation efforts and reach a wider audience. Let's dive in!
10 Best Email Scrapers and Extractors in 2023
Following are our ten finest choices of scraper and extractor tools.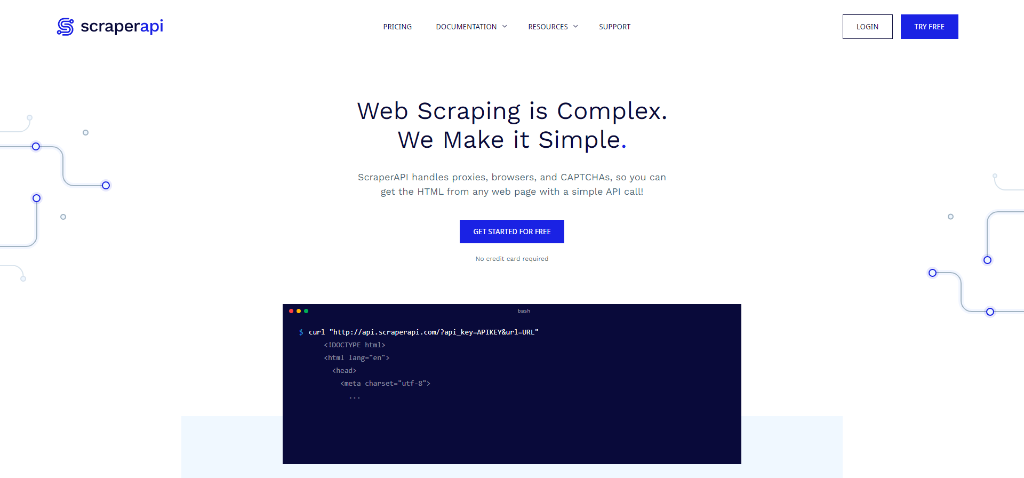 ScraperAPI is the ultimate email scraping solution and the market's best email scraper.
Its powerful features and robust infrastructure streamlines the process of extracting email addresses from various sources.
Its ability to easily scrape email addresses from websites on a large scale is one of its standout features.
It ensures accurate and efficient data extraction by leveraging its advanced algorithms and high-performance infrastructure, saving you valuable time and effort.
ScraperAPI has an easy-to-use interface and seamless integration options, making integrating into your existing workflows simple.
Its comprehensive API allows you to retrieve email addresses from multiple websites, giving you the flexibility and scalability you need for scraping.
The tool gives you access to a wealth of valuable contact information other than email addresses.
It allows you to extract additional information such as names, phone numbers, social media profiles, and more, enabling you to create comprehensive and targeted contact lists.

Discover one of the best email scrapers and extractors available, Apify, with powerful features for extracting contact information on a large scale from websites.
This helpful tool makes scraping easy by allowing you to enter a URL and start the scraping process simply.
The scraper will automatically extract data and follow links to retrieve valuable contact information.
You can obtain information other than email addresses using this email scraping tool.
Email addresses, Twitter handles, phone numbers, LinkedIn profiles, and Instagram accounts can be retrieved.
The approach ensures you collect diverse contact information to supplement your outreach and networking efforts.
Use this free email extractor to scrape any website's contact information easily.
Whether you want to build a targeted email list or connect with professionals across multiple platforms, this tool is a dependable and efficient solution.
The advanced infrastructure of Oxylabs provides exceptional scalability and accuracy in extracting email addresses from various sources.
It warrants seamless and accurate data extraction using cutting-edge algorithms and durable systems to save you valuable time and resources.
Oxylabs takes pride in its simple user interface and seamless integration abilities, which make it simple to integrate into your current workflows.
With its extensive API, Oxylabs allows you to easily extract email addresses from various websites, offering unmatched flexibility to satisfy your particular scraping needs.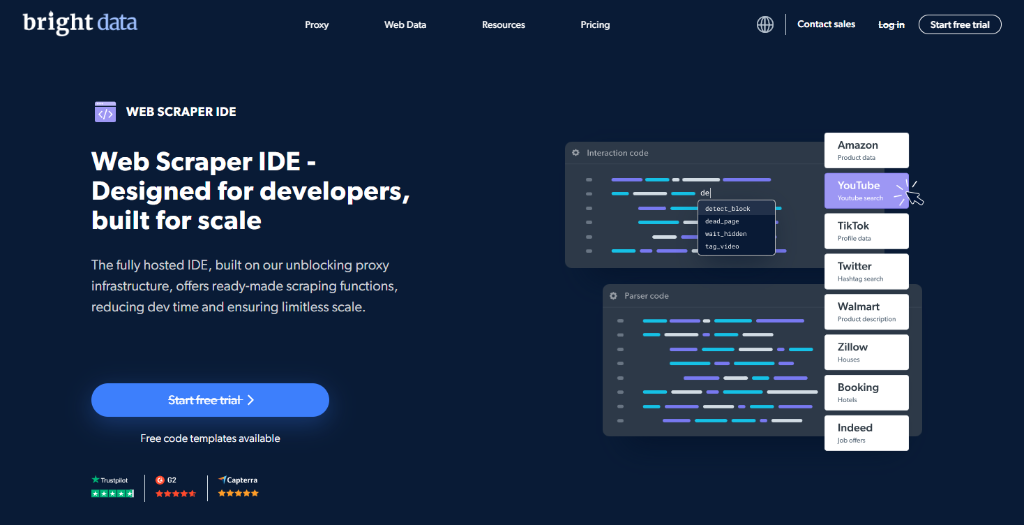 Bright Data offers a seamless and intuitive user experience, allowing you to scrape email addresses from various sources with precision effortlessly.
Its advanced algorithms and robust infrastructure ensure accurate and efficient data extraction, saving you valuable time and resources.
One of the standout features of Bright Data is its versatility.
While renowned as a proxy service, it seamlessly integrates powerful email scraping and extraction functionalities.
This unique combination empowers you to quickly gather email addresses, making Bright Data a comprehensive solution for your data collection needs.
Additionally, Bright Data offers a trial period, allowing you to experience its capabilities firsthand.
The data collected through this remarkable tool is conveniently delivered in MS Excel format, ready to be utilized on various web platforms.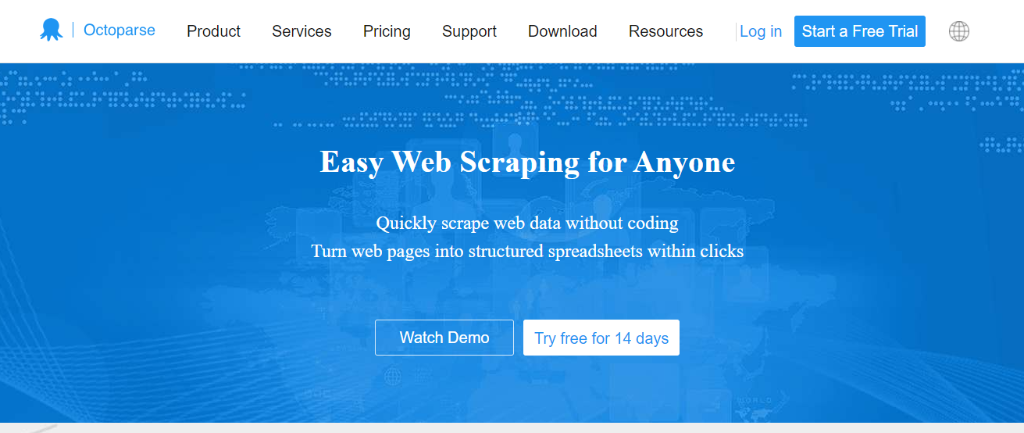 Octoparse is an exceptional web scraping tool, offering a no-code solution for efficient online data collection.
Among its top applications, email scraping from social media platforms and niche market portals takes the spotlight.
With Octoparse, you can gather valuable data without hiring a team of developers, significantly reducing costs.
Upon downloading the software, search for 'email scraper,' you'll discover a pre-built template designed to help users effortlessly extract email and social profile information from websites.
You can easily scrape email data from websites using the provided templates with just a few clicks.
Alternatively, you can leverage the auto-detect mode and customize the workflow to run tailored tasks and extract any desired data.
To guide you through the process, Octoparse offers tutorials specifically focused on utilizing the email scraper feature.
6. Hunter.io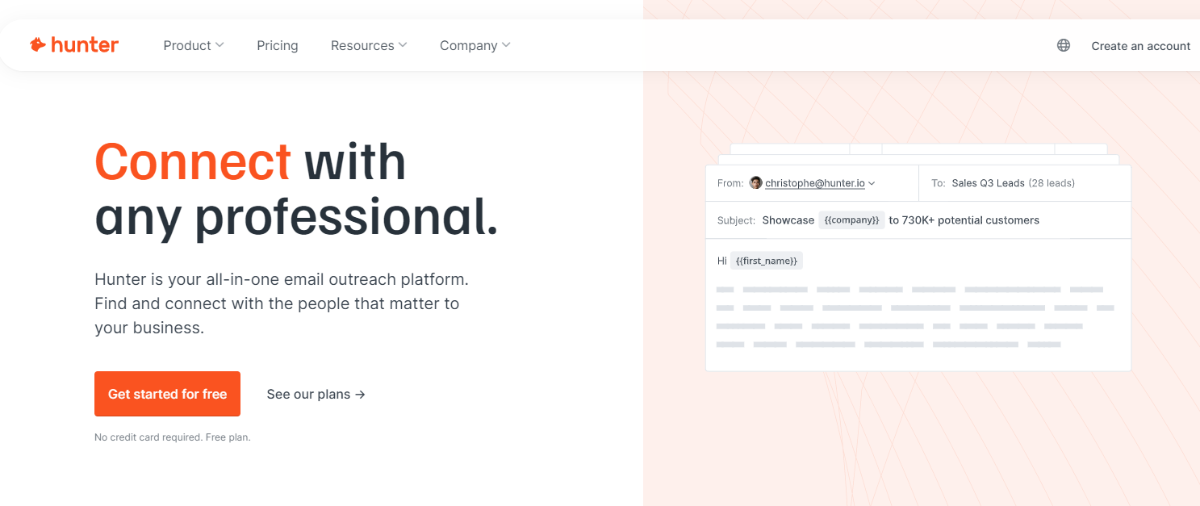 Hunter.io can extract bulk email addresses and phone numbers from websites, streamlining your data collection process.
One of Hunter's standout features is its ability to search for emails based on name and job title.
Utilizing this functionality significantly enhances your chances of finding the perfect email contact, enabling more precise and targeted outreach.
Hunter.io also empowers you to extract email addresses from specific locations on web pages using CSS selectors.
This feature provides flexibility and precision in email scraping, allowing you to focus on removing emails from the desired areas of interest.
Furthermore, Hunter.io facilitates seamless email sending directly from your email account for a streamlined communication process.
To further assist you in finding the right person, Hunter.io offers a tool that allows you to search for individuals based on their name or job title.
This feature enables efficient and accurate email address acquisition.
7. Atomic Email Hunter
Explore the capabilities of Atomic Email Hunter, a leading email scraper and extractor software renowned for its versatility.
This user-friendly tool can effortlessly extract emails from various sources, including social media platforms and email accounts.
In addition to email extraction, Atomic Email Hunter offers targeted lists of phone numbers, allowing you to gather valuable contact information.
It goes beyond emails by enabling the extraction of fax numbers and mobile phone numbers from text, expanding your reach, and enhancing your contact database.
Moreover, Atomic Email Hunter can extract email addresses and other contact details from popular messaging platforms like Yahoo Messenger and MSN Messenger.
This feature lets you tap into additional sources and acquire comprehensive contact information.
Atomic Email Hunter provides round-the-clock support for user convenience, ensuring assistance whenever needed.
Furthermore, it offers seamless compatibility with other automation products, enhancing workflow efficiency and integration possibilities.
8. Clearout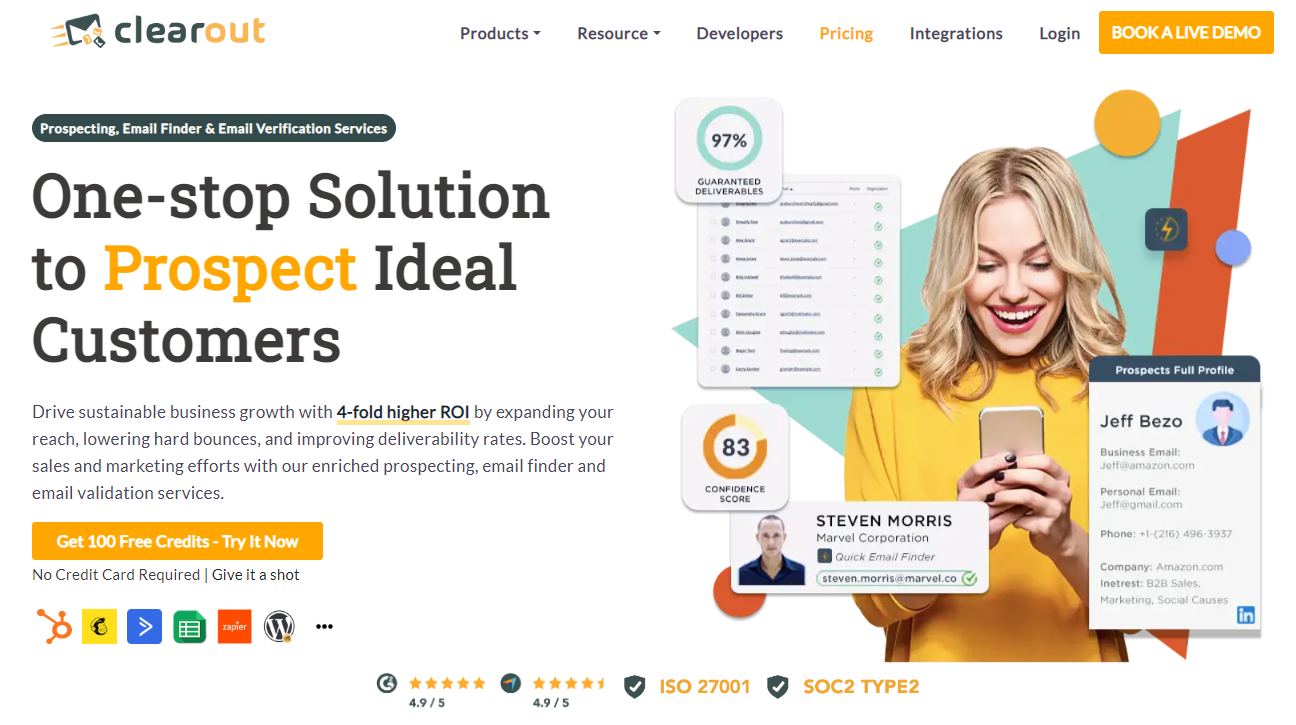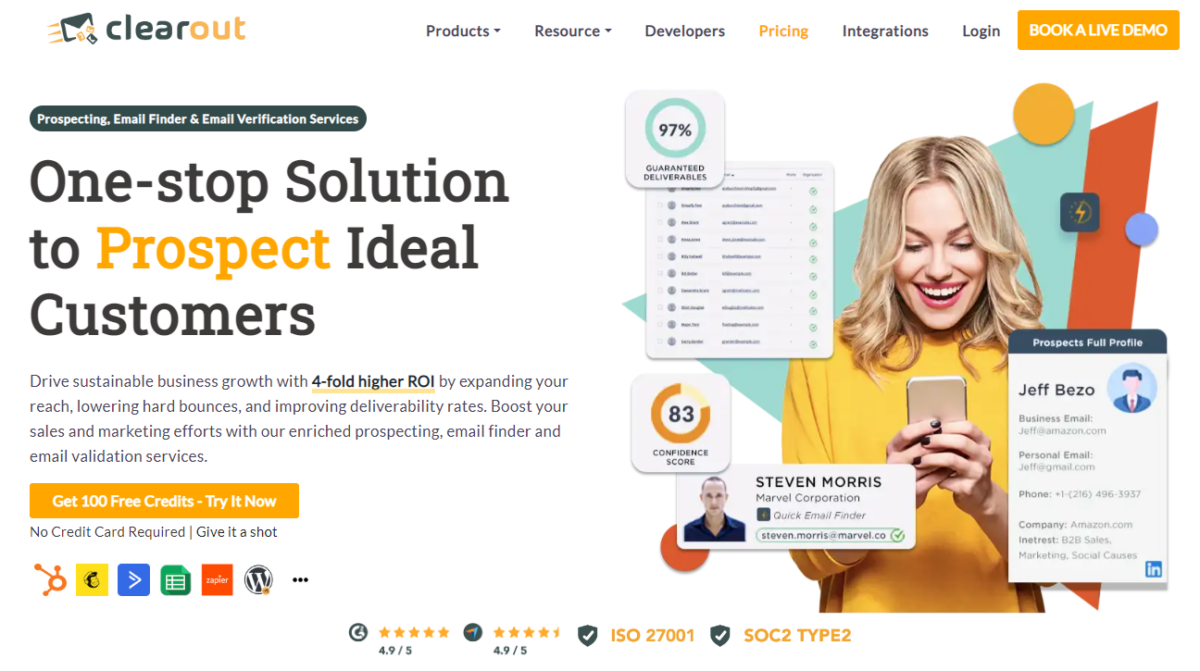 Clearout is a top-rated email scraper, as it leverages the power of popular search engines such as Google, Ask.com, Bing, Yahoo, and Lycos to discover email addresses from the vast expanse of the internet. 
Its intelligent algorithms can efficiently extract email addresses from a list of website URLs.
Clearout goes beyond mere extraction by providing advanced filtering options.
This allows you to specify specific criteria and refine the results for you to obtain a targeted list of email addresses that meet your requirements.
Whether you're seeking emails from particular domains, industries, or regions, Clearout delivers optimal results tailored to your preferences.
With its user-friendly interface, Clearout enables you to effortlessly extract email addresses from web pages, eliminating the hassle of manually sifting through irrelevant data.
By providing you with a refined list of only the email addresses you desire, Clearout ensures efficiency and saves valuable time.
9. EmailDrop
EmailDrop is a remarkable Chrome extension renowned for its exceptional email scraping and extracting capabilities.
This powerful tool revolutionizes extracting emails from webpages, allowing users to export them to a file of their choice effortlessly.
With EmailDrop, extracting emails from websites and web pages becomes a seamless and automated experience.
It efficiently captures all the email addresses on a webpage, so no valuable contact information is missed.
One of its standout features is the ability to swiftly gather a group of emails from a page and store them for future reference in a convenient TXT file format.
EmailDrop's availability as a Chrome extension makes it readily accessible and compatible with the popular web browser, enabling users to harness its powerful capabilities effortlessly.
10. Email Extractor
Among the standout options is the user-friendly Email Extractor, harnessing the power of Google Chrome as its engine.
This cutting-edge tool grants seamless accessibility to users of all levels of expertise.
One of the key features is its integrated email verification system so that the addresses you send your emails to are legitimate and up-to-date.
Moreover, the list-building capabilities enable you to efficiently compile and manage your email contacts.
The Email Extractor extension for Google is an invaluable asset, enabling the extraction of email addresses from various sources, such as text files and local HTML documents.
This tool streamlines email scraping by automating the process, requiring minimal supervision.
It also boasts offline support and eliminates duplicate email entries, guaranteeing top-notch, clutter-free data.
Key Benefits of Using Email Scrapers and Extractors
Email scrapers and extractors offer a range of benefits that can significantly enhance your email marketing strategy.
Here are some key advantages to consider:
Time and Effort Saving
Manual collection of email addresses can be a tedious and time-consuming task.
Email scrapers and extractors automate this process, allowing you to gather many email addresses from various sources quickly and efficiently.
You can focus on other essential aspects of your marketing campaign by eliminating manual work.
Targeted and Accurate Leads
One of the primary advantages of using email scrapers and extractors is the ability to gather targeted leads.
These tools allow you to specify search criteria such as industry, location, or keywords, enabling you to collect the email addresses of individuals more likely to be interested in your products or services.
This targeted approach increases the chances of converting leads into customers.
Improved Email Campaign Performance
A clean and accurate email list is crucial for the success of your email marketing campaigns.
Email scrapers and extractors help ensure the quality of your email list by filtering out invalid or duplicate email addresses.
You can experience higher open rates, click-through rates, and overall campaign performance by sending emails to a highly targeted and verified list.
Frequently Asked Questions
How Do Email Scrapers and Extractors Work?
Email scrapers and extractors work by scanning websites, search engine results, social media platforms, and other sources for email addresses. 
These tools use algorithms to identify patterns and structures that resemble email addresses. 
Once the email addresses are detected, they are extracted and stored in a database or exported into a file for further use.
Are Email Scrapers and Extractors Legal to Use?
The legality of email scrapers and extractors depends on the jurisdiction and the intended use of the extracted data. 
In general, scraping email addresses from publicly available sources is considered legal.
However, using email scrapers to harvest email addresses from private websites or violating the terms of service of a website is illegal. 
Ensuring compliance with the laws and regulations governing data privacy and usage in your jurisdiction is vital.
Can They Extract Emails from Password-Protected Websites?
Email scrapers and extractors cannot extract emails from password-protected websites unless you provide the necessary authentication credentials. 
These tools rely on publicly accessible information to extract email addresses and cannot bypass authentication barriers.
Conclusion
The 10 best email scrapers and extractors discussed in this article offer potent features, reliable results, and user-friendly interfaces to streamline your lead-generation process.
You should take your time and carefully weigh your choices to find the one that works best for you.