With reliable Instagram email scrapers and extractors, you can effortlessly gather valuable contact details of Instagram users and leverage them to create highly targeted and engaging email campaigns.
Hundreds of these online tools claim to be financial and time savers, but only a few can be considered the finest.
In this article, we created a list of the best Instagram email scrapers and extractors to equip you with the knowledge and tools necessary for success.
Keep reading to learn more about them.
Best Instagram Email Scrapers & Extractors in 2023
Here are our top recommendations for Instagram email extractors and scrapers.
Using specially designed bots, Phantombuster excels in discreetly extracting data from targeted fields without raising red flags. 
What makes it even better is their generous 14-day free trial, allowing users to get a taste of their offerings.
However, it's important to note that certain limitations apply during the trial period.
With a dedicated Instagram Email scraping package, Phantombuster offers excellent value for just a monthly fee.
This package allows users to utilize the service up to five times daily.
With a wide range of over 100 automated models available, finding the perfect fit for your data needs is surprisingly effortless.
One of the standout features of Phantombuster is its seamless integration with various CRM systems, allowing users to import their scraped results effortlessly.
Additionally, being a cloud-based application eliminates the need for extensive memory resources.
To ensure a smooth and undetectable scraping experience, carefully configuring this powerful tool, it's crucial to follow the provided instructions.
By doing so, you can guarantee that your activities on Instagram remain under the radar.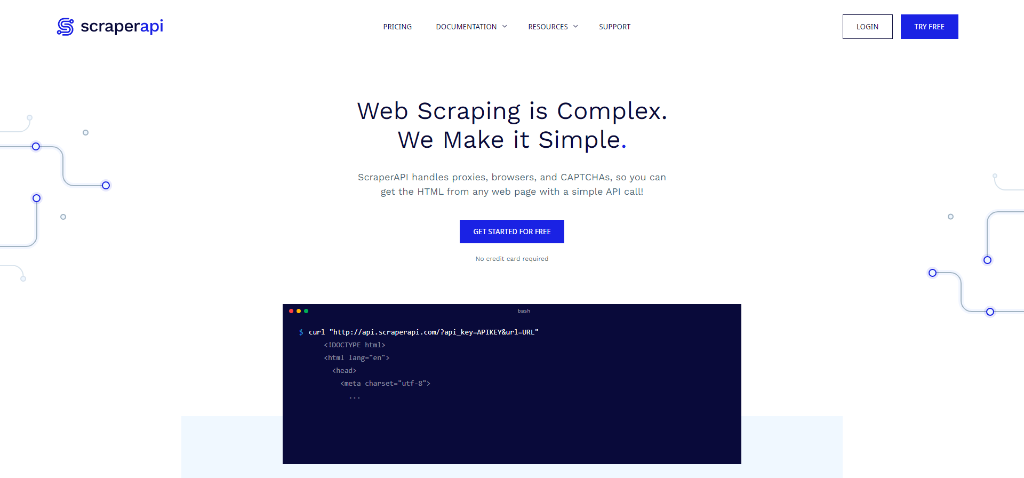 ScraperAPI is a highly recommended tool offering a wide range of scraping capabilities when searching for Instagram email scrapers and extractors.
Its powerful features enable users to extract the required data efficiently.
What sets ScraperAPI apart is its provision of a free plan, making it an ideal choice for beginners in web scraping.
This plan allows users to make up to 1000 requests per month, free of charge, even if some requests may be unsuccessful.
If you're hesitant about committing to a long-term plan without first trying out a scraping tool, ScraperAPI's free option is worth considering.
It allows you to test the tool and assess whether it meets your needs before upgrading to a paid plan.
Additionally, you can retry requests until they are completed, with a 60-second timeout between each attempt.
ScraperAPI excels in Instagram scraping and offers data extraction capabilities for various platforms, including TXT, CSV, Excel, JSON, MySQL, and Google Sheets.
It supports multiple operating systems and can be used as both a desktop tool and a cloud-based solution.
Using AI technology, ScraperAPI intelligently gathers diverse data points, making it highly efficient and easy to use.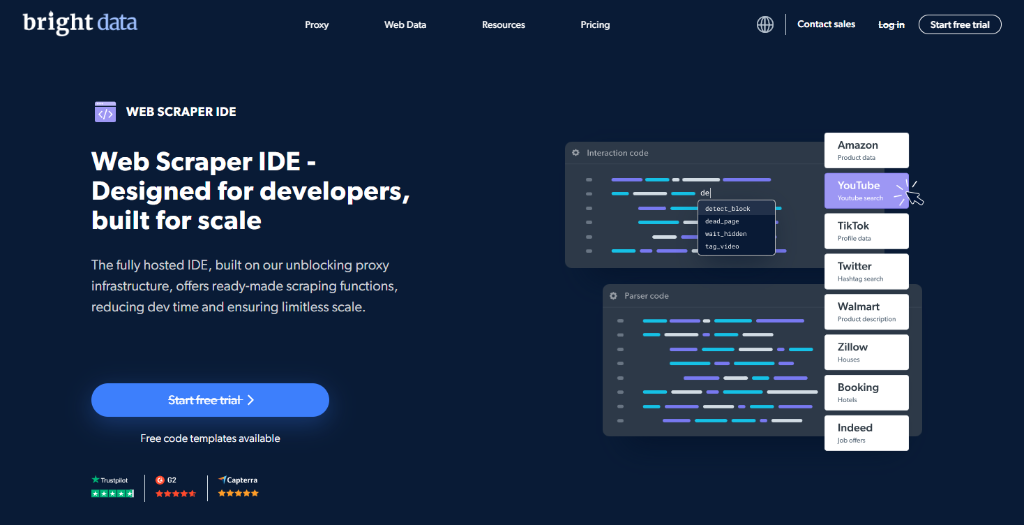 Bright Data stands out as one of the finest Instagram email scrapers, offering valuable services for internet marketing, sales, and email campaigns.
It significantly enhances productivity and empowers employees to be more efficient.
Additionally, Bright Data provides the opportunity to purchase Instagram datasets at a reasonable price, making it an accessible option for businesses.
One of the standout features of Bright Data is its comprehensive suite of tools, including using bots to identify leads and initiate email campaigns, resulting in multiple sales opportunities.
However, its Instagram email extractor tool truly shines as the best in its class.
With this tool, you can extract a wealth of data from any Instagram profile, ranging from the URL and bio to business emails, addresses, phone numbers, and more.
This valuable information is gathered from the database and conveniently sent to your inbox, saving you time and effort.
Bright Data proves to be a lifesaver by offering a quick and efficient means of collecting data from Instagram.
Bright Data provides a reliable solution that streamlines the process, whether you require information for marketing purposes or need to reach out to potential leads.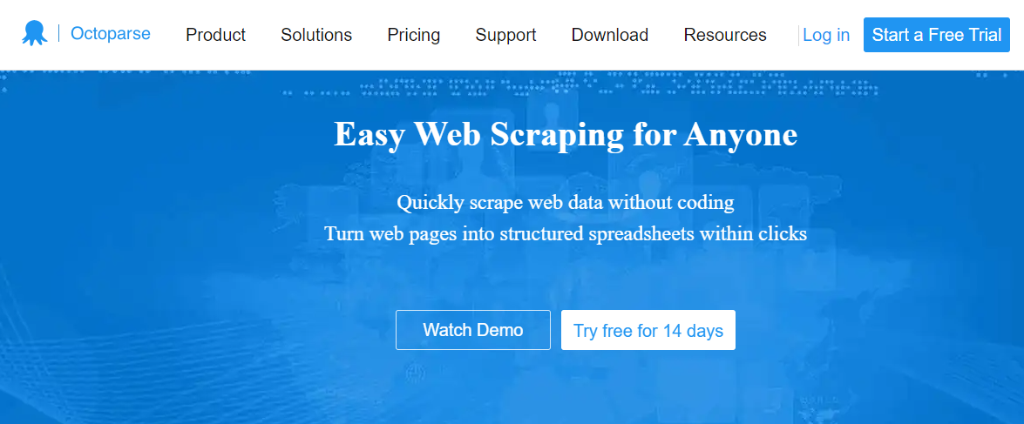 Octoparse offers remarkable versatility to fulfill your requirements.
A reasonable monthly subscription cost allows you to extract data in various formats, such as MySQL, CSV, Excel, SQLServer, and JSON, on desktop and cloud platforms.
It has established itself as a reliable and trusted web scraper, providing efficient scraping templates to enhance your productivity.
Whether you prefer cloud-based or desktop software, this tool caters to your needs without the need for coding skills.
To ensure your satisfaction, it even offers a generous 14-day free trial period, allowing you to test its capabilities before committing.
With its comprehensive features and user-friendly interface, this tool is an excellent choice for Instagram email scraping and extraction tasks.
5. ScrapingBee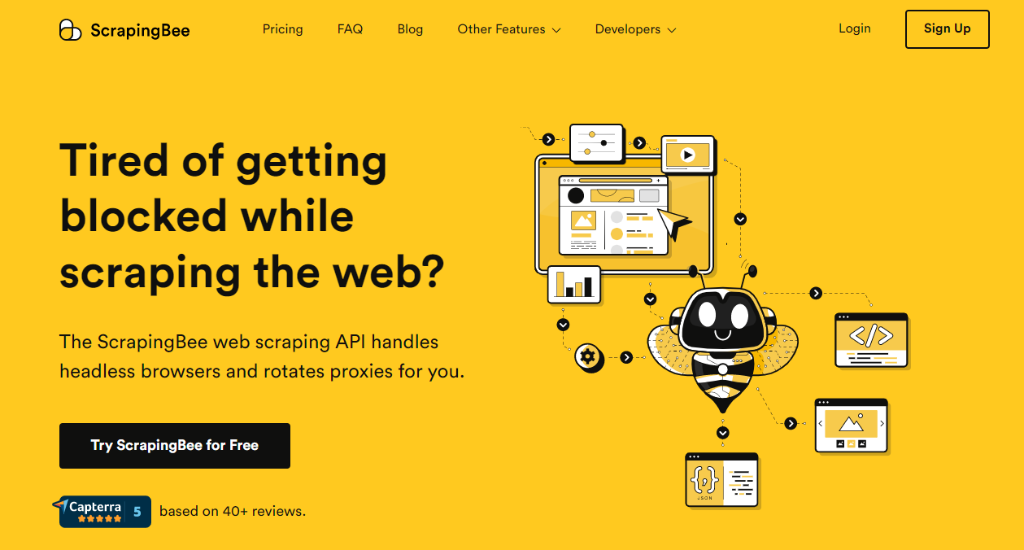 ScrapingBee emerges as a leading service for Instagram email scraping and data extraction.
With its efficient scraping techniques, ScrapingBee simplifies collecting data from Instagram feeds, allowing users to extract valuable information seamlessly.
ScrapingBee offers an impressive array of features that enable users to export various types of data and images, including a user's complete bio, profile picture, contact details, location, tags, and even Instagram user emails.
What sets ScrapingBee apart is its ability to accomplish all this without being blocked by Instagram's detection systems.
Additionally, the tool allows users to scrape keywords and SERP backlinks, providing further versatility.
The platform boasts convenient features such as direct lead extraction to Google Sheets, ensuring smooth integration with other tools and applications.
ScrapingBee also stands out for its reliable and secure email extraction software for Instagram.
One of the standout qualities of ScrapingBee is its user-friendly interface, making it effortless to navigate and operate.
Moreover, the service maintains a large proxy pool, ensuring efficient data extraction without interruptions.
6. ProfileMate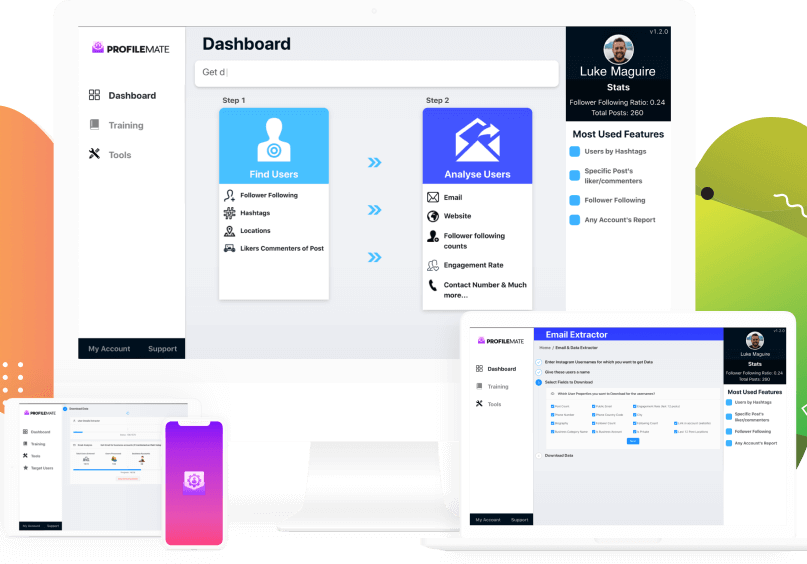 ProfileMate is another leading Instagram email scraper available online.
Known as an Instagram Profile Extractor, this powerful tool has been developed by skilled engineers in the USA, utilizing internet bots to ensure maximum speed and efficiency.
With ProfileMate, you can extract a wide range of account data, including names, emails, bios, and hashtags.
It also captures details visible in posted pictures, such as user locations and captions, providing comprehensive search results.
One of the critical features of ProfileMate is its ability to extract email addresses from any Instagram page and followers.
This allows you to gather valuable contact information for your targeted audience.
Moreover, the tool enables you to export profiles and pages to high-quality PDF or CSV formats, ensuring seamless integration with other applications.
Another impressive aspect of ProfileMate is its capability to extract photos from any public Instagram account.
By simply providing the email address and initiating the search, the tool collects and stores the image data in its database, providing valuable insights.
Main Advantages of Using Instagram Email Scrapers and Extractors
When you use Instagram email scrapers and extractors, you will enjoy numerous benefits:
Improvements to Email Inbox Management
Simplifying email inbox management is essential for both individuals and companies.
Using an Instagram email extractor, you can access several advantages that will enhance your email experience.
Creating a single file from your messages after extracting and consolidating them makes finding and responding to urgent messages easier.
When dealing with a high volume of emails, this is extremely helpful in ensuring that critical messages are answered right away.
Effortless Automation
Searching through your inbox manually for new messages can be tiresome and time-consuming.
However, an IG email extractor can help you save valuable time by automating the extraction process.
The extractor automatically recognizes and extracts new messages rather than requiring you to search for them manually, giving you immediate access as needed.
This time-saving feature benefits busy professionals and business owners who value every second.
Corporate Effectiveness
For workflow management to be successful, organizational effectiveness must be maintained.
This is helped by an Instagram profile email extractor, which automatically organizes your messages.
Your messages will be safely stored and made available, allowing you to access important information quickly.
This level of organization is essential to stay on top of your work and ensure that your business remains well-coordinated.
Unleash Potential for Productivity
You can maximize your productivity by incorporating an Instagram email extractor into your daily email management routine.
You are able to concentrate on essential tasks and increase your efficiency thanks to the simplified process and time-saving features.
You can devote more time to business tasks with an effective email workflow, increasing productivity and growth.
Frequently Asked Questions
Is it Possible to Extract Email Addresses from Instagram?
As a widely popular social media platform, Instagram is used daily by thousands of people, presenting an excellent opportunity to target a specific audience. 
A common query arises about the extraction of email addresses from Instagram profiles. 
The good news is that it is indeed possible to obtain the email address of an Instagram user.
The process is relatively simple, provided you have a reliable email extractor tool. 
Numerous highly rated Instagram email extractors are available online, offering you a chance to enhance your business.
How Can Data Be Scraped from Instagram?
When scraping data from Instagram, you have two main options. 
Firstly, you can utilize a pre-existing Instagram scraper that is readily available. 
Alternatively, you can create your own scraping program tailored to your specific requirements. 
Once you have determined the preferred method, you must clearly define your goal and identify the data you wish to extract. 
Afterward, input the appropriate command or keyword into your software, set any necessary limitations, and allow the program to execute its tasks effectively.
Be sure to use Instagram proxies if the tool supports them.
Are Instagram Email Scrapers and Extractors Legal to Use?
Yes, Instagram email extractors can be legal to use as long as they comply with Instagram's terms of service and any applicable data protection laws. 
Familiarizing yourself with the platform's guidelines and using these tools responsibly and ethically is crucial.
Conclusion
You can say goodbye to the complexities of coding because now you can effortlessly scrape data without any programming knowledge.
Knowing what information you need and which Instagram scraper is best for your needs and resources is all required.
All tools we discussed can be regarded as the best Instagram email scrapers and extractors available.
In addition, you can start your exploration immediately because many of these excellent tools have free trial periods.
By signing up with the tool that best suits your needs, you can try out its features and make an educated choice.