Scraping data has become essential to the survival of any business.
There is no better way to assess interest levels, find good leads, and even check out the competition.
Of course, trying to scrape data manually means visiting thousands of pages and attempting to extract information from them.
If you have the necessary skills you can always write some code to scrape for you.
However, most people don't have the ability to write code.
Fortunately, you don't need to. There are plenty of great programs designed to scrape data for you.
The main question you need to answer is where do you want to scrape data from?
LinkedIn is a popular choice as it gives you details regarding potential new employees and there are thousands of potential customers for your business.
All you need is to know the best LinkedIn scrapers. Fortunately, that's what we're here for.
Best Linkedin Scraper in 2023
It's important to choose one of the best LinkedIn scrapers as this will ensure you get the data you need.
The following are all worth trying, they will save you time and potentially increase your revenue.
Phantombuster regularly tops lists of scrapers because it offers a complete package for a reasonable price and it's easy to use.
The best place to start with Phantombuster is by using their 14-day free trial. This will give you an insight into what it does and how to use it.
There are over 100 scraping databases already constructed. Simply check what data each one is designed to collect.
If you find one that suits your data needs simply select it and start it running.
If you prefer, you can configure the fields yourself.
Every data scrape is compiled by the system and the data can be integrated into your CRM without you having to do anything.
That's hours saved and lots of customer information gained.
Phantombuster is designed to run in the cloud. That makes getting started very quick and you'll never struggle with memory issues on your computer.
They even offer a simple tutorial to help you get started.
The template for LinkedIn is designed to extract over 30 fields, you simply select the ones you need.
It's important to note that many websites, including LinkedIn, try to protect themselves from data scraping.
That's why Phantombuster recommends you set the system to scrape between 80-100 profiles a day.
It will help your activity avoid suspicion and allow you to keep scraping.
Phantombuster also supports the scraping of LinkedIn Sales Navigator, which most scrapers don't.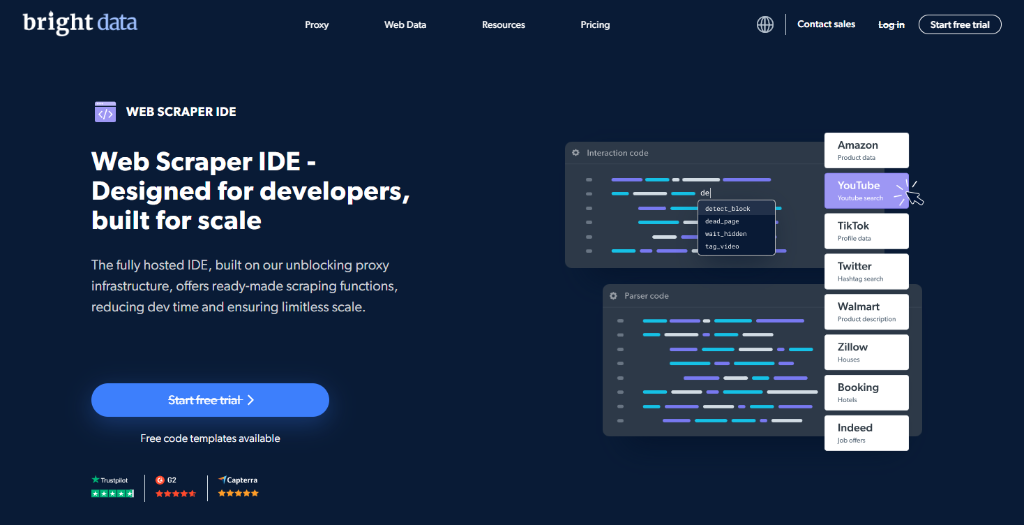 Bright Data is possibly one of the best-known scrapers and proxy providers in the industry.
The two elements work well together to help ensure your scraping activity doesn't get detected.
Bright Data has an enviable success rate, listing at 99.9%.
The dashboard is very easy to use, allowing you to see and choose a pre-established database or create your own.
Every step is listed in their guide, making it easy for you to get the right results.
You'll also be impressed by their customer service team. They are available 24/7 by email or live chat and they know their stuff.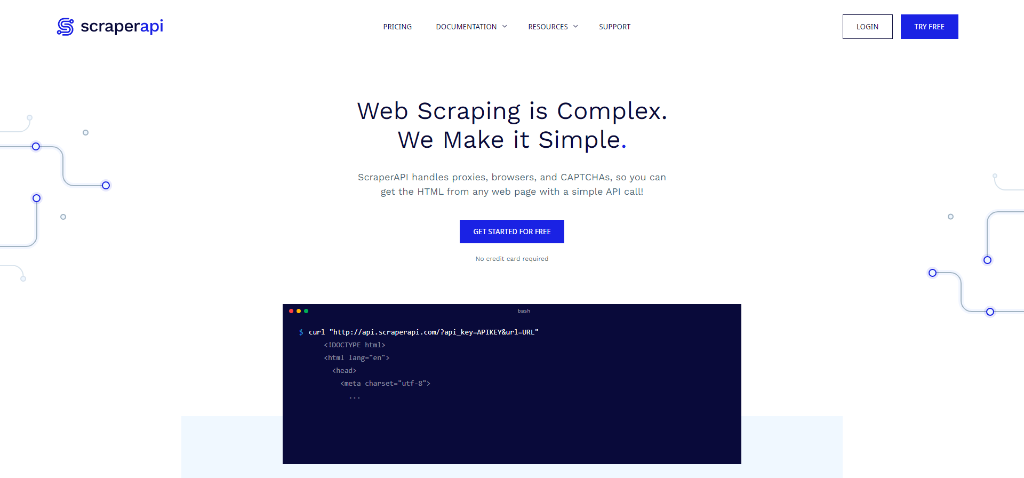 ScraperAPI also offers proxies. They have over 40 million IP addresses that can be used across the globe.
These complement the web scraping tools and provide access anywhere on the planet.
Using proxy addresses means you can make multiple requests to the same LinkedIn server without arousing suspicion.
Scraper API automatically rotates the IP addresses to ensure every request looks different.
In short, your data scraping will be successful. Scraper API creates a file that can be imported into your own system to populate the relevant fields.
The most popular files are CSV and SQL but there are many different options.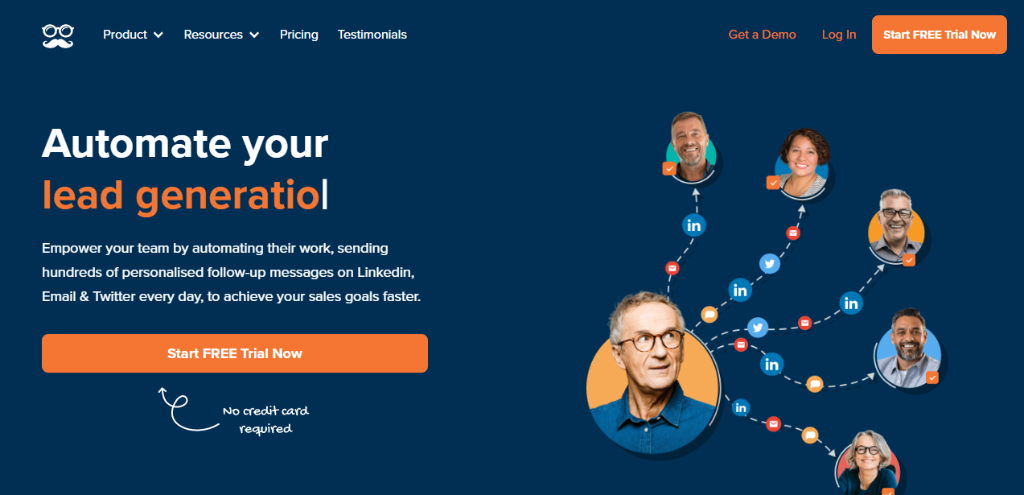 Meet Alfred is a good way to automate your data scraping with LinkedIn.
As with the others, you can start with a free 14-day trial, allowing you to get a feel for how this system works.
Meet Alfred has a selection of automated data sheets that you can choose to pull information from LinkedIn.
However, you can also create your own data fields, it's surprisingly easy.
The aim is to generate enough information that you can target potential customers with the automated system offered by Meet Alfred.
It allows you to automate custom messages. Simply create the message according to the job title or the industry the person is in.
Meet Alfred will take care of everything else for you.
Once the data has been collected you can choose the right file type and integrate it with your own CRM, easily completing additional fields.
The Meet Alfred software also makes it easy to manage your LinkedIn customers and make the most of every opportunity.
The system is easy to use. But, if you need any help they have a very efficient customer service team available via live chat.
Dux-Soup is designed to help you with every area of LinkedIn. That means data scraping, generating leads, and even managing your LinkedIn clients.
The system will automatically contact and follow up on any LinkedIn contacts you flag.
This allows you to keep them in the loop or target them with a new marketing campaign. You can even personalize messages without having to do anything.
You can try the free trial first and then sign up for the free plan.
But, to get the most out of this scraper you should opt for the paid plans, they start from as little as $9.92.
Dux Soup mimics human behavior when interacting with other profiles on LinkedIn.
That means you can generate leads automatically without fear of being detected and blocked from LinkedIn.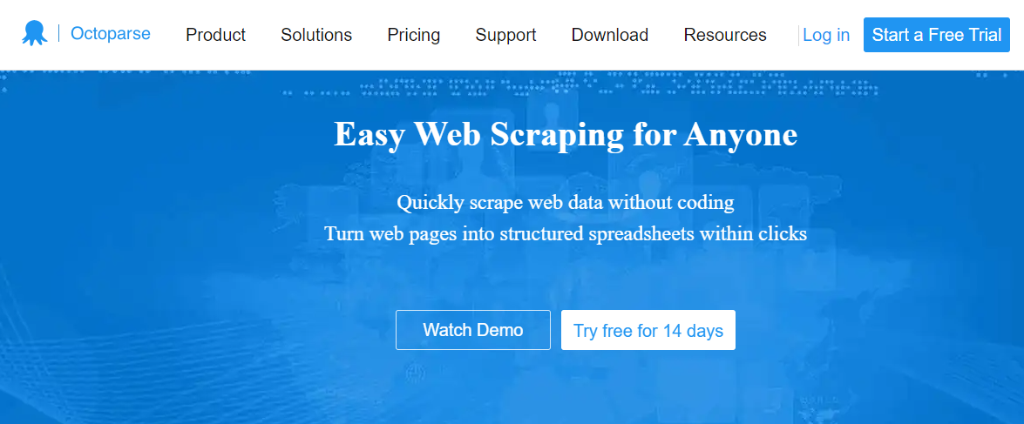 Octoparse is exceptionally easy to use. They have compacted your involvement in three simple steps.
That's finding the data, selecting the data, and then importing it.
Considering the amount of data on LinkedIn this simplistic approach can be very beneficial.
Once the data is collected it can be saved in various file formats, including Excel, CSV, and MYSQL.
You can then import this directly into your CRM system.
Octoparse is cloud-based, meaning you don't need a huge memory on your desktop. It also allows it to run all the time.
It also uses its own proxy system, helping to ensure you don't get blocked.
With a starting price of just $75 a month it's worth looking at.
7. ScrapingBee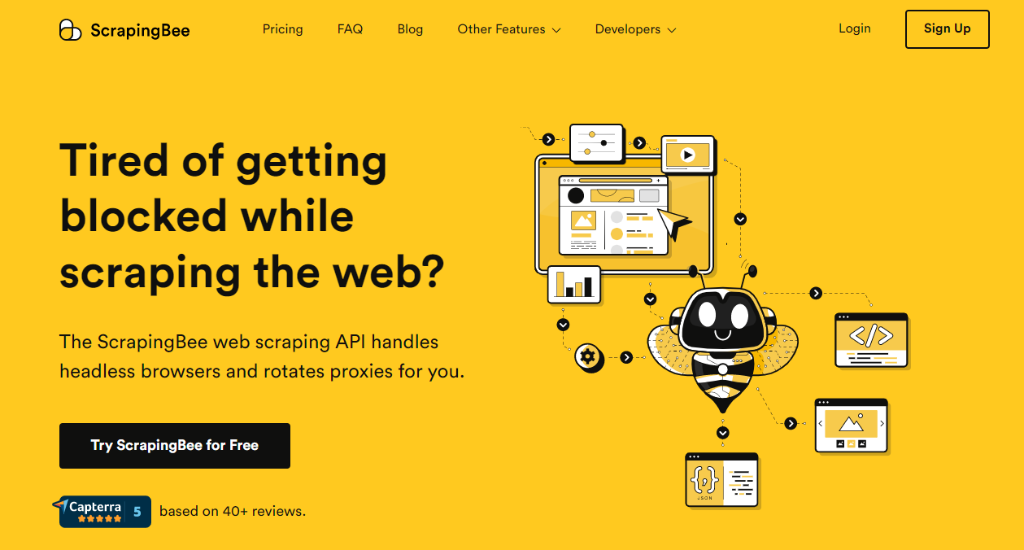 ScrapingBee offers a web scraper combined with a large number of proxies.
The aim is to collect the data you need without alerting LinkedIn to anything. They are very good at doing this.
Part of their success is the use of proxies, they automatically rotate them to avoid detection and help if you want to target a specific location.
As with the others on this list, they have a large collection of pre-populated datasheets. In most cases one of these will do the trick.
If not, you can create your own datasheet and get all the information you need.
The service is fast, they offer a free 14-day trial, and they guarantee not to get your account blocked.
Scrapingbee uses Javascript to ensure data can be read even on complicated websites.
They are the perfect accompaniment for small businesses and individuals.
8. ScrapeStorm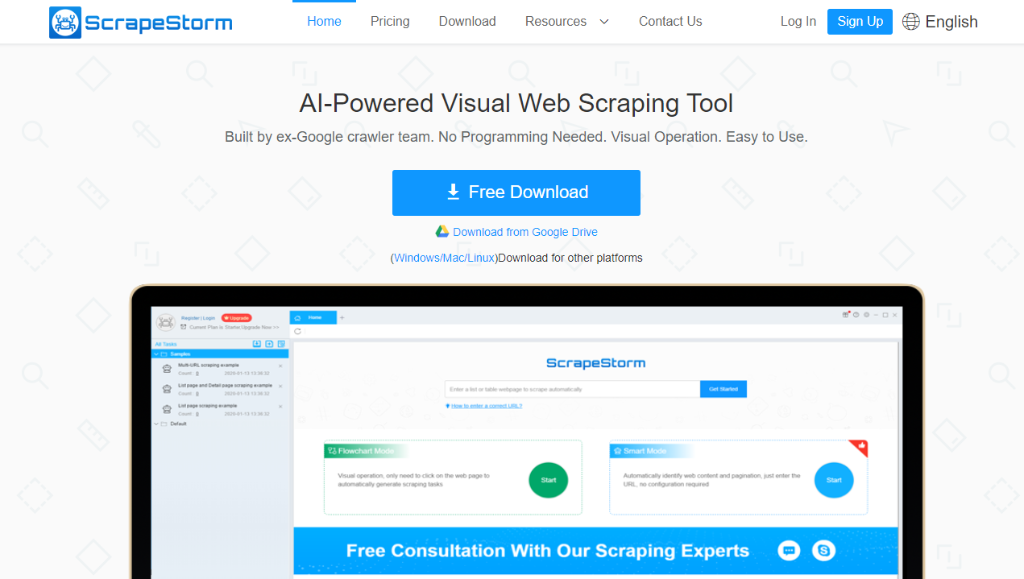 ScrapeStorm was created by a top team of Google operatives that specialized in web crawlers.
This has allowed them to create a business-style system that delivers.
As with many of the other offerings, Scrapestorm uses an automated data point identification system to find any data in the right field of LinkedIn and other sites.
Once the data has been collected it will be compiled into a file, you can choose the format but MYSQL, CSV, and even TXT are the most popular.
You can then import the file directly into your CRM and save yourself a lot of time and money.
Prices are reasonable, making this an attractive option for any business. They start at $49.99 per month.
9. ParseHub
Using one of these systems means you don't need to write any code, just select the data fields that you want to collect.
This system is surprisingly advanced yet very affordable.
The premium option starts from just $149 per month.
Where Parsehub excels is in the way it visually helps you to select data fields. The system is advanced but it's also very adaptable and easy to use.
Once you've created the data to be collected you simply need to wait for it to finish and select the file type.
It offers the information in JSON or Excel.
However, before you start using it make sure you turn on the proxy in your desktop and use it.
Parsehub doesn't operate its own proxy system.
Why Scrape LinkedIn
LinkedIn is a social media site aimed at businesses and professionals. The site allows people to contact each other, share contacts, and support each other.
With over 800 million users there is a lot of personal information that can be used.
Manually scraping the data isn't an option, it takes too long. But, it is useful for several reasons. That's why you need the best LinkedIn scraper.
Find Leads
The most obvious reason is to find leads and increase your sales revenue. LinkedIn is full of businesses that could buy your products.
With the right search criteria you can get all the information you need to approach them.
Locate New Employees
With so many professionals in one place it's a good idea to use LinkedIn to check the details of people looking for work and then approach anyone you think is suitable.
Fill in Gaps
If you have part-completed fields for your customers or potential customers then a data scrape of LinkedIn can help you find the missing details.
This will make it easier to build a successful relationship with them.
The Legality Of Scraping Data
Scraping data isn't illegal, provided you are taking data that is publicly available. However, it also isn't legal!
That's why many businesses try to stop it from happening. LinkedIn is one such business.
They have their own legal department that focuses solely on data scraping.
Alongside this, they have a network of anti-bot programs and proxy detectors to try and eliminate data scraping.
In short, if you're going to do it you need to use one of the best scraping companies, as listed above.
They will get the data you need and protect your anonymity.
It's worth noting that the site specifically disallows bots, crawlers, plugins, and scraping. In effect they are making it unlawful to scrape data with a proxy.
Doing so will leave you in a gray area of the law.
But, in all cases that have been heard so far, no one has been penalized for data scraping because they are not doing it for the wrong reasons.
Of course, Linked in will shut your account if they think you are data scraping.
Summing Up
Unless you are very good at coding and developing bots, LinkedIn can only be scraped with a suitable program.
It's worth choosing one of the best LinkedIn scraping tools, as listed above, because this will help to protect you while getting you the data you need.
When using any program you should check them out thoroughly first.
Fortunately, we've done that for you, allowing you to start scraping on LinkedIn.