If you use the internet a lot you'll know that, despite appearances, it's not a safe place.
Your personal information and everything you do on the web is monitored by your internet provider.
The only way to stop them from seeing everything is to invest in a good VPN.
But, that's not the end of it.
If you want to visit a site multiple times and you do so too quickly, you can actually get blocked.
Of course, that's not relevant to the average internet user, but it is to anyone trying to collate data.
That's why you need to know about the best proxies for web scraping and how to use them.
Understanding Web Scraping
Web scraping is the name given to collecting data on the internet.
Collecting data simply means taking freely available data and putting it into a local file on your computer.
This allows you to analyze it further.
On a small scale it's easy to collect data, you can simply copy and paste what you need.
However, the amount of data noàw available on the web has made it increasingly important to collect huge amounts of data.
It allows businesses to evaluate needs and prepare products and services for the right market.
This has been achieved by using bots.
These can visit hundreds of websites and pages and extract the necessary information.
Why You Need The Best Proxies When Web Scraping
The problem is, most businesses don't want you collecting data from their site.
It may be used to give you a competitive advantage or to damage their reputation.
To prevent this they will set limits on the number of requests allowed to be made by the same IP address.
For example, they may say that no more than 600 requests can be made by the same IP address in one hour.
If you go over this limit the IP address will be blocked. In short, you won't be able to access the site.
By yourself you wouldn't reach these limits. But, if you're using bots to collect data it's easy to access 600,000 pages in an hour.
In other words, you'll need approximately 1,000 IP addresses to collate the data from 600,000 pages.
You don't have 1,000 IP addresses but, using a proxy will allow you to use multiple IP addresses and get the desired result.
Best Proxies For Web Scraping 2023
Of course, not all proxies are the same. For the best results you need the best proxies for web scraping.
Here are the top 5: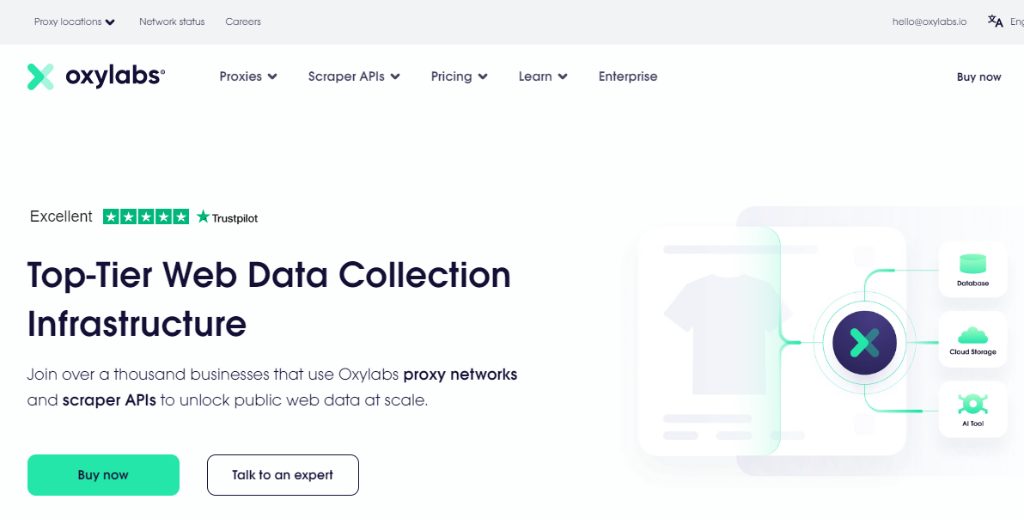 Oxylabs started trading in 2015 and has quickly become recognized as one of the best proxy providers in the business, although not the cheapest.
Signing up with them gives you access to their AI-powered website unblocker.
It uses multiple proxies and helps your data requests appear as normal web traffic while extracting all the data.
Best of all, you can use the Oxylabs system anywhere in the world and still get localized content.
Joining Oxylabs gives you access to over 100 million residential proxies and more than 2 million datacentre proxies.
You should note residential proxies tend to be more secure but datacentre proxies are faster.
What really puts Oxylabs above the competition is that you're not just signing up for proxies and having to create the scraping infrastructure.
Oxylabs handle everything for you, all you need to do is look at the data.
There are various subscription levels, you'll need to choose the one that suits you best.
But, you can always ask the excellent customer support team for advice.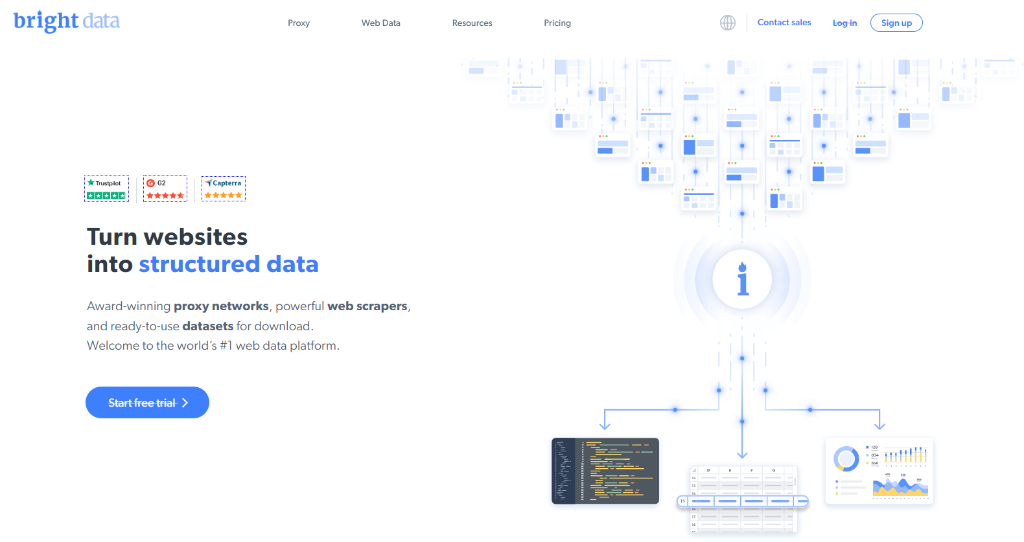 Bright Data has a residential IP pool of over 72 million IP addresses and you can choose proxy locations across the globe.
This helps you get the best-localized content.
Subscriptions start at 40GB and will set you back $500 per month. It's fair to say Oxylabs and Bright Data are aimed firmly at businesses.
It is one of the fastest proxies available and has an impressive record for uptime, 99.9% of the time this system doesn't have an issue.
Bright Data allows you to send an unlimited number of concurrent requests and it's used by some of the largest businesses in the world. You're in good company.
With servers across the globe you can change your proxy location as often as you want and relax, knowing that all IPs are ethically sourced.
Bright Data allows you a 7-day free trial to help you see how good their service is.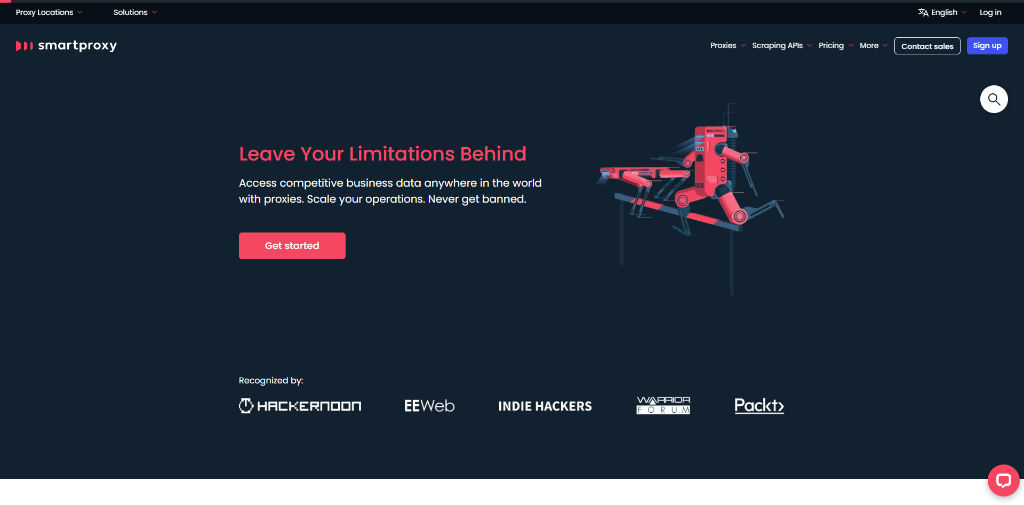 SmartProxy is another great option whether you want to keep your own IP address hidden or undertake some web scraping.
It has servers in 195 different locations, covering most of the planet.
The proxy pool is an impressive 40 million. It may be smaller than Bright data and Oxylabs but it's big enough.
SmartProxy has built a reputation for providing the very best residential proxies. Best of all, they offer an array of plans.
You don't need to invest hundreds of dollars to access their pool.
Instead, choose the size of the plan you need and start much cheaper. Prices start as low as $80 for 12.5GB of data.
It's worth noting that all their proxies work on an automatic rotating basis. That means the IP address will change after every request.
This reduces the likelihood of IP addresses being seen as proxies, ensuring they remain valid and you get the data you need.
It is possible to hold an IP address for 30 minutes using their sticky IP solution. But, this isn't usually a good idea when web scraping.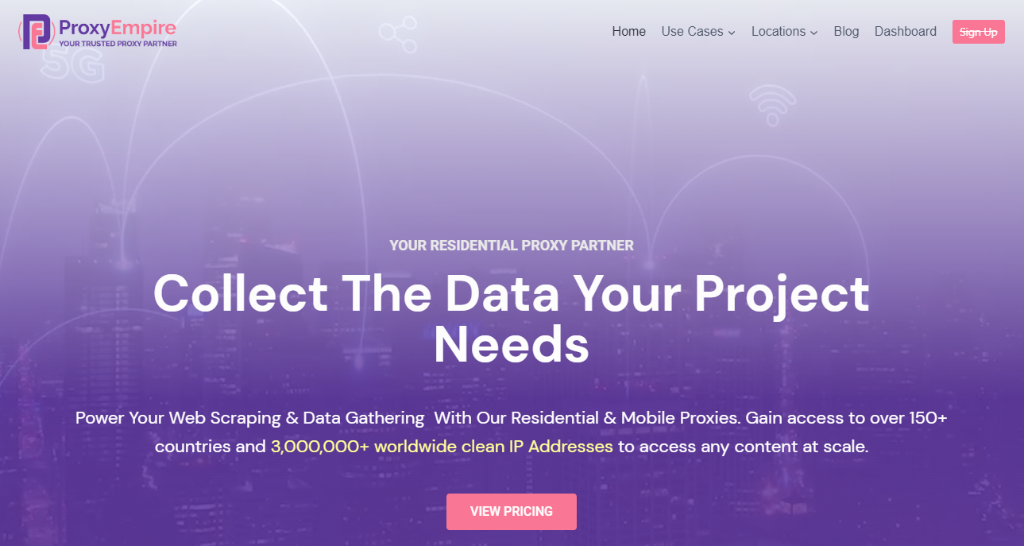 ProxyEmpire offers a much-reduced level of proxies. They have 10 million IP addresses with over 5 million of them on an automatic rotating basis.
They also have servers in over 170 locations.
This helps to ensure they can integrate with any webpage and collect the information you need.
Again, it is possible to get a static IP address for up to a month. However, this isn't beneficial for web scraping.
Their subscription packages are based on data levels, allowing you to choose the right package at a surprisingly affordable price.
The starter pack is just $45 a month and gives you 3GB of data.
Unlike many proxy providers, unused data from the limit you select can be rolled over to the next month.
Naturally, ProxyEmpire offers 24/7 support to help you address any issue quickly.
It's one of the reasons they are in the top 5 proxy providers.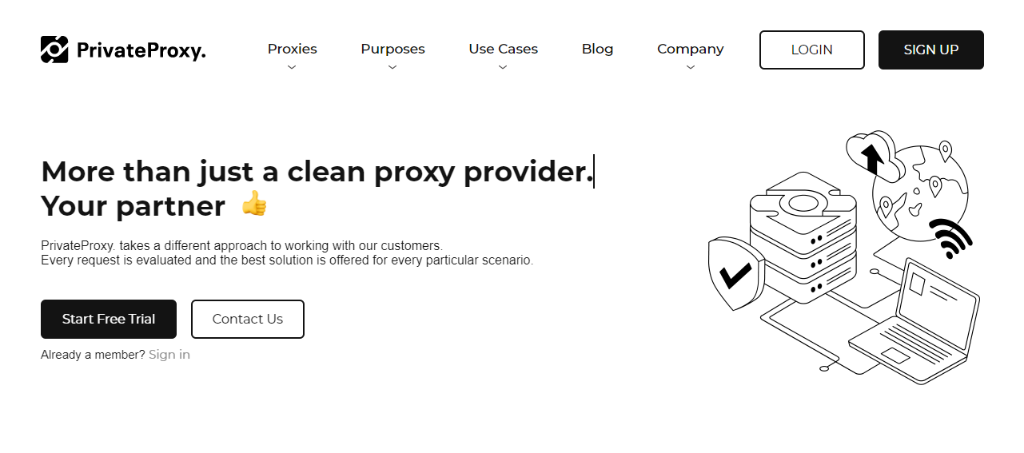 PrivateProxy has a slightly different approach as it issues one IP address with the ability to swap it for one other per month.
That's useful for maintaining privacy during general web surfing.
Especially as it costs just $5 per month.
Every proxy is checked to ensure it is clean. They will discuss your needs before you subscribe, ensuring you get the best possible solution.
Their proxies are tested and work with all the biggest names on the web, including Amazon, eBay, and Google.
However, while they provide high-quality and secure proxies, they are not a great option for web scraping.
Free Proxies 2023
If there are paid versions of a product you'll usually find a free version as well. In the case of proxies there are two options:
Public Lists
Type 'free proxies' into your browser and you'll be shown a list of IP addresses.
These are publicly available, can be taken by anyone, and then used on your computer.
It instantly changes the IP address associated with your computer, allowing you to visit otherwise banned sites or start data collecting.
Unfortunately, with the list of free IP addresses so easy to access, you'll find millions of people use them.
That means you are likely to choose a proxy that has already been blocked. There are also greater security risks with free proxy lists.
Registered Free Proxies
The alternative is to register with an operator offering a free proxy list.
These can seem like a good option as they are less likely to be blocked thanks to the registration process.
However, because these are freely offered they are more likely to be unencrypted.
That means your data can be hacked and the proxy provider may even steal your personal information.
Alongside this, it's possible to have malware in the free proxy, giving you an array of other issues.
If you need a free proxy solution then the following are reasonable offers, although you're still safer choosing a paid proxy provider, as listed above.
ScraperAPI has 1,000 IP addresses that can be used for free. These are mainly offered as an incentive to get you to subscribe to a paid proxy plan.
While the intent is dubious, at least by having to register the free proxies are less likely to be blocked.
You can even choose a location as they have IP addresses in most countries.
ScraperAPi does set itself apart from most free proxy providers by offering a good level of customer support.
2. Spys.one
If you're looking to cover multiple locations then Spys.one is a good option.
They have IP addresses linked to over 170 countries and thousands of IP addresses available.
You can search through the available addresses by protocol, speed, or even the amount of uptime.
Spys.one checks all proxies as often as possible. But, those located in less popular places may not be checked for several weeks.
That means it is possible to choose a proxy that is already blocked or no longer valid.
3. Free Proxy
Free Proxy has nearly 20,000 IP addresses but their best feature is how easy it is to sort them.
All you have to do is take a look at the available categories and you'll be impressed with the array on offer.
It's possible to choose a country and city.
The IP addresses are checked regularly but it is still possible to get one that has been blocked or no longer works.
4. ProxyScrape
ProxyScrape adopts the standard approach to free proxies.
You'll find a list that can be sorted by country, protocol, or several other criteria.
It should be noted that it uses country codes, it's not always obvious which country the code is talking about.
They do have a special timeout feature which can help you choose the right ones.
But, for any other extras, you'll need to sign up for the paid experience.
5. SSL Proxy
SSL proxy is committed to checking every proxy every hour. The site tells you it happens every 10 minutes but this just isn't feasible.
You can find the right proxy when you sort them by country and there is an interesting Google option.
Although none of the free proxies included this.
How To Use A Proxy
If you're signing up for a paid proxy then you'll have instructions regarding how to start busing them.
You'll also have a good customer support team on hand to help.
All you have to do is create an account on your desired proxy provider's site and then subscribe.
You'll be provided with a link that allows you to install the software on your desired device.
Once it is installed you can choose your preferred IP address and start using it. To change your IP location simply hit refresh.
If you're planning to use the proxy for web scraping you'll need to download the web scraper extension from your proxy provider.
You can then customize the scraper and set it to run, no coding knowledge is needed, you just follow the onscreen instructions.
If you've chosen a specific IP address for your device then you'll need to go into your device settings.
Select the network and internet option
Look for the proxy option in the sub-menu, then select it
Turn off the automatically detect settings and scroll down the page
Under manual proxy setup turn on the proxy server
In the box underneath type your chosen IP address and port
You can add specific website addresses that are exempt from the manual proxy. When you visit those sites an automatic proxy, supplied by your internet provider, will still be used.
Save the page and you've changed your IP address.
You can verify this by opening the run command and typing 'ipconfig'
Summing Up
Even if you have never used or considered a proxy before, once you know how they work you'll appreciate how beneficial they can be.
It doesn't matter if you're web scraping, trying to get around geographical issues or having been blocked from a site, or even if you just want to feel safer online.
You need the best proxies for web scraping and other purposes.
Fortunately, the top five are listed here, making it easy for you to choose one.