You get the concept of VPN to some degree. It is a tool to change your location without physically stepping foot in the place.
You know that once you enable the VPN service, your data is safe.
What you are unfamiliar with are the terminologies related to VPNs.
For example, what is a VPN server?
Why do VPN providers keep emphasizing them?
How do I figure out which one to choose?
So, without any further ado, we'll delve into the post.
What Is a VPN Server? How Does It Work?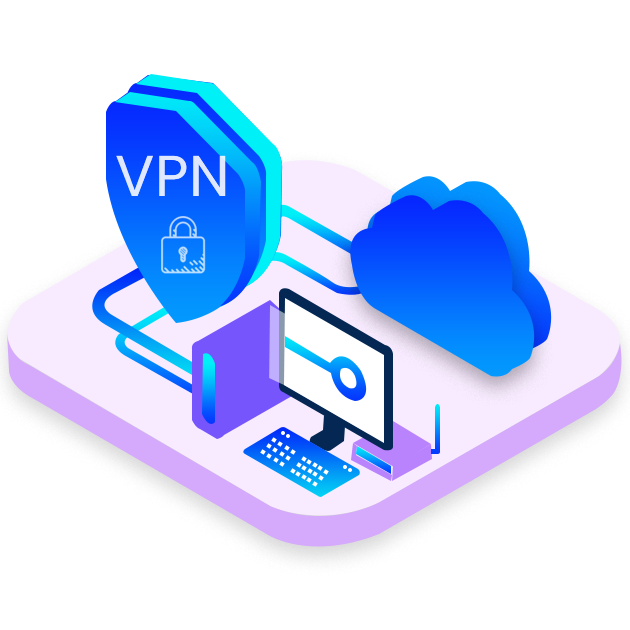 A server is a middle ping point between the client and the host. It can be a device or a program.
Customers can create their makeshift servers at home or use the ones from big and small organizations.
Multiple clients can connect to a single server over the internet or Local Area Network (LAN).
The server accesses its list of saved files and opens the web page/app of the host according to the request from the client.
So, what is a VPN server size?
Now, when we talk about VPN servers, these are usually large, centralized computers spread across several locations.
As a client, you run a VPN application.
When you attempt to connect to the internet, the VPN service encrypts your traffic data using a protocol you or the application chose.
For imagination purposes, assume the data then passes through a tunnel formed courtesy of the protocol.
No one outside of the tunnel can view what is happening inside it, including the VPN provider.
Your encrypted network traffic pings the server, taking on the geolocation of the area before finally connecting to the host website.
The website only registers the IP address of the server and not the actual location of the client device.
While this appears to be a complicated process, the entire thing happens in less than milliseconds.
As users get the freedom to choose servers from outside the country, the content available in the location becomes within the user's reach.
VPN servers can also increase internet speed if your ISP is throttling your connection.
VPN providers spread their servers across various countries to provide maximum entry to users.
The application can choose a server on your behalf based on location, speed, and protocol, or you can customize it according to your requirement.
The protocol is the security part of the deal.
The VPN servers usually respond to protocols such as WireGuard, OpenVPN, IKEv2, etc.
Types of VPN Servers
VPN servers have tasks they specialize in. As a user, you can choose the server location and the job it is optimized for.
Standard Servers: The basic servers can encrypt your data and hide your IP address. This is the one every paid and free VPN service provides.
P2P Servers: P2P servers can deliver heavy files at lightning speed, making them perfect for torrenting.
Streaming Servers: Similar to P2P servers, streaming servers download and upload heavy files in an instant.
These servers are used for watching content from OTT platforms or playing games.
For many VPN services, P2P and streaming servers are interchangeable.
Obfuscated Servers: These servers can obfuscate/ hide the use of a VPN client.
You can use it to bypass firewalls and VPN detection systems placed by government and reputable websites.
SafeSwap Servers: SafeSwap servers rotate your IP address on their own accord every five to ten minutes.
You can access the internet from several locations in a single session. As a result, it makes you more anonymous.
However, it is difficult to prove your identity for platforms that require proof of address with SafeSwap servers.
Double VPN Servers: Double VPN servers encrypts your data twice. The client device connects to a server, and the first server routes it to the second server.
And so, you have double encryption and change your location twice.
Dedicated IPs: It is difficult to term Dedicated IPs as a server.
Rather, the server reserves these IP addresses until a VPN client assigns it to their customer.
Since these are exclusive IP addresses other consumers cannot use, VPN services only offer them to customers with a high-tier subscription plan.
How Should You Choose a VPN Server?
When it comes to the perfect VPN server, it is lots of trial and error.
However, there is a formula to simplify the process.
Select a server closest to your actual location. Proximity ramps up the speed of the connection. Even if you have to select a server outside of the country due to the geo-restriction of content being yours, choose the nearest country.
Plenty of VPNs automatically select the best location for you. Add the reason you want to use a VPN, and the tool will make a decision.
If you want to appear legit to a streaming, gambling, or gaming website, connect to a server with a Dedicated IP.
If remaining anonymous on the internet is your priority, go for SafeSwap or Double VPN servers.
P2P servers are for sharing torrent files or large official documents.
It may be smarter to connect to servers with lower traffic levels, as it raises the efficiency of the server.
3 Best VPNs with over 750 Servers
A VPN application need not have over 3000 servers as long as it comes with a generous number of premium servers.
You could easily get a free VPN if it were about getting standard servers. Although you always run the risk of free services selling your data.
So, here is a list of the three best VPNs with premium servers.

NordVPN runs over 5400 servers in 60 countries. The server locator in the app provides you with a list of reasons you could have for choosing a server and the country you want a server in.
Specialized servers from NordVPN include P2P servers, obfuscated servers, Double VPN servers, and Onion over VPN.
NordVPN also comes with Dedicated IPs, but it is available in particular locations, such as the US, Canada, Germany, France, Sweden, Australia, Japan, etc.
This VPN will offer you three types of protocols.
The fastest is NordLynx, which is Nord Security's take on WireGuard.
The IKeV2 protocol is better for mobile users, while OpenVPN is steadfast in ramping up the security factor.
NordVPN also has:
AES-256 military-grade encryption.
Strict no-logs policy.
six simultaneous device connections.
Compatibility with Android, iPhone, Windows, Mac, iPad, routers, Firefox, Apple TV, etc.
Mac users of NordVPN can create their personal presets, such as the server type, encryption, country, and protocol, which can be applied to every device connected to the account.
No need to auto-connect or customize your server every time you log in.
You can contact them through their 24/7 live chat tool if you have any issues setting up.
Additionally, NordVPN has undergone independent auditing thrice and got favorable results each time.

Surfshark VPN maintains over 3200 servers in 100 countries. These are RAM-only servers. This means the servers do not store any data and is refreshed frequently.
Additionally, if someone were to attempt to access these servers, the data would be wiped immediately.
Surfshark VPN server types include:
Camouflage mode
IP rotator
MultiHop
Private DNS
Surfshark VPN also has other attractive features, such as:
Unlimited device support
Extension support
1 Gbps port for every server
No-logs policy
Military-grade encryption
As for protocols, you will have your choice between WireGuard, OpenVPN, and IKEv2.
When you want Surfshark VPN to remember a particular server, location, or protocol, tap the star button beside the option.
You can even select faster servers with 10 Gbps ports.
Surfshark VPN passed its first independent audit recently.
However, considering it was done by one of the big four firms, the results from Deloitte are beyond promising.
If you have any queries about changing your server and location, they have a 24/7 chat box which you can use.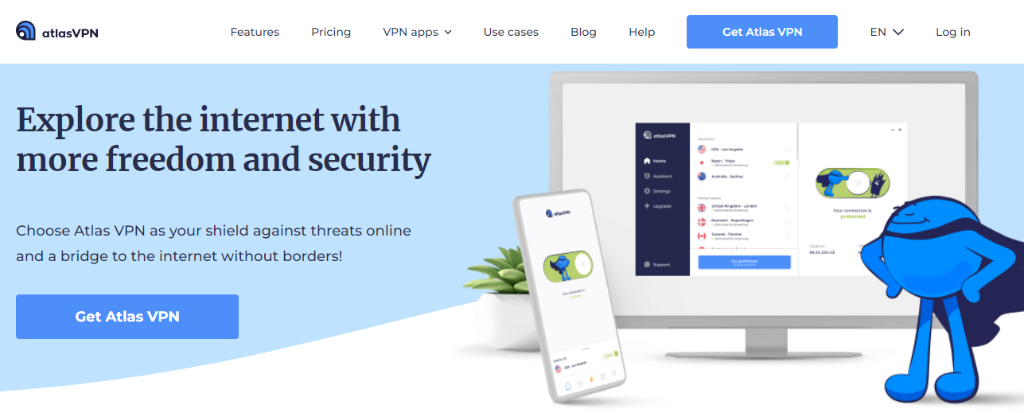 Atlas VPN is a VPN client with the lowest number of servers.
The VPN provider makes up for it with over 750 premium servers spread across 49 locations.
They specifically offer free servers in Amsterdam, Los Angeles, and New York.
As for their exclusive servers, you can choose between the following:
Streaming servers.
P2P-friendly servers.
SafeSwap servers.
Private DNS.
MultiHop+ servers.
For protocols, you can switch from WireGuard to IKEv2.
Other features which make Atlas VPN a viable premium VPN service are:
Email Protection.
Unlimited device support.
Malware blocking.
Data breach monitor.
No-logs policy.
Kill Switch.
Plus, you can try Atlas VPN for free, though you would have a 2 GB data cap to deal with daily.
If you like it, you can sign up for the 30-day free premium trial.
You will have full access to Atlas VPN's 24/7 customer support team.
You can learn when to manually select servers versus when it would be better to auto-link to one.
Atlas VPN is also effective for unblocking websites and apps with a robust VPN-detecting system.
Frequently Asked Questions
How Do I Find My VPN Server?
You can either entrust the responsibility of choosing a VPN server to the VPN client or find a server yourself. 
Usually, VPN services have a button called Auto Connect or Quick Connect on the main page.
Under it, you will find options such as Specialized Server, Protocol, etc. 
It is a matter of selecting a server from the drop-down menu.
Test each server type out, and you will know which is best for you. Of course, you will have to select a location foremost. 
A location may not have every specialized server, so your options could be limited at times. 
Which Country Is the Best for VPN?
Countries with strong privacy laws and extensive streaming libraries are the best locations to connect to with a VPN.
This means Switzerland, the UK, the US, Spain, Panama, etc. 
Is It Legal to Use a VPN?
The legality of using a VPN depends on the country. Most nations may ban a website or an app but rarely ban VPNs.
Even if they ban the VPN provider, they do not go to the lengths of creating laws that make using VPNs illegal. 
If your country has dodgy privacy laws but allows VPNs, it is better to use one.
On the off chance VPNs have been made illegal in your country, sign up for it at your own risk. 
Final Thoughts
You cannot change your IP address without a corresponding VPN server in the location.
The servers- virtual or physical- are vital for the VPN service to function.
Some VPN servers specialize in specific functions, while others are for general use.
Free VPN services may sell your data to maintain those servers, which is the opposite of what a VPN is supposed to do.
So, if you do need to use a free VPN before paying for the real thing, we would recommend freemium VPNs such as NordVPN or Surfshark.
They both come with plenty of servers for you to play around with.