Torrenting can be a tricky business, and having the appropriate proxy can make or break your experience.
In this blog post, we'll go through the top proxies for torrenting and why they're superior to others on the market.
We'll cover every aspect of online activity protection, from security and speed to compatibility and cost, so you can make an informed choice.
So, whether you're an experienced torrent user or just getting started, keep reading to find out which torrenting proxy is perfect for you.
Best VPNs for Torrenting 2023
Here are the best VPNs for torrenting that you can find in the market. These include:
NordVPN – 🏆 Winner!
So, let's take a look at these VPNs and see what features they offer that make them so good for torrenting.

NordVPN is a VPN service with top-notch security features, including military-grade encryption, numerous security protocols, including NordLynx, OpenVPN, IKEv2/IPSec, and a strict no-logs policy enforced by setting up RAM-only servers to protect users' privacy.
NordVPN's network speeds are constantly fast, making it an ideal choice for streaming and downloading.
It offers a vast network of more than 5,200 servers spread over 60 locations, enabling you to access blocked content and ensuring quick connection times.
The added features offered by NordVPN include a kill switch, double VPN, and other functions.
Along with supporting operating systems like Android, Windows, and Linux, NordVPN also supports Mac, iPadOS, iOS, and routers.
As a result, it is a versatile option for families and friends/roommates using several different devices.
There are many payment options available, including monthly and annual options for up to three years and a 30-day money-back trial period.

Next up, we have Surfshark VPN. It is a top-notch VPN service with great security features, a big server network, and quick connection times.
It provides military-grade encryption, advanced security protocols like OpenVPN and IKEv2/IPSec, and a strict no-logs policy to safeguard online activity and privacy.
It offers consistently fast downloading and streaming speeds as well as a worldwide network of more than 3,200 servers that you can use to unblock content.
It also has additional security features such as split tunneling, a kill switch, and a multi-hop VPN.
Surfshark is compatible with not only Mac and iOS but also with Windows, Android, Linux, and routers.
This VPN provides different apps in each of these instances for easy setup and use.
It provides a variety of payment methods to meet a variety of demands and budgets. There are monthly, yearly, and two-year plans available.
It also features a three-year plan that includes exclusive discounts and promotional incentives.
Furthermore, Surfshark provides a 30-day money-back guarantee, allowing you to test the service and earn a complete refund if you are dissatisfied with its services.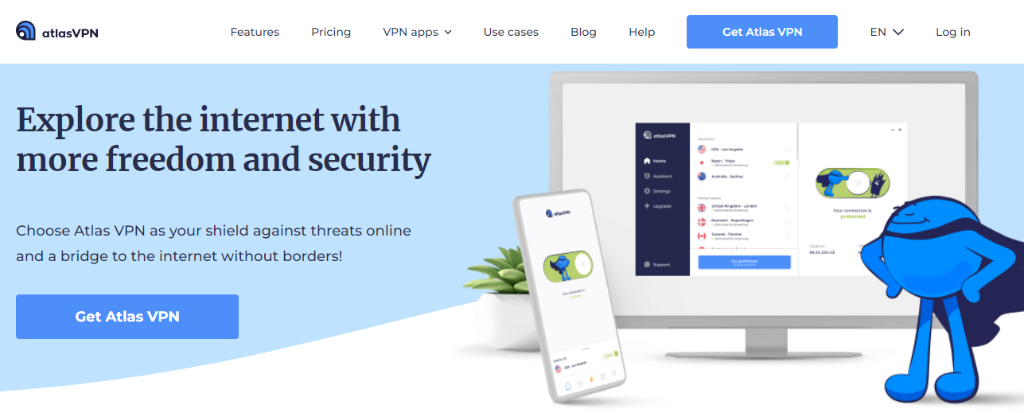 Although Atlas VPN is a relatively young VPN service, it has already established a reputation as one of the best VPNs for torrenting.
With its strong no-logs policy, military-grade encryption, and a variety of security protocols like OpenVPN and IKEv2, Atlas VPN provides the finest security features to protect your privacy while you use the internet.
Additionally, Atlas VPN offers quick connection speeds, which makes it a fantastic option for torrenting.
It boasts a large network of servers located in over 37 countries, allowing customers to unblock banned content and ensure fast connection rates.
One of Atlas VPN's biggest features is that it supports a wide range of operating systems, including Windows, Mac, Linux, iPadOS, Android, and iOS.
It also provides specialized apps for simple installation and use. It is, therefore, a flexible choice for families or teams who own a variety of gadgets.
Furthermore, to meet various demands and budgets, Atlas VPN provides a 30-day money-back guarantee in addition to many payment alternatives, such as monthly, annual, and 2-year options.
Why is a VPN Better for Torrenting than a Proxy
VPNs offer better security, protection from hackers and malware, anonymous browsing, improved internet speed and performance, and access to blocked content.
While proxy servers can also provide anonymous browsing, they do not offer the same level of security or encryption as a VPN.
Here are some reasons why VPNs are better than proxies for torrenting.
Encryption
VPNs encrypt all data sent between your device and the VPN server, making it much more difficult for anyone to intercept and read your data, including your online activity and personal information.
Improved Security
VPNs use advanced security protocols and authentication methods to protect your device and data from hackers, malware, and other cyber threats.
Anonymous Browsing
VPNs mask your IP address and location, making it much more difficult for anyone to track your online activity or identify your real location.
Improved Performance
VPNs can improve the speed and performance of your internet connection by routing your traffic through a dedicated server.
Access To Blocked Content
Some VPNs can bypass geo-restrictions and censorship, allowing you to access blocked websites and content from anywhere in the world.
5 Best Proxies for Torrenting in 2023
Here's the list of the best proxies for torrenting.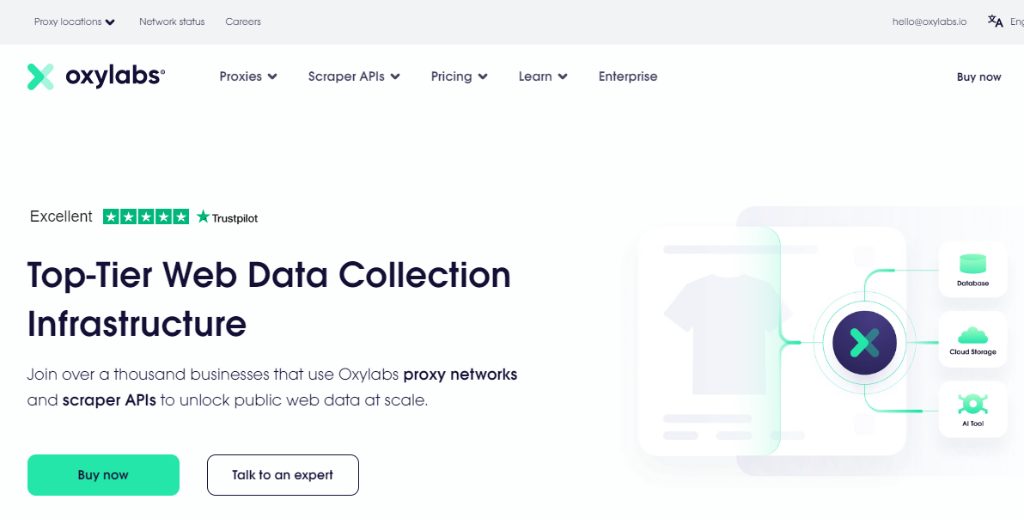 Oxylabs is a proxy service provider that offers data center proxies as well as home proxies.
You can access content that might be forbidden or restricted in your area by using a proxy to disguise your IP address, geographical region, and other personally identifiable information.
Oxylabs offers a large selection of proxies with various features and functionalities for additional use cases, including scraping, scrape protection, advertising, and more.
Their proxies are renowned for being of the finest quality and dependability.
With over 100 million proxies spread over 195 countries, it boasts one of the largest proxy pools in the business.
When compared to other suppliers, Oxylabs products have the fewest restrictions and are intended for large-scale applications.
Concurrent sessions are not restricted, and there are no additional fees.
Their geo-targeting function gives you the most versatility by allowing you to work at the national, state, or local level.
This function is more sophisticated than those offered by some price-conscious companies, which might just provide US and EU targeting possibilities.
Furthermore, Oxylabs has no defined restrictions on the number of subnets.
High-end proxy supplier Oxylabs charges top dollar for top-notch services.
Due to its higher learning curve, initial fees, and bandwidth requirements, it might not be appropriate for use on a smaller scale.
However, Oxylabs could be a good option to take into consideration for those who demand high-quality service and will make use of its various features.
Therefore, bear that in mind when selecting the finest proxy for torrenting.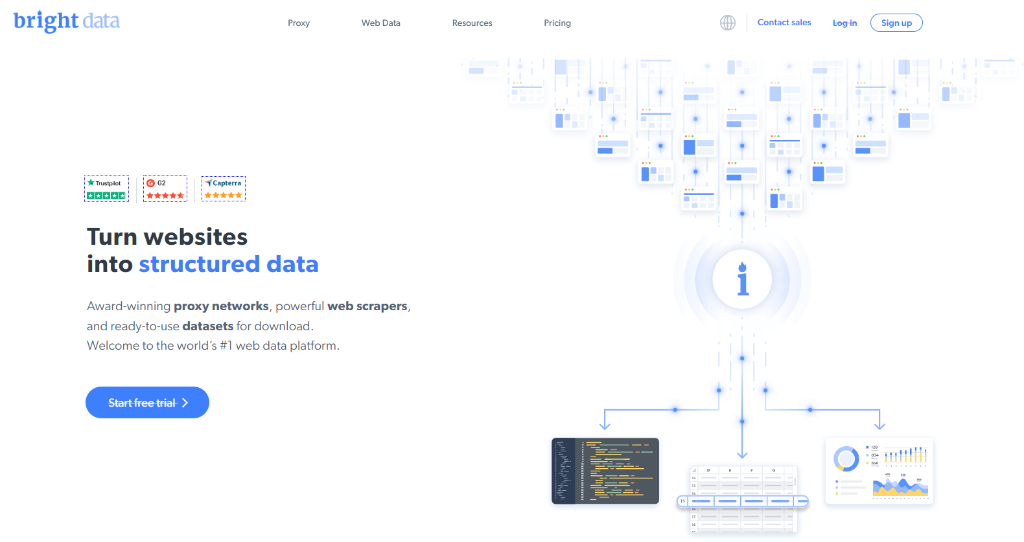 Next on our list, we got Bright Data which is a renowned proxy service provider, providing a diverse range of proxies in various locations around the world.
It has a wide network of around 72 million IPs in roughly 195 nations.
Although these proxies come from a variety of sources, this company also gives you a choice to use any of the 600,000 proxies that it obtains directly from numerous ISPs throughout the world for more dependable and quick solutions.
The 7 million mobile proxies it uses are also sourced from real mobile devices.
Bright Data provides a user-friendly interface for its essential features, which can be set up without any coding knowledge using its Chrome extension.
Its open-source proxy manager, which adds cutting-edge capabilities like SSL decryption, intelligent routing, and configurable rules to cut bandwidth utilization without coding, is a part of this system.
Bright Data's capabilities of online scraping and data collecting are improved by other tools like Web Unlocker and Data Collector, and search engine crawlers enable exact location-targeted search results.
You can fully utilize your proxy by taking advantage of all of these services and the fact that there is no restriction on the number of concurrent sessions.
If you are interested in using Bright Data, it offers a variety of price choices.
Residential, data center, mobile IP, and static residential addresses are the four different varieties available.
You can also choose to pay for this tool as you go. For data center IPs, it provides packages starting at $0.90 per IP or $0.12 per GB.
Static residential IPs are $0.50 per IP and $29 per GB, respectively. Bright Data offers residential IPs for $25 per GB, whereas mobile IPs cost $60.
Monthly payment plans provide cheaper rates for traffic and IPs.
For instance, a residential proxy will cost you $10 per GB if you pay $1,000 a month for Bright Data's Residential plan, but your mobile proxy will cost you $28 per GB.
Furthermore, you can save 10% more on your bill if you choose a yearly plan.
Now, you must remember that Bright Data is more expensive than the typical going rate for most proxies.
However, Bright Data offers the most adaptable price options available in the proxy market.
This proxy's price is more than justified by the usefulness of its Pay-As-You-Go function.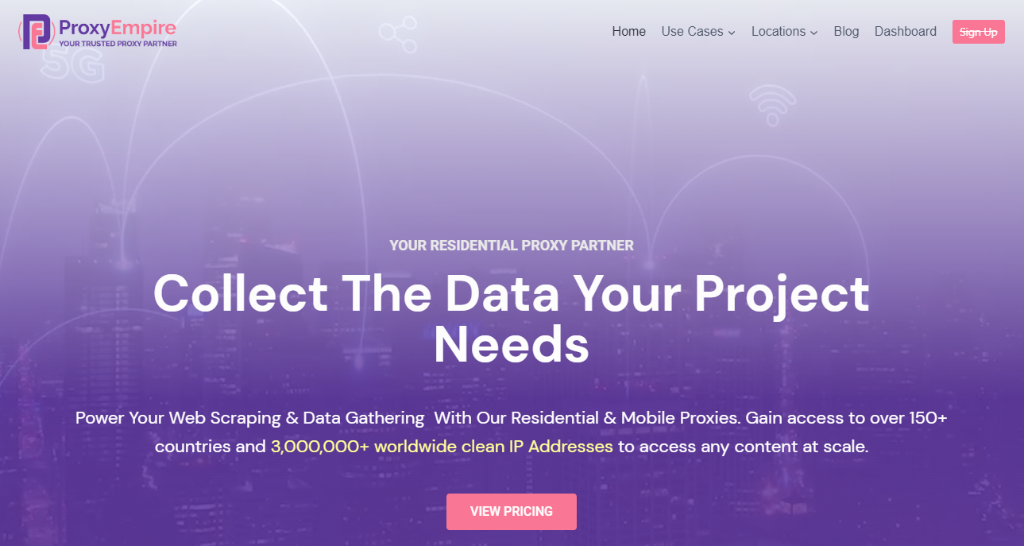 ProxyEmpire is a major source of residential as well as mobile proxies.
With its large network of servers located across the world, it allows safe connectivity and the option to use IP addresses from many countries.
Although ProxyEmpire may not have the same global reach as other well-known businesses in the industry, it is a useful way of getting around geographical restrictions and bans because it offers a varied selection of proxy IPs from over 150 countries and thousands of ISPs.
Their proxies handle SOCKS5 and HTTP connection protocols and are quite anonymous.
Customers of ProxyEmpire can also personalize their proxies by selecting a maximum rotation length between 90 seconds to 60 minutes.
The service from ProxyEmpire is suitable for a variety of use cases, including the establishment and management of social network accounts, SEO monitoring, ad verification, and scraping geo-specific market data, etc.
Their proxies offer a wide range of connection protocols, making them compatible with any application, even customized software solutions.
Residential proxy bandwidth costs $4 per GB, with their entry-level plans starting at $45 per month and their best public plan costing $4000 for 1000 GB of data.
If your company requires a bandwidth of more than 1 TB per month, it's best to contact them directly because they also provide more comprehensive, personalized plans at lower pricing.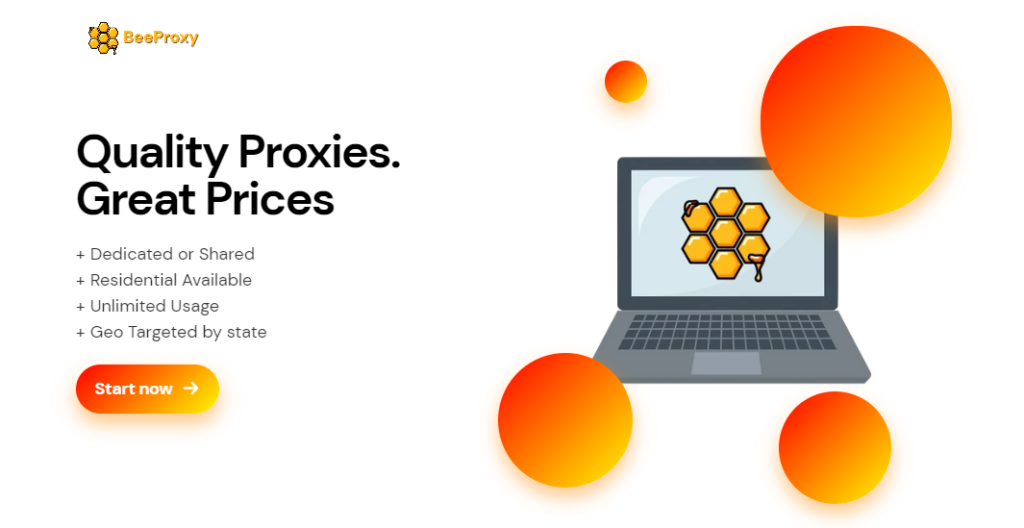 BeeProxy makes the process of purchasing or switching proxies straightforward with its one-dashboard proxy management system.
From the dashboard, you can also view the proxy activity and modify settings.
The service provides a range of proxies, including HTTP, SOCKS, dedicated, shared, and residential proxies.
BeeProxy offers affordable pricing while maintaining a high standard of service in comparison to its competitors.
Pricing varies depending on the type of proxy; for instance, shared proxies are $2 per month, residential proxies are $4 per month, and network and home proxies are $16 per month.
Dedicated proxies cost $3 for single proxies and $6 for residential proxies per month.
Residential and networking services are available for $24 per month.
BeeProxy also offers a 30-day money-back guarantee in case you're unsatisfied with its services.
Remember that the guarantee only applies if problems or poor performance prevent you from using the service.
This service provider offers two types of rotation of IP addresses, which are time-based and session-based.
Both of these rotation types offer great session control.
In contrast to the time-based cycle, which has settings of 1, 10, and 30 minutes, the session-based procedure switches the IP address after each request.
Oh, and you also get the option of changing your IP address before the time limit of the session runs out.
Because of its ability to govern sessions, the structure is ideal for account management.
While using this proxy service, your IP address is hidden, and traffic is made to look to be coming from the provider, keeping your data completely safe.
To achieve minimal service delays, BeeProxy employs servers with a high-network speed of 1 GB/s.
Additionally, it features a top-notch customer assistance system that enables fast troubleshooting.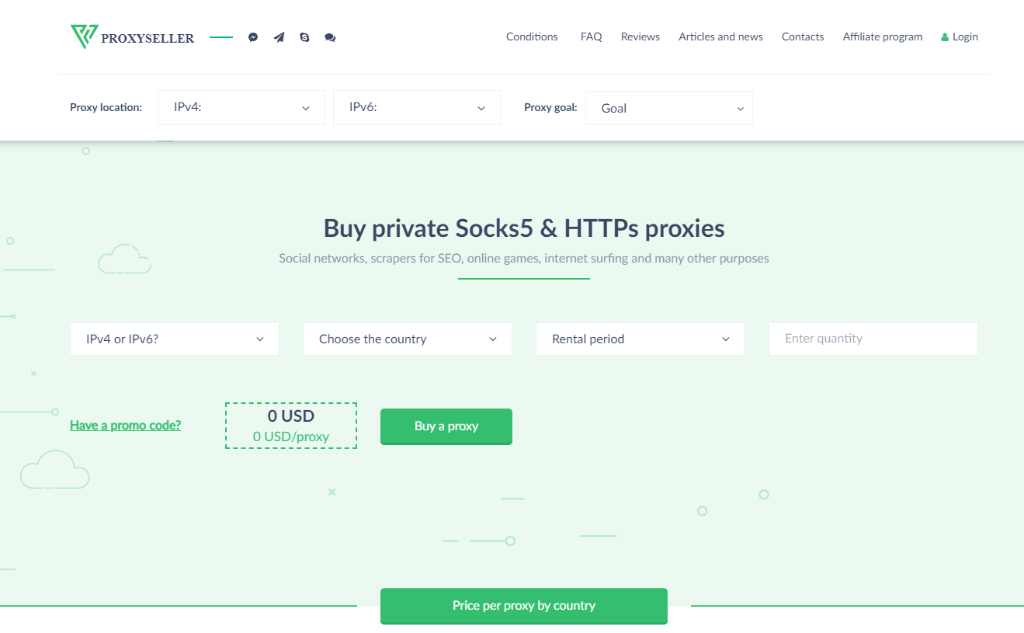 Lastly, we got Proxy-Seller, a reputable Cyprus-based data center proxy service provider.
With support for the HTTPS and SOCKS5 protocols, they provide reasonably priced, dependable, and easy-to-use proxy services that offer top-notch security and interoperability with a range of devices.
Additionally, they are among the few suppliers of IPv6 proxies, a more recent and reasonably priced choice.
You can pick between many different membership plans, ranging from weekly, monthly, and quarterly plans to bi-annual and annual plans.
As far as payment methods are concerned, you can pay for Proxy-Seller with your credit card, your PayPal account, or digital currencies like Bitcoin, etc.
Proxy-Seller is a reputable proxy provider that offers you some high-quality, affordable proxy services.
Due to their many payment options, which include short-term subscriptions and the option of purchasing an infinite number of proxies, they are a preferred option among small-scale internet marketers.
The geographic coverage of a proxy provider is important since it enables you to target whichever location you want while using proxy services.
However, many data center proxy services don't offer enough geographic coverage.
As one of the few providers of this feature, Proxy-Seller offers comprehensive geographic coverage throughout a number of nations, including the US, UK, and Canada, as well as many countries in Europe and Asia.
In addition to this, Proxy-Seller also offers low-cost mobile proxies if that's what you require.
Why Should You Use a High-Quality Proxy for Torrenting
IP Masking
High-quality proxies hide your IP address by routing your internet traffic through a different server.
This makes it difficult for others to track your online activity or location, keeping your personal information and online activity private.
Increased Privacy
Proxies encrypt your internet connection, which adds an extra layer of security and privacy.
This ensures that your data is protected from hackers, snoopers, and other cybercriminals, who may be trying to intercept or read your personal information.
Bypassing Geo-Restrictions
Proxies can bypass geographical restrictions, allowing you to access blocked content and websites.
This is particularly useful for people who live in countries with strict internet censorship laws or for people who want to access geo-restricted content such as streaming services.
Download Speed
Proxies can improve your download speed by routing your traffic through a dedicated server, which can help to reduce lag and buffering.
This is particularly useful for torrenting, where fast download speeds are essential.
Anonymous Browsing
High-quality proxies can conceal your identity and browsing history, making it more difficult for others to track your online activity.
This can be especially useful for people who want to browse the web anonymously or for those who want to protect their online privacy.
Cost-Effective
High-quality proxies are often less expensive than VPNs and can provide similar benefits.
This makes them a more cost-effective option for people who want to protect their online privacy and security while still enjoying fast download speeds and access to blocked content.
In summary, high-quality proxies offer a range of benefits for torrenting, such as IP masking, increased privacy, bypassing geo-restrictions, improved download speed, anonymous browsing, reduced risk of malware, and cost-effectiveness.
They can provide similar benefits as VPNs with a more affordable price point.
FAQs
Is Torrenting Safe with a Proxy?
In order to maintain respectable download speeds while maintaining your anonymity within torrent trackers and swarms, a proxy network can be an incredibly effective tool.
Proxies lack the overhead associated with encryption, which makes them faster than VPNs overall but less safe.
Can You Get Arrested for Torrenting?
You won't go to jail or have to pay a fee if you solely share info that isn't protected by copyright.
However, it is illegal to use torrent files that are the property of another person.
Conclusion
Now that you've read this post completely, we hope that you now have enough information to choose from the best proxies for torrenting.
Even though we consider VPNs to be better for this purpose when compared to proxies, you can still use great-quality proxies for this purpose.
Oxylabs is the best proxy that we recommend you use, but you can also use any of the other proxies recommended in this post.