If you're looking for data on the web then you need to think about the various social media apps, specifically Instagram. 
Instagram is one of the most popular social media apps. They have over 2 billion users every month and earn nearly $50 billion a year.
It's worth noting that more than 70% of Instagram users are under 35.
With so many users and so much potentially freely available data, you're going to need the best Instagram scraper possible.
Fortunately, that's what we are here to help with.
What Is An Instagram Scraper?
Every time someone adds details to the internet, especially on social media accounts, they have to choose whether to make the information public or not. 
Many people choose public and this means anyone can read the data.
By trawling the sites you can accumulate a massive amount of data and help to locate potential customers.
Of course, this takes a lot of time, which is why specialist scrapers have been created. These troll the sites for you and extract the desired data.
An Instagram scraper can search an array of sites but it is especially good at pulling information from Instagram.
Naturally, Instagram doesn't want you extracting the data. They prefer to accumulate it themselves and sell it as a package.
As such, they are keen to prevent scrapers and crawlers on Instagram.
Instagram uses some first-class systems to prevent bot access, they have beaten many Instagram scrapers.
That's why you need to use the best Instagram scrapers. It helps to ensure you collect data without being detected.
These are the APIs that allow you to anonymously log into Instagram.
To do this you need a good scraper and you need to use proxies.
A proxy service uses different IP addresses for every data request, making it difficult for Instagram to realize data is being scraped.
Best Instagram Scraper in 2024
The majority of people looking to scrape Instagram data are not experts in coding.
That's why you need to use one of the following Instagram scrapers.
They have been tried and tested to ensure you extract the data you need without getting caught.
It's hard to beat the service offered by Phantombuster.
As it uses bots which are designed to remove data from specified fields without being detected.
Best of all, Phantombuster offers a free 14-day trial to help you get started. However, the features available enduring the trial are limited.
Phantombuster has a package dedicated to Instagram scraping which will cost you just $30 per month.
That will allow you to use the service five times per day.
The service has over 100 automated models including an email scraper for Instagram, that you can choose from or you'll find it surprisingly easy to match your own data needs. 
You can effortlessly import the results into almost any CRM system and the app is cloud-based, meaning you don't need large amounts of memory free.
Just make sure you follow the instructions when configuring this tool. It will ensure Instagram doesn't see what you are doing.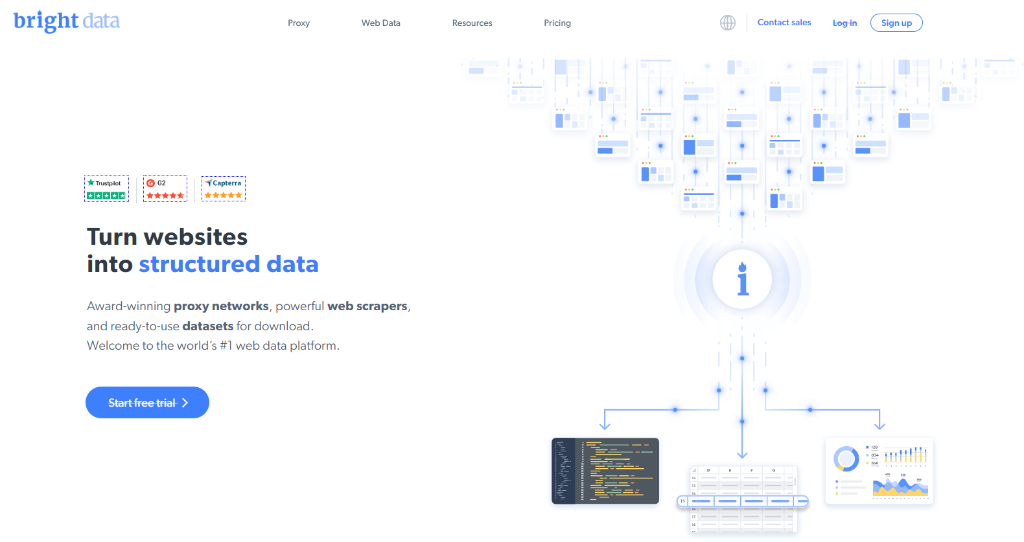 Bright Data is one of the best-known web scrapers on the market and it is a great choice for Instagram scraping.
However, while you can access a free trial, this isn't the cheapest service.
The scraper will set you back $500 for over 150,000-page loads. It can extract a lot of data but the price does mean it's more suited to business use.
Again, there are automated data collection sheets and the possibility of dictating your own fields. This ensures you get the data you need.
It will be compiled by the program and then made available in Excel format. You can open the file or import it into your CRM.
Bright data has an array of proxies available to help you stay undetected.
They are included in the package and are mainly residential. That's the best option for security and remaining undetected.
ScraperAPI offers you a free 7-day trial, you don't even have to add payment details.
They then offer several options, ranging from free to $250 per month.
A free plan will get you 1,000-page requests a month and it won't charge you for any rejected pages.
That means you'll get data from 1,000 pages. If a page request is unsuccessful the program can be set to retry it every 60 seconds until it is successful.
Opting for the most expensive package lifts this number to an impressive 30,000.
Scraper API has its own proxies which will help you to stay undetected by the Instagram anti-bots.
This is one of the best options for individuals and worth trying.
Apify is designed with developers in mind, allowing them to build, use, and assess a variety of web scraping tools.
It makes it an excellent choice for Instagram scraping, there is even an automated tool specifically for this.
Of course, there are plenty of automated pre-built options that you can employ instantly.
Or, you can take the time to build your own and effectively personalize the data.
You can sign up for a free trial and they even offer a free plan.
However, this will limit you to 10 data units while the lowest paid plan, starting at $49 per month, gets you 100 data units.
It's worth noting that the data compiled by this scraper is only available in JSON. You'll need to be able to read or import this type of file.
API scraper is cloud-based, reducing the strain on your systems and ensuring it can work all the time.
Apify runs its own proxies to help ensure Instagram doesn't detect what you are doing.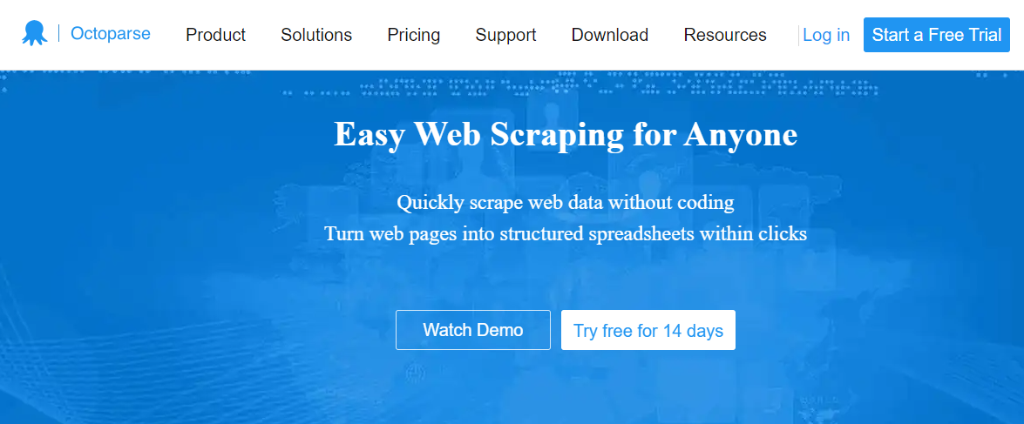 Octoparse is designed to get you web scraping within a few clicks.
It will even convert your data into easy-to-read spreadsheets. You can scan the data or import it into your CRM.
The data is saved in a variety of file formats, including JSON, CSV, Excel, and even variants of SQL.
Before you commit, you'll be able to try Octoparse for free. They offer a demo and a 14-day free trial.
Using Octoparse as an Instagram scraper costs about $75 per month.
Because Octoparse has been around for several years it offers a service you can trust, allowing you to focus on what to do with the data, not how to get it.
It should be noted, Octoparse is cloud-based.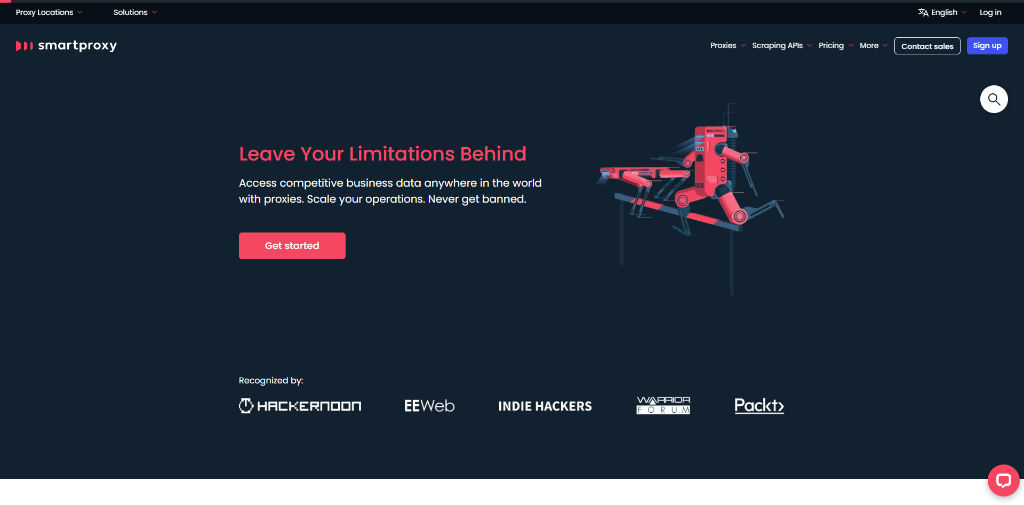 SmartProxy offers an array of proxies which are essential to successful data scraping. Once you've signed up you'll get automatic rotation to keep you safe.
You'll also be able to access the Smartproxy Instagram scraper.
This is designed to collect any Instagram data you can think of. Best of all, you can try it for free!
Smaryproxy even offers a 3-day money-back guarantee.
For just $50 per month you'll get 25,000 scraping requests and for $500 you'll get 625,000 scraping requests.
All you have to do is decide how many requests you need a month.
The Smartproxy Instagram scraper actually has a 100% success rate and you don't even need to know how to code.
7. ScrapingBee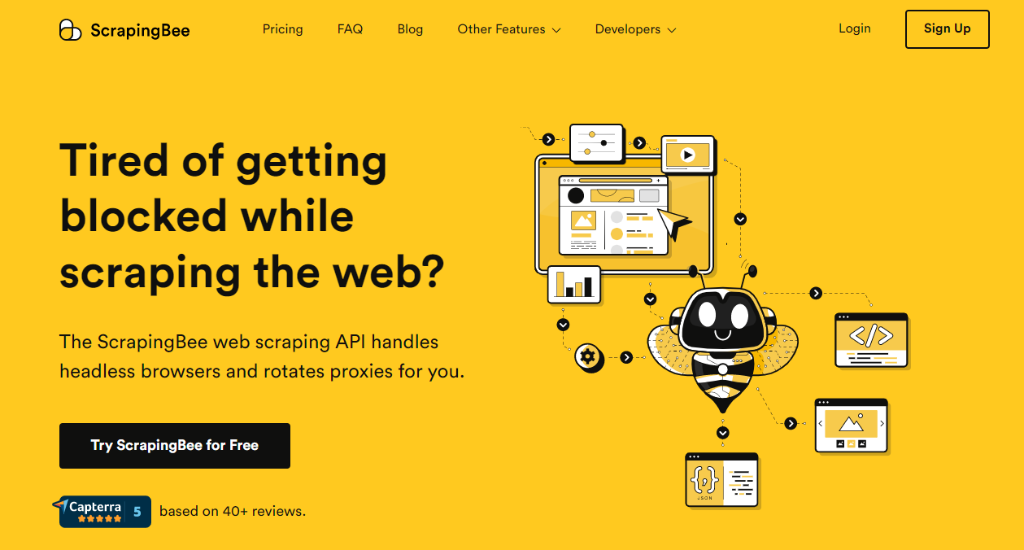 ScrapingBee is designed to be easy to use, attractively priced, and it's excellent at getting around any blocks that Instagram puts in your way.
They offer a free 7-day trial and this cloud-based service is surprisingly fast.
Simply choose the pre-set fields and it will search and collate the information from Instagram for you.
ScrapingBee has a network of proxies which automatically rotate, preventing Instagram from realizing that you're data scraping.
Alongside being very effective, ScrapingBee offers a first-class customer support service. You can reach them by email or live chat and they respond quickly.
8. Scrapestorm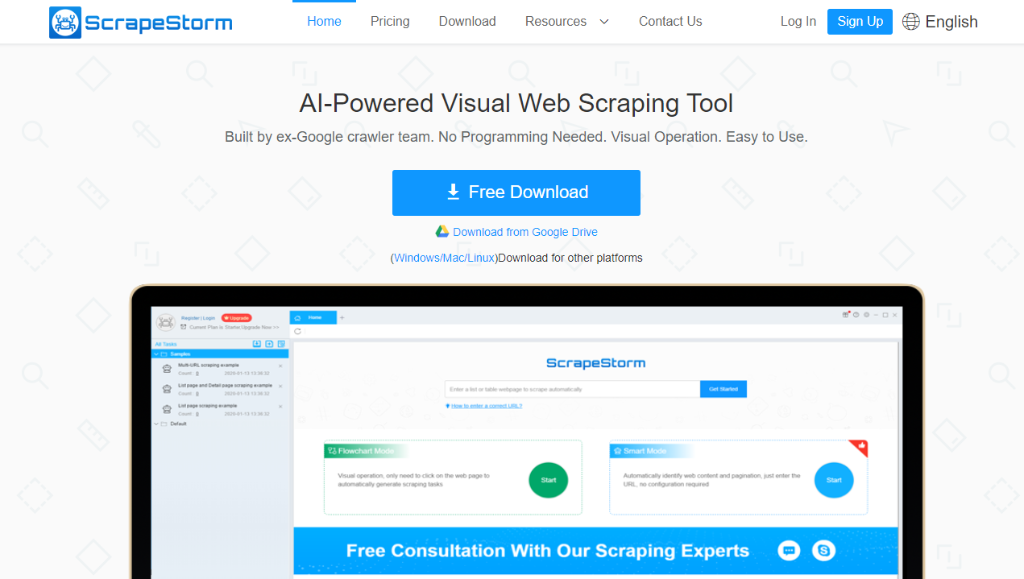 Scrapestorm is designed to be used when you have no experience in coding or programming of any sort.
Because this offering is smaller and comparatively new on the scene, it's often underrated.
That's a good thing because you get it for less than it's worth.
Scrapestorm uses artificial intelligence to build intelligent lists and compile your data for you.
It's perfect for individuals and businesses as you can get started in minutes without complex instructions.
Scrapestorm automatically compiles the data into a file. All you have to do is choose what format suits you best.
Possibilities include CSV, HTML, MySQL, Excel, and many more.
The free option gives you 10 scrapes per month, the $40 version gives 100, but the $80 version allows you an unlimited number of scrapes.
All paid versions include automatic IP address rotation, preventing Instagram from spotting your scraping activity.
9. Scrapestack
Scrapestack is used by more than 2,000 companies and is capable of getting around any CAPTCHA, anti-bots, and other issues you can think of.
It's very easy to get started with Scrapestack and you'll find there are several plans offered.
The cheapest is actually a free plan but you only get 100-page requests a month.
In contrast, for $200 a month you can access 3 million pages.
Everything is encrypted and the array of templates available ensures you don't need to do anything.
However, Scrapestack is a little limited compared to some of the other offerings and the customer support needs a little work.
10. Agenty
Agenty is designed for businesses, allowing the scraping process to be automated and controlled to the finest detail.
The software is cloud-based and uses robotic process automation to make data scraping and the extraction of text incredibly easy.
There is no need for any coding skills. In fact, using it via Google Chrome allows you to start scraping with just one click.
There is no free option but the lowest plan starts at $30 per month and allows you to search 5,000 pages.
In contrast, the business plan gives you 250,000 pages per month for $250.
The customer service is also excellent, ensuring all queries are answered promptly.
Setting The Data Criteria
The majority of data scraping services will have templates which are ready to be used.
These will extract data from the most popular fields and create a file. You can then import the file into your CRM.
Naturally, you'll have to choose the right file type. But, you can also choose which fields you want to collect.
Take the time to decide which pieces of information are most relevant to you, then set the criteria within the tool and wait for it to work its magic.
You can even use keywords to help find the right profiles.
The most common parameters are post dates, subject, captions, user age, and number of likes or dislikes.
You'll also be able to decide whether to scrape images, posts, or videos.
When using an Instagram scraper it's advisable to set a limit on how many records are scraped per day.
It should be no more than 1,000. This will help you keep below the Instagram radar and prevent your account from being blocked.
Why You Need An Instagram Scraper
A dedicated Instagram scraper is the perfect way to extract freely available information from Instagram.
Doing it manually is too slow but, provided you are not trying to steal private data, there is nothing illegal about accessing private information.
There are many reasons to use an Instagram scraper and compile data.
These include understanding how your brand is perceived, creating potential customer lists, finding investors, and even identifying influencers and how they may help your business.
A good Instagram scraper will also give you the information you need to stay ahead of the competition and to analyze online comments about your business.
You'll then be able to better identify potential customers and the right marketing approach.
Scraping Instagram data can make a big difference to the profitability of your business.
Summing Up
You no longer need to know coding to scrape data.
All you need is to know what data will be most beneficial and which is the best Instagram scraper for your budget and the information you wish to access.
All the above 10 can be considered the best scrapers currently available.
Most offer free trials, which means you can start a trial today and sign up with the one that you like the most.
It could be the best move you ever make.