Data is extremely valuable for a long list of reasons, and many people are looking for the best TikTok scraper for the job.
Taking the manual approach can be overly time-consuming when it comes to scraping data from social media applications such as TikTok.
Thankfully, there are many different tools on the market to help you with this, and many offer unique features that target specific data points.
If you're looking to scrape data from content on TikTok, this article will dive into the best tools that are built for the job.
Best TikTok Scraper Tools in 2024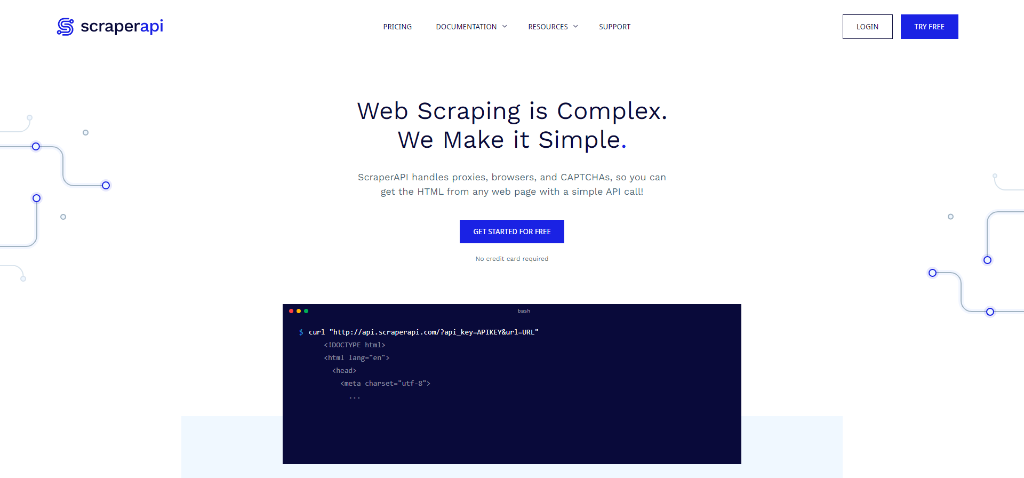 A very viable solution to your data scraping needs is Scraper API.
Their tools have everything you need to get the most out of what TikTok content has to offer.
It also gives users an efficiency that surpasses anything you might accomplish with a manual approach.
This company stands out because it gives you a proxy alongside the scraping tools, so your actions will remain anonymous throughout the process.
This will guarantee you won't run into any roadblocks while scraping data.
ScraperAPI is a great option if you're looking for simplicity, as there's barely a learning curve at all when it comes to the features of their products.
It's a good idea to utilize their free trial, so you can give their tools a test run before making a financial commitment.
The free trial is only available for seven days, but you have multiple pricing options to choose from when you're ready to sign up for a subscription.
Their pricing plans range from $49 to $999 per month.
You also have the option of setting up a custom subscription if your needs surpass what their standard tiers have to offer.
If you lack coding experience, then Oxylabs is a great place to start.
They've made it easy to scrape data, and their software comes with a minimal learning curve.
With a detailed and intuitive interface, you have everything you need right in front of you, and even the most novice of users can easily get the hang of it.
The company focuses mainly on proxy and scraping services.
You can choose between four different scraper APIs, each of which serves a unique purpose for scraping data across a variety of mediums.
With just a few clicks, you can gain access to the exact data you're looking for, and you won't have to deal with a long wait time.
All you need is to visit and sign into the TikTok web application, and you can put their API to work.
The team at Oxylabs is also well aware of anti-scraping methods, and their APIs are able to bypass this on TikTok, so you won't have any issue gaining access to the data you're looking for.
Of course, you can expect a tool like this to come with a price tag. Each of their scraper APIs starts at $99 per month.
Although this may sound expensive, they're able to scrape an immense amount of data, which holds a value that far outweighs the cost of their software.
Their tools can be utilized on desktop and cloud platforms, and they provide data in many different formats.
Some of these include Google Sheets, Excel, TXT, MySQL, and more.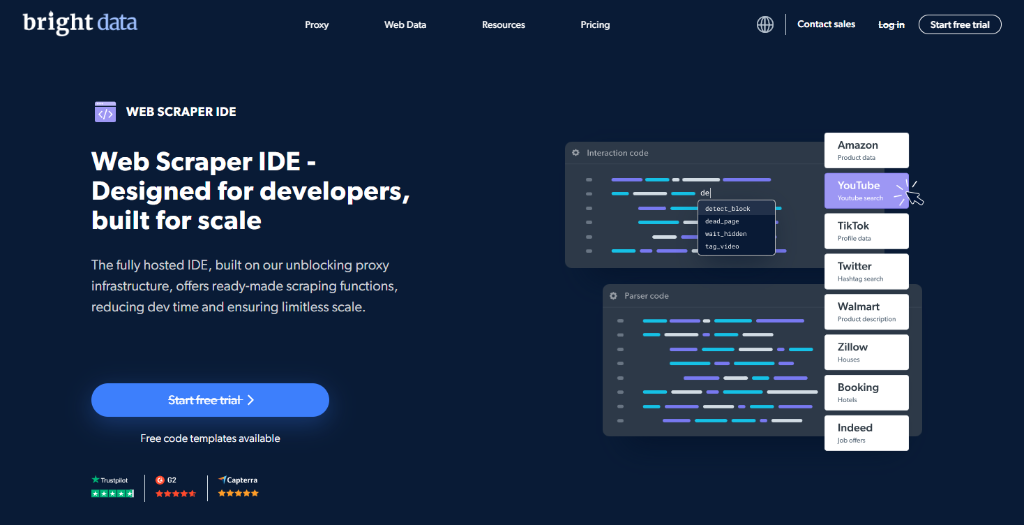 A top-tier solution for data scraping from multiple angles, Bright Data is widely regarded as an option you can trust.
The intuitive features of their products can handle any of your data scraping endeavors.
Although they offer multiple products, their web scraper tool is all you'll need.
Powered with a reliable proxy infrastructure, this tool won't have any issues scraping data off TikTok in an efficient and effective manner.
Some of their web scraper features include pre-made scraper templates, auto-scaling, and built-in proxies.
They do offer a free trial if you want to see what their services are capable of.
However, if you look at their paid subscriptions, you'll notice they're pretty expensive.
Their paid options range from $500 to $2,000 per month and only go up from there.
They also offer a pay-as-you-go option for those that are looking for something a little more cost-efficient.
The cost may seem quite steep, but this is based on the features they provide, which are far above many other options when compared to the competition.
Evidently, they do their best to make their services available for a broad demographic of customers, but it's an investment nonetheless.

If you're looking for automated features to assist with scraping data off TikTok, Apify can point you in the right direction.
Regardless of how much data you're looking to scrape, the entire process can be pretty tasking and manual.
Apify aims to fix this issue with the help of bots and automated features.
The company provides multiple scraping tools and won't have any issues collecting data from content on TikTok.
They take a very professional approach to the whole task, making sure you're equipped with exactly what you need.
Not to mention, the workload is taken off your hands with their bots.
It should be noted that they don't offer a scraping tool that's specifically catered to the TikTok app, but you can still use them through the web application.
Many people also recommend purchasing residential proxies with their services to keep your actions protected.
However, a bonus here is that their bots are free to use.
If you need more features than what their free tools offer, you can opt for a paid subscription which is $49 or $499 per month.
You'll also find a custom option if you expect to be scraping a significant amount of data.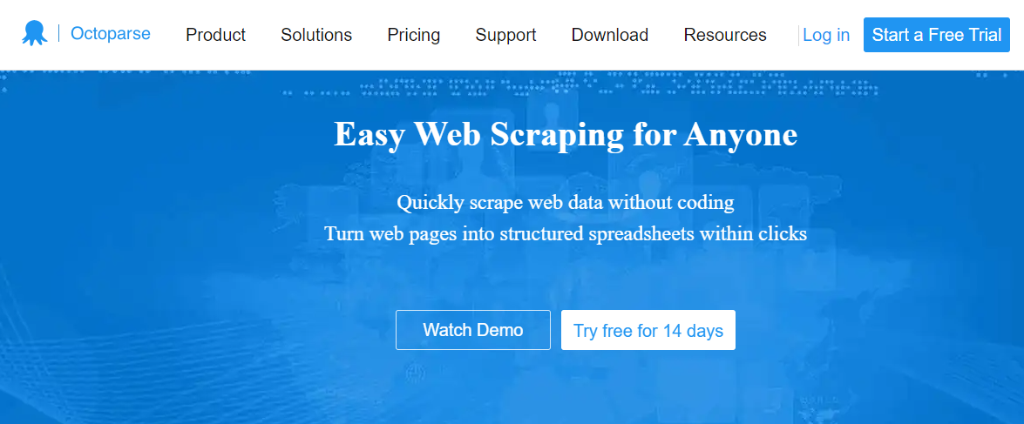 For those who value simplicity, you might want to look into what Octoparse can provide.
They make web scraping relatively easy, and their tools give you the ability to scrape comments, video links, and profile details to name a few.
Like many other solutions in this list, they also come with a free tier that gives you the chance to explore their features.
You can expect some limitations with the free version, and if you happen to outgrow this tier, you can dive into a paid subscription.
Octoparse will also compile the scraped data into a spreadsheet for easy organization.
One aspect that their customers seem to love is that they offer customized tools catered to your needs.
To explain further, they can consult with you to build solutions per your exact requirements.
This alone makes them one of the best TikTok scrapers on this list, as they're willing to bend to the needs of the individual customer.
If you're looking toward a standard paid subscription, you have the option of paying either $89 or $249 per month.
Overall, there are multiple ways you can approach their services, and you're bound to get a solution that's perfect for your particular needs.
6. Phantombuster
Phantombuster definitely holds up on its own and offers scraping tools that are very efficient.
You can easily scrap any available data from TikTok videos, and it helps you keep all relevant information in one place.
The information you gather can be used for your own content creation, in addition to monitoring what's trending and what types of content are successful for your competitors.
What makes this tool a seamless process is that all of it is handled through the cloud, making data management extremely fluid.
Once you connect your TikTok account to their scraping tool, you can immediately start gathering information on any video you want.
However, it's important to note that there are some limitations depending on the subscription tier you choose.
The company offers a 14-day trial run that comes with two hours of execution time, which is more than enough to get a feel for their services.
If you want to dive all in, their paid tiers range from $48 to $320 per month.
They mainly vary based on how much execution time and slots you need for scraping data.
7. ScrapingBee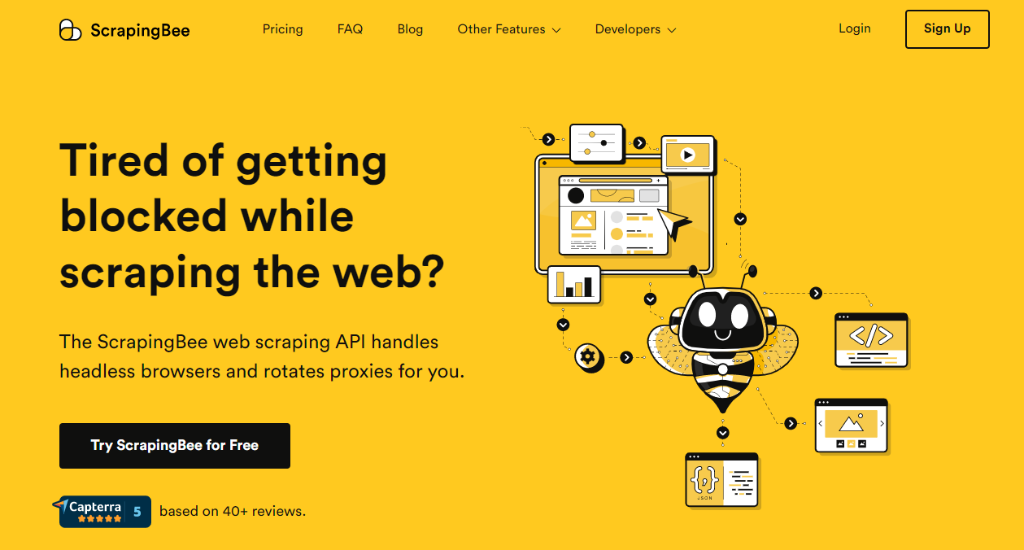 For an option that's pretty unique, I had to include ScrapingBee as they're a worthy alternative if the others don't hit the mark for you.
Not only do they have stellar reviews from their customers, but they take a universal approach to data scraping.
This means your TikTok data scraping needs will be handled with ease, and they make the UI simple for users.
You won't have to go through a steep learning curve to understand how their tools work, and they do a good job of walking you through every step.
They're a perfect option for those who are new to data scraping, but they're also a viable choice for self-proclaimed experts.
Don't hesitate to opt into their free trial to see how their services work for you, and paid subscriptions with additional features are just a click away.
Don't stress about managing proxies either, as ScrapingBee will rotate them automatically when using their data scraper.
It also helps that their website dives deep into what their products are capable of, giving you the confidence you need to start scraping data.
Their paid subscriptions range from $49 to $599+ per month, each delivering an uptick in capabilities suitable for a wide variety of data scraping needs.
If you want to get the most value out of what they have to offer, it's best to consider their Business or Business+ subscription tier.
These come with priority email support, an account manager, and team management, which is perfect for bigger operations.
8. ParseHub
Although ParseHub may come with many similar features as other solutions listed in this article, its main selling point is that it's an excellent free option.
They do have paid tiers available, but their free option comes with more than enough for what many people need.
It's also known to be extremely easy to use, as its UI is pretty simplistic for the most part.
They make sure to keep their services up to date and on par with navigating many different websites.
This means you won't encounter any trouble scraping data on TikTok's web application.
Taking a look at their free tier, users get up to 200 pages of data, and their scraping tool can handle this in 40 minutes or less.
You'll also be able to execute up to five public projects, and their system will retain the scraped data for a total of 14 days.
For some people, this is more than enough, but for others, they need access to a bit more data than what the free tier has to offer.
This is where the paid subscriptions come in.
Between the Standard and Professional subscription tiers, you'll have access to 10,000 or an unlimited number of pages depending on your needs.
This can stack up to an immense amount of data, not to mention the 20 to 120 private projects you're able to take advantage of.
Easily save data for permanent retention, and they even include IP rotation to keep your location and activities secure.
If these features don't cover your needs, you always have the option of looking into their ParseHub Plus subscription tier.
This requires a consultation with the company as it'll come with custom pricing.
However, the included features are fully stacked, some of which include priority support, free data export samples, a dedicated account manager, and more.
ParseHub will even take the scraping off your hands and deliver the data for you.
You also have the choice of going for monthly or quarterly billing, and the quarterly option comes with 15% off the regular price.
ParseHub does a good job of selling their services, as they're pretty hard to pass up, and they definitely cover all the bases of your data scraping needs on TikTok.
Final Notes on Scraping Data
We're in an era where data scraping couldn't be any easier.
This used to be a more challenging topic that required coding knowledge, but not anymore.
By using the services listed in this article, you can simplify scraping data from TikTok, all while remaining anonymous throughout the process.
Some even come with entirely automated solutions, which is perfect for users who prefer a more hands-off approach.
Your identity and location don't have to be compromised either, as the provided proxies will have you covered at every turn.
It's true that some services listed in this article are much more expensive than others, but it all comes down to what your needs are.
Whether you're an individual or a corporation with larger data scraping projects, this article is guaranteed to have the best TikTok scraper for your exact requirements.